When he arrived at the podium Thursday for a Zoom call with the media, Teddy Bridgewater instantly grabbed everyone's attention – instead of wearing a hoodie or some other non-descript team apparel, the quarterback of the Carolina Panthers was clad in full referee garb.
"I'm here to throw a flag on any question that I don't want to answer," he grinned.
Setting the tone for a tongue-in-cheek press conference, Bridgewater explained that he had taken a part-time job at Foot Locker thanks to punter Joseph Charlton having completed 100% of his passes this season – leaving him "trying to find another way to generate some income." In just over 12 minutes, Bridgewater also "threw" flags on two different questions. Complete with a tweep sound to imitate a whistle.
Later in the press conference, he gleefully explained that he had spent his birthday at Olive Garden enjoying unlimited salad and breadsticks.
Bridgewater's bit, equal parts charming and cheeky, is part of the process of him endearing himself to fans and affirming himself as the tone-setter for the Panthers to the public. For Bridgewater, it's a process that was never going to be easy.
And still isn't.
From the time he was signed in free agency to replace Cam Newton – a larger-than-life figure irreplaceable to so many – Teddy Bridgewater has been saddled with preordained thoughts about who he is as a quarterback and what he means to Carolina. Though a former first-round pick who has started on a playoff team, the term "game manager" has stuck. As it relates to the Panthers, the words "bridge quarterback" have also been bandied about: the implication being that he is merely offering short-term stability while his team hopes for a franchise quarterback to come along in a future draft.
Perhaps at a greater level than any other year in recent memory, outside prognosticators have cast any NFL team below .500 this season as being in the quarterback market (some player who wears orange not far from Charlotte might have something to do with that) – as Bridgewater has been able to stave that off somewhat, he's shown some moxie that the Carolinas can get behind.
He has played some of his best football in Joe Brady's offense, and generated more big plays than he has been given credit for producing. His football IQ is as advertised, and he generally has not made bad decisions or turned the ball over excessively. And he's even shown toughness, such as when he returned to the field following a vicious hit against the Atlanta Falcons or sacrificed his body to convert a fourth-and-14 against the Kansas City Chiefs.
Despite that, the idea that the Panthers could or will look at other quarterbacks remains. And there's only one way for Bridgewater to stop that noise:
Win a signature game. A heroic, epic triumph that leaves no doubt that he – and he alone – was the reason his team won.
In his career so far, Bridgewater arguably hasn't had a signature moment to hang his hat on. In fairness, he really hasn't needed to. On the Minnesota Vikings, Bridgewater was a young quarterback who could rely on a strong defense and a strong run game rather than fall into heroball habits. Years later when pressed into action on the New Orleans Saints, Bridgewater could rely on those same things.
But consequently, Bridgewater's accomplishments came to be viewed as a testament to the caliber of team he was on, instead of attributable to his own abilities as a quarterback.
Last week, Bridgewater was very close to a win that he could sign, seal, and deliver as his own: on the road against the Kansas City Chiefs, Bridgewater completed 73% of his passes (36 of 49) with two touchdowns to go with a rushing touchdown in a determined effort to try and stun the defending Super Bowl Champions. But try as he might, Bridgewater and the Panthers came up just short in a 33-31 loss, with some hanging the loss on Bridgewater's penchant for checking down during the final drive: a common refrain for them throughout this season, and one that has invited critique of Bridgewater to resurface after a three-game win streak earlier this season.
When it comes to quarterbacking, half the battle can sometimes be getting the players around you to believe that you're their leader for the long haul. And behind the curtain, Bridgewater's teammates can see the resolve that he has to affirm himself as Carolina's top gun – though he doesn't seem to feel the need to be the hero in order to do so.
"I know he wants to be a franchise quarterback, just talking to him and getting to know him," said wide receiver D.J. Moore. "Every loss that we have has been hard, but I know that every win is a team win to him. He just doesn't say like 'Oh, I put the team on my back to go get this win.' He looks at it as 'Everybody played a part in it to get us that win.' For him, every win is just getting us a step closer to a end of the year goal."
The reality is that the Panthers have come close and ultimately failed in every loss – failed fourth downs, inopportune sacks and game-ending, back-breaking interceptions have been what Bridgewater has delivered in the fourth quarter halfway through his first season. But that hasn't changed the team's view of him.
At least not yet.
"I don't think there's anybody on this team that doesn't believe in Teddy. I don't think there's anybody on this team that's saying 'Hey, can he do this? Can he do that?'", said head coach Matt Rhule. "I don't see that. I think we have a bunch of guys that believe in him, that rally around him. … I think everyone here believes in Teddy."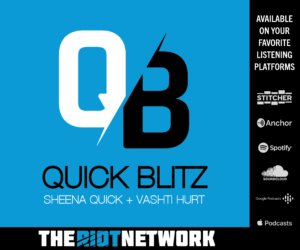 Affirmation internally, regardless of what's being said on the outside, is always the most important thing – the opinions of fans and media don't supersede what coaches and players experience within the building. That said, the optics of whether or not a quarterback is "the guy" can be a hassle for any team, as it leads to a steady stream of questions that coaches would rather not answer and reporters would rather not ask.
Perhaps moreso than any game remaining on the Panthers' schedule, this week is as good an opportunity as Teddy Bridgewater is going to get for a signature win: he's up against the Tampa Bay Buccaneers, whose hype train is still humming along at 6-3. Despite barely beating the New York Giants and getting blown out by the Saints, the mystique of quarterback Tom Brady and the star power Tampa Bay boasts – especially now that wide receiver Antonio Brown is in the fold – remains a powerful force.
Any team, and any quarterback, to beat the Buccaneers in unlikely fashion would surely make the NFL stand up and take notice of them. With Christian McCaffrey once again out of the lineup with a shoulder injury, his team on a four-game losing streak and being marked as heavy underdogs at home, Week 10 presents a moment that Bridgewater can seize and make his very own.
Those are the thoughts, however, of the people that write the stories. For Bridgewater, the objective this weekend is much more matter of fact.
"Honestly, I wouldn't say we need a signature victory. We just need a win," said Bridgewater. "We've played tough in these games, we've fought through adversity and different things like that. Different guys have stepped up and made plays. We just want to reward the guys in the locker room for all their hard work by just going out there and winning."
The book on Teddy Bridgewater's Panthers career isn't anywhere close to being written yet.
And neither is his legacy alongside all the others to have played quarterback in Carolina: Though he may never be the sort of franchise-changing player Cam Newton was, there's nothing to suggest that Bridgewater can't eventually stand alongside a Jake Delhomme or Steve Beuerlein as well-liked, successful quarterbacks in team history.
But when those two players' legacies are examined, there are certain moments that stand out and validate them as the right quarterback at the right time in history: Delhomme had his playoff wins and performance in the Super Bowl or perhaps his Week 1 comeback against the Jaguars. Beuerlein, of course, had "The Draw" to beat the Green Bay Packers and save his job.
In order to defy all doubt and prove he's the Panthers' quarterback for years to come, Teddy Bridgewater could use a moment like that. And what a fine time this weekend would be to have one.