Part of the joy the Carolina faithful got from the privilege of watching Cam Newton was the sight of him slinging the ball as far as he could, and with that laser rocket arm he could make the impossible look effortless.
Since the end of the Newton era, the Panthers have struggled to find the quarterback that could recapture that same magic, with Kyle Allen, Teddy Bridgewater, Sam Darnold, Cam Newton (again), Baker Mayfield, and P.J. Walker all being given a chance to acquire the keys to arguably the most valuable position in sports.
Assuming the Panthers will select a quarterback with the upcoming first overall pick, they'll be behind 35-year-old veteran Andy Dalton, who fills a major need after the team's near-entire 2022 QB room went to other teams. Dalton was drafted in the same class as Newton and, while he can't compare in terms of talent, he does share a love for the deep ball. And in 2022, he had his best deep passing season in years.
This is where deep charting comes in. For years, I've done studies on quarterbacks' deep passing ability, where deep passes are classed as those with a minimum of 21 air yards beyond the line of scrimmage, in an annual study I like to call The Deep Ball Project. Over the years the focus has been on the quarterback's Accuracy Percentage (which looks at the accuracy from a quarterback regardless if the pass is completed or not) and the quarterback's deep passer rating. Accurate Incompletions measure the amount of accurate passes that weren't completed, whether on drops, Hail Marys, or contested grabs.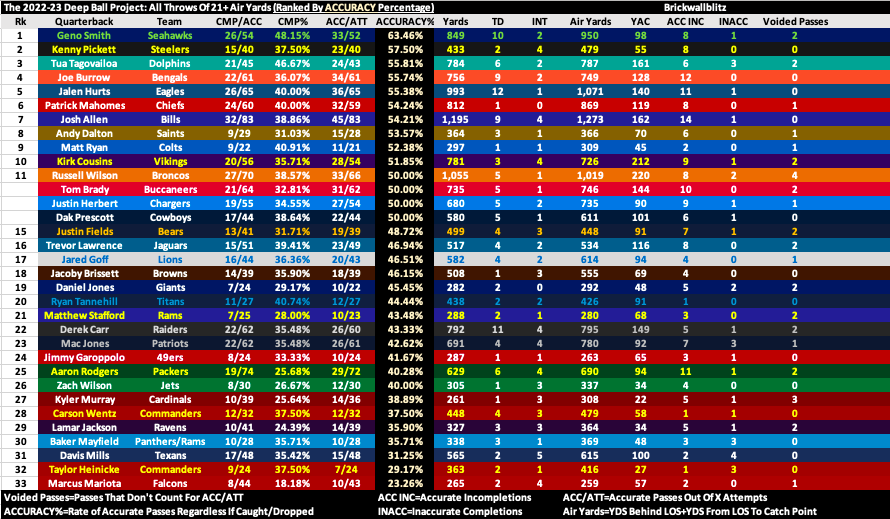 Dalton certainly didn't play at a franchise level, but he finished eighth in deep accuracy for the 2022 season. Most notably, take a look at the gap between Dalton and former Panther Baker Mayfield. Mayfield had the displeasure of playing for a system from Matt Rhule that never got its foot off the ground but his fourth worst ranking in this department showed a gradual decline from his once great deep passing precision in Cleveland.
Next, let's hop right into deep passer rating.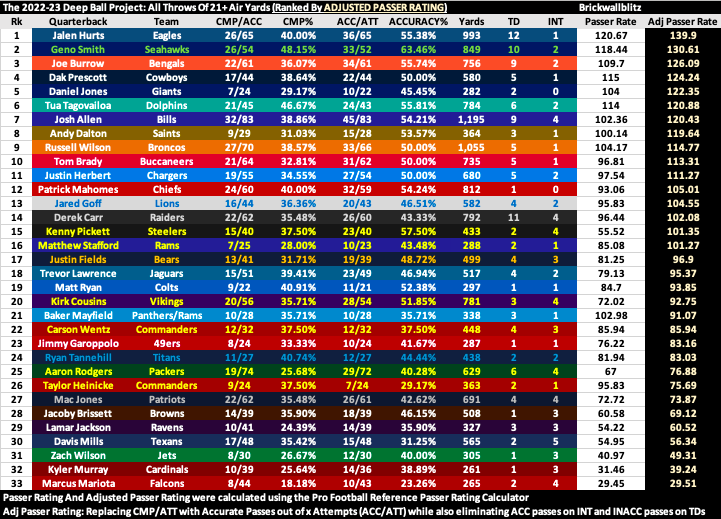 Keep in mind that deep accuracy and deep passer rating are the two main statistics used to rank quarterbacks in the 2022-23 Deep Ball Project, and Dalton managed to finish exactly eighth in both metrics. Traditional passer rating is measured on a scale of 0 to 158.3, using completion percentage, yards per attempt, touchdowns per attempt, and interceptions per attempt. Adjusted Passer Rating, on the other hand, replaces completion with accuracy percentage, using accurate passes instead of completed ones.
In 2022, Dalton had completed nine deep passes while throwing 15 accurate ones. The six Accurate Incompletions, as a result, boost his passer rating from 100.14 to an adjusted 119.64. He managed to do this despite dealing with injuries to Michael Thomas, Jarvis Landry, and Chris Olave at various points throughout 2022. Thanks to the D.J. Moore trade he'll receive a downgrade in his receiving corps, but one receiver who should be able to help is the newly signed D.J. Chark.
Chark brings the Panthers a field stretching presence that will allow them to absorb the blow from the Moore trade. According to Pro Football Reference, Chark's finished with an average depth of target (aDOT) of 14.0 or higher in each of his last three seasons. With the Lions in 2022, his aDOT was 15.2, sixth among all qualifying receivers. Moore has improved every season as a vertical threat, but he's never had an aDOT higher than 13.2 in his career.
Matching Chark's long routes is his success running them. With Jared Goff, his deep passer rating was 104.17, with one Accurate Incompletion adjusting that to 109.38. Compare that to the carousel of quarterbacks Moore had throwing his way: Moore's unadjusted passer rating was 73.61, while his adjusted passer rating was 80.56.
So Chark provides the kind of vertical threat Dalton can get chemistry out of. Let's not get the wrong idea, no one should be expecting his success to be sustainable considering this'll be his fifth team in as many seasons, but Dalton provides some field stretching experience the team and its future franchise starter needs.
On his own, Dalton's deep accuracy and deep passer rating are higher than the entirety of the Panthers' QB depth chart in 2022.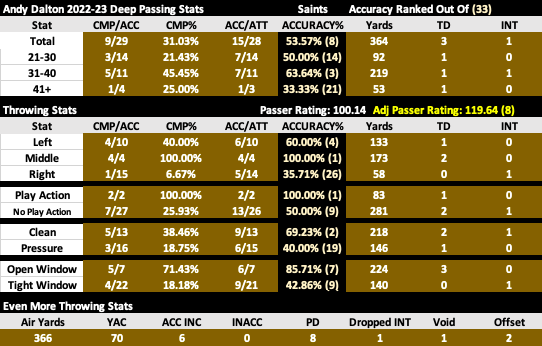 Combined, the Panthers did pretty well in deep accuracy. If they were placed into the 2022-23 Deep Ball Project they would've finished 11th out of 34 qualified passers (the rankings can be seen in parentheses). Thanks to the 5:4 TD-INT ratio, however, their passer rating pales compared to Dalton's. For more on that, let's go inside each of the three quarterbacks that made up the nucleus of Carolina's passing attack.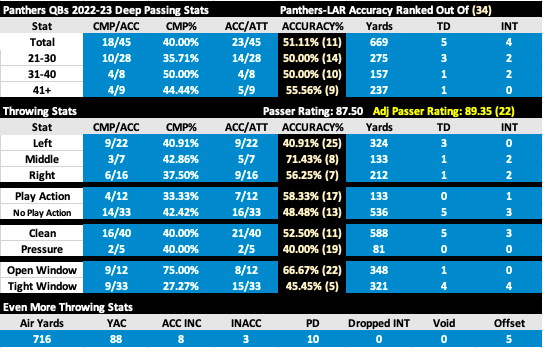 Baker Mayfield was the only Panthers quarterback who threw enough attempts to qualify for the 2022-23 Deep Ball Project, but this was because of his additional stint with the Rams. With the Panthers, he completed six of 15 passes of 21+ yards (40.00%) while finishing with seven accurate passes (46.67%) for 222 yards, two touchdowns, and no picks. Mayfield's unadjusted passer rating (127.08) was great, but with one Inaccurate Completion taking away a touchdown pass, it's adjusted to 115.28.
Oddly enough, Baker's stats showed a decline with the Rams, while his passer rating with the Panthers looked good thanks to the complete lack of picks.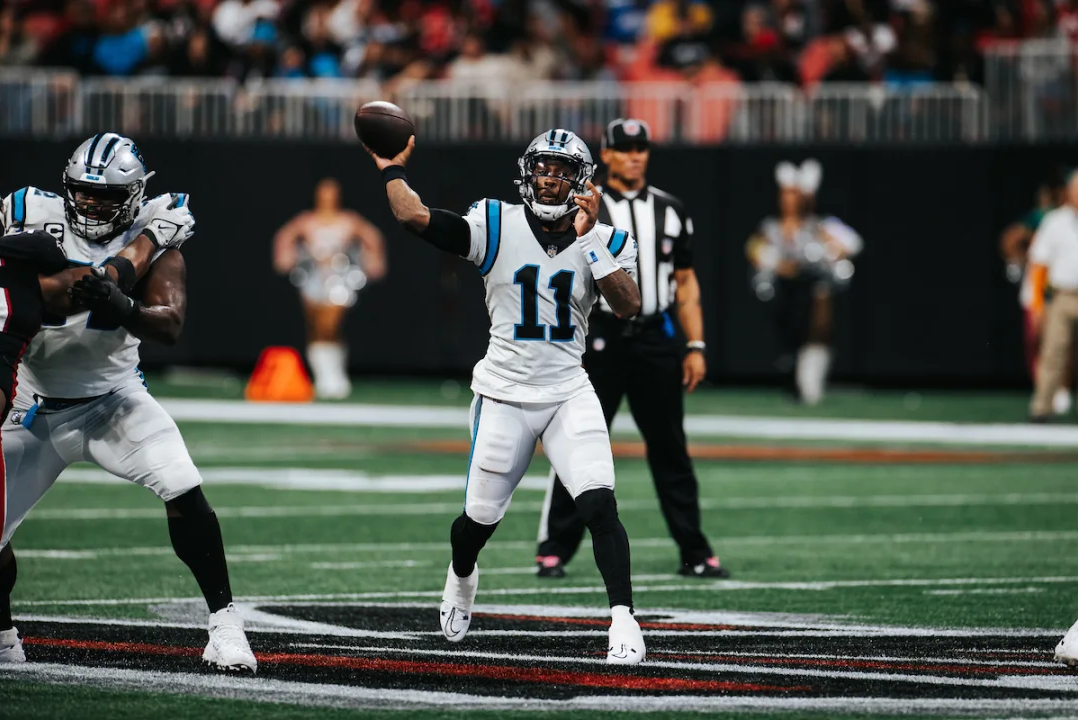 Next is P.J. Walker. Walker's touchdown to D.J. Moore against the Falcons travelled 65 yards in the air, making it the longest completed pass of 2022. That was one of just two completed deep passes from Walker on 10 attempts (20.00%), but three Accurate Incompletions gives him five accurate passes (50.00%). He threw for 91 yards, two touchdowns on as many completions, and one interception, giving him an unadjusted passer rating of 65.00 and an adjusted 81.67.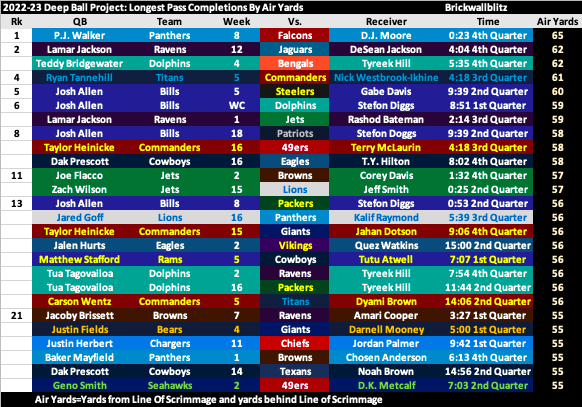 Last up is Sam Darnold, the most successful quarterback in the Panthers' system on passes of all distances. Darnold completed 10 deep passes on 20 attempts (50.00%) while finishing with 11 accurate passes (55.00%). In total, he threw for 356 yards and a touchdown, but also scarfed up three interceptions. His unadjusted passer rating was 72.92, while his adjusted passer rating was 77.08.
In short, Baker Mayfield was the most successful Panthers quarterback by passer rating, while Sam Darnold was the most successful in yards and accuracy percentage. Yet, Andy Dalton is the one with the higher deep passer rating.
To conclude, as the Panthers are expected to continue to retool their receiving corps in the draft, they have the quality offensive line needed for any rookie to stay behind, giving them the time needed to stretch the field. Whether that's Anthony Richardson, Bryce Young, C.J. Stroud, or even Will Levis, the presence of Dalton ensures they won't be pressured to start right away.
Personally, I think any rookie quarterback gets more experience from starting right away, but guys like Patrick Mahomes and Jalen Hurts have shown you don't always need to use that strategy. Regardless of who finishes the season, the rehauled coaching staff and new quarterback room means it'll take time for things to gel into the attack the team is looking to create.
As the art of the deep pass remains important in today's game, the addition of Dalton and Chark with a head coach that's been well-respected in Frank Reich and an offensive line filled with starters should be promising building blocks to finding a thrilling deep pass attack the team's been seeking since the days of Cam Newton and Ron Rivera.
(Top photo via Tyler Kaufman/AP)