"The optimist invents the aeroplane, the pessimist the parachute."
-George Bernard Shaw
A select group of print media spoke to first-year owner of the Panthers David Tepper on Tuesday afternoon, and while a variety of topics were discussed, from where the team would be holding training camp in 2019 (Still Spartanburg for next year) and the challenges they faced by not having an indoor practice facility (PLENTY) to when Tepper is consulted on football matters (he cited the times you'd assume, like when a move might upset the fanbase or when dealing with a "cherished veteran"), but the team's plans are should Cam Newton's shoulder soreness that caused the offense to lag and forced Newton to miss multiple practices over the course of the season and the final two games of 2018 certainly the most headline-grabbing.
Tepper, like Ron Rivera and multiple other voices associated with the team including Newton himself have leaned on the "I'm not a doctor" response when asked whether the quarterback will need his second offseason surgery of his career before 2019, the truth is that no one – again, not even Newton himself – knows exactly what will come when the quarterback tries to throw again in a Panthers uniform. While some have indicated that Tepper all but ruled out Newton for the 2019 season, that's not the case – the Panthers owner was cautiously optimistic that Newton will be ready when football activities resume.
The aeroplane.
"Of course it's a concern – people get injured in football and what we have to do is keep our options open just in case," said Tepper about the franchise quarterback's sore shoulder. "But Cam Newton is the guy we're going to be depending on – he's the talent – but it would be foolish of anyone to say that you're not having an awareness of what can be potential things of what can happen through the year."
"When Cam wasn't practicing some of those days, that was probably a big question mark even for us – so we probably should have re-asked again. And obviously, as Cam's shoulder got worse, that made it much harder to win; I don't know what coaches can do about that, to be quite honest."
But if Cam's shoulder isn't ready Week 1, or if the team faces the same scenario that forced them to limit his throwing reps throughout the practice week – the dreaded "New Normal" – they plan to be more prepared than they were this year, when they turned to first Taylor Heinicke, who had previously thrown one NFL pass attempt, and then to undrafted free agent Kyle Allen, who led the Panthers to their only win of the second half of the season.
Heinicke is a restricted free agent this offseason – Newton and Allen are the only quarterbacks on the Panthers' roster signed through the 2019 season.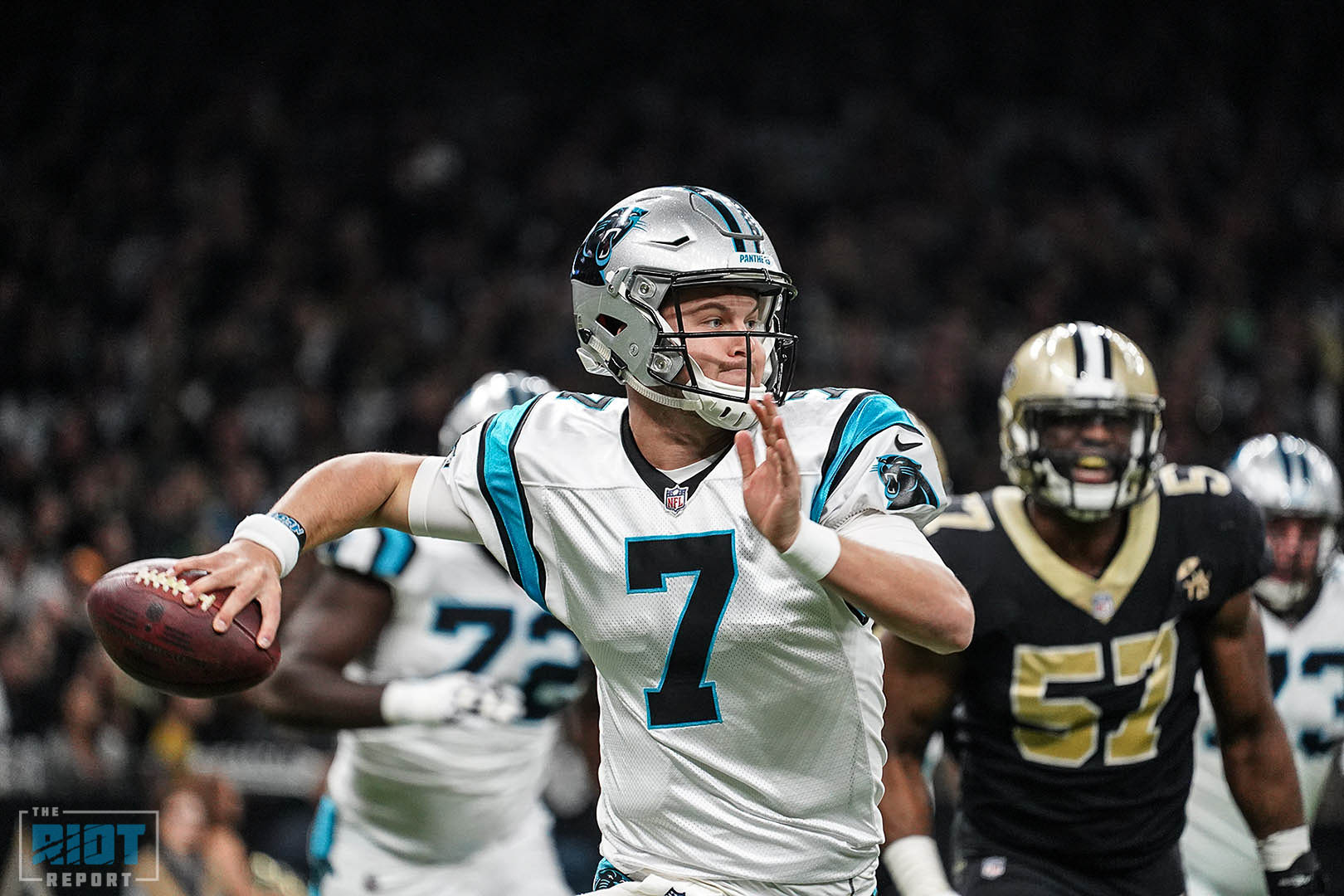 "We all want the same thing possible – to make it better by next year and hopefully it gets better," said Tepper as he pivoted from optimism to pragmaticism. "Listen, there's no certainty in life and…we are a little bit – not a lot – happier after seeing the performance the last game of the year by Kyle [Allen]; I mean, everybody has to be a little happier with that. But we have to recognize that we may have to do things through the year if it doesn't [get better]."
"We've got to make sure we have our options open, just in case and we're all hoping everything will be great – and it could be great. You know, look at [Andrew] Luck this year – who knows?"
Luck, who sat out all of the 2017 season after shoulder surgery, had a terrific season in 2018 – the mention of the Colts quarterback led to this exchange between Tepper and a reporter – which has been reported in some outlets as Tepper suggesting Newton would miss 2019.
"You mentioned Andrew Luck, who made it back – given his success after taking that year to recover, how much more attractive of an option is that for Cam should his shoulder be less than 100%?"
"Again, I'm not a doctor – if it is, it is," said Tepper. "If you told me that he took a year off and could recover and be fully recovered and everything else – and that's what it took, an extra year – why wouldn't you do that? Now, we'd have to do other things, right? We'd have to go out and get another quarterback then, which – if you can find me some more cap space, I'd appreciate it, that'd be good – but, that'd be the issue there, right?"
Sounds like someone inventing a parachute.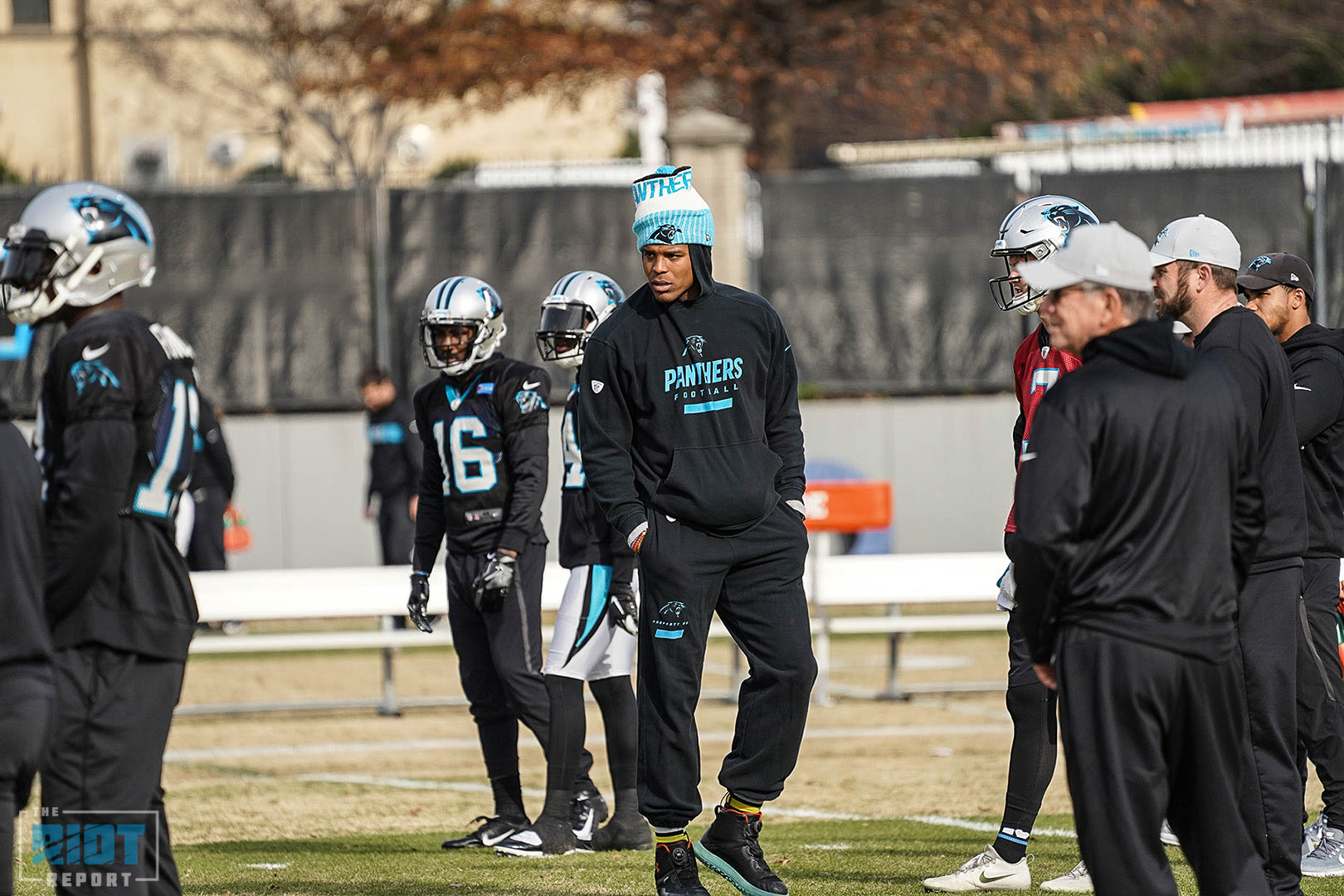 Should the Panthers use some of their cap space – they're expected to be in the bottom third of the league when it comes to available money to sign free agents – to sign a veteran quarterback like Ryan Fitzpatrick, Tyrod Taylor or Nick Foles to back up Newton or look strictly to Allen, who performed admirably against a Saints defense that certainly was not content to lose in Week 17 – Tepper joked about the volume of yelling coming from the Saints locker room at halftime – they'll be looking past just the 2019 season in their decision making.
"You want to keep your options open as much as you possibly can and you'd like to put yourself in a position to win. Not in a position to lose, but a position to win," said Tepper. "You know what you might be facing next year or not facing – hopefully Cam's shoulder's fantastic and we're all hunky-dory, we're fantastic – if it's not, you may need more cap space."
"You may need to go out and find somebody; if we don't, you guys are going to be writing up what a dope we are and why didn't we make these other moves – this more or that move. That's what you're going to write. So think about that, right? You want to keep your options open, you want to put yourself in a position to win."
"I'm talking, again, about the long term."