We all know the big names on the Panthers like Christian McCaffrey, Teddy Bridgewater, D.J. Moore and Shaq Thompson – entering training camp this week, the question for them is not their place on the roster, but how good they can be in 2020. That's not the case for the entire roster – every season, there are positions that could be up for grabs during training camp – and even though this offseason is the most unusual in memory, the circumstances around camp battles are no different.
Matt Rhule updated some of those battles after the first week at the facility – and the direction he expects them to go moving forward.
Backup Quarterback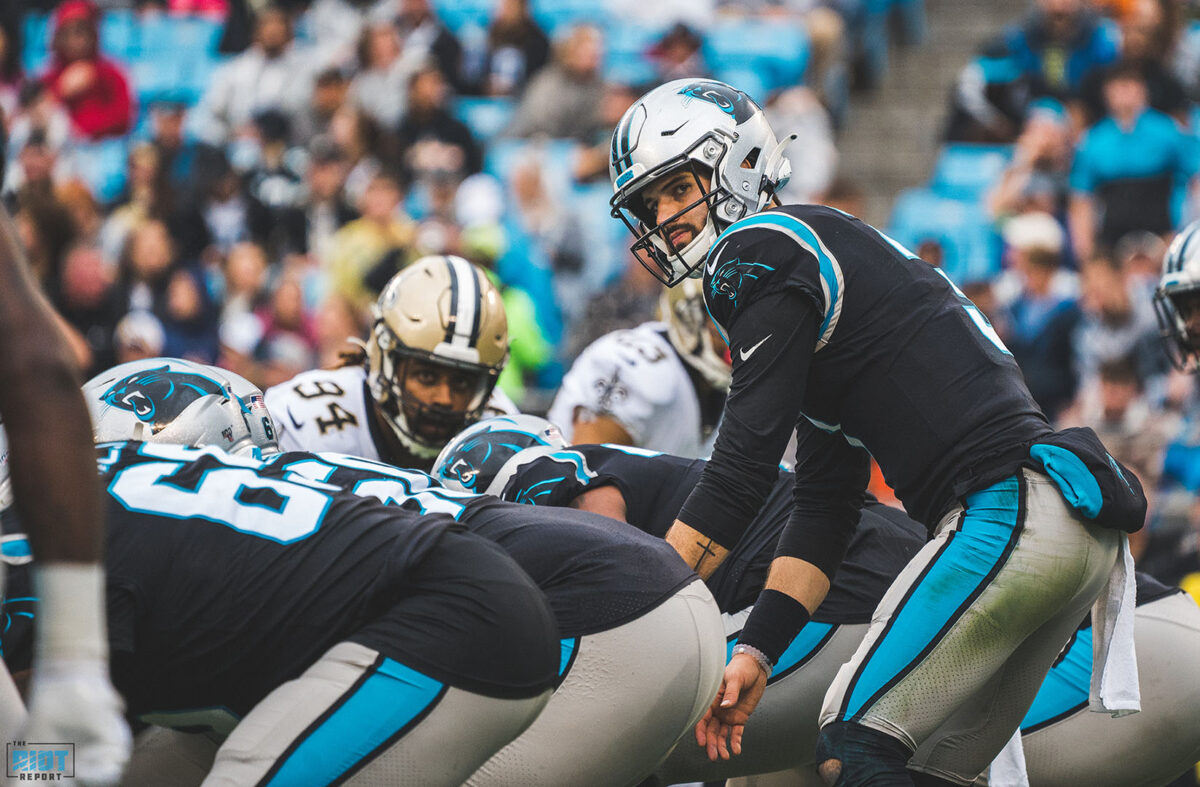 Carolina drafted Will Grier in the third round of the 2019 draft and while Grier played in two games at the end of last season, the results were nothing to brag about – Grier threw for 228 yards, zero touchdowns, and four interceptions before suffering a foot injury in the season finale loss against the Saints.
Despite Grier being on the roster, the Panthers signed XFL sensation P.J. Walker, who passed for 1,338 yards and 15 touchdowns for the Houston Roughnecks before the league shut down due to COVID-19. Walker previously played under Rhule at Temple.
"Obviously, Will [Grier] has been here, and he has had a chance to play in some football games," Rhule said. "We have a lot of confidence in him. P.J. [Walker] is a talented guy that did things in the XFL. I think right now, they don't have the knowledge or the grasp of the system that Teddy has, but what you're seeing from both of those guys is just really a commitment to learning the system, getting a little bit more confident every day."
"But I think we really feel really good about that room. To have those three guys in the room – to have Teddy, who has been a starter and has won a ton of games. Will, who has had a lot of production and P.J., who is really talented. To have those three guys, I think we are really blessed to have that room. So we are going to battle it out through camp. No preseason games, it will come down to each and every day during practice."
Tight End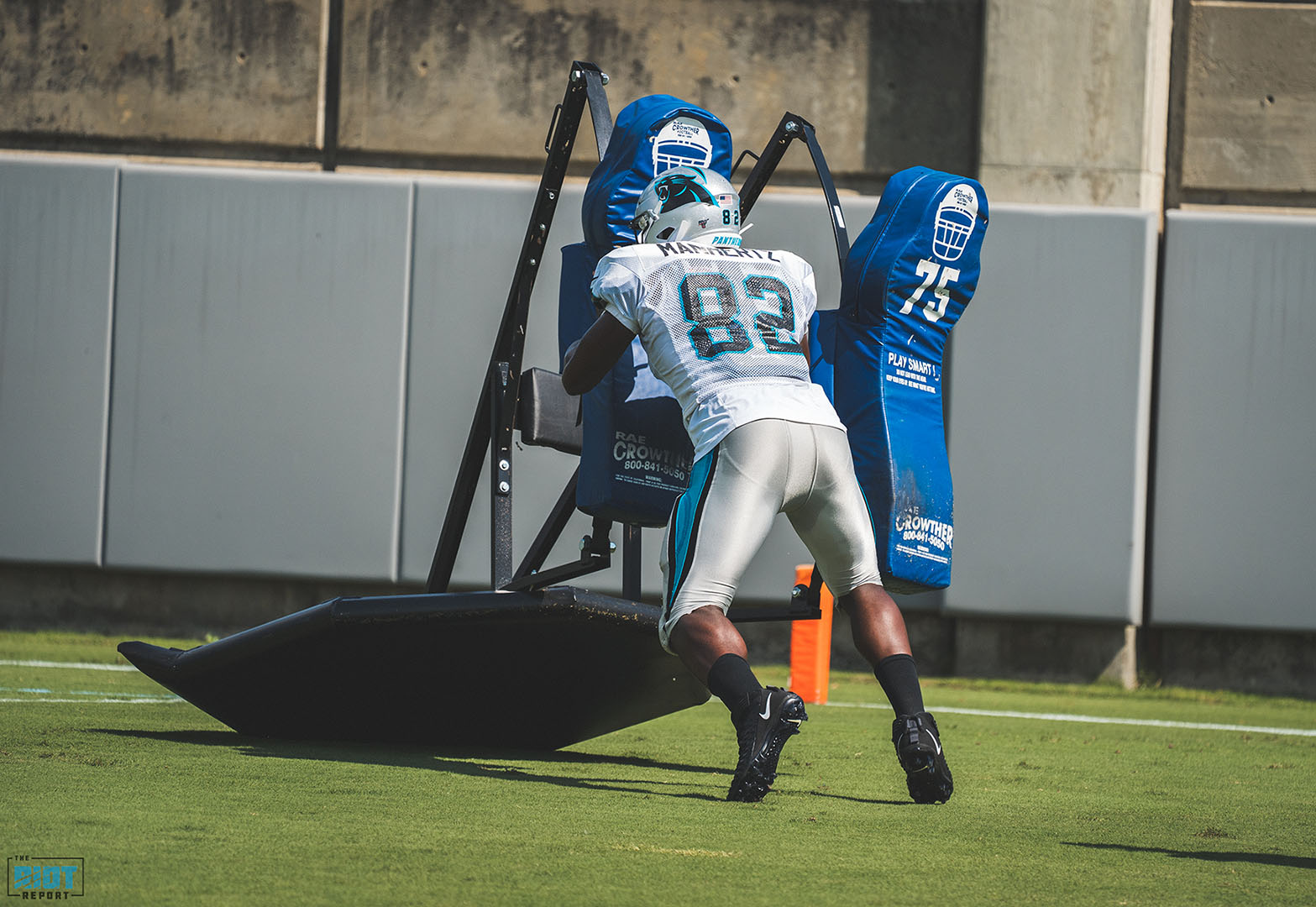 Along with the backup quarterback competition, the tight end room is intriguing as well. Gone is long time veteran Greg Olsen – the Panthers will rely on Ian Thomas and Chris Manhertz while Cam Sutton, Giovanni Ricci, Colin Thompson, and Temarrick Hemingway will all have a chance to impress Rhule, offensive coordinator Joe Brady and the rest of the coaches during practices.
But Rhule has been particularly impressed with Manhertz.
"I think Chris Manhertz has a chance to be one of the best blocking tight ends in the National Football League if not the best," Rhule said. "He has done a really nice job improving as a pass-catcher. Ian Thomas' turn to show it is really his time to play and show what he can do."
"And that battle for that third tight end. We are taking Joe's [Brady] offense, and it has this Saints derivative. But then you throw in what he did at LSU, which is more three receivers. And I come here from Baylor, which is more three and four receivers. Even going back to Temple with 22 personnel. So just trying to find who we are and what exactly we are. With that, I think that tight end position is really critical."
Backup Running Back
During the offseason, there has been some talk about limiting McCaffrey's workload after the running back was on the field for 93.4% of the Panthers snaps in 2019. If that's the case, then the Panthers' backup running backs will be more of a factor in the offense this season – not to mention the reports that the Panthers will use more two-back sets this upcoming season.
Rhule said they're still trying to figure out how the running backs on their roster will fit on their offense.
"How can we utilize Mike Davis, Reggie Bonnafon, Jordan Scarlett and in what ways can those guys impact the game," Rhule said. "I think tight ends and running backs, not just who the starter is going to be, but how we use everyone – is going to be critical."
The Panthers recently replaced UDFA Rodney Smith with Trenton Cannon, but he has a long way to go to crack the depth chart after not being mentioned by Rhule.
Defensive Line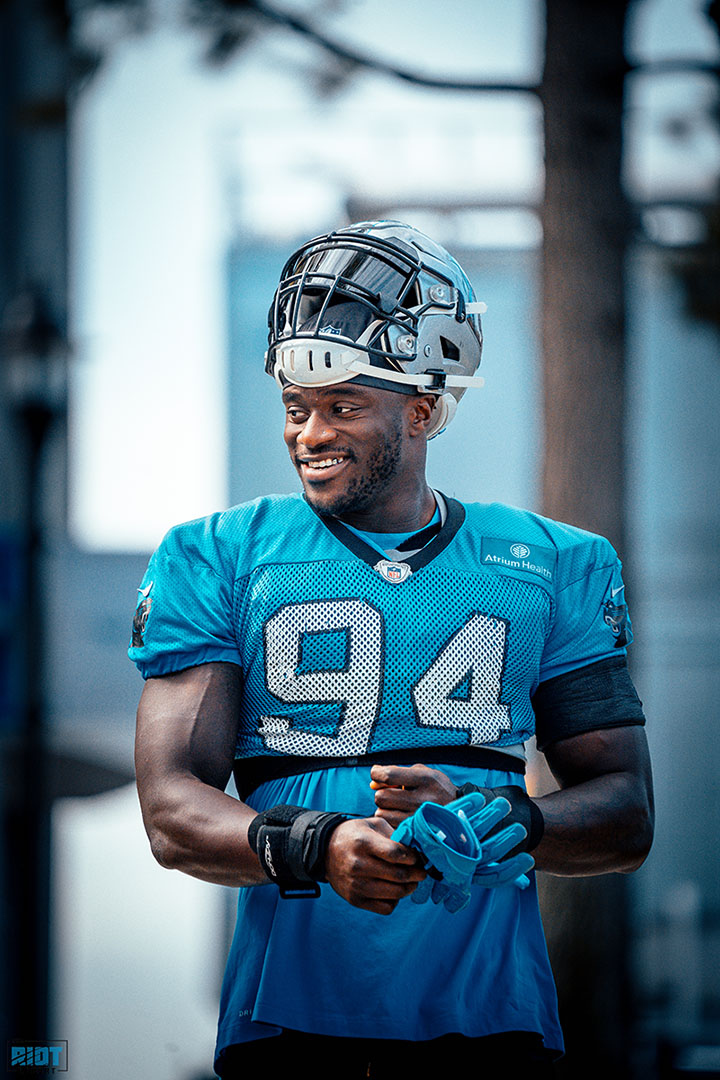 Defensively, there are a number of a young players who will have a chance to contribute this season on the defensive line, at linebacker, and in their young secondary. One of those players could be Efe Obada, who is entering his fourth season on the Panthers.
Rhule says he has been impressed by Obada during his short time seeing him during the offseason and in practice – Obada may not necessarily be in his now-trademark position on the bubble after making the roster for the past two seasons.
"I think he has had a tremendous offseason," Rhule said. "He is up to about 275 pounds, explosive, really committed to being a good player. He is somebody we feel like we can use in a lot of different places. He can be a defensive end, he can go inside and be a sub defensive tackle, he can play in an odd package, he can play in a four-down package."
"I think he is really going to have a really nice year for us. And I say that based upon all the work he did this offseason."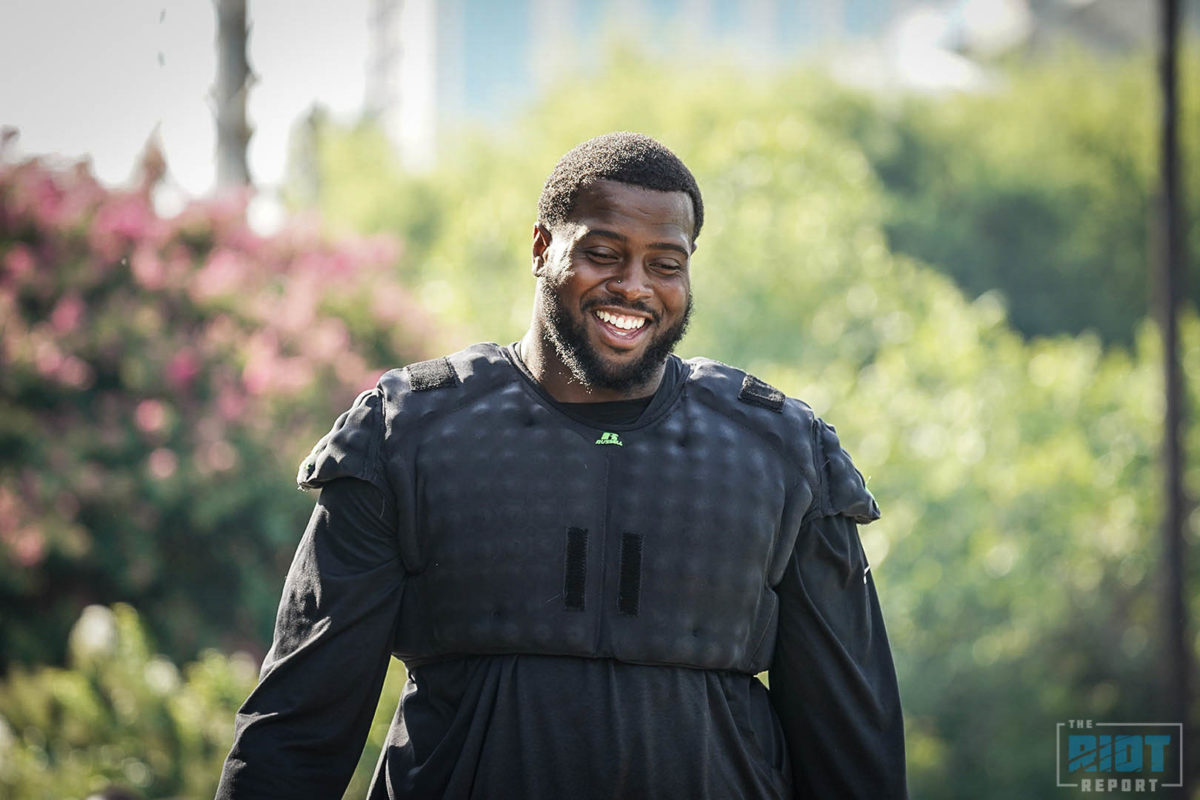 Carolina not only drafted Derrick Brown in the first round of last April's draft, but they will also get a former Pro Bowler back on their defensive line in Kawann Short. In 2019, Short only played in two games as he was placed on injured reserved with a partially torn rotator cuff.
Rhule believes getting Short back to pair with Brown and the rest of the Panthers additions this offseason will make their defensive line fun to watch and the big guys in the middle will help make their edge rush more complete.
"They just can just run by you and step up in the pocket," Rhule said. "KK is one of the leaders of this football team. He is one of the guys I trust. He is down to about 315, 312 pounds. And he has done it with hard work. He is quiet, a consummate professional, he's always working at something. I'm excited about KK and to have a guy like Derrick learning from KK, and I like that we have a young D-Line."
"We drafted Derrick Brown, we drafted Yetur Gross-Matos, we drafted Bravvion Roy, we signed Myles Adams as an undrafted free agent who has been a really nice surprise. So when they come to work every day and see what KK does, it is really clear – hey here's the standard. And we have a lot of other veteran defensive linemen like that."
"The D-Line room for me, not just talent-wise but also just process-wise, is doing things the right way."
Linebacker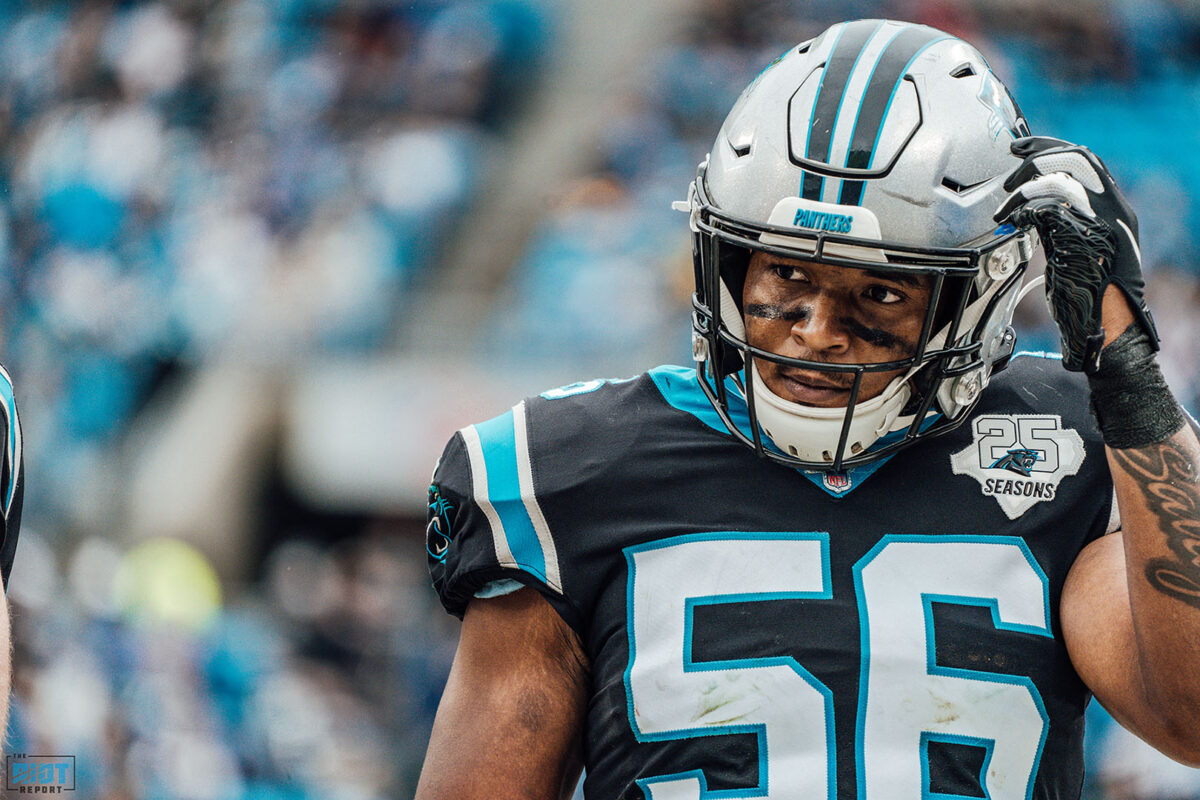 Currently, the Panthers have 11 linebackers on their roster. While it's training camp where coaches might want to just get a look at certain players, that's still a lot for one position group.
Panthers coaches have preached versatility this offseason – they want many of their players to be able to play multiple positions on the field if need be. So Rhule says that's why the team has so many linebackers on their roster currently – positional flexibility…..and because a battle is in store for the next month.
"We have a lot of guys that cross [train] and are doing a couple of different things like [Jeremy] Chinn and some of those guys that are playing the big nickel and playing safety – Sam Franklin is doing that," Rhule said. "So sometimes on the depth chart, it looks a little different. But I think it is a real battle on who those guys are going to be."
"Jermaine Carter has done a nice job so far, Andre Smith, JK [Jordan Kunaszyk], there a lot of guys that have been here. We brought in some undrafted guys, we drafted Chinn, brought in Sam Franklin, signing Adarius Taylor, who has played a lot of football."
"So I think we are looking for two things: We want some guys that can go in the game and play on defense and give us some legs and run – and we are looking for great special teams. One of our advantages is we are going to try to win with our special teams. We are really trying to shore up special teams. So backup linebacker is a real competition right now."
Guard
The offensive line is one of the Panthers biggest question marks heading into the season. Carolina didn't address the offensive line during April's draft, but the team signed veterans John Miller and Michael Schofield, who played under current offensive line coach Pat Meyer as well as with tackle Russell Okung and center Matt Paradis in Denver, to one-year deals.
Rhule says having veteran players on the offensive line is vital to the Panthers offense, but second-year player Dennis Daley, who was forced into action at left tackle last season but makes more sense as a guard, will also compete with Schofield and Miller for the two starting guard spots.
But it seems as if the vets may have a leg up, at least early in the competition.
"You walk into those rooms, and all those guys played for Pat before," Rhule said. "Johnny played for him in Buffalo. So they understand his system, they understand his way of doing things. People think of it as five different people, but really it is how they really interact together, and Pat does it in a unique way. They know it and understand it."
"And we've been pleasantly surprised by some of the undrafted free agents. [These] guys that have shown up and bought in and are working really well together."