Thanks to months of retooling and revitalizing their roster through both free agency and the draft, the Carolina Panthers had managed to create very high – and very unrealistic – expectations for their 2019 season.
When they snapped the ball for the final time in 2018, the Panthers' roster was not far off at all from being capable of a return to playoff form. But there were more than a few areas that needed to be addressed: The defense needed to get younger and more versatile to counter even the least imaginative of opposing offenses; the offensive line, while not a terrible unit by any means, lacked depth and needed to be retooled to go from serviceable to dominant. Retiring players needed to be replaced, as did players who no longer fit what the Panthers were hoping to accomplish on both sides of the ball.
Sure enough, the Panthers did all this and more, causing the imaginations of fans to run wild. With the addition of Matt Paradis and resigning of Daryl Williams, the offensive line would suddenly create gaping running lanes on every play and never let opposing pass rushers do so much as lay a finger on Cam Newton – who would be able to air the ball out at ease and at will thanks to young playmakers like Christian McCaffrey, D.J. Moore, and Curtis Samuel being impossible to defend against on any given play. Thanks to rookies like Brian Burns and veterans like Bruce Irvin and Gerald McCoy, the defense would suddenly become an unblockable terror that would smother all attempts to gain a single yard. There would be no stopping this Panthers team in all three phases – or so the hype said.
But despite such grandiose imaginings, the Panthers looked a touch sluggish and sloppy through preseason games. The first-team offense went nowhere through three series against the Patriots and the offensive line was bullied by New England's always technically-sound front. The defense, meanwhile, looked less than inspiring despite only surrendering a single touchdown to the mighty Patriots.
And in turn, everyone has lost their minds.
"We've got people jumping off the bandwagon before we've even pulled out of town here," remarked tight end Greg Olsen.

Though the process of coming back down to Earth was inevitable, there has nonetheless been concern about both the Panthers' offense and defense that has ranged from healthy skepticism to outright panic and hysteria. It is becoming a distinct possibility that this Carolina Panthers team may not look like world-beaters out of the gate: Though a 4-2 record by their Bye Week would be ideal, 3-3 is a very realistic possibility. And so too is 2-4 – which would do next to nothing to cure fans and media of the manic depression they experienced during the Panthers' 2018 collapse.
But here's the catch: It's likely that this Panthers team will take time to jell. And, if the examples of others around the league is any indication, that's hardly a bad thing.
Take last season, for instance: The Seattle Seahawks, who made the playoffs as a Wild Card Team, began their season looking like a total mess at 0-2, and by Week 10 were teetering over the abyss at 4-5 before a late-season hot streak. Their circumstances were even better than those of the Indianapolis Colts, who by Week Six were 1-5. If any Hoosier had let themselves be swept up in probabilities or narratives, they would have convinced themselves by this point that their season was over and it was time that they throw in the towel – if they hadn't done it by at least Week Three.
That, of course, isn't how things played out.
Slowly but surely, the Colts found their stride and lost only one more game the rest of the regular season, making the playoffs as a Wild Card and making it all the way to the AFC Divisional Round. Already sharing a heavy offseason emphasis on improving their offensive lines, the 2019 Panthers and the 2018 Colts could share yet another trend in common: It could very well take some time before they begin playing like the football team they are capable of being.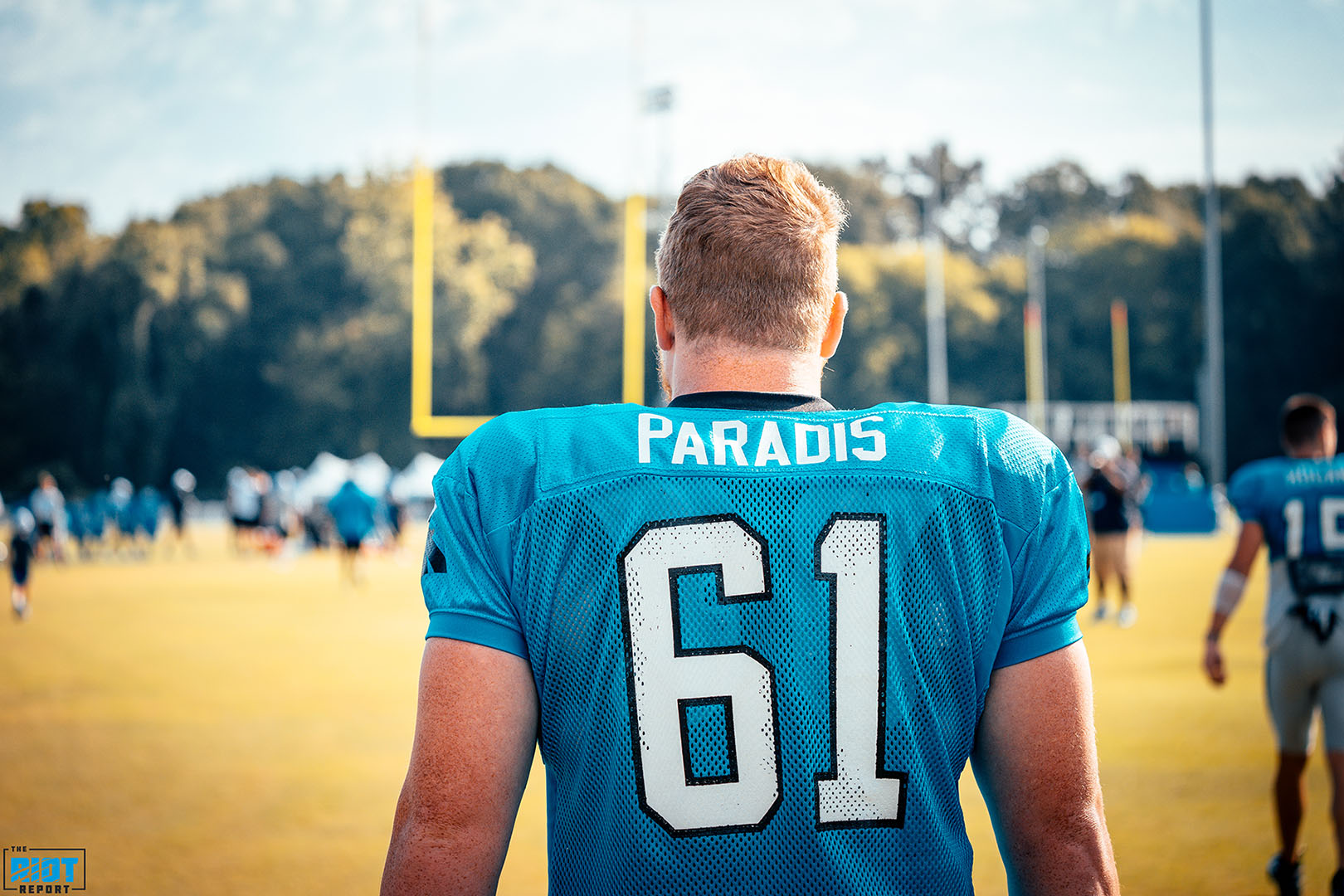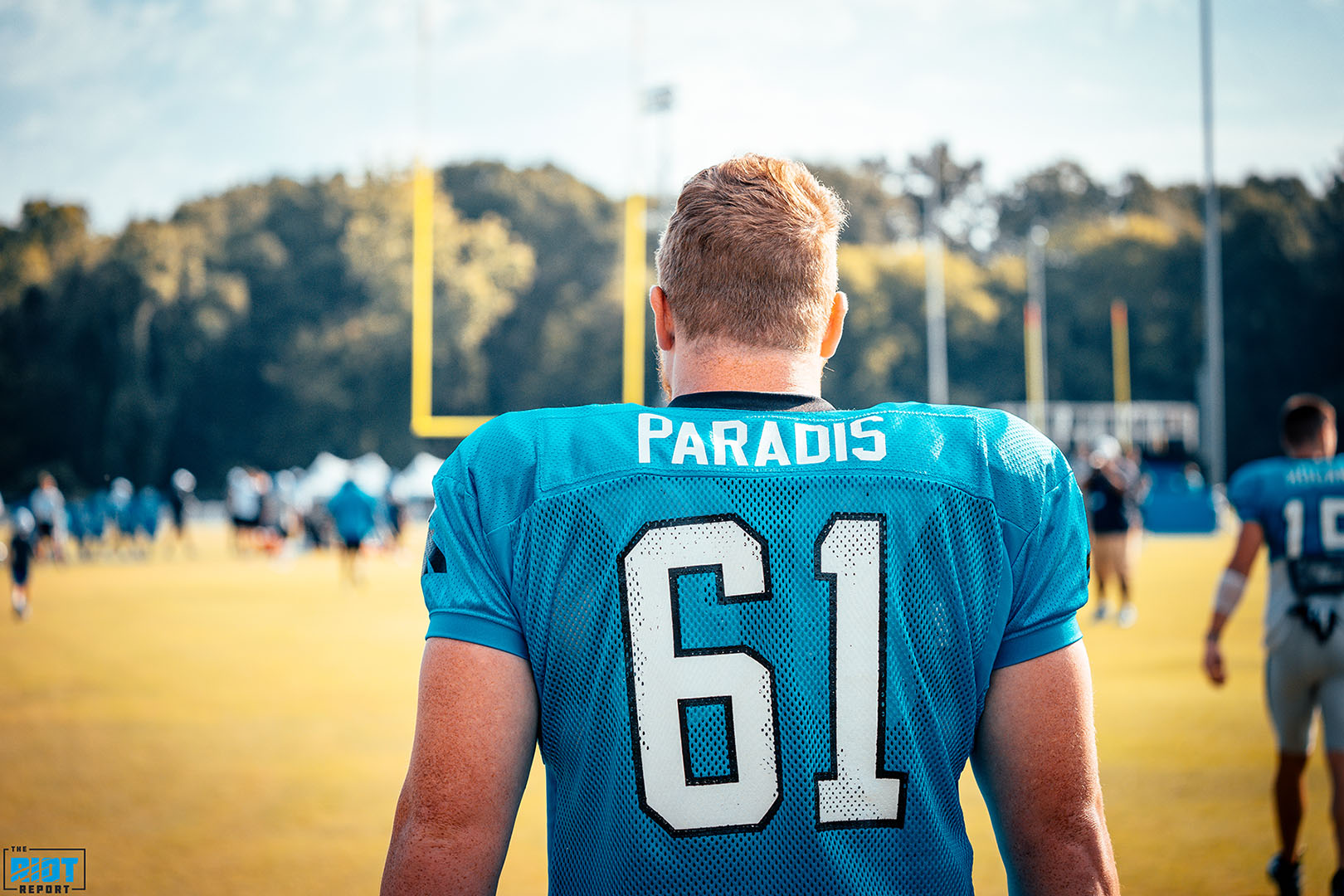 For the Panthers' offense, the single biggest adjustment they will have to get used to is far from a small one to work through: Ryan Kalil, the rock of their offensive line for so many years, is now gone. And in his place at center is Matt Paradis, who comes from a different offense with the Denver Broncos and is coming off of a broken leg that ended his 2018 season. Kalil communicated things to the Panthers one way, and they followed in kind, thanks in large part to how familiar they were with what Kalil was setting up and calling for from play to play. Paradis, needless to say, isn't the same player as Ryan Kalil – and there's bound to be some hiccups as Paradis gets used to the Panthers and the Panthers get used to him.
"The big disappointment is there was a couple of communication errors," said head coach Ron Rivera when reviewing his offensive line's performance. "When you sit down and listen to the guys talk about what happened and what went wrong a couple of times, that's one of the first things that they all seemed to talk about was just the fact that 'Hey, we're getting used to each other. We've got to communicate this better.' … It's most certainly correctable. Things that these guys have got to continue to work together on. They've got to work more and more as a group, as a unit, so they can continue to communicate."
"Great example: Guy comes up and mugs the A gap. Quite honestly, Ryan Kalil would have had a feel for that a little bit quicker than Matt did. And Matt's still learning working with Greg Van Roten. So as these guys learn to do the unsaid communications, those things will come natural. They'll be things that we don't miss."
"The biggest thing is for them to trust me and trust my calls," said Paradis of his fellow linemen. "We'll have a play here or there that I make a call, and everyone looks at me and I go 'Trust me!', and it works out. And then you just kind of start to work through it."
"We've just got to improve. That wasn't what we were looking for. But we'll use it as a learning tool and we'll move on."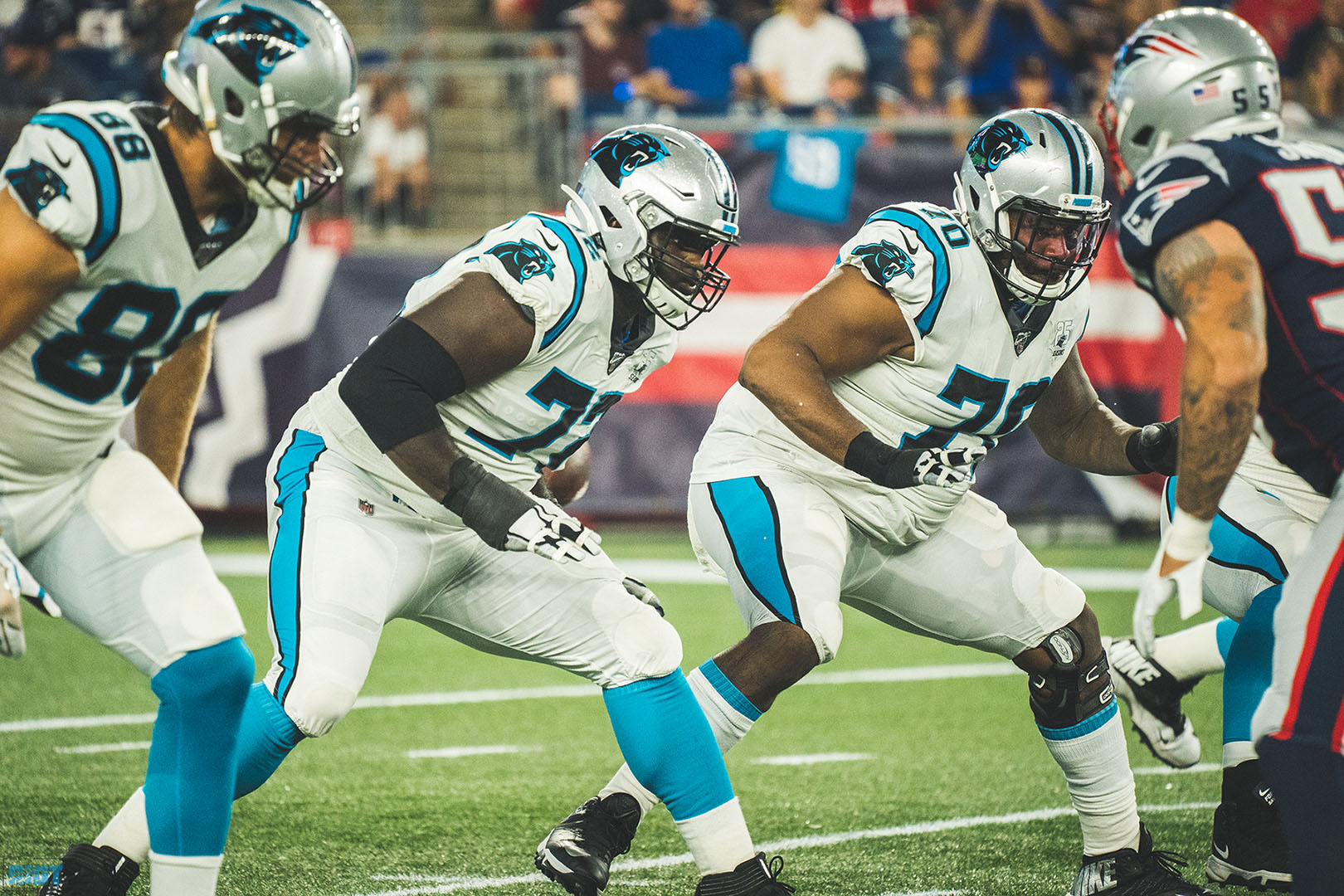 While the amount of pressure the Panthers allowed against the Patriots – specifically interior pressure, the real killer of any offense – was concerning at best and disturbing at worst, it's perfectly reasonable to think that the offensive line wouldn't come out of the gate as a finished product. And this can be extrapolated to the rest of the offense as a whole – though, to a somewhat lesser extent given the limited action Carolina's most important players have had.
"I think Christian McCaffrey's touched the ball twice, maybe once in the entire preseason. … Cam's played 11 snaps, he's probably gonna play more than that in some games this year," said Olsen sardonically. "I don't know, everybody needs to just take a deep breath, and let's see what happens when we dial in here with our group, put our full squad out there, unleash everything we've got. "
As far as the Panthers' defense is concerned, they – in the words of new defensive tackle Gerald McCoy – have been "solid". But despite their new personnel, and new scheme, there have been times where they've resembled the Panthers defense that ended up on the wrong side of too many highlights in 2018 than their dominant units of the past. And McCoy, as well as any observer who has seen them play, knows that's not good enough.
"Honestly, solid's not gonna get it. Solid will get you 8-8," said McCoy. "That's not the goal. The goal is to win a Super Bowl, so we've got to be a lot better."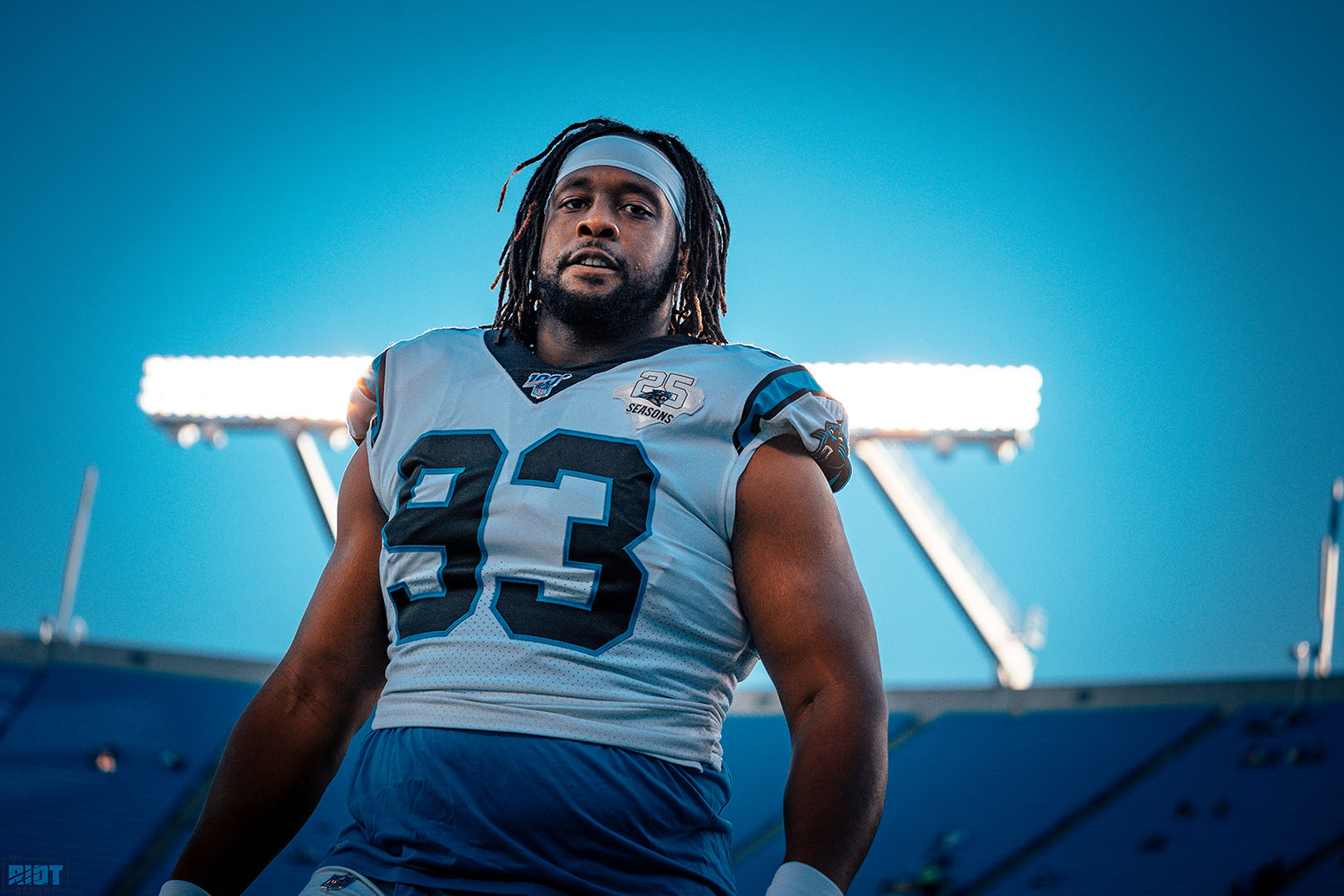 As is the case on offense, the Panthers' defense becoming better will come through all of their members getting used to each other and used to how things should be done in any situation. In the past, the Panthers almost never had to worry about this – thanks to the very rare rapport that Thomas Davis and Luke Kuechly had together. Though there is some carryover to past defenses – specifically, the level of communication between Kuechly and new full-time wingman Shaq Thompson – there's plenty more moving pieces that still need to be fully assimilated.
"We've inserted three different personalities from three different groups. We've got a guy that played at Tampa last year (Gerald McCoy), a guy that played at Arizona last year (Tre Boston), and a guy that played with Oakland and Atlanta last year (Bruce Irvin). And we're trying to mix them into it," said Rivera. "And then on top of it, we've changed some of the things that we're doing, and we've changed the personnel that we're using."
"…(Kuechly & Thompson) have been working together for the last four years, and you see those guys, the way they talk and the way they play off of one another. That's what you're looking for with all 11 guys. But until you have that cohesiveness – until Eric and Tre know without having to say a word, they know what's coming, they know what to anticipate. When Bruce and Gerald or Bruce and K.K. can communicate without really saying anything – then you feel like you're in the flow and you're better than solid."
"You've taken that next step."
But to take the next step, it's going to take reps and time together – Rivera himself estimated that it takes 5,000 reps before something becomes second nature. And there's no quick or particularly painless way towards that figure. There will be times – including in games – where teething troubles occur. It might mean the Panthers giving up a big play. It might mean the Panthers allowing Christian McCaffrey to be stuffed or Cam Newton to be sacked.
It might also cost them a game that they could otherwise have won.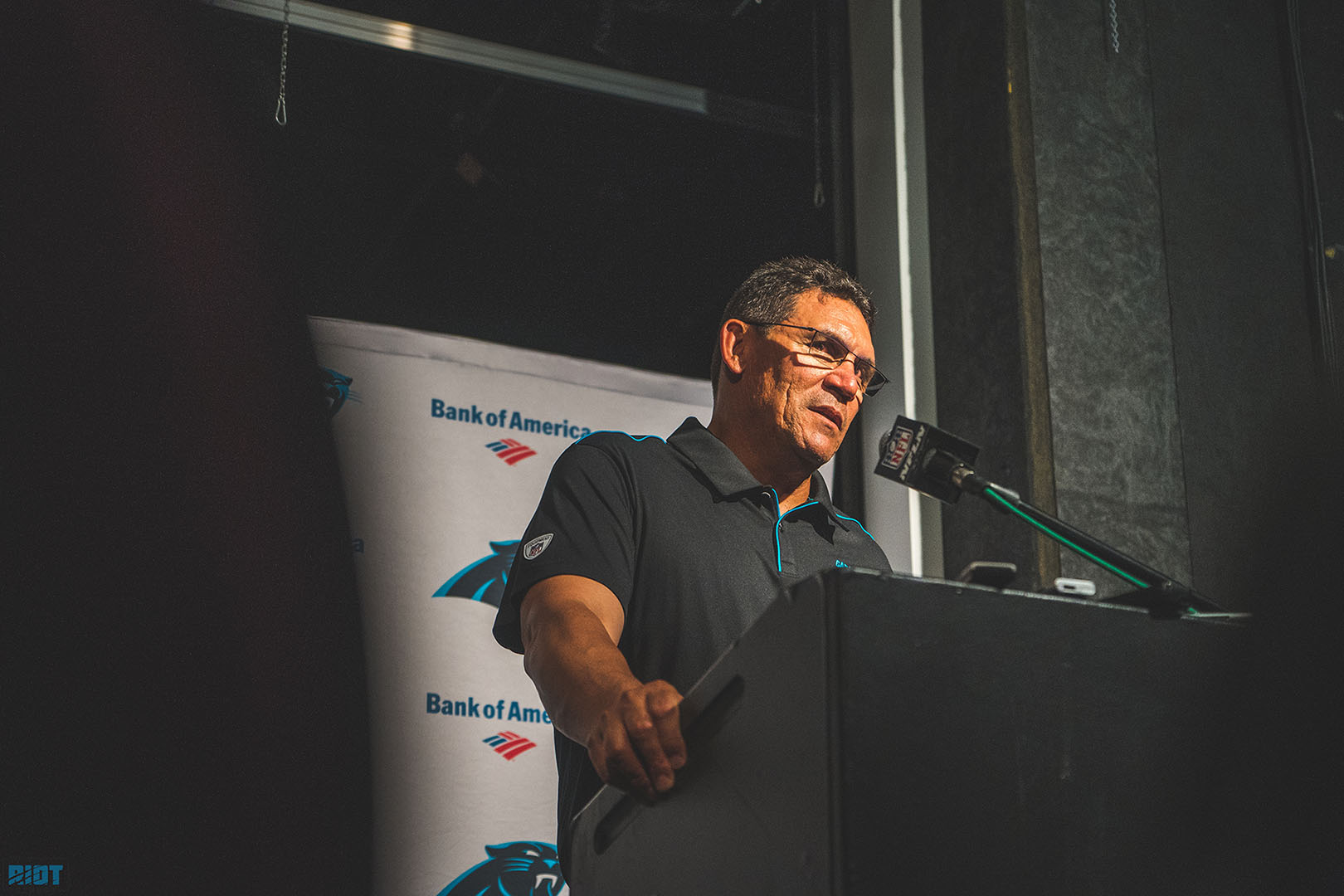 That, however, is simply the reality of professional football. While some teams may make things look easy, almost nothing is. And quite honestly, the caliber of football a team plays in September or October matters very little in the long run. As the 2018 Panthers unfortunately served an illustration of, the goal is and always should be to play your best football in November, December, and beyond – when the games really count and all the early-season wrinkles have been massaged out.
"There's gonna be ups and downs through the season. You're not gonna score 100 points every game and beat everybody by 50. It's just not gonna happen," said Olsen. "But we feel over the long term, over the 16 week schedule, that we're gonna be a good offense."
"I don't think one quarter with some of our starters playing a couple plays in one preseason game is all of a sudden a cause for 'That's how the whole season's gonna be.' I think that's foolish."
In concession, none of that is to say that the Panthers shouldn't worry about getting off to a hot start: Piling up wins early in the season will be of great help, and they have both opportunities to feast on easier competition as well as "punch above their weight" against playoff teams from last year. However, the Panthers of Weeks 1 and 2, and even the Panthers of Weeks 5 and 6, will not define the sort of football team that they will ultimately become. Let alone the Panthers of the preseason that saw rookies or second-year players lead them in almost every major category.
As it pertains to the Panthers, the proper reaction to them pricking their finger should be patience rather than panic.