With about nine minutes remaining in regulation, Newton was injured on a sack from Tyeler Davison, and Derek Anderson had to come in for a third-and-long. When Newton came back, the Panthers found themselves down 31-19 with five minutes left. A quick touchdown connection with Christian McCaffrey cut the lead to 31-26 with a little over four minutes to go.
Hoje é aniversário de @Run__CMC! Nós parabenizamos o Running Back relembrando seu Touchdown contra o @Saints! 🏃‍♂💨 #NFLBrasil pic.twitter.com/PTHl1YXYCj

— NFL Brasil (@NFLBrasil) June 7, 2018
The defense managed to make a stop, giving Newton and company less than two minutes to pull off a miracle comeback with zero timeouts remaining.
On the third play of the ensuing drive, Newton gave Panthers fans hope for something special to happen.
I guess one can argue that this throw to Kaelin Clay could've been thrown a little more outside, but the velocity allows this pass to be delivered on time into yet another small window. This level of precision into a small window on the sideline, needless to say, is very difficult to make. Newton is one of the best quarterbacks throwing deep into tight windows when healthy, and he does so here.
Despite taking an intentional grounding penalty that put the Panthers in a third-and-23 situation with 19 seconds left, Newton gave Carolina a huge opportunity to take their first lead of the game and the win.
Newton lofts this into the area of former Panthers receiver (and current Colt) Devin Funchess. The placement gives Funchess a chance to make a miraculous play happen.
Unfortunately, the pass falls incomplete, resulting in a fourth-and-23 (which ended in a game clinching sack for the Saints).
Funchess' effort on this play was widely criticized, as many felt he could have extended long enough to snag this pass. And yes, I would have to say his approach to the ball was not nearly as good as it could have been.
Here's an alternate look below:
Yeah, this was really frustrating to watch – Funchess plays outrageously small at the catch point on this play even though he's 6-4 and 236 pounds – this needed to be caught.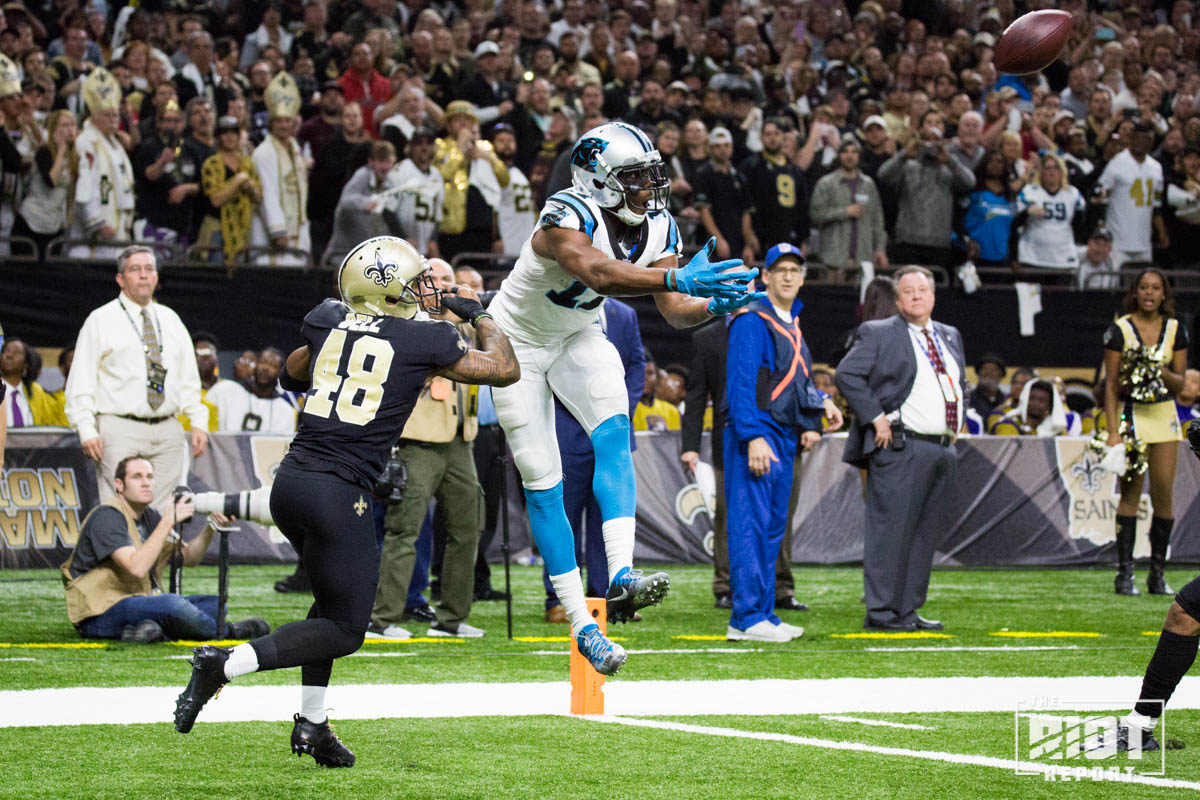 Despite the numerous setbacks in this game, Newton played at his absolute best. On a day where the defense couldn't contain a powerful Saints offense, he drove Carolina up from the abyss and to the brink of victory, making this one of the more exciting playoff finishes in recent memory – all while throwing to the likes of Brenton Bersin and Kaelin Clay.
Aside from McCaffrey, Funchess and Olsen, the other four pass catchers targeted combined for 331 yards total the season after this game – Clay and Bersin each had zero receptions in 2018.
This is also a great example of what Newton can do when he's healthy, which is something he's struggled with in his last three seasons. He missed a game in 2016 and suffered a shoulder injury in the last quarter of the season, went through an injury to his shoulder and then thumb in 2017, and then dealt with an injury to his throwing shoulder again throughout 2018, forcing him to miss the last two games of the season.
But in this game, outside of the one snap he missed late in the fourth quarter, Newton was at the top of his game and in top shape as well. The windows he was tossing into were insanely small, and one could argue the Panthers would've won this game if a few catches went their way.
Heck, two touchdowns were dropped that day that ultimately cost the team points.
All things considered, Cam Newton is an elite quarterback when healthy – and few games offer better proof of that than his performance in the 2017 Wild Card Round.
The greatest game I've seen him play.