After nine months of anticipation, the long-awaited debut of new Carolina Panthers offensive coordinator Joe Brady has finally arrived.
Making an incredible rise from little-known New Orleans Saints assistant to the brains behind a record-setting LSU offense in 2019, Brady quickly became a trendy name for NFL jobs as the Tigers pulverized all challengers on their way to a National Championship. And sure enough, the Panthers were the ones making the splash hire, giving the 30-year old from Miami Lakes, Florida his first-ever job as an offensive coordinator at any level.
In the time that's elapsed since, Brady's arrival in Carolina has been met with trumpets hailing him as the NFL's next great offensive mind. And going off what his offense did at LSU, the fanfare has been well-warranted: In just one season, Brady took the Tigers' long-stagnant offense and turned it into one that smashed the college football record books with 8,526 total yards, with quarterback Joe Burrow throwing for 5,671 yards with 60 touchdowns.
By virtue of that single season, Brady has affirmed himself as a schematic mastermind, the sort that have become in vogue in the NFL as more and more teams exalt young, innovative offensive coaches to prominent coaching positions.
But being an NFL offensive coordinator is far more than drawing up Xs and Os and calling them on gameday: You have to coach, too.

Pro football is littered with cautionary tales of schematic whizzes, particularly from the college level, who weren't able to master teaching and coaching at the ground level. In the early 2000s, Panthers fans were desperate for Steve Spurrier to save their franchise with his "Fun 'n' Gun" offense. They were glad he didn't after he flamed out following two seasons with what is now the Washington Football Team. Chip Kelly was able to fool the NFL for a little while with his Oregon offense in the 2010s, but his allure on the Philadelphia Eagles quickly faded after the league figured him out and he alienated his players in Philadelphia.
In Brady's case, there has been some skepticism towards his hire by the Panthers: In a piece by Mike Sando of The Athletic, unnamed NFL executives questioned if Brady could call plays at a high level in the NFL. There was also a (since dispelled) knock on Brady that he did not call plays at LSU, with such responsibilities being the domain of offensive coordinator Steve Ensminger.
Perhaps even moreso than head coach Matt Rhule, there is a burden on Joe Brady to prove that he is a legitimate NFL coach. But on the verge of his first game as the offensive coordinator of the Panthers, Brady is unconcerned with validating himself before the masses and the media.
"From a 'Prove It' standpoint, in my mind I have my 'whys'. I don't have anybody to 'prove it' for," said Brady. "I want to win for this organization, for our players, for Coach Rhule. That's the most important thing for me."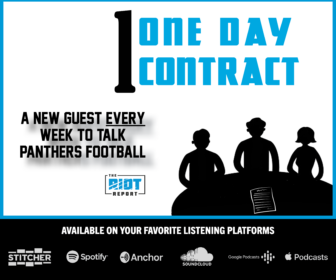 When it comes to the difference between being great and schematics and great at coaching, there is an old adage that says "It's not the Xs and Os, it's the Jimmies and Joes." As opposed to being simply moving a chess piece to where it is intended to be, coaching requires a mastery of interpersonal skills, understanding what personnel are good at, and what makes them tick as players and individuals.
Not every coach has that sort of tact: The only thing of any substance former Panthers head coach George Seifert allegedly ever told a young Steve Smith were "Don't screw it up." Plenty of others have been accused of thinking that their players need to adjust to their brilliant scheme – and not the other way around.
Which is why it's highly encouraging that when speaking of Brady, Panthers coaches and players alike speak of a man who connects with those he works with closely rather than distantly.
"He works well with his staff, he listens to his staff, he listens to his players, he coaches them," said Matt Rhule. "He's humble."
"I think he's a great motivator. I think there's something about having a coach that is so schematically sound, but also can get us going," said running back Christian McCaffrey. "Coach Brady's done a great job with that. I know he'll continue to."
"He just knows his personnel and knows what everybody's strengths and everybody's weaknesses are," said wide receiver D.J. Moore. "So he puts us in the best position possible to be the best player we are at that moment whenever he calls a play."
Earning the faith of McCaffrey, Moore, and the rest of Carolina's offensive personnel is absolutely pivotal to Brady's success as a coordinator. So often, the difference between the success or failure of a team is whether or not the players trust their coaches, as it usually determines whether or not a team rises to the occasion and fights hard for those who are leading them.
But building trust doesn't just happen when a play works and goes for a big gain. It's also built when plays don't work and a coach either adjusts his approach or stubbornly sticks to his guns. No doubt, Joe Brady will have to take his lumps as a first-year coordinator at some point.

Realistically, Matt Rhule knows those will come at some point. But he also knows that in working through those, Brady will build his equity with the players and make them rise to the next level in response.
"We're in the NFL. There's gonna be good days, there's gonna be bad days. And really the mark of a great coordinator is how they handle the bad days. How they handle the days when everything's not clicking," said Rhule. "I have a lot of confidence in Joe that he's going to always find a way to fix things and improve, because it's never about him – It's always about the team."
"That's, to me, what makes a great coach. I don't believe you can really motivate people. I believe though when people know that you're there trying to help them, they are motivated and they play better. I think that's one of Joe's best qualities."
When he first dons his headset this weekend against the Raiders, the temptation to anoint Brady as the next Sean McVay – that phrase repeated over and over again in the wake of the Rams head coach's success – will be incredibly strong. If his offense works as intended and the Panthers boast the sort of rushing and passing attack that keeps NFL defenses up at night, the words being used to describe Brady now – "Prodigy", "Wunderkind", "Genius" – will proliferate across the league.
Perhaps, indeed, Joe Brady is a special coach.
Exactly whether or not he is, though, won't be determined by him drawing plays on a tablet or implementing any manner of revolutionary concepts. Rather, sharing his mind with others and building the bridges that let his knowledge spread all across the offense will decide just how much Brady's Panthers offense will click.
"I think the biggest thing is just the relationships – relationships with your players, with your coaches," said Brady. "I think the schemes are half the battle, but you want the guys to believe in you and believe in your system."
Only a select few coaches are hailed as schematic geniuses, and Brady's earning such a title at a young age is already remarkable. And in clearing that hurdle, Brady's next objective is to become known as a good ball coach – a title much more down to earth, and perhaps much more in line with what characterizes the best minds in pro football.
"I don't think that we're doing anything that other people aren't doing. I just think Joe has a good plan," said Rhule. "He constantly works at ball, he constantly works to get better. I think he's really a special guy to work with, and I'm anxious to see him get out there and go through the year with him."
ITop Photo Via Carolina Panthers)