While most players had to navigate through a COVID-19 world during the offseason, filling Home Depot buckets with dirt to lift weights and running routes in their backyard, Joey Slye's offseason was business as usual.
The life of a kicker.
"A lot of people coming back asked me what the changes were from this offseason compared to other offseasons," Slye said on a virtual conference call Tuesday. "I was lucky enough to have some situations where I had a gym I could work out in because I worked there as an employee before coming to the NFL, so I had access there. I was able to get on a couple of fields and kick."
"So for me, training was pretty regular…..I've been prepped for this coming in this year."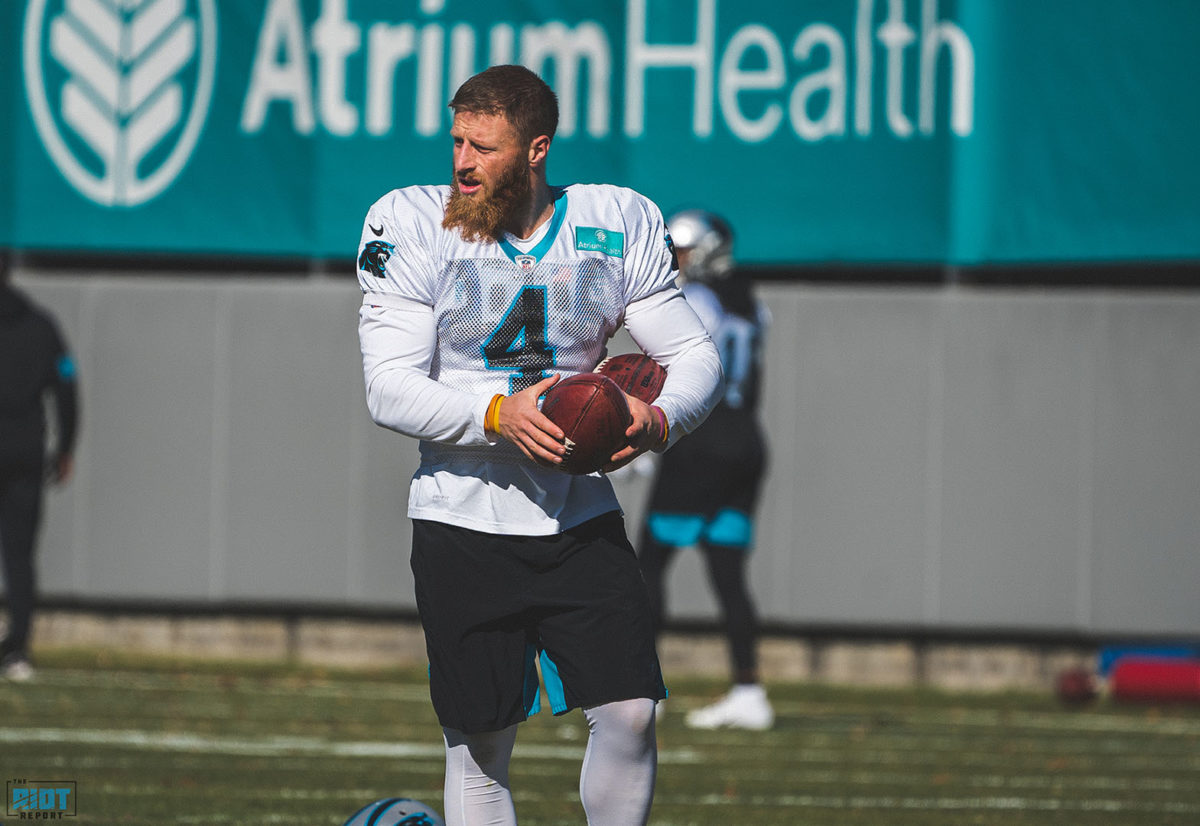 After being signed as an undrafted free agent for what many thought was just a camp leg or some light competition for Graham Gano last August, Slye became the full-time kicker when Gano was placed on injured reserve before the year began – the 24-year old followed that with an up-and-down 2019 season. The positives – Slye converted 8-of-11 field goals from 50+ yards, a Panthers franchise record. However, Slye was successful on just 78.1% of his field goal attempts last season, 23rd in the league.
Slye says he knows consistency is something he needs to improve on,
"For me, I'm consistently trying to improve, myself, my mental game and my physical game," Slye said. "Obviously, be more consistent during the season. I had some ups and downs last year, and I need to tighten that window between what my best ball is and my worst ball is. Then obviously trying to critique things on a fly better, kick-to-kick, week-to-week."
"Having the first 16 game season under my belt definitely helps to understand what it takes to be week-to-week going into a game. For me, it has been the consistency of my swing, being able to recall it every single time. If I can get the right timing down on my swing, I will be fine."

It was thought that Slye would have some competition during training camp, but the Panthers released Gano on July 30th after eight seasons with the club.
Slye said he has spoken to Gano since his release as the two will continue to have a kinship off the field.
"We've always had a pretty good relationship, so being able to talk with him, I just gave him my best, and he gives me his best," Slye said. "Everything else I really won't talk about, but I'm always going to be in his corner – he is someone that's always been a role model for me and always been there for me since last year. I was able to call him during some of the games where I was doing good – or doing badly."
"He has always been a good role model for me, so I'm going to wish him the best."
There are a lot of changes on the Panthers roster, and one of them also affects Slye directly – he'll have a new person holding field goals for him this season. Carolina signed undrafted rookie free agent Joseph Charlton after Michael Palardy was placed on injured reserve with a torn ACL last month.
Slye and Charlton both work with the same kicking coach, so Slye says the two have been able to get their chemistry down quickly.
"We've been able to cross paths a couple of times and was able to get out with [Charlton] to go work with him one-on-one with our coach," Slye said. "I've gotten some timing down with him before we came into camp and since we been here. At the professional level, the punters all have really, really good hands. So to be able to get a rhythm with him, it only took a couple of days. It just took situations between him, JJ [Jansen], and me all primed upright, and once we did that, we've been doing pretty well."

If Slye is kicking in NFL stadiums next month, there will likely be something different about them – that's the lack of fans in attendance. Some teams, like the Green Bay Packers, have already ruled out fans for the beginning segment of the season, while other teams are still deciding their fan policy.
Slye says he will have the same approach no matter how many fans are in the stands.
"When you're out there, you're pretty much in a zone," Slye said. "When I played in some of the loudest stadiums through my college career and during my NFL career, you can hear things and not hear anything when you're on the road…..It's a give and take with that. So when you're out there, you're in a blackout state, you are kind of out there, and you go through your stuff, and you don't really hear anything."
Last season, Slye wasn't thought to be the future kicker of the Panthers. But for now, this is Slye's job to lose – and there's not even any competition currently on the roster. What a difference a year makes, but Slye says he will treat this offseason and training camp just as he always has, whether or not Gano – or any other kicker – is on the roster.
"I know I need to go out to the best of my abilities, and everything else will be in the hands of those that are up top," Slye said. "For me, things haven't really changed since [Gano] has been gone. As of last week, I have still been doing the same thing if he was here. I have to work on my own stuff, get my timing down with Joe Charlton, the new punter. We have been getting my swings right and taking all the notes that I have to do for myself."
"Things haven't really changed since he has been gone, and they pretty much would have been the same if he was here."