The Panthers had jumped out to a 35-7 lead with four minutes left and it looked as if Cam Newton and Co. could do no wrong – Christian McCaffrey had rushed for two touchdowns for the first time in his career, Greg Olsen had just made a one-handed catch in the end zone and Curtis Samuel had covered over 100 yards en route to his 33-yard double reverse touchdown. It had all the makings of the type of game that would feature Carolina taking a team photo at the two minute warning – shades of 2015.
It was a blowout.
Until it wasn't.
After outgaining the Bucs 264-75, the #1 passing offense in the league all of a sudden found it's footing and roared back from 28 down to cut the Panthers lead to 35-28 – touchdowns on three of four drives made it a one-score game as the Panthers offense struggled to find the juice that made it so effective in the first half.
"This was a situation where a lot of it had to do with us," said Ron Rivera. "We didn't play to our abilities at a certain stretch but you have to give them credit; our biggest thing was we had a couple of guys make a couple of mental errors. We had to take a couple timeouts, unfortunately and then we had to accept a penalty because – again – we weren't quite sure where to line up. But as I said, that's part of playing young guys. When you play young guys, they are going to make mistakes."
Rivera is referring to a bizarre third quarter sequence that began as the Panthers crossed midfield – the Panthers would then burn all three of their timeouts in a single series and have a fourth-and-1 conversion attempt backed up to a fourth-and-6 after an illegal motion penalty; the fourth-down attempt would come up short as a pass to Devin Funchess only gained two – which would have been enough had they not been backed up by the penalty.
The ensuing possession would end in a 30-yard Adam Humphries touchdown to pull the Bucs within seven.
The Panthers are well aware that teams can come from behind to win – it was only two weeks ago they entered the fourth quarter down by three scores and stormed back to beat the Eagles on the road; it's been a pattern for Tampa Bay as well, so the Panthers expected a comeback.
"We're in this pattern, that we go out, we get behind, we get killed in the second quarter, then we rally like hell in the third quarter and then everybody thinks we're back in it and then we fade off at the end," Tampa Bay coach Dirk Koetter said about his team's rally in the third that ultimately fell short. "That's definitely the pattern that we're in. If I knew one thing to fix it, I'd do it right now, but I don't know what that is."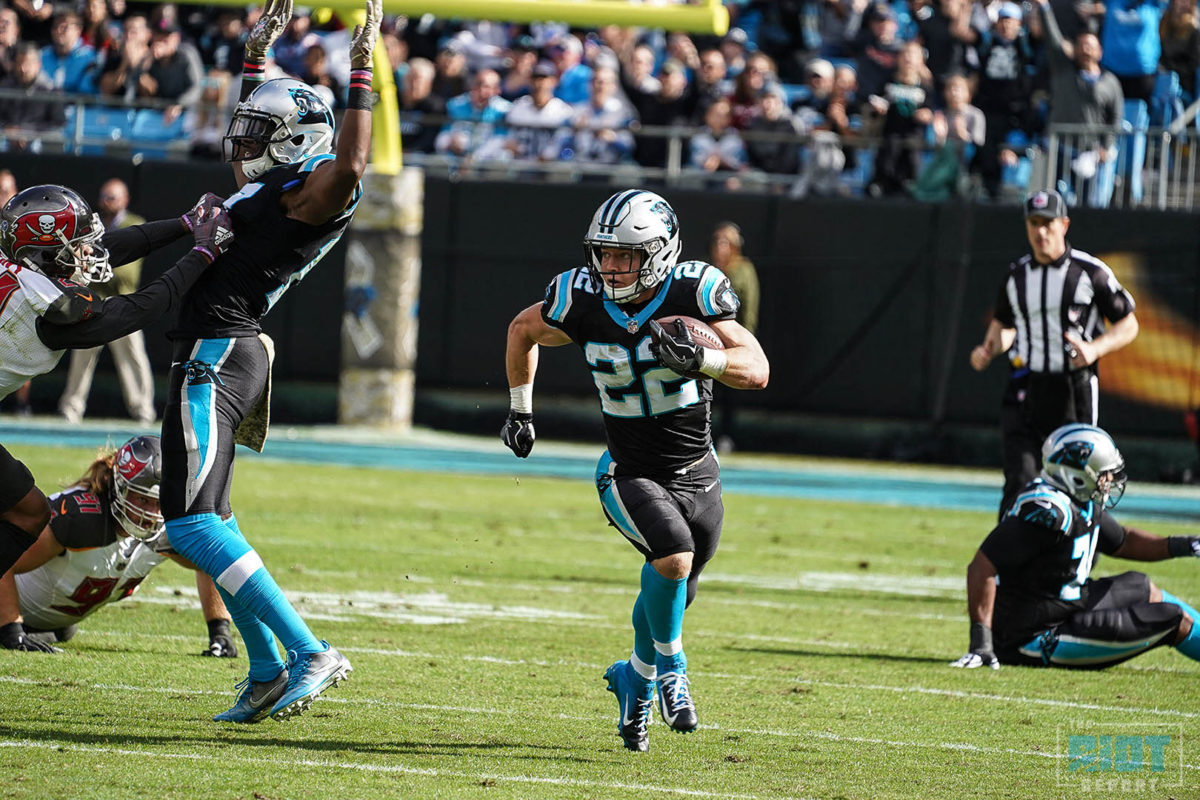 With the Panthers up a only a score – and having only converted one first down in over 20 minutes of game time – the Panthers took to the field at their own 25 and put together their most important drive of the game, converting a key third down on a checkdown to Christian McCaffrey that went for 20 yards followed by a play-action rollout to Greg Olsen for another 20. Cam Newton rushed for 13 yards and McCaffrey nine more before Newton hit Curtis Samuel with a picture-perfect pass up the seam that the second-year wideout went up and grabbed in front of rookie corner Carlton Davis III.
Newton said that when they got the ball back only up a score after being up 28, there was no panic from his team.
None at all.
"No panic," said Newton after the game. "We knew that, I said it before and I say it with so much respect for Tampa, those guys are extremely comfortable with playing [from] behind. A lot of teams, I don't know if there's a lot of teams that would have came back with a fight, battling from 35‐14 or whatever the score was at halftime. Those guys battled back and made it a game."
"They have so much of that in their DNA as we prepared for those guys knowing that they'd never give up, they'd be resilient, and they were just one play away."
They would stay one play away – after scoring to make it 42-28, that's the way the scoreboard would stay.
Although that's not the way the Panthers would like it.
"We talked at halftime, 'We don't need to make these close. We don't have to make them so hard,'" tight end Greg Olsen said. "But we typically do."