The Panthers have been trying to solve their left tackle issue since newly-minted Hall of Honoree Jordan Gross retired after the 2013 season.
Since Gross gave up his spot protecting the quarterback's blind side, the Panthers have used ten different options in the past 87 games on the left side of their offensive line – from high-priced free agents like Matt Kalil to converted right tackles like Byron Bell to guys who were signed off the street and starting three days later like Chris Clark.
Since Gross retired, never once has the player who started the majority of the games in a season done the same the next year – the Panthers have already cycled through four different left tackles this season alone.
While some of that can certainly be chalked up to bad luck – second-round pick Greg Little, expected to be the left tackle of the future, has spent most of the season in the concussion protocol and remains there after suffering his second of the season and not participating in practice since the Panthers Week 4 win in Houston – the Panthers' use of two different players at left tackle on Sunday against San Francisco was not due to injury.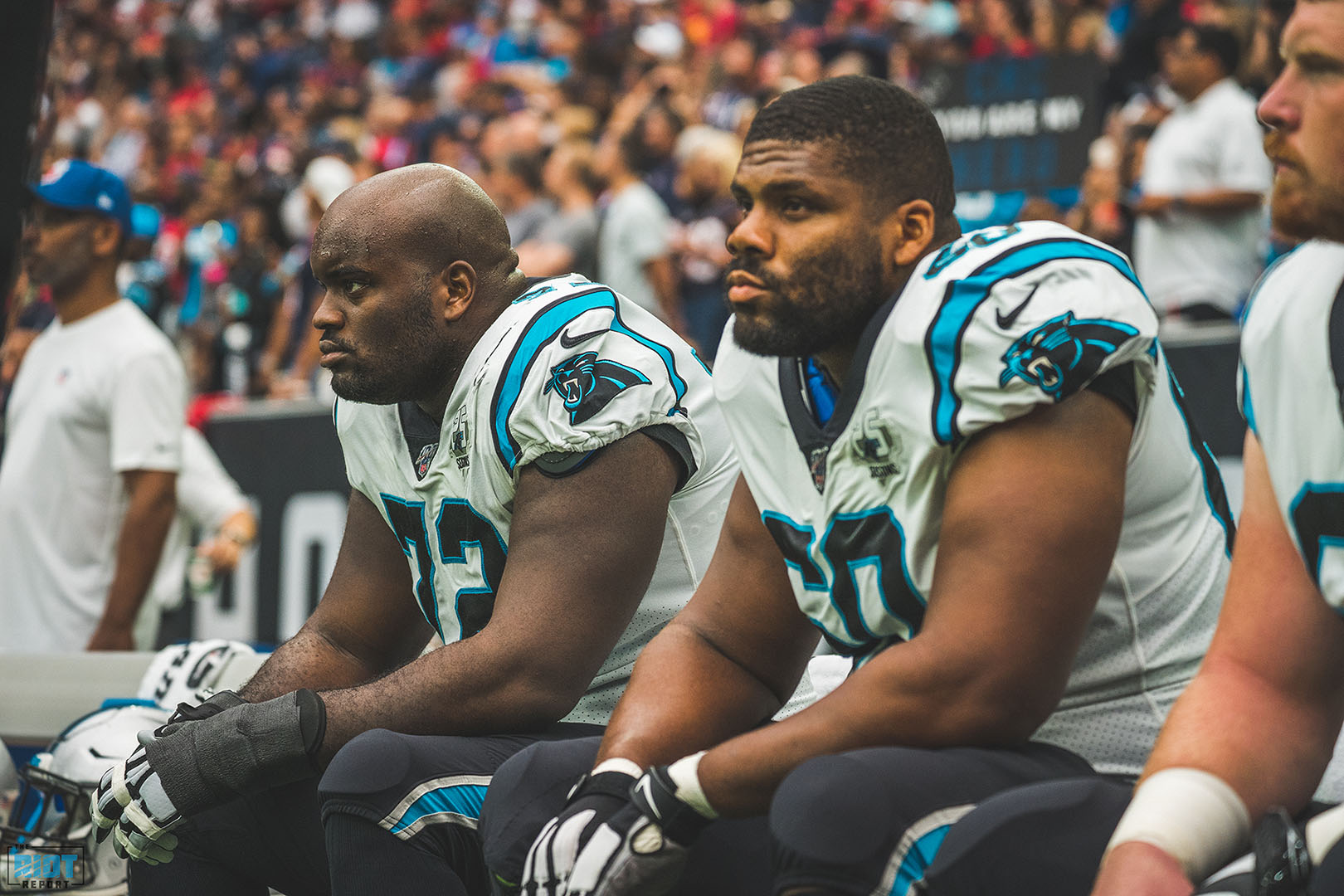 After Dennis Daley had started the past two games and with Trai Turner returning after a three-week absence, many expected Daley to be on the left side and for Daryl Williams, who had played in right guard in Turner's stead, to be the first man off the bench. But on Sunday, Williams was announced as the starter at left tackle and Taylor Moton, who had started the past 22 games at right tackle, was announced in his traditional spot; creating even more confusion, when the Panthers began warming up, Moton was on the left – where he made the first start of his career in Week 1 of 2018 – and Williams was on the right, where he would play for the first series.
Are you following? Because there's another key plot twist coming.
Three plays and one third-down sack later, Williams was back on the bench and Moton was on the right side and Daley back out on the left – Moton indicated after the game that there was a plan for him to rotate from side to side.
"I knew it was going to be a rotation – they didn't tell us how many snaps [on] both sides, I just knew I had to be ready for both sides," said Moton. "As soon as they told me, I told myself 'Alright, I'm going to do what I can to be the best left tackle that I can possibly be,' – I knew later on that it would be a rotation, and ever since I got in this league, I've told myself to just be ready to play wherever they put me and do the best I can."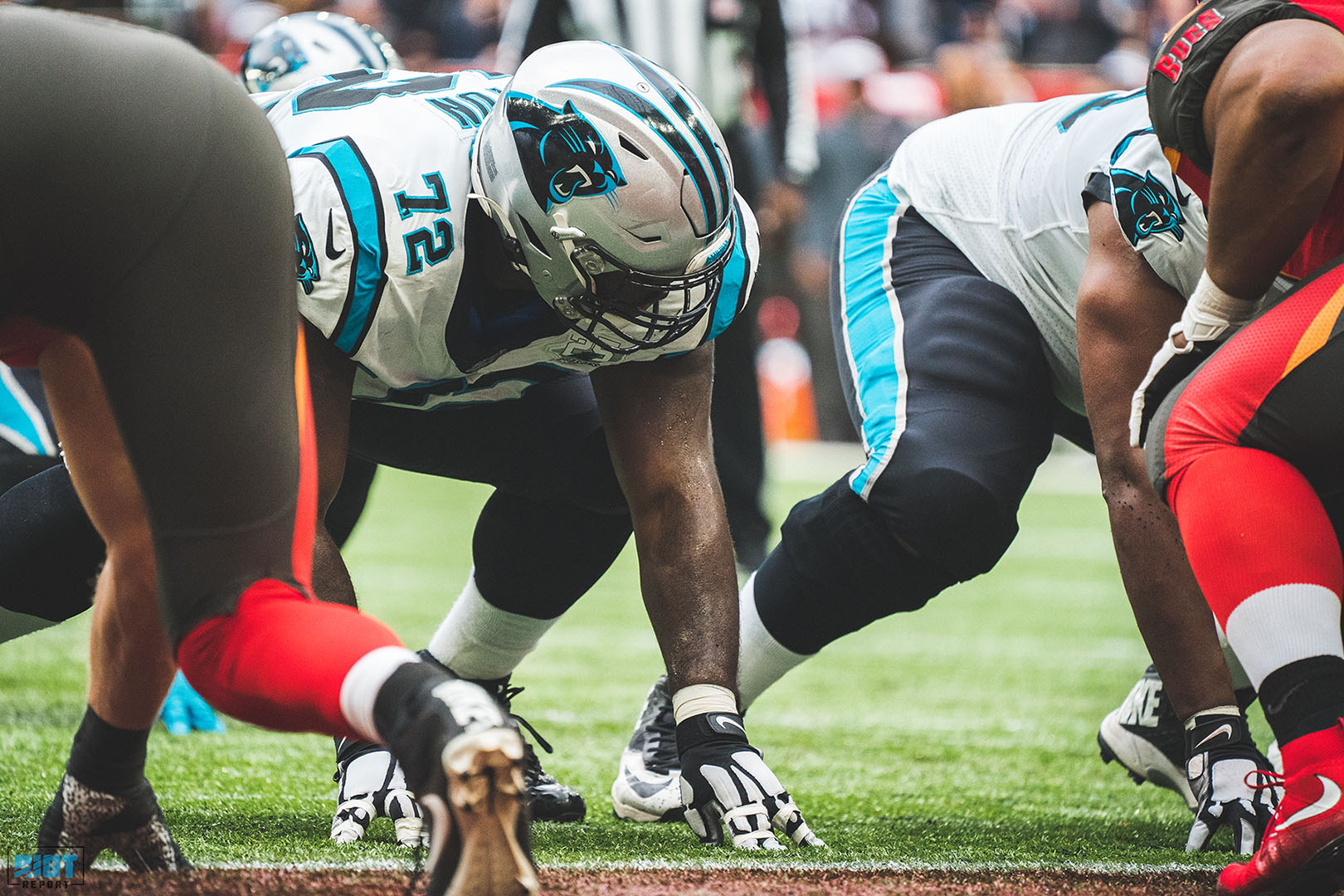 Williams would not return to the game until the fourth quarter when he replaced Trai Turner at right guard with the Panthers down by more than 30 points – Rivera said after the game that the team had a plan heading into the game and reiterated that on Monday.
"We knew that at some point we were probably going to have to put Daryl inside and play right guard, so, again, you just have to be ready for it – so that's what we did," said Rivera. "We knew Daryl was going to have to play right guard and Taylor was going to go back to right tackle, so we planned and thought about those things going into the game."
Turner said this week he was not aware that Williams was slated to replace him, only that it was a "coach's decision".
Williams has said multiple times that he feels more comfortable on the right side, the side where he was voted second-team All-Pro in 2017 before a knee injury robbed him of his 2018 season; he re-signed with Carolina on a one-year deal and was slated to begin the season at left tackle – he started the first two games there before rotating with Greg Little in Week 3. The injury to Turner caused Williams to move inside to guard and Little to start at left tackle and Little's subsequent concussion moved Daley to the forefront.
But moving from position to position isn't easy on an offensive lineman, where continuity can be a virtue.
"For sure, man," said Williams when asked if it was hard to rotate like that. "It's just different – knowing different assignments, just everything in general. Right when I came into the league, Coach Matsko made sure I knew pretty much every position besides center. This ain't nothing new – I'm used to this."
"It is what it is, I'm just here to do my job to the best of my ability and do what they tell me to do."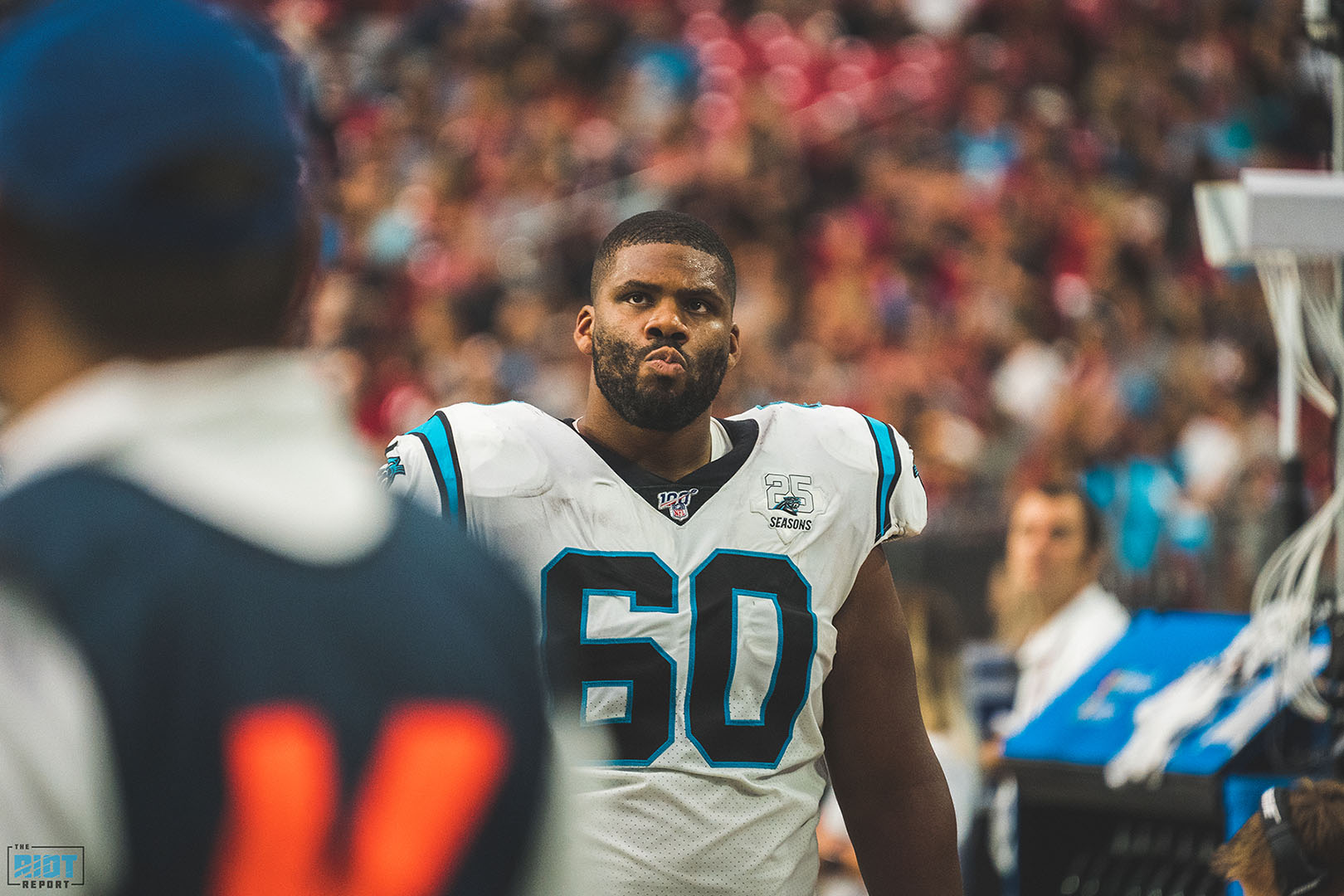 After Daley practiced well over the course of the summer and training camp, the Panthers felt comfortable with the sixth-rounder being the top backup across the line – and he's only gotten better with each week of practice.
"He played several positions during those periods and when you're learning what the right guard does with the right tackle and the left guard does what the left tackle, that's important," said Rivera. "you learn to understand those things."
"You're able to get a feel for what you've got going on, get a feel for the plays – you're double [teaming] or you're blocking by yourself or blocking back or pulling, whatever the case is," said Turner about how important practice reps are for an offensive lineman. "It's one thing to know what you've got to do, it's one thing to see it, but it's another thing to get out there and do it and feel it."
"You can't replicate games."
Daley has had a lingering groin issue that popped up when the team traveled to London, and although he said after the game in San Francisco the groin wasn't bothering him, the team chose to hold him out of practice for a couple of days after bye week, which may have been one of the reasons they felt as if Williams presented the best option starting and a rotation was in order, even after Daley was voted Pro Football Focus' left tackle of the week in Week 6.
"Tremendous athleticism. Very smart young man," Rivera said about the Panthers' sixth-round pick, adding that he made some mistakes but played well overall in San Francisco, where he played 88% of the snaps. "Passionate about playing the game. He's got a stoutness about him too that goes very well with athleticism, especially at the left tackle position when a big guy tries to bull you.
"We still feel he's a young guy that can help us, and right now, we do think he's our best option at left tackle."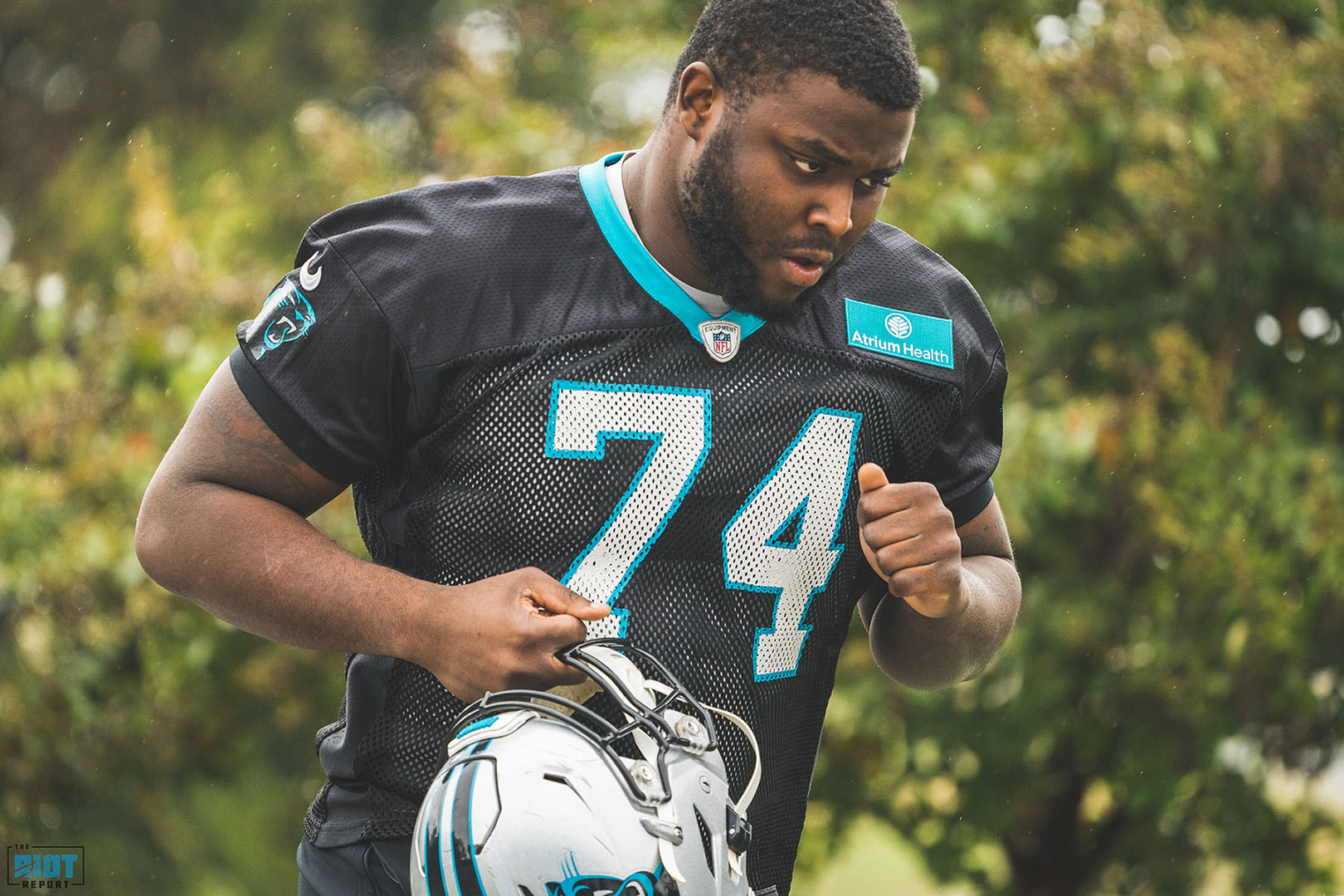 All that's not to mention the stalwart play of Van Roten – who Rivera went out of his way to praise – and Paradis, who is continuing to pick up speed as the Panthers largest offensive free-agent acquisition in the middle of the line. Or Little, whose status is very much questionable after appearing in practice on Wednesday to work on the side before being nowhere to be found Thursday afternoon. When Little returns – and Rivera said this week that he didn't think this issue would linger for the season – that would push Daley to the bench along with Williams…if Daley hasn't made the job his own by that point.
So with Daley currently being the "best option at left tackle", Moton a stalwart on the right side – he's allowed only six pressures in 286 passing snaps, according to Pro Football Focus – and Trai Turner a full participant in practice this week, it seems as if the lineup that makes the most sense is, from right to left, Moton-Turner-Paradis-Van Roten-Daley with Williams being the first off the bench at every position but center – but that same sentiment was also the case last week. Either way, the Panthers have to figure out what's going on up front – in a position group that values continuity as an asset, this line has had virtually none.
And things don't get any easier with the Titans, who have the 10th most sacks in the NFL, coming to town.
"We're getting back into the swing of things," said Rivera. "It's funny to say that coming off of a bye week, but when you're dealing with the injuries that we've had, unfortunately, we didn't play the way that we had expected or at least hoped to [in San Francisco]."