The title really says it all, doesn't it?
After raising $13K in both 2015 and 2016 for the Isabella Santos Foundation and the Cam Newton Foundation respectively, the Roaring Riot has more than tripled our previous annual fundraising efforts to top out at just over $40K collectively for 2017. I honestly can't even begin to tell you how excited and how proud I am for our group to have this sort of impact for our communities, and I hope that every member, every tailgate guest, every donor, and every person who helped spread the word of our campaigns feels the same pride for being involved with making a difference.
Let's take a look back at 2017 and what all we were able to accomplish together.
We started the year by creating a campaign to help send the boys and girls of the Bethlehem Center of Charlotte, a local nonprofit focused on providing educational opportunities to low income families, to Fan Fest, once we caught wind of the new format and the $5 ticket fee; our goal was to obtain a combination of monetary and ticket donations so that we could provide the kids with entry to the event as well as a few dollars to spend at the concession stands. With all of your help we were able to obtain 210 donated tickets (at $5 a piece) and over $3,100 in cash, which was well above our original stated goal of $2,000; it was a ton of fun and very rewarding to see the response from all of you to help us surpass the goal. And the leaders and the kids of the center were ecstatic and very thankful. You all did a great job in turning the "negative" of the newly instated ticket fee, into something good for our community. Well done.
Because of our group's relationship with the Cam Newton Foundation, we were afforded the opportunity to go Crusin' with Cam; during this epic event, 40 Roaring Riot members got to spend a few hours with Cam Newton on a luxury yacht on Lake Norman. Tickets for this were $250 a guest and included an open bar, food, entertainment from DJ Vinny, and a chance to rub elbows with their favorite team's franchise QB; our members were very excited about getting to participate and tickets to the event sold out in only 45 minutes! It was a great night and successful event, as we were able to raise $10,500 for the CNF.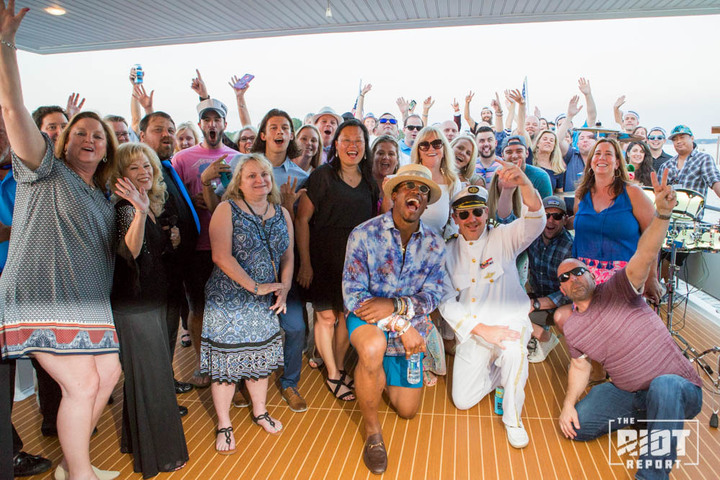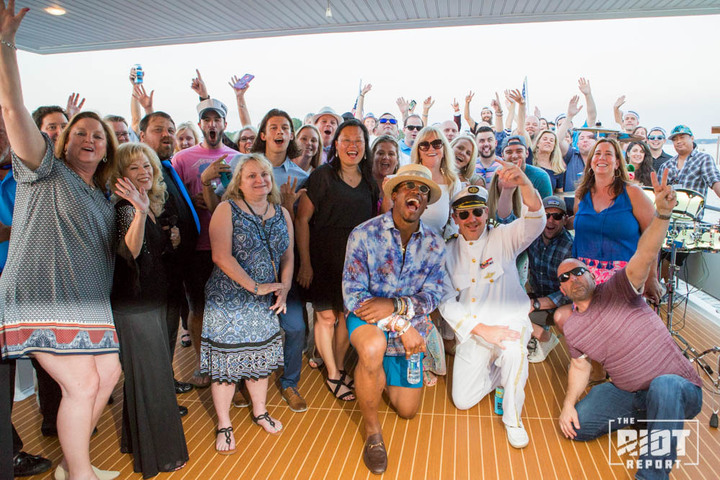 SHARE Charlotte is a nonprofit whose mission is to provide a platform to connect local charitable givers with local nonprofits in needs, with #GivingTuesdayCLT being one of their key fundraising opportunities. In 2017, our members contributed to the #GivingTuesdayCLT campaign by raising funds and awareness for the mission during the Panthers' bye week. In only one Sunday, we were able to raise close to $2,300; that was added to the grand total of $7M raised to be distributed among the 230+ participating local nonprofits. Pretty good for way to spend our weekend off!
The format for "Tailgate with a Purpose" changed quite a bit this year. With North Carolina's new "Brunch Bill" taking effect, charity event permits now allowed for the sale of alcohol at 10am on Sundays, and this change allowed us to sell $2 drink tickets, rather than rely on attendees to "make an appropriate donation" for drinks, a model that we had used the two previous year which had proven to fall a bit short. This year's change proved to be a huge success for our charity mission and had a major impact on our fund raising levels from the tailgates, where we raised $22,500 for the entire season. UNREAL!! 100% of these funds will be distributed to the Cam Newton Foundation and a portion of those proceeds will benefit the NC Special Olympics, whose team will be traveling to Seattle in July to participate in the Special Olympics 50th Anniversary Games.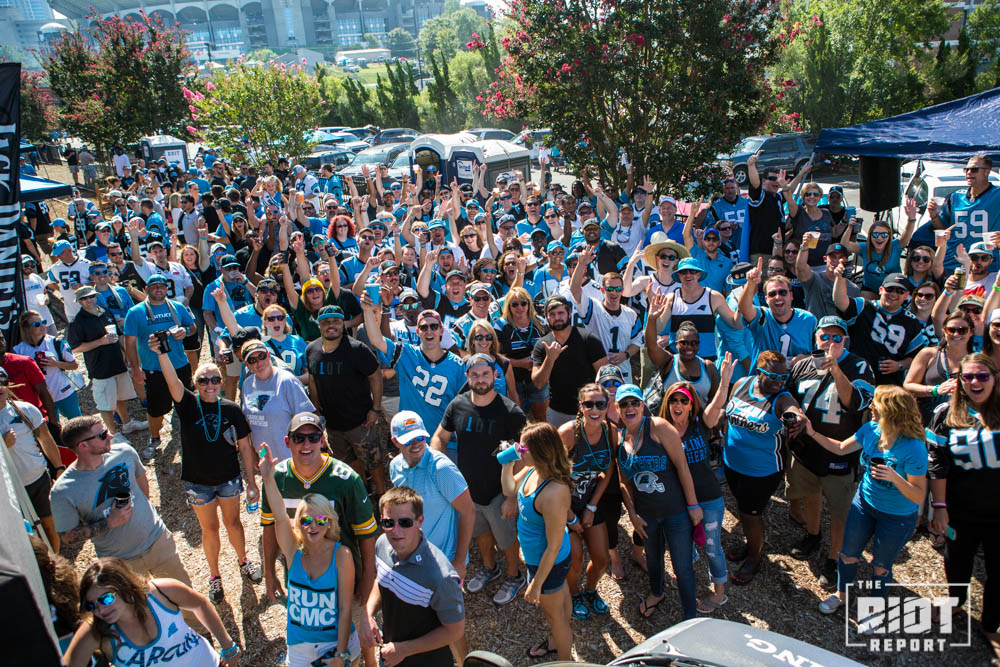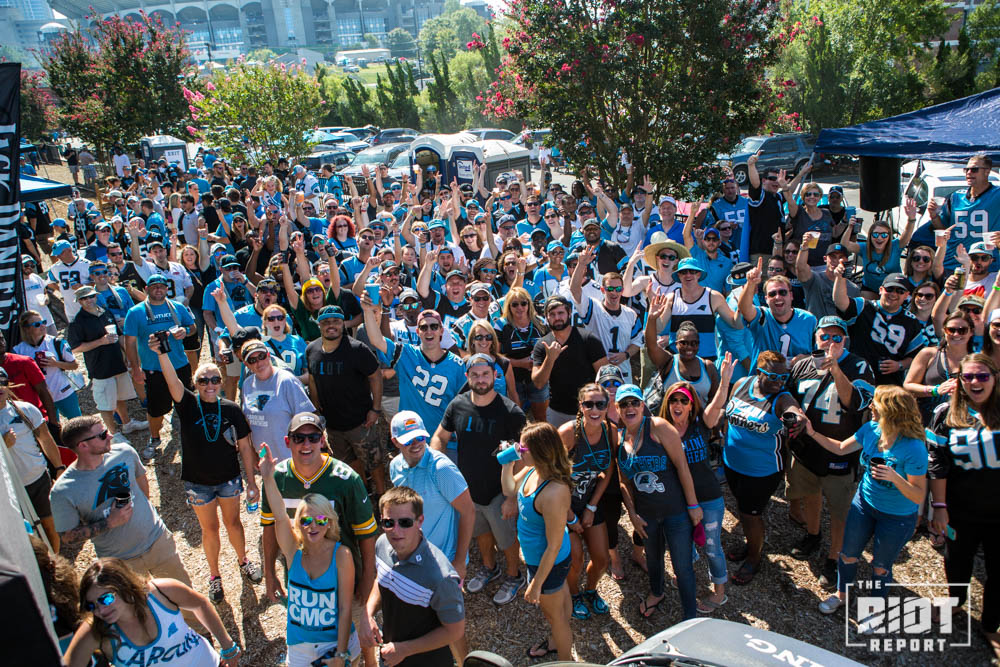 I would like to thank every one of you for your many forms of contributions over the year to help us achieve this fundraising level. This is about YOU, all of you, and everyone should take ownership of these accomplishments and be proud to be a part of an organization that strives to positively affect its community as a serious pillar in its mission of Changing the Culture of our fanbase. We continue to grow and evolve the impact that we have as a group and I can promise you that in 2018 we will continue to do our best to be an organization that you're proud to be a member of.
Special thank you to all of the sponsors who participated in our events this year and helped make this possible. Please join us in thanking and supporting Wilmar Leasing (our tailgate partner; without whom there would be no tailgate space) NoDa Brewing, Jack Daniel's, Barefoot Wine, Scott Clark Toyota City, Carolina Alliance Bank, Fast Signs and Technocom Business Systems
Thank you all for being on our team. Thanks for making a difference.