A week after giving up 34 points and 507 yards to the Jacksonville Jaguars, the Panthers defense knew they needed to put on a better performance against the Tampa Bay Buccaneers in Week 6.
They certainly did.
Carolina was able to pick up seven sacks – they have a league-leading 27 sacks and have set the franchise record for most sacks through the first six games of a season as they forced the Bucs into seven turnovers, tying a franchise record and pressuring Jameis Winston into five interceptions in their 37-26 victory over the Buccaneers. This was a considerable change from the Panthers' first game against the Buccaneers in Week 2, where they didn't force a single turnover in the 20-14 loss.
"Getting the takeaways, getting to the quarterback, that's probably the biggest difference," said Ron Rivera. "We hammer it home, winning the takeaway battle – that's been big."
From the very beginning, the Panthers defense harassed Winston – and it continued throughout the afternoon. Not only were the Panthers able to sack Winston six times in the first half, but they also forced him to turn the ball over three times before halftime. Carolina held Tampa Bay to just 121 yards in the first half as they tied a franchise record with sacks (six) in a half. Carolina's defense held Tampa Bay to just 42 rushing yards; entering Sunday, the Panthers struggled to slow down the ground game as they had been allowing 134.4 yards rushing per game and almost five yards per carry.
Entering Sunday's game, Winston had been playing like one of the best quarterbacks in the league over the last four weeks. During that span, Winston threw for 1,177 yards and 10 touchdowns with only two interceptions. But the pressure forced Winston to make mistakes throughout the day, including two consecutive fumbles in the Panthers red zone, the first of which the Bucs were able to get back – but not the second.
"You're not going to beat anybody with seven turnovers," said Bruce Arians. "Throw the damn ball away. You avoided one, you might have avoided two – you ain't throwing it anywhere to a receiver. Throw it away."
"He has a habit of trying to be Superman and that's been a problem in the past….it's just a matter of knowing when to quit on a play."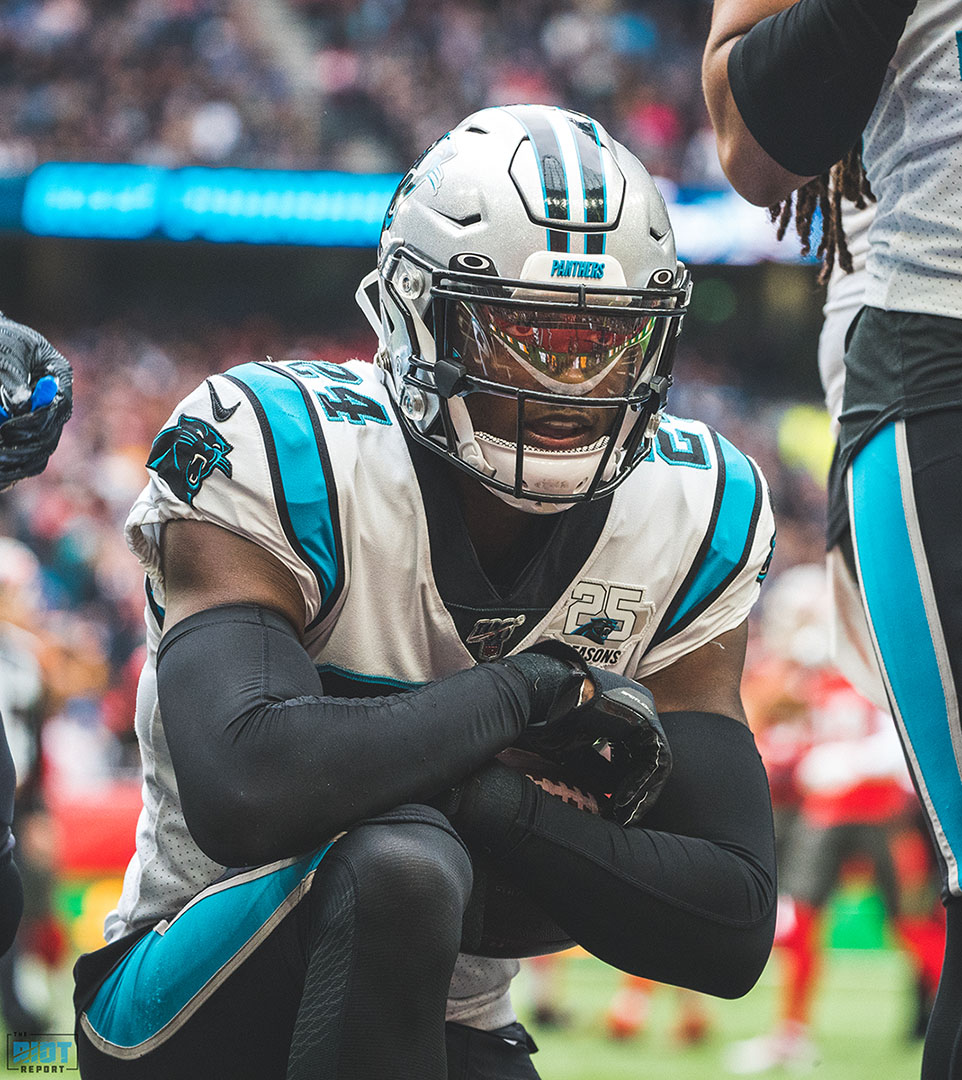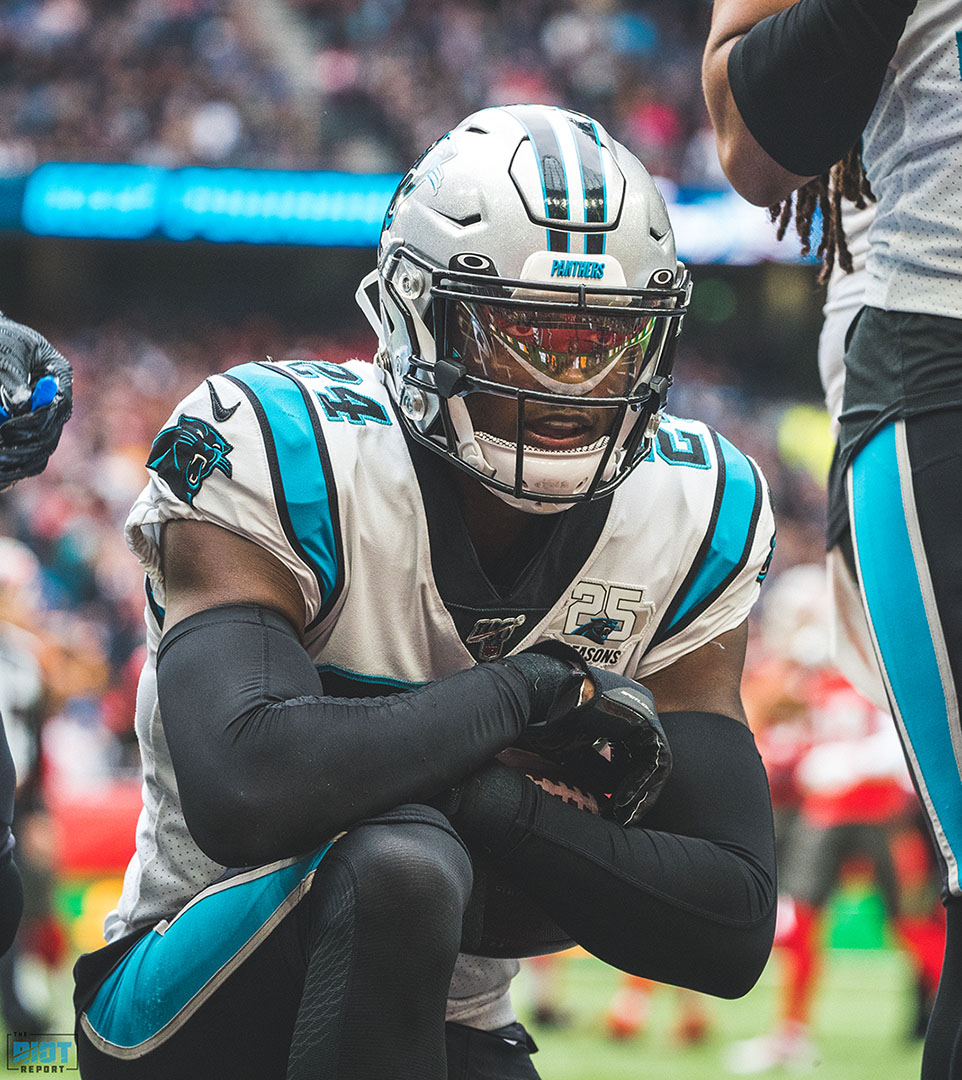 For their efforts defensively, James Bradberry and Vernon Butler both received game balls after the victory – and for a good reason.
"I feel we had him rattled once I got that first pick," Bradberry said. "Shoutout to our safeties and our front seven, having those guys that play behind me and in front me gives me a lot of confidence to sit on routes. And that's what I did on the first play – you just have to make plays when the ball is thrown to you."
Bradberry finished the game with 10 tackles, two interceptions and four passes defended.
Even with Donte Jackson missing the last three weeks due to a groin injury, Bradberry has played some of the best football of his career. Bradberry leads the Panthers in interceptions and is tied for second in the NFL heading into their bye week.
"James has had a tremendous year so far, and he continues to do the things we need him to do," Panthers coach Ron Rivera said. "He does a great job, and I was happy with his performance and the things he did setting the tone."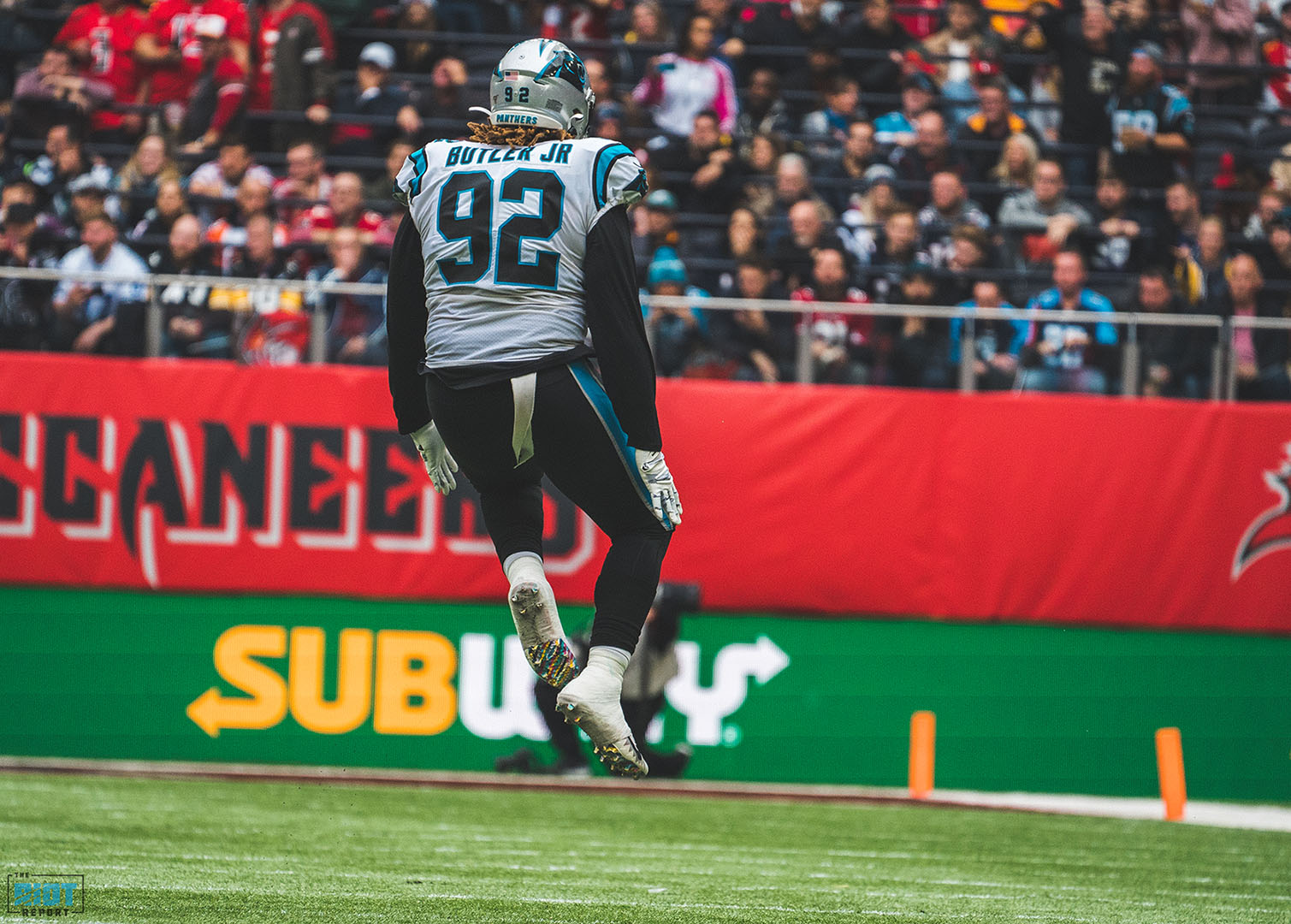 Former first-round pick Butler also had a career day against the Buccaneers.
After recording just three career sacks and one forced fumble in his first three seasons in the league, Butler recorded two sacks in two plays and on both, Butler was able to knock the ball out of Winston's hands — the second one resulting in a Buccaneers turnover.
Rivera says the new multiple defense allows him to play in multiple positions along the line, which has worked to Butler's advantage.
"I think it's a little bit more of a feel for what we're doing [and] how we're doing it," said Rivera about Butler. "We've done some odd-front stuff that seems to benefit him, gets him off of being a one [technique] and three [technique], now he ends up being a five."
"I'm happy for Vernon."
Gerald McCoy recorded 2.5 sacks on the day, easily his best statistical game in a Panthers uniform. Although the sacks were great, McCoy didn't have anything negative to say about his former team.
"I have nothing bad to say about the organization, they changed my life. That organization is the reason I'm a Panther," said McCoy. "They gave me an opportunity to be in the NFL and they gave me an opportunity to have the success that I had, which is why Carolina wanted me to come over here. I have nothing bad to say about the organization."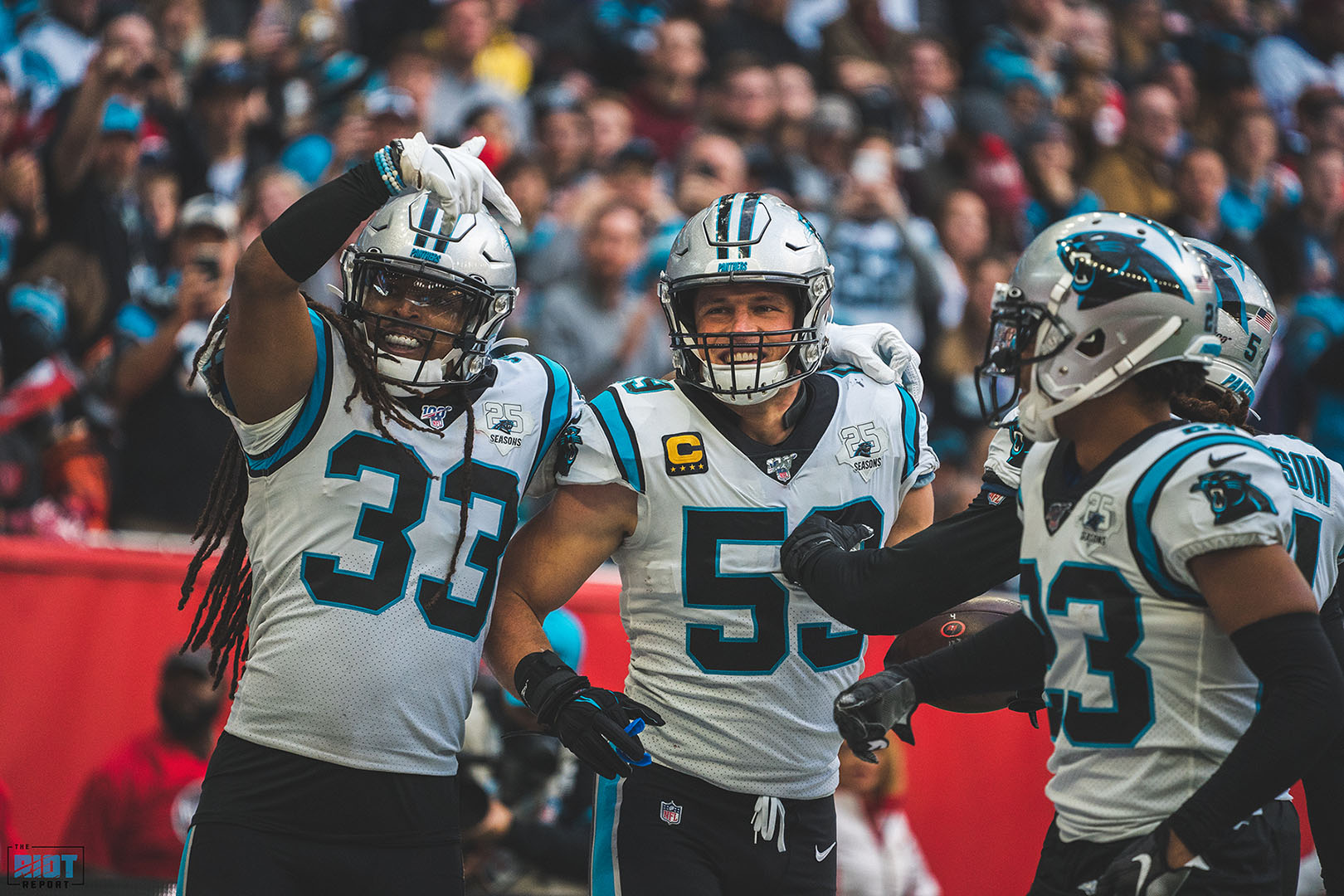 Luke Kuechly, who entered the game leading the league in tackles, got in on the turnover act as he had six tackles and an interception in the third quarter that set up a Curtis Samuel touchdown. The interception was Kuechly's 17th of his career – more than any linebacker since he entered the league back in 2012.
"The rush was great, Shaq helped me out on the cover portion, he picked a guy up coming back into the zone, so I was able to just fall into a window," Kuechly said about his interception.
"I don't think we've played a complete game yet, but I think we've shown in spurts what this defense is capable of."
Luke Kuechly is willing to defer and say that their defense still has room to grow – but they're a little bit more brash in the secondary….AKA Thieves Avenue.
"Thievery – at all times we are thinking thievery," Boston said. "G2X – y'all call them Sackstreet Boys – they were getting after them all day. Seven sacks, seven turnovers, five interceptions, you can't write it up better than that, especially being in the U.K. Respond fast and you see what the team did after that. Thievery is always on our mind – especially when we are across the pond."
"Thievery does travel."