The jokes started early about Thomas Davis' return – Ron Rivera's t-shirt with a screaming Davis and the words 'I'm Back' emblazoned in Panthers blue set the tone for a Monday that revolved around the return of the franchise's all-time leading tackler – the quips likely won't stop anytime soon, especially once he and Cam Newton are on the same practice field on Wednesday – Rivera said he'll miss the calm, normal practices without the two jawing at each other.
For now, we'll have to settle for Rivera joking that the 35-year old Davis, who had been suspended for the first four games of the season for violating the league's policy on performance-enhancing drugs, wanted to come to the stadium at 12:01 AM or Greg Olsen grinning and saying TD thought the first meetings must have started at 6 AM.
While the mood around the return of Davis was celebratory, the return of the Panthers best pass-rushing linebacker couldn't have come at a better time; after allowing only 138 yards passing and sacking Dak Prescott six times in Week 1, the Panthers defense has allowed an average of 335 yards in the air over the past three games while only picking up three sacks – they're 2-1 over that stretch, but Rivera warned on Monday that they're going to have to improve if they hope to continue winning.
"Winning covers up a lot. We made a lot of mistakes on all three phases of the game," Rivera admitted about Sunday's game in which they turned the ball over twice and allowed 382 passing yards to the Giants. "It's funny because I heard Mike Adams talk about how all three phases of the game contributed to this victory. They did, but you could also say all three phases contributed to a loss. We were fortunate."
While winning erases mistakes and a rising tide lifts all boats, the return of "the head honcho" will help the Panthers not only intangibly – the captain brings leadership, motivation, energy and emotion not only into the linebacker's room but across the whole defense – and Davis will bring immediate help to what has quickly become an anemic Panthers pass rush.
"TD's the pass rusher, especially in the linebacker group," said Shaq Thompson, who has 22 tackles – including two for a loss – and a sack through four games. "He's the one that gets after it and gets it going – good to have him back and get him going and get him a couple of sacks."
Thompson has four sacks since coming into the league in 2015 – Davis has 10.5 sacks, the most among Panthers linebackers, over that period.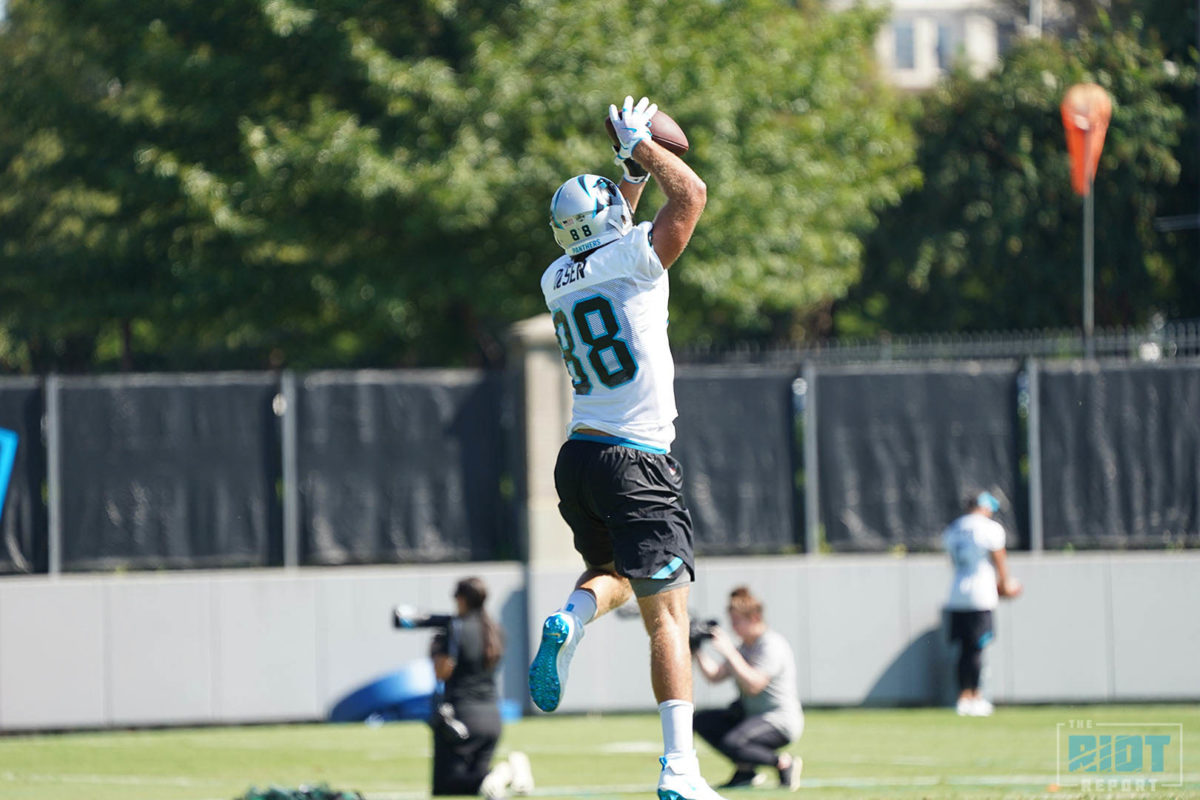 Davis won't be the only Panthers captain returning, as the team is hopeful they'll be able to welcome Greg Olsen back onto the field as well – how his fractured fifth metatarsal responds to his first full practice session will be a peek into whether he'll be ready to return – last season, after spending eight weeks on injured reserve with the same injury, Olsen returned as the Panthers traveled to New York to face the Jets.
Olsen played only a third of the snaps at New York and missed the next game before returning to play the remainder of the season.
"I don't want to get ahead of myself," couched Olsen, who said that how he feels from a pain and mobility perspective will guide what they can or can't do as he attempts to return on Sunday just over a month after re-fracturing his foot. "I feel – I'll know a lot more after this week of getting full practices – I feel like I'm ahead of where I was when I came back for that Jets game [in 2017]. I've done more; I didn't get cleared to do a ton of running until a week before that game, so I didn't have a ton of opportunity to train and run and get some volume under my belt. I've had a couple of weeks where I've been able to run now, and then I'll still have a full week of practice, so I'm hoping my body, in general, is in a better place than it was last year."
"Wednesday will be a good test – I feel good, but now it's about taking that next step."
While Rivera and the rest of the coaching staff hope to keep the returning players on a pitch count, Rivera admitted that it's easier said than done – not only do the players want to play every snap, but the coaches treat them "like a shiny new toy" – Rivera admitted to perhaps falling into that trap this past Sunday with newly-signed safety Eric Reid; while they had a plan heading into the game, sometimes plans change as the game goes on – Reid only sat out eight snaps on Sunday .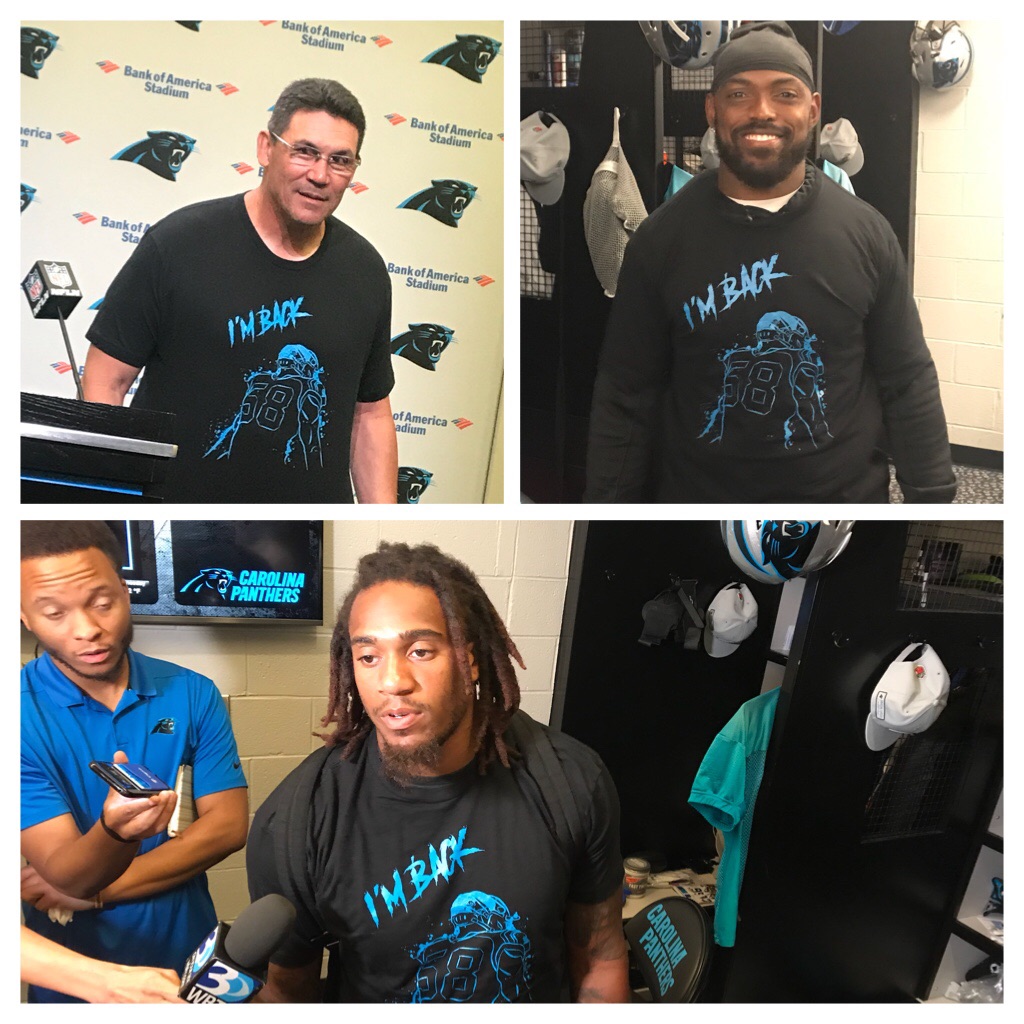 While the status of Olsen will likely remain up in the air for the week, Rivera has already announced that the returning Davis will start – but there's one negative to the return of Thomas Davis, at least according to his neighbor in the locker room, cornerback Captain Munnerlyn.
"I told everybody to call me 'Big Dog,' said Munnerlyn with mock indignation, who at 5-9 is perhaps the unlikeliest recipient of that nickname on the Panthers. "Even the coaches bought into it, even the linebacker coach – instead of nickel, we've been saying 'Big Dog' in the game – now that TD's back, he's saying 'Hey, hey, hey, hey, it's done. That Big Dog stuff is out the window.' It's kind of frustrating and it hurts!"
Munnerlyn is joking, of course – the former Gamecock is happy to have his longtime friend back on the team, even if Davis took the opportunity to immediately razz Munnerlyn about his UGA Bulldogs defeating Munnerlyn's alma mater by laying out some fresh Georgia gear in his locker. The Panthers defense wouldn't be the Panthers defense without Thomas Davis.
"He's been around here forever – even when I left and came back, he's still here!"
And he'll be there on Sunday, too.