If you think about it, the year 2016 was even longer ago than it seems. Pokemon Go was all the rage. Harambe memes were all the rage. Doctor Strange was yet to enter the Marvel Universe. The Chainsmokers would seemingly never get older.
It was in this world that the Carolina Panthers last had a Pick Six.
Down 14 to the Atlanta Falcons in Week 4, Thomas Davis gave the Panthers a much needed jolt when he tipped a pass from Matt Ryan into the air, where it was intercepted by Kurt Coleman. With only six yards to run, Coleman made a short dash for the pylon, falling into the end zone to score a touchdown and put Carolina on the board.
Nearly a full four years later, the Panthers are still waiting for their next one.

Sure, they've scored touchdowns on defense by virtue of a couple scoop and scores. There was Donte Jackson's epic interception against the New Orleans Saints in 2018, which he returned the entire length of the field for a two-point conversion. But the satisfaction of picking off a pass and taking it to the house has eluded Carolina's defense, creating a dubious streak that has gone on for far too long.
Which makes it interesting that this week, the Panthers are traveling south to take on the Tampa Bay Buccaneers. Where quarterback Tom Brady is on an unfortunate streak of his own.
Brady, 43 years old and trying to continue his incomparable career in Tampa Bay, has thrown a Pick Six in three consecutive games, dating back to last season. In Week 17, Eric Rowe picked off Brady to put the Miami Dolphins up 10-0, greatly aiding them in their upset win over the New England Patriots. Then, New England's loss in the Wild Card Round was sealed when Logan Ryan returned a Brady pass nine yards to assure the Tennessee Titans' conquest.
Brady's newfound problem with throwing touchdowns for the other team has evidently followed him to Tampa: in the third quarter of Week 1, Brady's second interception of the day cost the Bucs dearly, as New Orleans Saints cornerback Janoris Jenkins returned his errant pass 36 yards for a touchdown. As Jenkins waltzed into the end zone, Brady's throwing of Pick Sixes went from an aberration to a trend to a major cause for concern.
A trend which has the Panthers chomping at the bit to end their own dry spell.

"I'm pretty sure any one of us would love to get a Pick Six off of Tom Brady," said cornerback Rasul Douglas. "We all know where he stands in being one of the best quarterbacks to ever play the game."
Like any other defense in football, the Panthers place a premium on scoring on defense and changing the momentum of games in their favor. That, of course, begins with generating turnovers and getting their hands on the ball to begin with. But in Week 1 against the Las Vegas Raiders, the ball was seldom in harm's way when it was thrown against Carolina. The Panthers failed to get a single takeaway on defense, leaving a sour taste in their mouths and defensive coordinator Phil Snow with something to address heading into his second game helming the defensive unit.
"There's a lot of reasons for not getting turnovers. But I think our productivity on first down led to us not being able to create turnovers," said Snow. "We've got to be maybe a little more aggressive on first down and see if we can't create some things."
An inability to create negative plays and put their opponent behind the chains indeed contributed to those issues: the Raiders only faced a distance of over 10 yards for a first down four times, with only two coming by virtue of a tackle for loss by Carolina (Las Vegas faced a 3rd and 20 and 4th and 20 by virtue of an intentional grounding penalty). And looking at the circumstances of Brady's errant throws, adverse situations have indeed played a factor.
Against the Dolphins, Rowe's interception of Brady came on a 2nd and 10 following an incompletion. Last week against the Saints, Jenkins picked off Brady on a 2nd and 15 brought about by a false start. In the playoffs, Brady's pick came with 15 seconds left and New England backed up at their own one-yard line.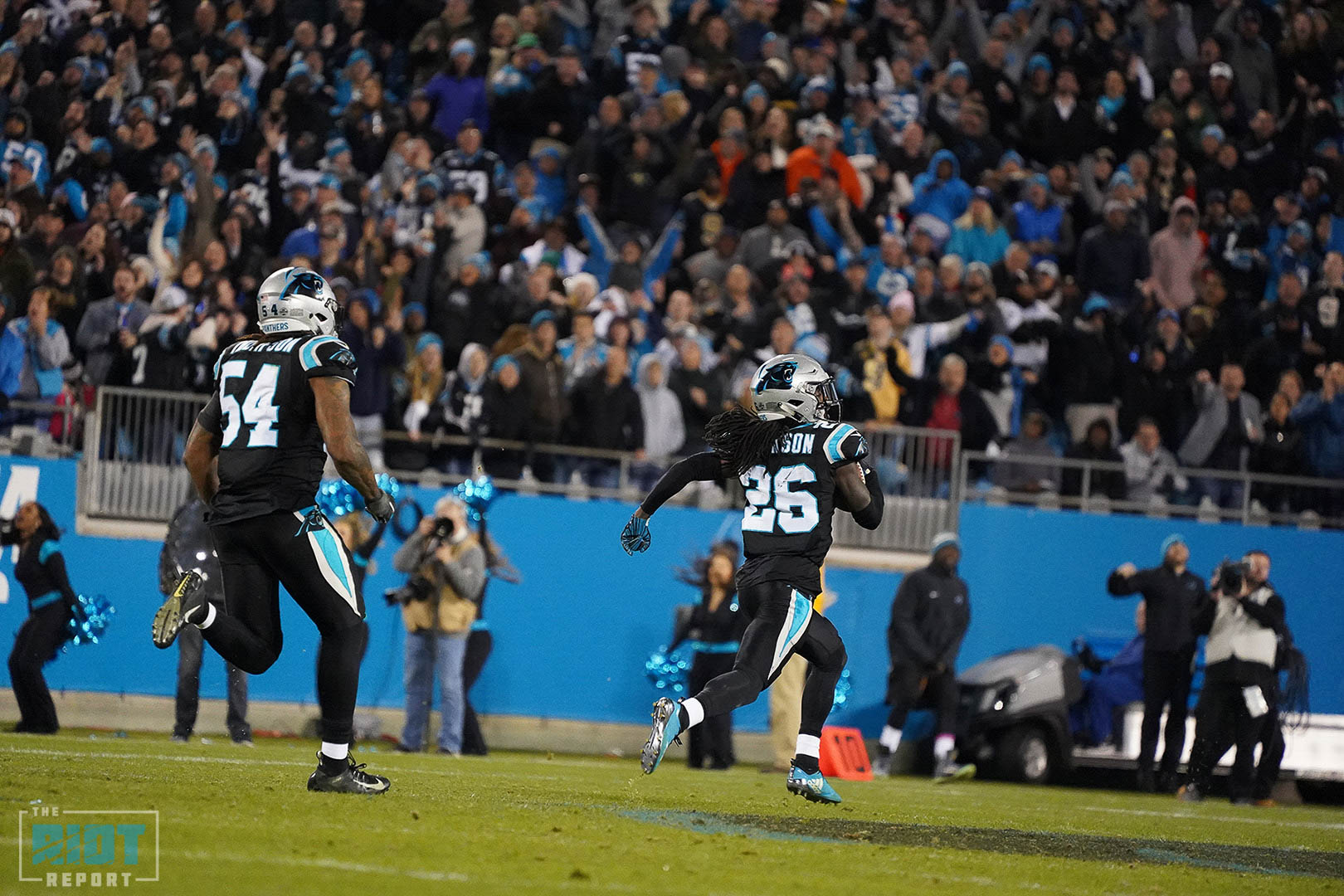 Chances are, whether or not they can create negative plays will be the difference in whether the Panthers get the opportunity to force Brady into a mistake and finally find the end zone again. But there's a very fine line between trying to adversely affect the quarterback and getting caught up in trying to make a play at the expense of a six-time Super Bowl Champion.
A conceit which, left unchecked, Brady will make a young Panthers team pay dearly for.
"At the end of the day, you really just have to ignore [Brady's mystique], because it can be a distraction – because you feel like you've got to do something more than what you really need to," said linebacker Tahir Whitehead. "It just comes down to us doing our job … You can't get too worked up on, 'Oh man, this is Tom Brady! I've got to pick him off!' Because then you start doing your own thing, and then that's when he'll find the holes in the defense. Because you're guessing or you think you've got a bead on what he's gonna do."
"As long as every man is in his gap and we're all where we need to be in coverage, the opportunity is gonna come. And then we just have to take advantage of it."
Seemingly every year since he has hit his forties, there has always been a rush to latch onto any plays Brady makes below his standard as a sign that the face of the NFL for 20 years – finally – is starting to decline. Brady's recent streak of interceptions may very well be yet another red herring. But even so, it's clearly frustrating the "GOAT" of professional football as he rides another streak of 2-5 as a starting quarterback since last December.
"They were bad throws. When it comes down to it, they were just bad throws," Brady told reporters following last week's loss. "Can't do it."
This Sunday, whether or not Brady still has it is only so much of a concern for the Panthers. What is a concern after Week 1 is their defense, which gave up 34 points and 372 yards of offense – 239 through the air, 133 on the ground – in their first outing.
Scoring a Pick Six on Sunday, and subsequently ending their long dry spell, would go quite a ways towards instilling confidence in a new age Panthers defense. And in that ideal situation, who would be on the giving end would make it all that more satisfying.
"It'd be very satisfying to get a turnover, a strip sack, interception, anything off of Tom Brady," said defensive end Brian Burns. "He's a legend – so it would be great to get anything off of him."