Thanks in no small part to the history that it boasts and the aura that it projects, the University of Notre Dame's football program has become just as central to American Catholicism as the bishopric, the sacraments, and the very Holy Ghost itself. Play football at Notre Dame, and then go on to play in the NFL, and the very best is expected of you as a player: Particularly if you play the tight end position.
Long ago, one of the standard-setters for Notre Dame tight ends was Mark Bavaro: A member of the Fighting Irish in the 1980s, Bavaro went on to be drafted by the New York Giants in the fourth round of the 1985 NFL Draft, where his All-Pro play, extreme physical toughness, and relatability to the average God-fearing Italian in the grandstands made him enormously popular and admired – Including by Matt Rhule, who was a fan of Bavaro's while growing up in New York City.
"Mark Bavaro's a special guy to me," grinned Rhule. "Mark Bavaro, to me, it was his ruggedness, his toughness, his ability to catch and drag people and his physicality and all those things."
The Fighting Irish's tight end tradition goes beyond one of Rhule's boyhood idols: There was Dave Casper, the star of famous Oakland Raiders triumphs such as "Ghost to the Post" and "Holy Roller". In recent years, the program has produced Pro Bowlers like Kyle Rudolph and Tyler Eifert, and now, it's produced one more player who stands a chance at continuing that great tradition: Carolina Panthers rookie tight end Tommy Tremble, who spoke to The Riot Report about following that exalted path to the NFL.
Last week against the Houston Texans, Tremble was one of the central characters in the Panthers' third win of the season: Looking for a second half spark to outlast a feisty Texans team, Tremble would make a big play in the red zone, rumbling seven yards to the endzone for his first NFL touchdown, following this up with a 30-yard catch on the first play of the fourth quarter that set up a field goal. Just two plays, but two plays that proved pivotal in securing the 24-9 win.
Tremble's performance not only generated significant excitement for a player chosen in the third round of this year's Draft, but it also cleared the way for him to earn a larger role. On Monday, the Panthers traded tight end Dan Arnold to the Jacksonville Jaguars as part of a deal to acquire cornerback C.J. Henderson, pushing Tremble up in the pecking order of the Panthers' tight ends room.
Tremble's performance against the Texans likely wasn't the most significant thing to happen in the game to push the Panthers towards making the deal but, given that Panthers GM Scott Fitterer indicated that including Dan Arnold in the package had been a sticking point in negotiations, his emergence as an offense option both in games and in practice should not be ignored in making this trade possible.
To whom much is given, much is now expected, and there can be little doubt that the Notre Dame tight ends who have gone before have created very high expectation for Tommy Tremble to live up to.
"Guys like Kyle Rudolph, Tyler Eifert – when Kyle Rudolph was drafted, I was 11 years old. So I was watching him during that," said Tremble. "I was watching him growing up when I was told I was gonna be a tight end. I was watching all of these guys growing up. To go to the same university as them and still watch them continue their game today, it's really special.
"It's just really awesome to be able to say I come from that kind of stuff."
An institution long central to the college game, Notre Dame's football program is one of the most revered and respected around and is one of the first places that NFL teams look for to find especially gifted players at some of football's most key positions. This is especially true at tight end as, in a streak that dates all the way back to 2004, every player who has been Notre Dame's opening day starter at tight end has gone on to be drafted by an NFL team.
Such a track record of success at tight end is one of the great testaments to the work of Notre Dame head coach Brian Kelly and his staff – A staff which includes special teams coordinator Brian Polian, the son of original Panthers general manager Bill Polian.
Polian is a figure that is well trusted and well known by Matt Rhule: The two were assistant coaches together at the University of Buffalo in the late 1990s and have maintained a friendship despite making their own independent ways through the coaching ranks. Rhule even invited Polian to speak to the Panthers' coaching staff just prior to the start of training camp after hearing him speak at length on the topic of coaching players from Generation Z at an Athletes First summit in June.
The Panthers certainly didn't select because of Polian's friendship with Matt Rhule but, when Polian talks about what Notre Dame does that prepares tight ends for the rigors of one of pro football's toughest positions, it's easy to see why NFL scouts keep coming back to South Bend to look for the next Tyler Eifert.
"Coach Kelly first of all runs an unbelievable program, so talented players want to come play for Coach Kelly. I think he's proven, though, that he knows how to use tight ends," Polian told The Riot Report. "I think that he and Tommy Rees right now, currently our offensive coordinator, have shown that we can be driven by 12-personnel in a world where a lot of people want to play with three wides. We are not afraid to put two and three tight ends on the field. So there are opportunities to play meaningful downs even though you may not be the first guy here. And I think that we have shown that we'll be very creative with the use of those tight ends.
"I also think that what we do here, what Coach Rees and Coach Kelly do offensively, translates to the NFL. And guys, if they dream about playing on Sundays, they know that they're gonna work and develop the skills to do that here at Notre Dame."
What relationships like the one Rhule has with Polian do ensure, however, is that when it comes time for the Draft, Rhule knows that players at Notre Dame play for tough coaches that do things the right way. And, in scouting Tremble, he found a player who presented much more value than he had perhaps been given credit for by outsiders.
"Tommy Tremble, for me when we were talking about the Draft, he was like this year's Jeremy Chinn. A guy who we thought could do a lot of different things," said Rhule. "I'll tell you, after the Draft, we got more phone calls from other teams' tight end coaches and special teams coordinators to our guys about Tommy. And when we got him, I know a lot of people said 'Well, he's kind of a blocker, not much of a pass-catcher.'
"And it's weird when you're evaluating people, because you're not really looking at stats, you're looking at plays on tape. And I thought he was gonna be this tremendous pass-catcher, and that was sort of the narrative, which was based off of statistics, which was true. But Tommy's a guy that's doing everything that he can to be good."
Polian likewise raves about Tremble's qualities and capabilities as a football player, characterizing him as a "football junkie" whose love of playing the game was obvious through what he brought to the field in all facets of his role.
"Tommy did a lot of the dirty work that the average fan doesn't see. He is an incredible blocker," said Polian. "The way that he could redirect in space and translate speed to power and knock people backwards and play with an aggressiveness as a blocker was really a sight to behold. And scouts who evaluated him all talked about 'My gosh, this guy is so physical. He throws his body around as a blocker.' And I believe that also shows an unselfishness, because there are a lot of tight ends out there that only want to run and catch. Tommy wants to run and catch too, but some of his best stuff was when he was knocking defenders backwards.
"He's underrated as a pass-catcher. He can run, he's got good ball skills. I don't think people really understood how talented he was in the pass game when he came out. I think that the Panthers have figured that out pretty quickly and are happy that he's on their team. And I do think he's got special teams value because he's a big body that can run and certainly has proven that he's physical."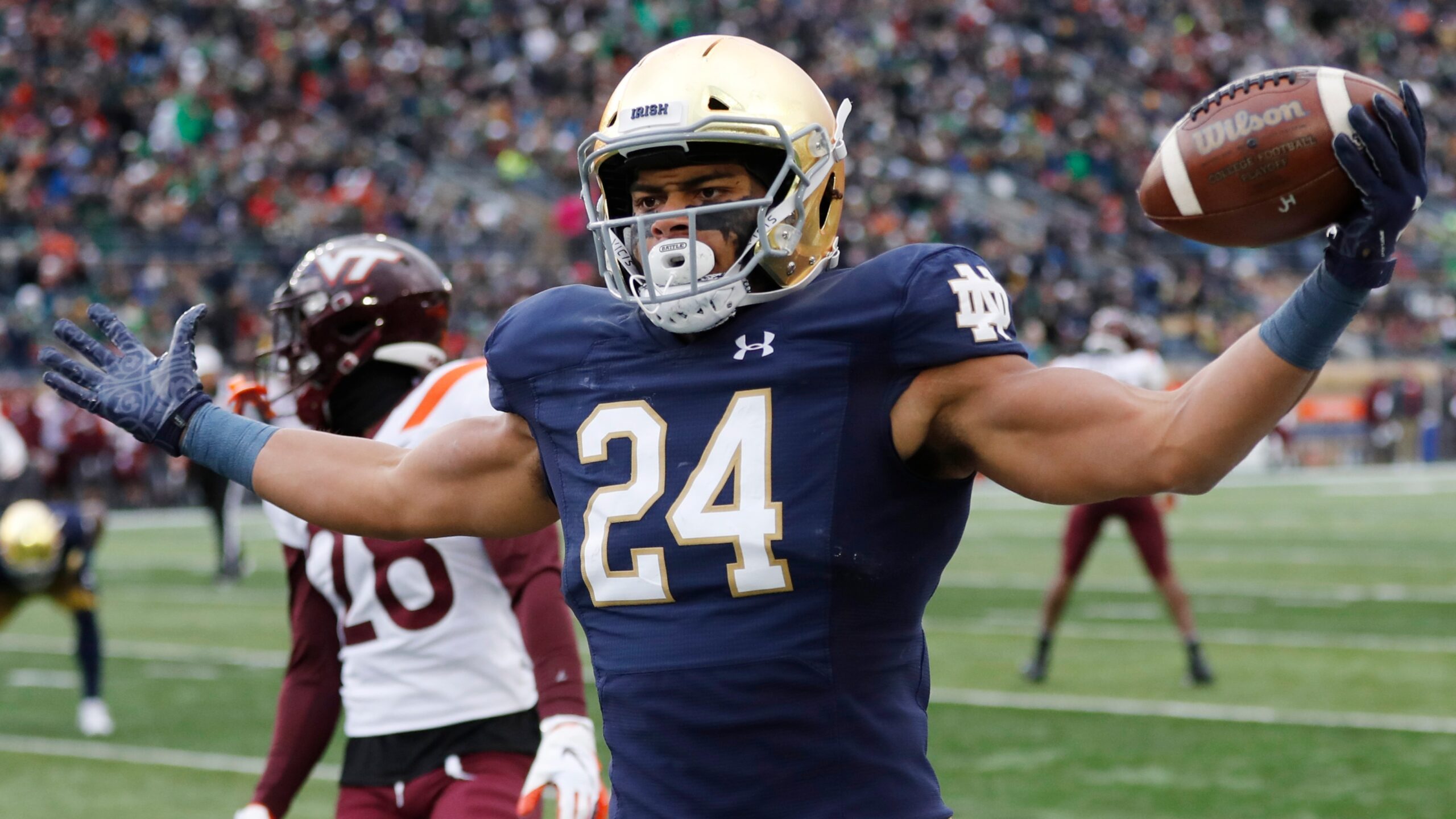 Beyond his skills as a blocker, pass-catcher, and special teamer, one of Tremble's top assets as a player is his sense of responsibility. At Notre Dame, Tremble and his teammates found pride in their work knowing that they had to uphold their school's legacy as "Tight End U" and, in the NFL, Tremble is once again in a situation on the Panthers where he is continuing a proud tradition at tight end.
This tradition began with Panthers Hall of Honor member Wesley Walls, and was arguably at its peak with future Hall of Honor member Greg Olsen – A player who Tremble greatly admired long before he put on the same uniform Olsen once wore.
"I remember I got in a Zoom call with him actually last year, and I was star-struck then. Last year during COVID season in the summer he talked to my tight end group. I thought that was one of the greatest things in the world," said Tremble. "And then to be drafted to the same team as him and have the opportunity that he made the most of and has had that kind of Hall of Fame career, it's an honor. I'm really excited to just try to do my best to the best of my ability and just make that lineage proud."
Last week, Tremble showed not only the ability to make plays when his team needed them, but also demonstrated to Matt Rhule just how he responds to adversity. On a play-action pass, Tremble was knocked back into quarterback Sam Darnold as he was coming across, resulting in a sack. Rather than living in the past, he proceeded to redeem his error with the two big plays that helped Carolina open it up on the Texans and improve to 3-0.
Tremble's continued development is being counted on by Carolina, especially after the Arnold trade that has opened the way for him to get increased opportunities. In discussing how he can capitalize on that opportunity, Tremble preached the "One percent better every day" mantra that Panthers' players and coaches have made so familiar under Matt Rhule.
"With Dan getting traded, it's just accelerating that process and I'm excited for it. I love the chance to really go out there and compete to the full of my ability, and I'm really excited for it," said Tremble. "So I think really nothing's changed as much as just go harder and just get ready to go."
What more Tremble is capable of in a season and career that's only three games young is anyone's guess. If the lineage he comes from is any sort of indication, Tremble stands at least some chance of becoming a player worthy of being mentioned in the same sentence as other tight ends, like Rhule's revered former Giant, who have gone on from the Irish to the NFL.
"I think Tommy's a great, great, great young prospect. So I'd love to see him end up like Bavaro," said Rhule. "Because that would be something special."
(Top photo via Chanelle Smith-Walker/Carolina Panthers)