Last season, the Carolina Panthers won seven games with fewer than 200 yards passing. Likewise, four of their five losses fit the same criterion – less than 200 net yards in losses to Chicago, Atlanta and two against New Orleans  – 11 of 16 games with fewer than 200 yards through the air, the most in the Cam Newton era and hitting double digits for just the second time since he and Ron Rivera arrived in 2011; Newton posted a career low 206.4 passing yards/game last season, a full 25 yards off his career average.
The addition of Christian McCaffrey should've been a boost to any quarterback; instead, his 80 receptions and 651 yards only served to partially mask the gaping hole left by the rest of the passing game. This weekend, Marty Hurney and the Panthers took the first step toward fixing things with the addition of wide receiver Torrey Smith. For two years, at a reasonable $5 million dollars per (yes, $5m is quite reasonable; Smith is currently the 39th highest-paid WR, wedged directly between Kevin White and Jarius Wright in terms of salary) with no guaranteed money, the Panthers add a new element to their downfield passing game.
No, not speed. Durability.
Greg Olsen hadn't missed a game since 2013, but missed nine last year. The only receivers to play more than 10 games last season: Devin Funchess and Russell Shepard. Yes, Russell Shepard was the team's second-leading receiver amongst wide receivers (still with the team) with 17 grabs and 202 yards.
Cam's top targets (receptions):
2016 – G. Olsen, K. Benjamin, T. Ginn, C. Brown, F. Whitaker
2017 – C. McCaffrey, D. Funchess, K. Benjamin, E. Dickson, R. Shepard
A complete turnover in terms of the top five, with the notable exception of the departed Kelvin Benjamin.
Moving into 2018, Olsen's now 33, but on the flip side, McCaffrey and Funchess are still young at 22 and and 24, respectively, and both played all 16 games last season. Ginn's departure was to be offset by the addition of a young speedy duo, Curtis Samuel and Damiere Byrd; however, they combined for just 25 catches and both ended the season on injured reserve. While Samuel's ankle injury required surgery, Byrd's did not, but the 25-year old both started and ended the season on the injured reserve with two separate injuries (arm and knee).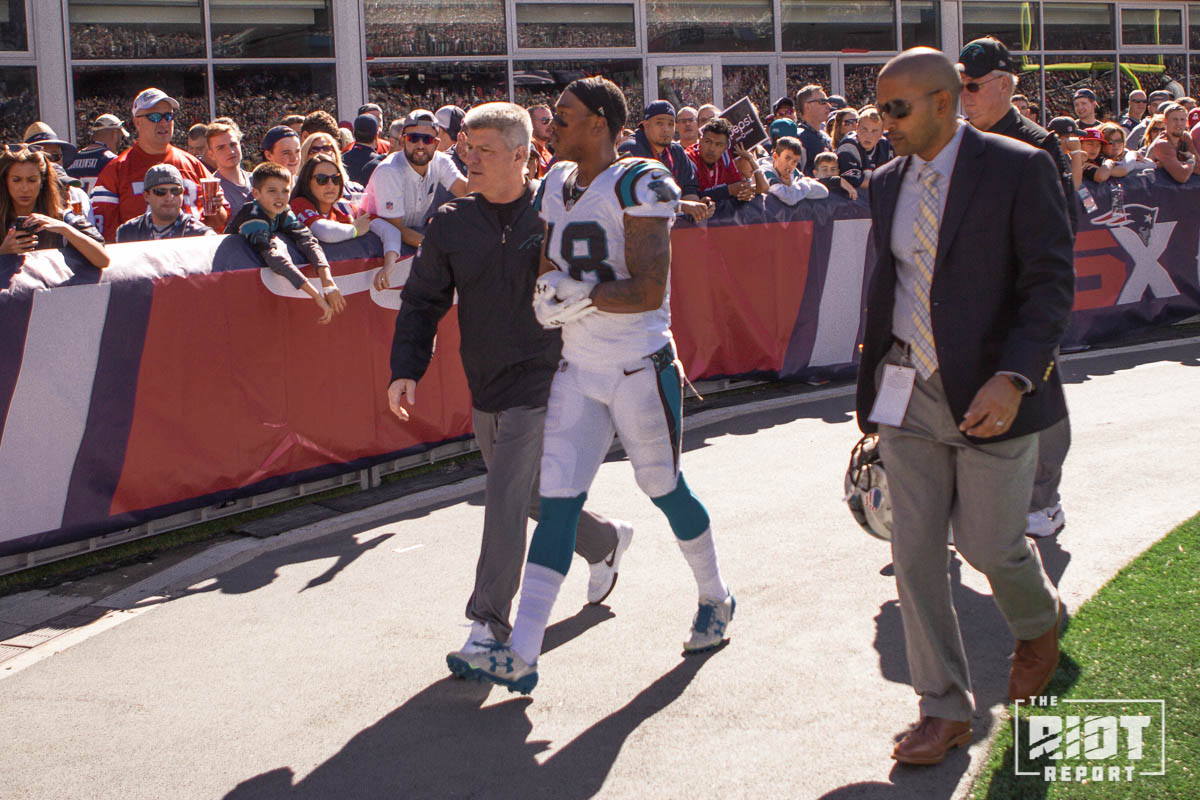 To put it another way, both Samuel and Byrd missed more games in 2017 than Torrey Smith has missed in his seven-year career. Smith injured his shoulder in 2016 and missed the final four weeks of the season, snapping a streak of 89 consecutive games played. Last season, Smith played in all 19 games for the World Champion Philadelphia Eagles; Smith was by no means an afterthought as the clear third receiver behind the talented duo of Alshon Jeffery and Nelson Agholor.
Smith's yards per reception have cratered over 2016 and 2017, as he recorded a career low 11.9 yards per reception last season. By contrast, in 2015 while with the 49ers, Smith recorded a career best 20.1 yards per catch, making him one of only five players in the last five years to have more than 25 catches and average over 20 yards per catch for a season (R. Gronkowski, M. Bryant, D. Jackson, and K. Stills). Even with his subpar last two years, Smith remains in the top 10 for yards per reception during his career (16.4).
With the addition of offensive coordinator Norv Turner, the Panthers will need to possess more deep threats. They also need their deep threats to be on the field.
Kaelin Clay, another young wide receiver who showed potential down the stretch, has only nine career catches to this point and is more than likely a candidate for the practice squad as the roster is currently aligned, with no guarantees the team even tenders him an offer before Wednesday. Smith's addition should help everyone sleep easier; his numbers have been down, but the Eagles were about as explosive as the Panthers downfield passing game last season, with the Super Bowl champs only completing one more pass over 25 yards than the Panthers in 2017. Smith's not a contested catch guy, but he can create space for all the other pieces of the Panthers offense to operate as well as those explosive plays the offense lacked last season. In some ways it's ironic, they're paying Smith the money they never would pay Ted Ginn, in hopes that he'll play the same role; with Turner running the show, if Cam and Smith can develop some chemistry, a return to form should be in store for the former Terp as well as the Panthers passing offense.