Training camp is now upon us – and while it will be a very different experience without fans – or media – having the ability to sit and watch the various position battles developing, it marks a very welcome return to action for the Panthers after a highly unusual and physically inactive offseason.
Of course, even such an unusual training camp as this wouldn't complete without some speculative roster projections and so, without further hesitation…
Quarterbacks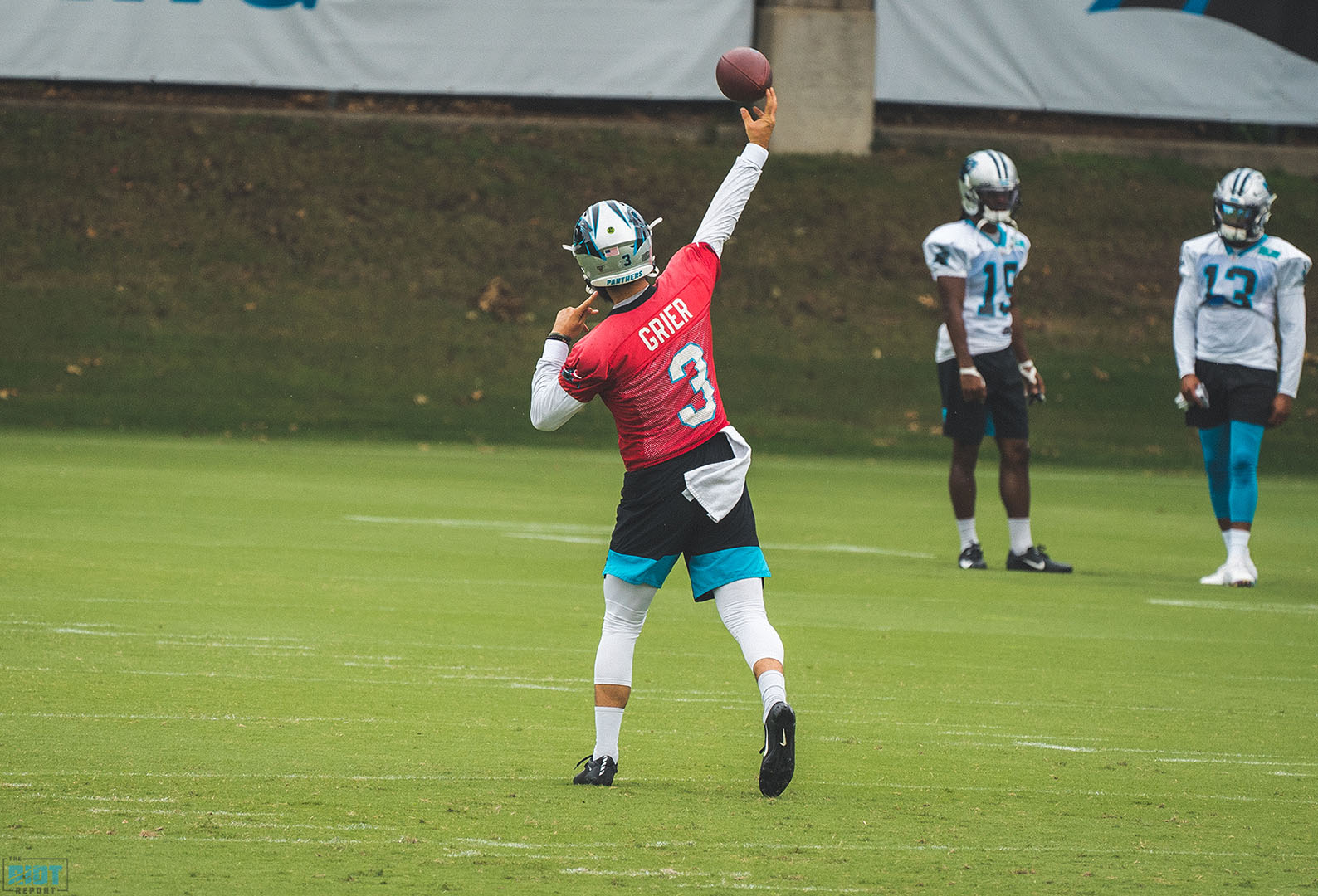 Teddy Bridgewater, PJ Walker and Will Grier
This should be pretty uncontroversial, as given the uncertainty around COVID, a lot of teams who normally carry two quarterbacks will carry three in case of infection – and with only three quarterbacks on the training camp roster the result is inevitable. I do think Grier is going to face an uphill battle to beat out Walker for the primary backup role, but even with the change in coaching staff, it would be a bold move to see them move on from a third round pick after just one season.
Running Backs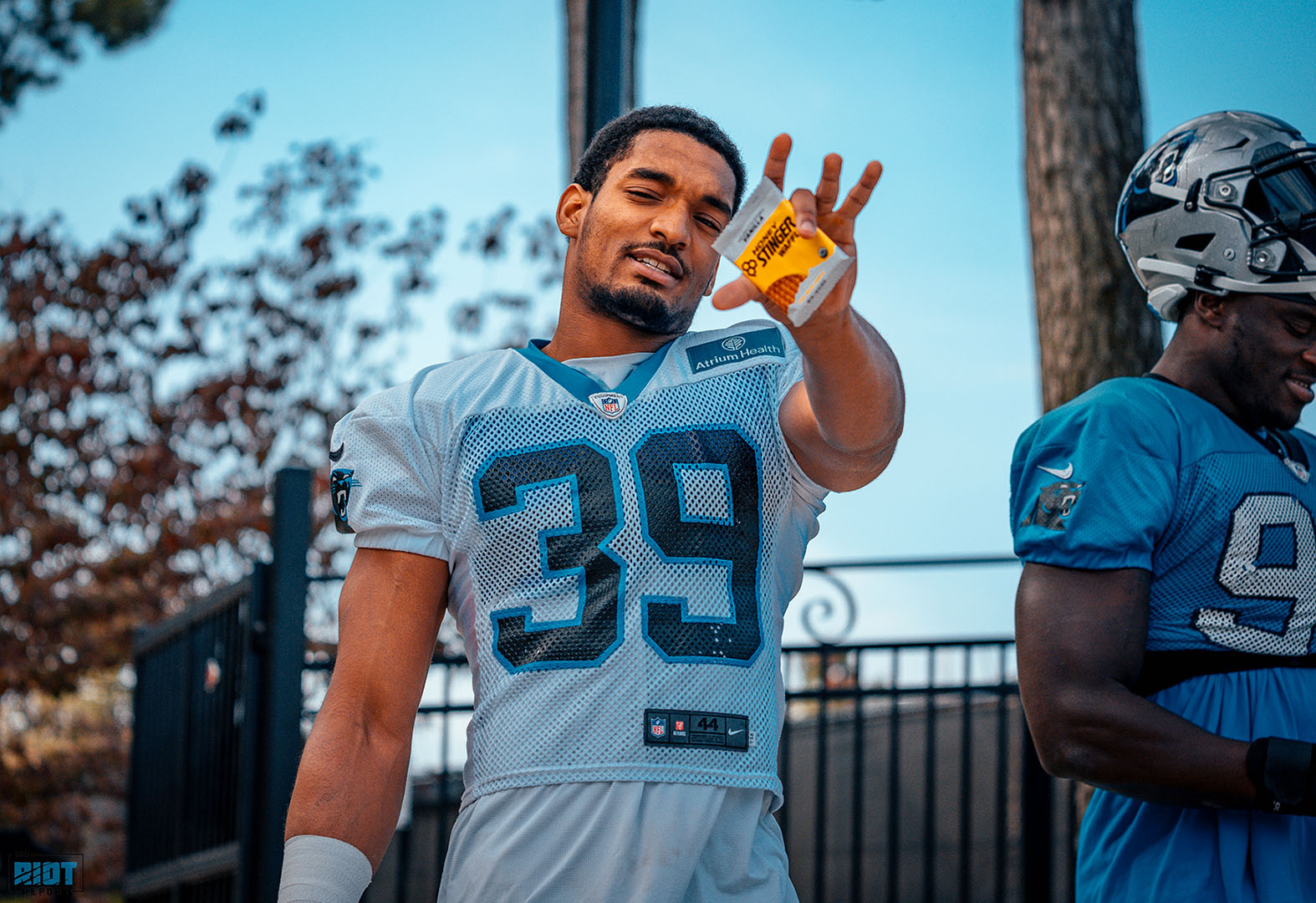 Christian McCaffrey, Reggie Bonnafon and Mike Davis
CMC making the roster should hopefully be pretty obvious, but there is far less clarity about how many running backs the Panthers will carry and who they might be.
If the Panthers are going to use CMC in the way they have done the past two years, I think they are likely to only carry three running backs, but if they are genuinely going to use more of a rotation, I think they might carry four. Bonnafon played well in what little playing time he got last season, and looked really impressive in the preseason as well; Bonnafon is probably the most direct like-for-like replacement for CMC if they want somebody to sub in that way.
Conversely, Mike Davis offers a more physical inside presence and could given the Panthers a better option in short yardage situations. The odd man out here is Jordan Scarlett, who didn't impress much during the preseason or training camp last year and then missed most of his rookie season with injury. If the Panthers aren't going to rotate running backs and use the non-McCaffreys as depth, Davis' contract makes him a prime candidate to be cut – if you're paying a RB north of $3m per year, they really need to see the field.
Wide Receivers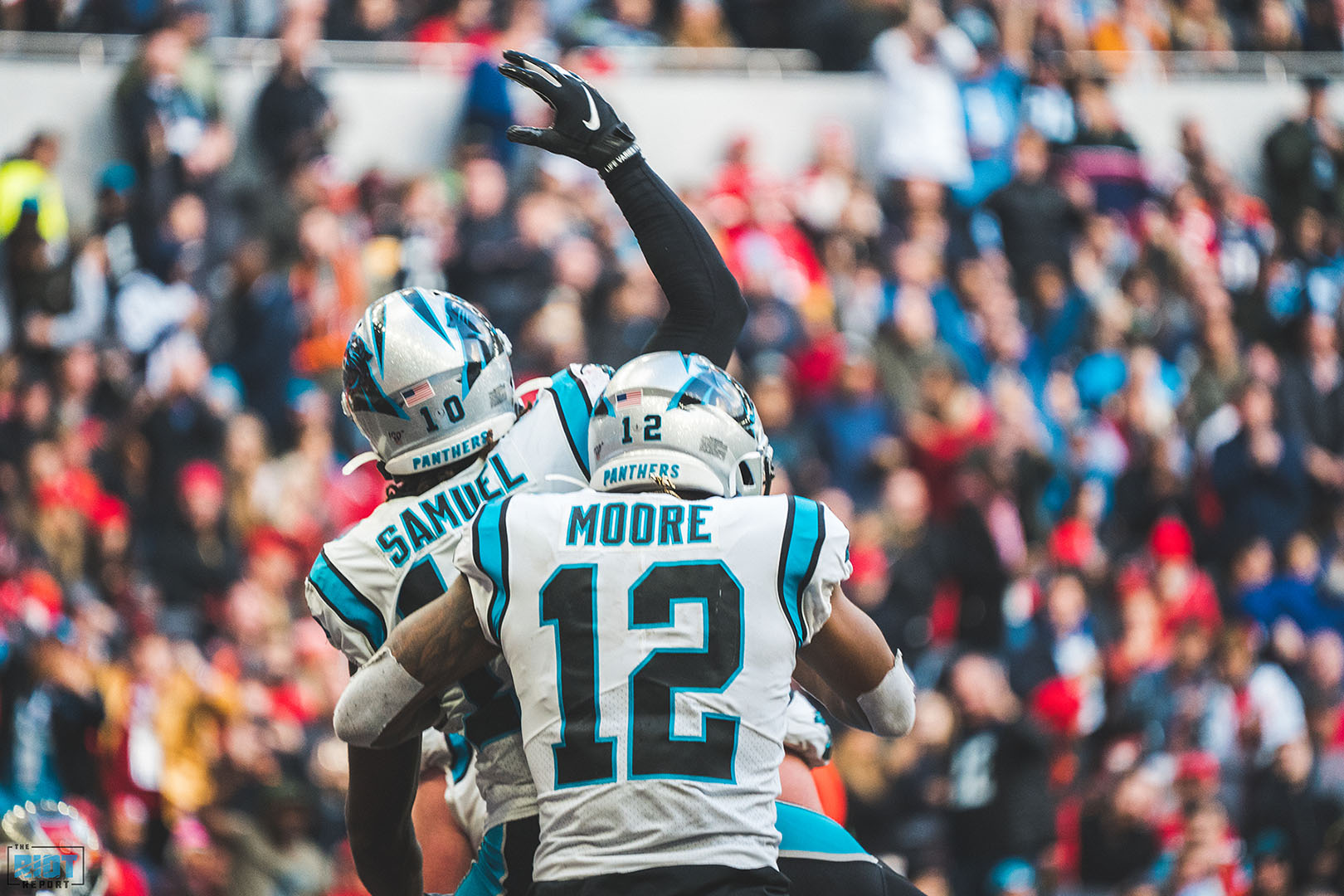 DJ Moore, Robby Anderson, Curtis Samuel, Seth Roberts, Pharaoh Cooper, Keith Kirkwood and Omar Bayless
As with running back, there should be little debate about the top of the depth chart – Moore, Anderson and Samuel are expected to receive the vast majority of the snaps at receiver and it would take an injury to move that needle. It should also be of little surprise, given how much the Panthers are expected to use three, four and even five receiver sets under Joe Brady, that the Panthers will probably carry at least six – if not seven receivers – this season.
I think the most likely name to make the roster outside of the big three is Seth Roberts, whom the Panthers made a real effort to bring in during free agency due to the urging of Jake Peetz, who worked with him in Oakland from 2015 to 2017. Roberts has always been something of a bit player, usually filling a #3 or #4 WR role, but has shown he can be an effective part of highly successful offenses during his time in the NFL.
Pharaoh Cooper's best chance to make the roster is going to come in the return game, an area where the Panthers have really struggled to find consistency since Ted Ginn departed – while Cooper also has some chance to make an impact as a wide receiver, he gets the nod here as a returner more than anything.
Keith Kirkwood is another player who has previous experience with the coaching staff – in his case, Joe Brady with the Saints in 2018 and with Matt Rhule and others at Temple before that – Kirkwood is a player that Matt Rhule mentioned this offseason in terms of those with a real familiarity with the offense and could offer useful depth, especially if one of the top three pop a positive COVID test.
Finally, Omar Bayless is arguably the best UDFA the Panthers have secured in a while – while as a rookie receiver he might not make a huge impact, he very much has the talent to be a good NFL receiver and has a very scheme-suited skillset. While the practice squad might be an option, I wouldn't be surprised at all if he shows enough in camp that the Panthers feel they can't take the risk of trying to stash him there – or if he's one of the four protected players on a week to week basis.
Tight End/Fullback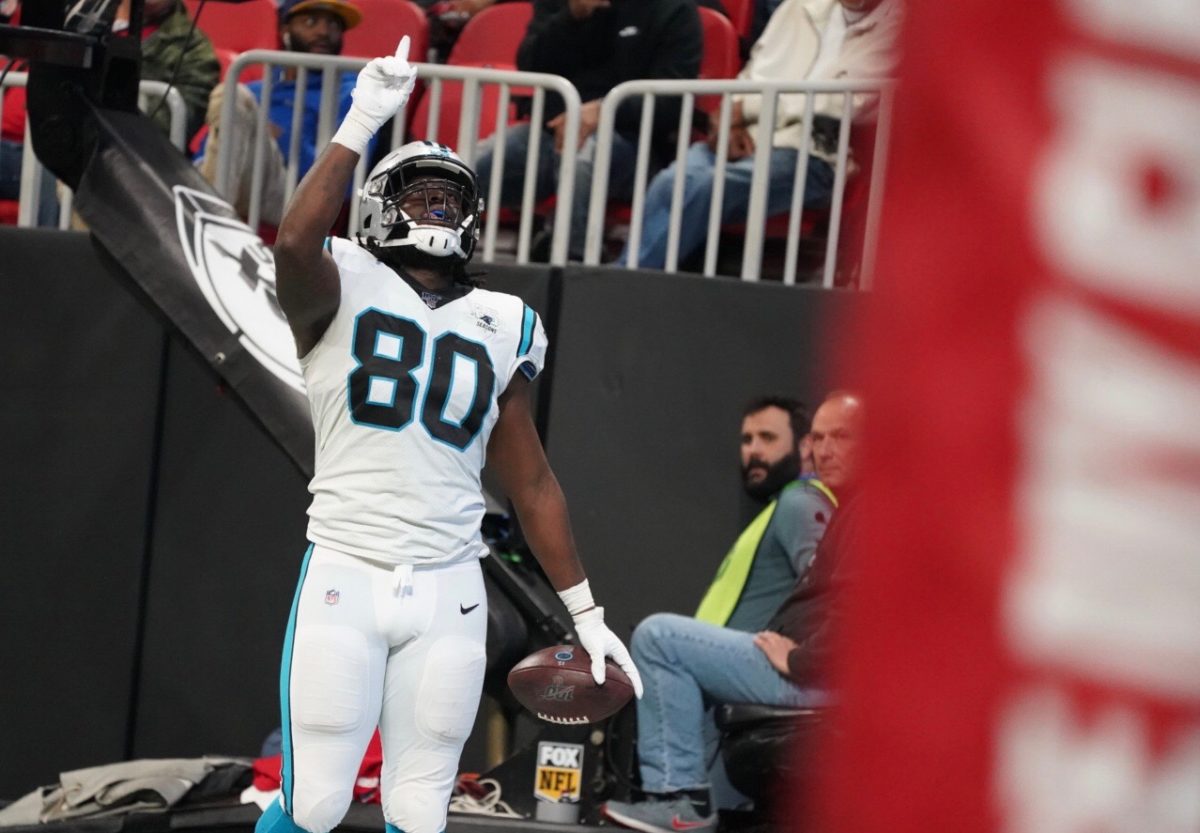 Ian Thomas, Chris Manhertz, Alex Armah
If Seth DeValve hadn't been released with an injury settlement, there might have been much more to discuss about the tight end room, but as it stands, the Panthers really haven't brought anybody in to replace Greg Olsen other than a couple of UDFAs – and while I don't think Alex Armah should assume his spot is safe, the Panthers really don't have a ton of notable depth at tight end.
Thomas should be expected to step in as the primary starter and I thnk Manhertz does enough on offense combined with his leadership and special teams contributions to make the team. One thing that is worth watching in camp (or what we get to see of it) is whether the Panthers start looking to expand Armah's usage, as the conventional blocking fullback isn't really something that exists in any of the offenses the Panthers' coaches are coming from – so his ability to contribute either as a ball carrier or as a part of the passing game as a receiver could go a long way to solidifying his roster spot.
Offensive Line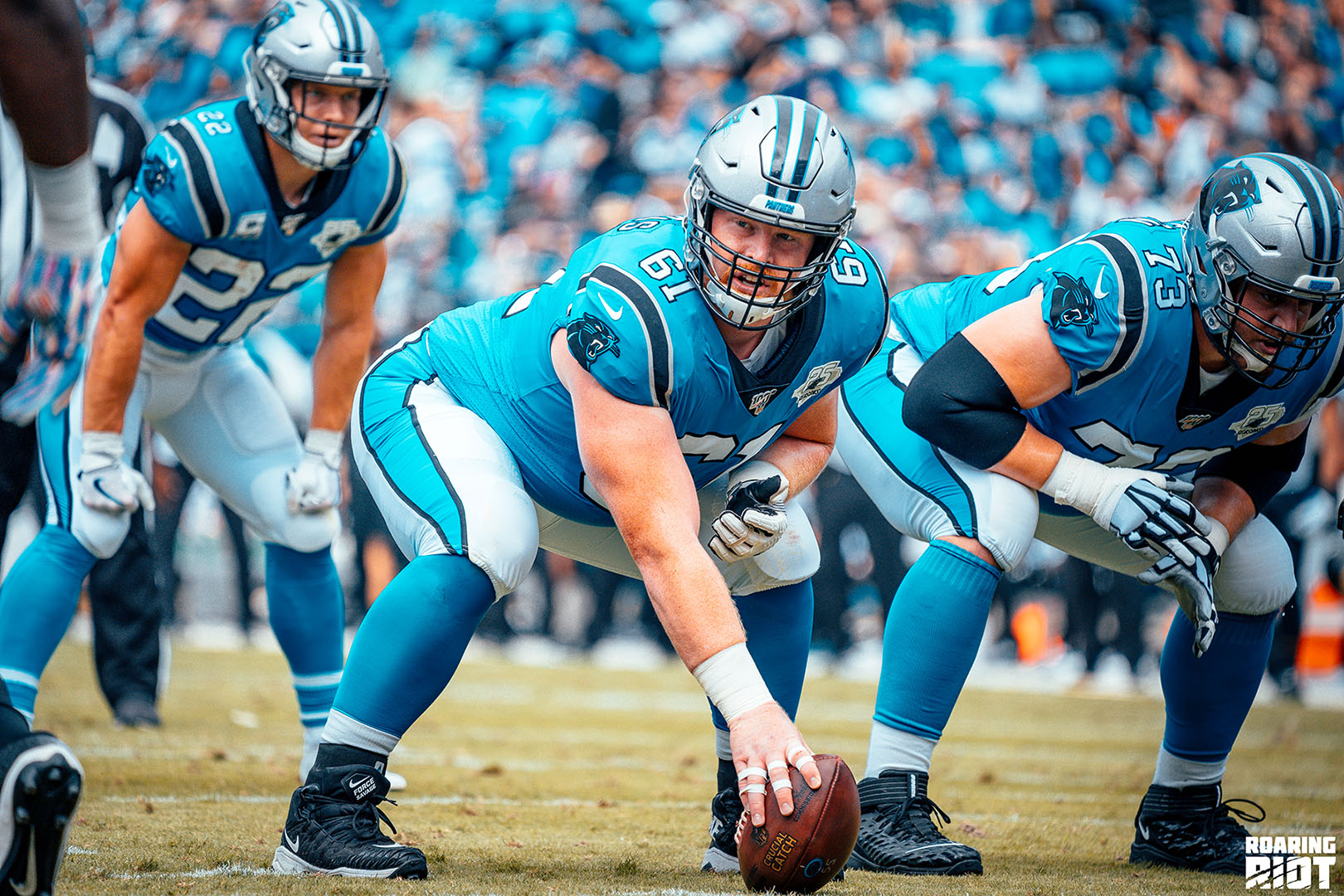 Russell Okung, Dennis Daley, Matt Paradis, John Miller, Taylor Moton, Greg Little, Michael Schofield, Chris Reed and Branden Bowen
Two players the Panthers did make a reasonable investment to bring onboard are Russell Okung and John Miller – while Miller will likely face some competition for the starting right guard spot, it would be an absolute shock if both these players didn't make the roster. Similarly, it would also be a surprise to see established starters Matt Paradis and Taylor Moton not make the 53, or 2019 draft picks Greg Little and Dennis Daley – even if Little likely gets a redshirt year to learn behind Okung after an injury-riddled 2019 season.
The only caveats to this would be if the Panthers feel they want to move on from Paradis' large contract or look to deal the impending free-agent Moton, but both would be highly surprising moves – though not unthinkable. The question is really about who fills out the rest of the roster.
Michael Schofield is an obvious choice as not only is he an experienced and proven NFL veteran with experience working with Pat Meyer in Los Angeles, he also has the ability to play both guard and tackle and gives them a lot of flexible depth even if he doesn't win a starting spot at guard. Similarly, the Panthers' coaching staff have said a lot of positive things about Reed, who can play both center and guard spot and who should be seen as having a real chance of deposing Tyler Larsen of his spot as the backup center.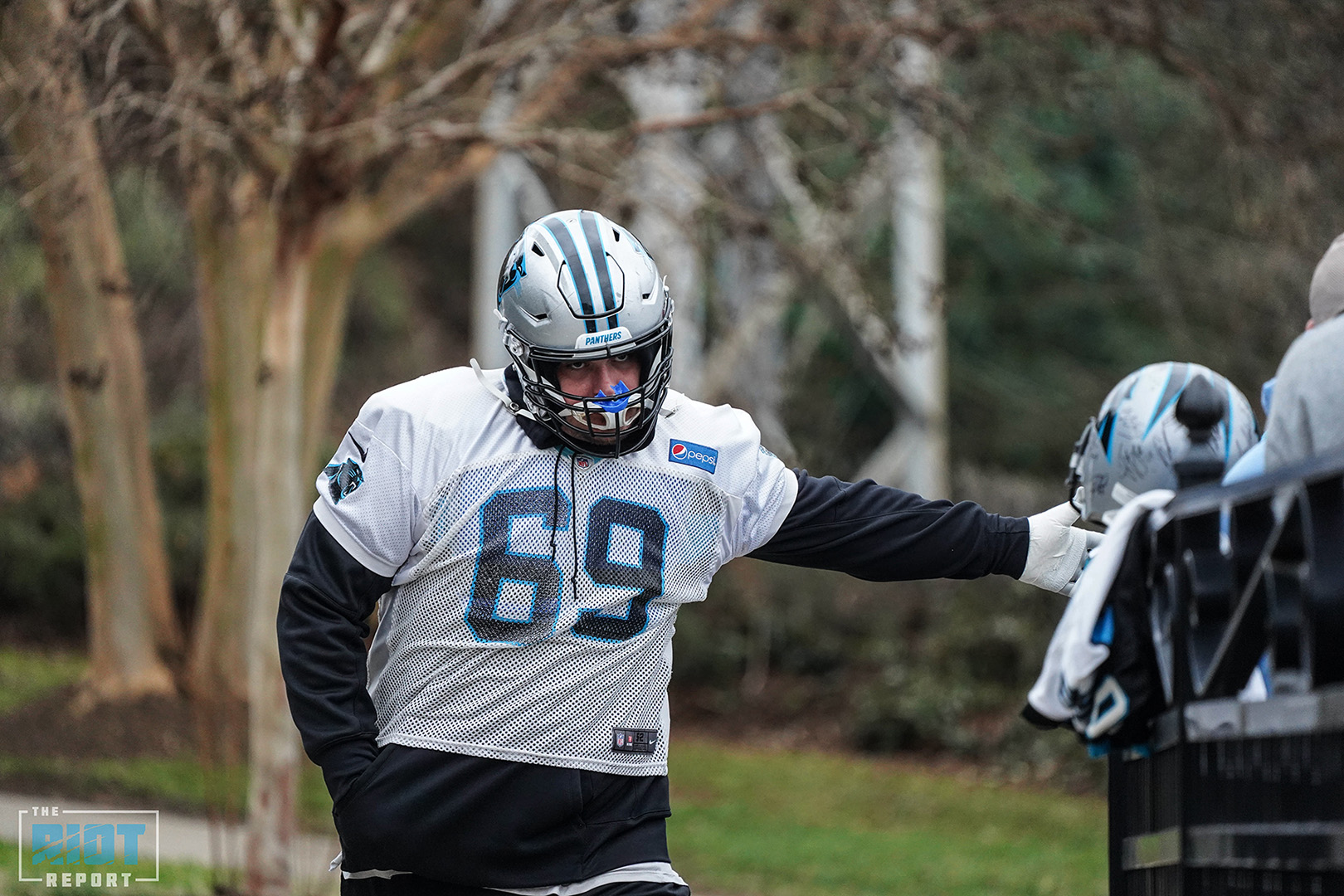 The hardest question to answer is who gets the final couple of roster spots, and while the multitude of tackles the Panthers have brought in for camp shouldn't be dismissed out of hand, rookie UDFA Branden Bowen showed a lot of nice things on tape at Ohio State and with the ability to play both guard and tackle, he could be a useful long-term depth piece with developmental upside.
I have Tyler Larsen as the last man out of the roster but he may be someone that the Panthers use the practice squad exemption (veterans are allowed on the squad in 2020) on as having another veteran around who clearly is respected in the locker room would be useful in what has the potential to be quite a tumultuous season.
Defensive Interior
Derrick Brown, KK Short, Zach Kerr and Bravvion Roy
This is one of the groups least likely to see a major camp battle, as having brought in three of the four listed this offseason either through the draft or free agency, it would be a surprise to see any of them not make the final roster. The one player who is a carryover from the past regime is KK Short – and while he is one of the highest-paid players on the roster and coming off an injury-shortened 2019 season, he is still one of the best players on the team if healthy, and there should be little question about him making the final 53.
The only real questions at this position are exactly how each of the players will be used, especially in terms of combinations, and while how these different combinations fare might determine how the Panthers approach the position during the 2021 offseason, for 2020 the depth chart should be fairly predictable.
Edge Rushers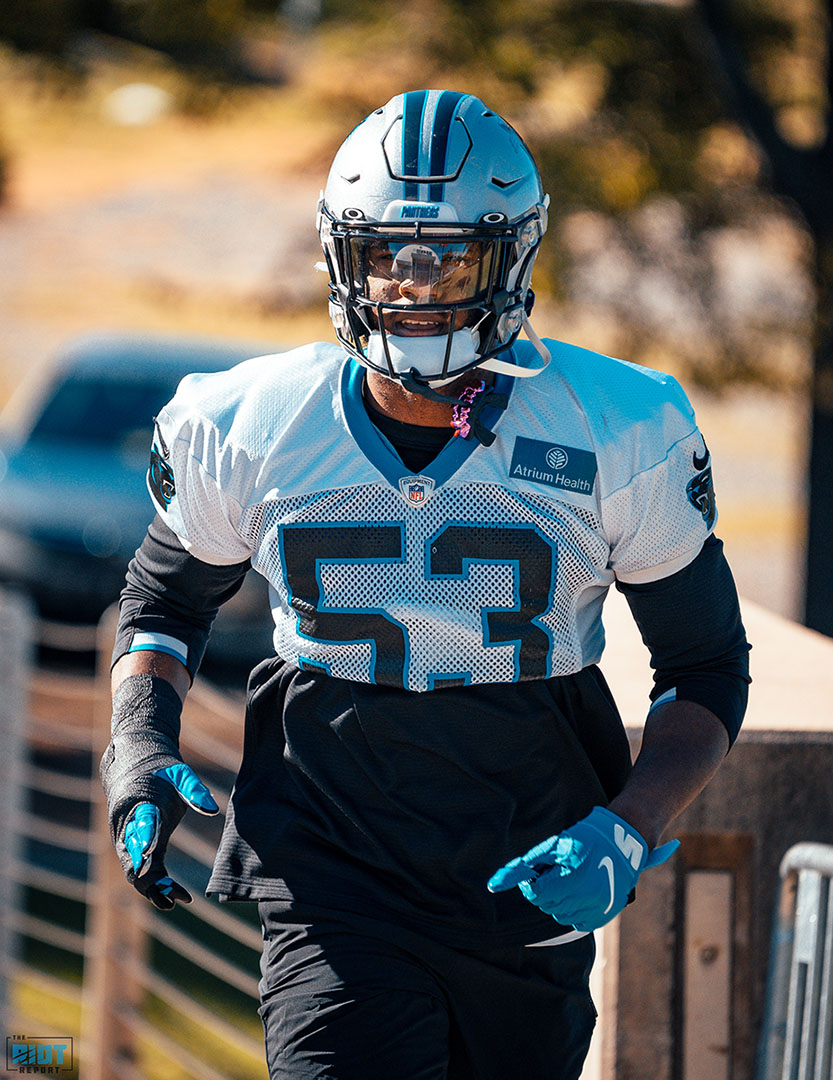 Brian Burns, Stephen Weatherly, Yetur Gross-Matos, Efe Obada and Marquis Haynes
The Panthers have actually invested quite heavily in the edge rusher group in the past couple of years – while the likes of Mario Addison and Bruce Irvin departed in free agency, this is another group that should hope to have a strong 2020. 2019 first-round pick Brian Burns should be looking to secure a place as one of the better young edge rushers in the NFL after a rookie season in which he was highly effective in reduced snaps. Free agent acquisition Stephen Weatherly is expected to be the other starter and cement himself as an NFL starter after a rotational role in Minnesota, while 2020 second-round pick Gross-Matos and veteran Obada offer rotational value with the ability to kick inside to 3-tech in obvious passing situations.
It's not clear how many edge rushers the Panthers will carry, but with Chris Smith being cut and Miller opting out, the Panthers probably have fewer options here than they were expecting to – so they may well stick with just carrying five. Haynes was somebody I thought could be in a real battle to make the roster, but with Miller and Smith now out of the picture he would need a really poor camp to lose his position as the #5 edge on the roster and with that, he likely earns the right to have one more season to prove that he can be a contributing piece to a good NFL defense.
Linebackers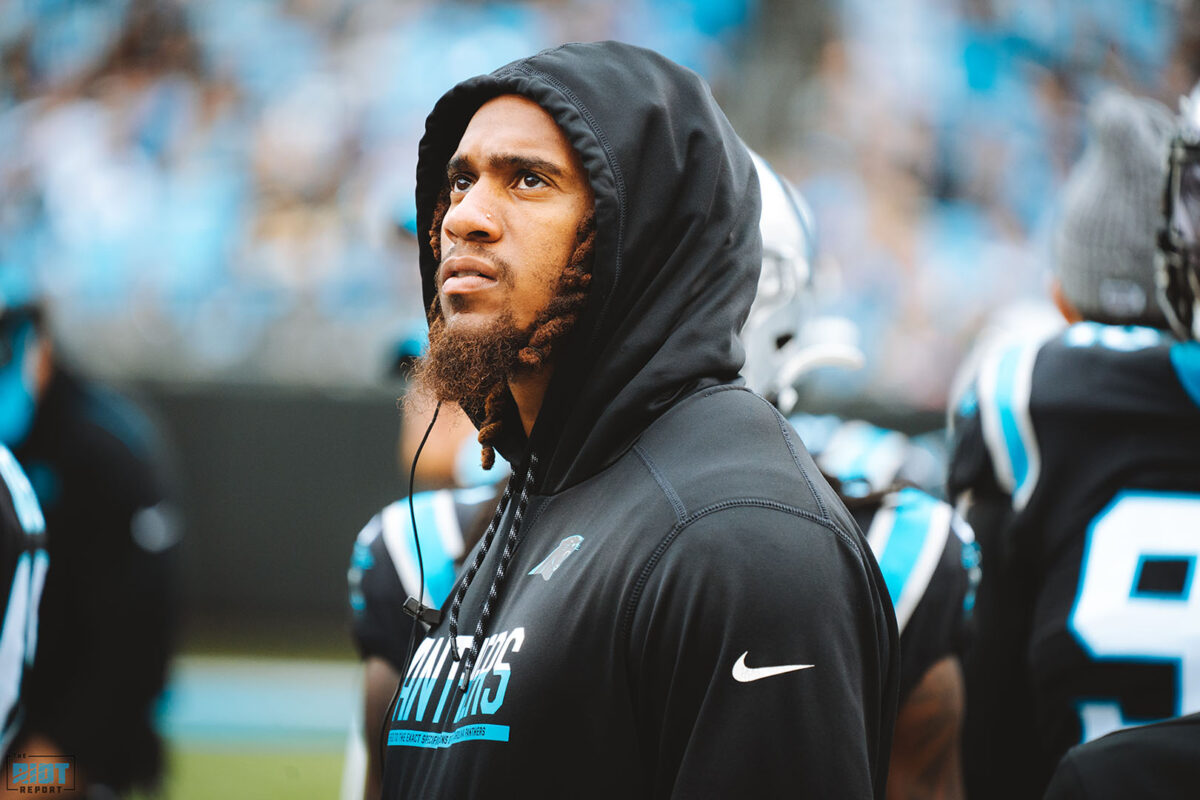 Shaq Thompson, Tahir Whitehead, Jermaine Carter, Jr., Andre Smith and Kyahva Tezino
Two things seem fairly clear when it comes to the Panthers' linebackers in 2020: Shaq Thompson and Tahir Whitehead are going to be on the field on almost every play and the Panthers are going to spend almost all their time in either nickel or dime. While I think Jermaine Carter and Andre Smith both have a chance to see the field in some 3-LB sets from time to time and even drop down and rush the edge on occasion, this is very much going to be a 4-2-5 defense that occasionally plays a 4-3 rather than the other way around.
What this also likely means is that rather than carry the six linebackers that most 4-3 teams do, the Panthers may well opt to only carry five, and given the size they have at safety, this does make a lot of sense.
This then means that there is going to be something of a battle for the depth linebacker spots – while I think Carter is secure, the fact that the Panthers go into training camp with a lot of depth at linebacker means that this could be one of the most significant roster battles of the summer. The likes of Jordan Kunaszyk are likely to be in the mix, but if the Panthers do only carry five LBs, I think Tezino is probably at the top of the list currently – while he is far from a known entity by NFL standards, he looks to be more scheme suited than the more 3-4 suited Kunaszyk.
Defensive Backs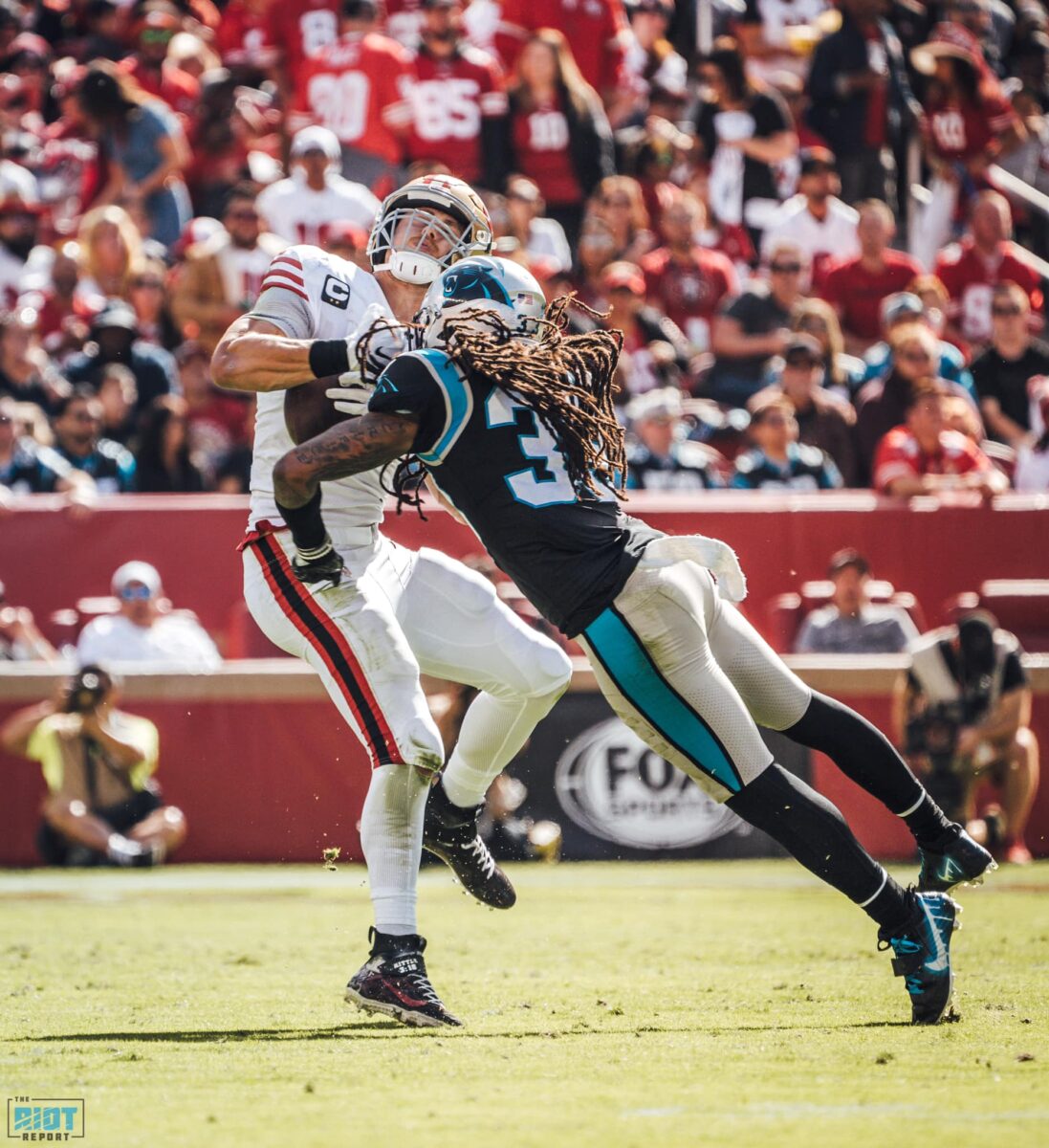 Donte Jackson, Eli Apple, Jeremy Chinn, Tre Boston, Juston Burris, Troy Pride, Stanley Thomas-Oliver, Kenny Robinson, Derrek Thomas, Natrell Jamerson and TJ Green
The Panthers' secondary is largely viewed as being one of the weakest areas on the roster – while it isn't comprised of a ton of established veteran stars, there really is an awful lot to be excited about with this group.
Donte Jackson should be expected to have something of a bounceback season after a down year as a sophomore, Eli Apple has actually been a decent #2 corner in his career and has a chance to take his game to new heights in a defense more suited to his skillset, Tre Boston has proven that he is a good starting safety at the NFL level, Juston Burris is looking to step into a full-time starting role after impressing in the game time he got in Cleveland last year after his conversion to safety and Jeremy Chinn has the tools to be one of the NFL's premier defensive chess pieces.
Of course, there are a lot of unknowns in that group, but there is also a lot to get excited about.
Crucially, that excitement shouldn't end at the presumed starters as three of the Panthers' 2020 day three picks are expected to be given a year to develop with occasional playing time before likely being given more of a realistic chance to compete for a starting role or two in 2021. Add to that a handful of young players looking to compete for the final couple of roster spots and you might really have something.
Natrell Jamerson made a real impression with the coaches last year before going down with injury, TJ Green has struggled based on his draft stock but is still young and has the kind of hybrid talent this coaching staff likes on defense and Derrek Thomas gives them some much-needed length on defense with experience under the Panthers' coaching staff at both Baylor and Temple as well as playing in a cover-3 scheme last offseason with the Seahawks.
It would be foolish to think that the Panthers' secondary is now sorted, but there are a lot of talented young pieces here for the Panthers to work with and choose from as they look to build the foundations to invest further in in 2021.
Special Teams
Joey Slye, Joseph Charlton and JJ Jansen
This group could have seen some interesting position battles, but Palardy's injury and Gano's release means that the position battles here have already been decided.
And JJ Jansen should retire a Panther – he'll make every roster projection until 2030 at least.