Only four practices left in Spartanburg, and today's was, in the words of Greg Olsen, "a toaster" – with temperatures in the high 80s and almost 60% humidity causing players to retreat to the shade or underneath the tent that lays between the practice field; Ron Rivera said he even cut the final team period in half to end practice early after having several players cramp up. After Rivera said yesterday that he wasn't worried about the tight end depth, I realized just how few veterans there are in that group when, during positional drills, coaches sent the younger guys over to grab a blocking sled – and every single tight end available ran for the sled, leaving Greg Olsen to quietly stretch by himself. With Chris Manhertz on the shelf, the tight ends below Olsen haven't had an NFL reception between them; perhaps in related news, Ron Rivera said that the team was working out three tight ends and fullbacks after practice
Here were some other storylines we noticed:
INJURY UPDATE: After giving a lot of players the day off yesterday, most were back to practice today – Michael Palardy is still out due to the birth of his child and Matt Kalil was given a vet day. Christian McCaffrey returned after missing yesterday's practice with a stomach bug, and the only player riding the bikes today was Fred Ross who, along with Chris Manhertz, remain on the PUP list. Julius Peppers wasn't a full participant today, although he did strap on some shoulder pads.
Former Panthers wide receiver and wide receiver coach Ricky Proehl was in attendance today, as were former head coaches Mike Mularkey and Sam Wyche.
During one-on-one drills, a couple of players stood out, although for opposite reasons. UDFA Brendan Mahon, after having a great start to camp, had multiple poor reps as he was matched up inside from the right guard slot; Dontari Poe and Vernon Butler are not easy to handle for any player, but it will be interesting to see how Mahon does – and where the Panthers slot him – on Thursday night. These one-on-one reps aren't necessarily representative of the way a lineman will play on the field; Marquis Haynes, on the other hand, looked lightning quick around the edge, making Adam Bisnowaty look silly as he ran right by him on the inside; this is a little bit like the Christian McCaffrey GIFs from last training camp because one-on-one drills are designed for shifty pass rushers like Haynes to excel – he'll definitely be one to watch during the preseason game Thursday night.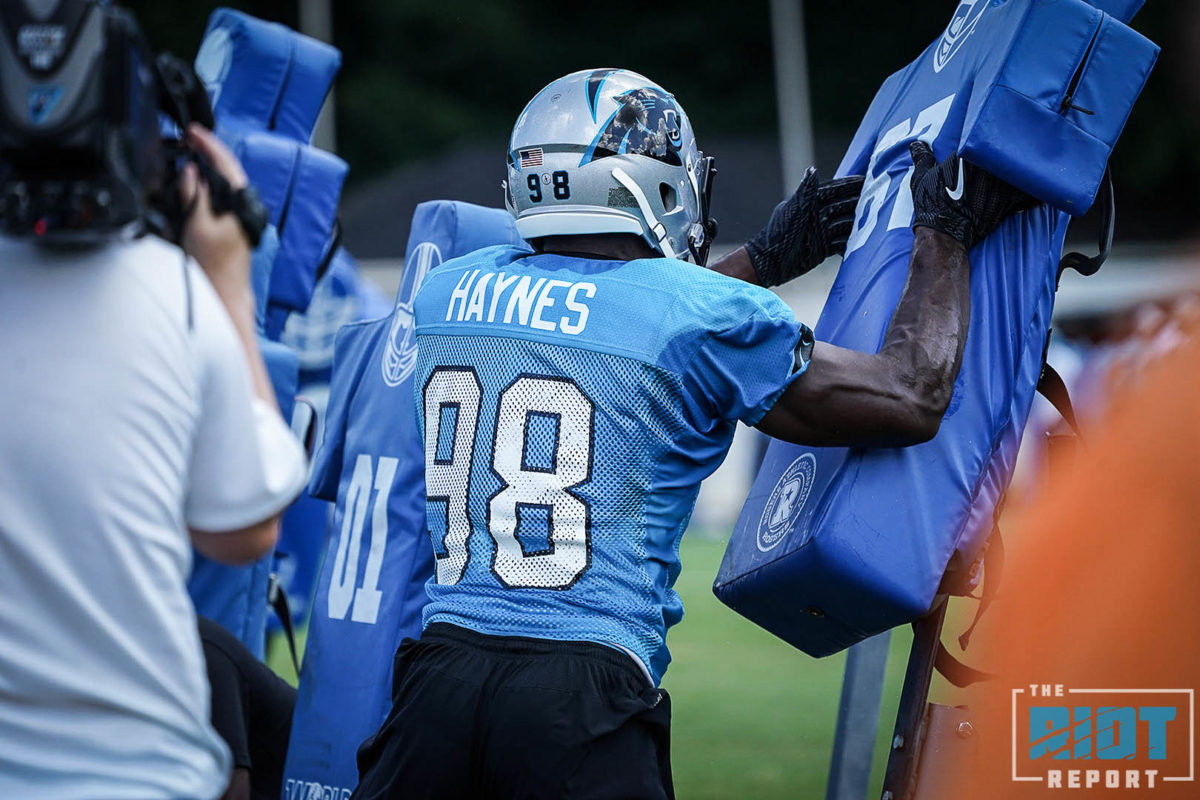 With Matt Kalil out, Blaine Clausell got most of the reps with the first team at left tackle – he appears to have the backup spot with Taylor Moton moving up from backup swing tackle to starting on the opposite side. The team also gave David Mayo and Jermaine Carter some run with the first team defense; with Thomas Davis out for the first four games, it will be on Mayo to step up for the first quarter of the season.
Shaq Thompson had the best defensive play of training camp thus far when he lept into the air on a swing pass intended for Reggie Bonnafon, tipped the ball to himself and caught it for an interception as he came down – that's the kind of athleticism the team is hoping for as Thompson enters his fourth year in the league. The backup quarterbacks did not have a sharp day today, with Thompson's being one of four picks on the day, two for Ladarius Gunter and one for Da'Norris Searcy that bounced off of Cam Serigne's hands. Kyle Allen hasn't shown much thus far to move up the depth chart, and his two interceptions today won't help his case. It will be up to GG or Heinicke to play well on Thursday night to figure out the backup quarterback position, although Rivera says that he's pleased with the way both have played thus far in camp.
LEFT GUARD UPDATE FROM RON RIVERA: "We came in with our big question at left guard, trying to see what was happening there; I think Amini's done a great job, Tyler Larsen has been solid [and] Greg Van Roten – Jeremiah [Sirles] is doing a really nice job, he's a little bit of that Swiss Army Knife that we're looking for as far as that mix is concerned. Really like what we're getting out of the young guys, I think Hearn and Mahon are two young guys that will give us a little bit more depth as well."
Corn Elder got an earful from Jeff Imamura near the end of practice as he fell for a double move against Austin Duke and was bailed out by a nice Damian Parms close on the ball as Parms knocked what would have been a long gainer out of Duke's hands along the sidelines. "We'll be working on some hot sluggos, it looks like," said Imamura; the sluggo route is essentially a slant-and-go, which Elder got beat on.
Damiere Byrd and DJ Moore each had drops during 7-on-7 drills over the middle – in fact, as the team began prepping for the Buffalo game on Thursday night, we saw less and less of Cam Newton, which may have led to more instances of the defense "winning" – Kevon Seymour and Lorenzo Doss specifically had multiple pass breakups throughout the session. It appears that Seymour plays better during team drills vs. in one-on-ones, but that could just be happenstance.