It was interception Tuesday at Panthers practice as the team spent most of their time prepping for Thursday's first preseason game against the Buffalo Bills – Da'Norris Searcy had one for the second day in a row and Kevon Seymour had at least two as the team's backups tried their best to separate themselves in Head Coach Ron Rivera's eyes but ultimately, neither Garrett Gilbert – who Rivera said would get the first snaps and some run with the starters Thursday night once Cam Newton is removed after a series – nor Taylor Heinicke nor Kyle Allen did much to stand out in a positive way, with each having their share of poor throws or decisions throughout the practice.
It wasn't all doom and gloom, though, as the offense began to heat up during goalline drills – Ian Thomas in particular continues to have an impressive camp for a fourth-round pick that didn't get a ton of playing time in college. The former Hoosier has an opportunity to earn his spot on the field with Chris Manhertz the only player remaining on the PUP list after the team activated WR Fred Ross this morning; Thomas has shown smooth route running and had a tremendous leaping catch in the end zone that evoked shades of the veteran tight end on the team – can he roll those good practice vibes into the game Thursday night?
Here are some other storylines we noticed from another toaster in Spartanburg:
INJURY UPDATE (and it's a doozy): Amini Silatolu left practice early this morning with what Ron Rivera dubbed a "sore leg" after practice – the presumed starter at left guard was sent back to Charlotte for further evaluation. Silatolu spent time yesterday under the tent, so whatever happened didn't appear to be something that occurred suddenly – the Panthers already lost tackle Daryl Williams to a dislocated patella and torn MCL earlier in camp and with Taylor Moton replacing Williams at right tackle, Rivera says that the team will start undrafted free agent Brendan Mahon at left guard. Silatolu tore his ACL during the 2015 season and didn't play at all in 2016 before returning to the Panthers last offseason. Rivera also indicated that Tyler Larsen would start at center as the team is careful with their usage of Ryan Kalil. Here's more on Mahon:
A lighter practice today as the team began prepping for the Buffalo Bills; much of the reps went to the backup quarterbacks – but the reps that Cam Newton did take, at least early in practice, were impressive. Newton put two deep balls in a perfect spot, the first being a back shoulder throw to Jarius Wright up the sidelines that you couldn't have drawn up any better and the second was a shot down the middle of the field to Devin Funchess who streaked wide open towards the end zone; it looked as if either Corn Elder or Ladarius Gunter missed an assignment up the field. Newton then scored four consecutive touchdowns in a goalline drill, including a naked bootleg that had the quarterback chuckling to himself as he ran into the end zone unmolested.
The Panthers offensive line ran my favorite drill of training camp, in which offensive linemen run routes and make catches in the end zone. Check the photo gallery for some extremely fun pictures, or just enjoy this video one thousand times:
Kalil to Moton things are happening here in Spartanburg. pic.twitter.com/p1YIeU3NpI

— The Riot Report (@RRiotReport) August 7, 2018
The final drill of practice saw some wins for the first-team defense, including an interception over the middle for Captain Munnerlyn, who will likely be talking about that with Cam for months; practice ended on a high note – literally – as Shaq Thompson made a leaping one-handed interception and ran it all the way back to the opposite end zone. That was Thompson's second spectacular interception in as many days.
Michael Palardy was back at practice, the proud (and tired) father of a new baby boy.
The team announced that they had cut DT Aashad Mabry and signed DE Sterling Bailey, who played at the University of Georgia and spent time on the Tampa Bay practice squad in 2017.
DJ Moore, Christian McCaffrey and Curtis Samuel took some reps at kickoff returner, while Moore, McCaffrey, Kenjon Barner and Damiere Byrd took punt return reps – Donte Jackson, who had taken some reps earlier in camp at special teams, did not participate. While these drills were going on, Cam Newton and the other quarterbacks practiced "corner of the end zone" throws to Devin Funchess and Greg Olsen on the opposite field.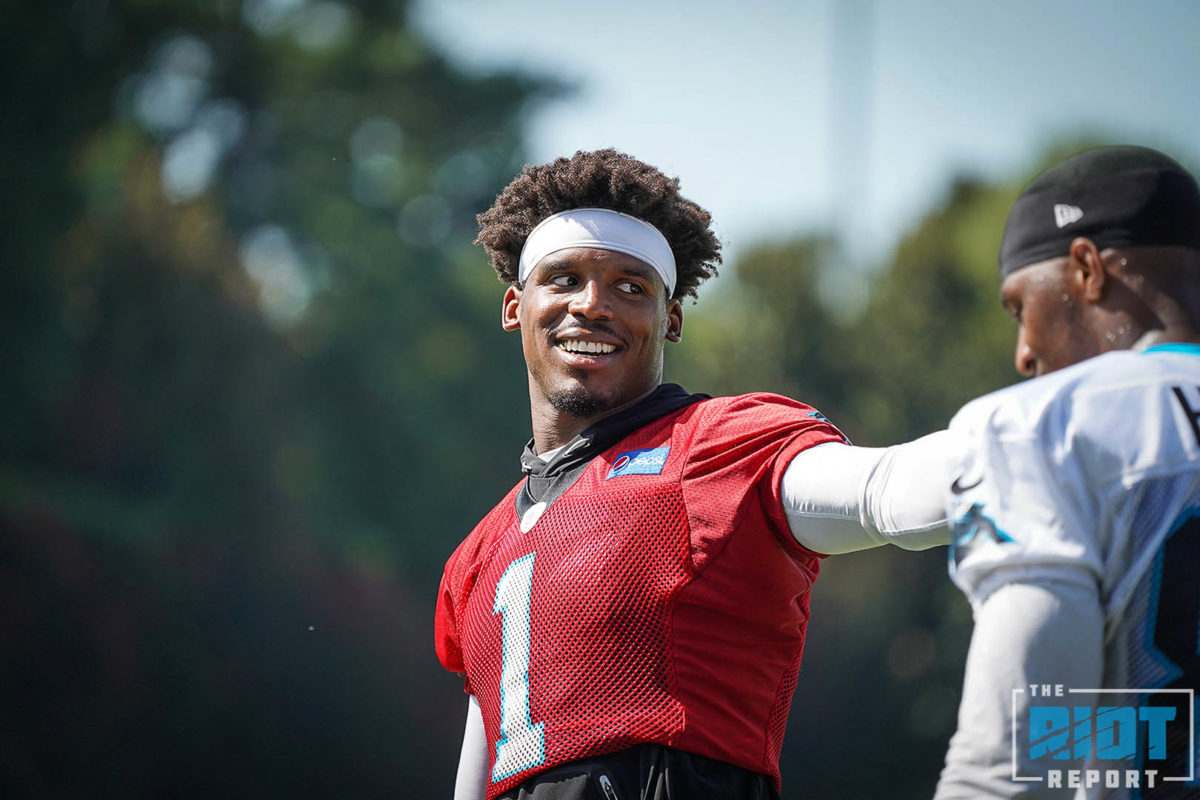 A lot of shuffling around on the defensive side of the ball, with multiple lineups playing together – would imagine that's what we'll see on Thursday night as well. We also spotted Marquis Haynes dropping back into coverage on a couple of plays – that's the "joker" role that Rivera has spoken about utilizing Haynes in – after a good practice yesterday, I can't wait to see how he performs in full pads against an offensive line with full contact. Today was not a great practice for Corn Elder on the outside, who appeared to get beat deep a couple of times, including a deep throw to Jamaal Jones from Kyle Allen that saw Jones wide open down the middle of the field.
The team ran out of the I-formation during practice, especially as they ran a drill that had them backed up against their own end zone – for what it's worth, those drills went to Alex Armah at fullback and Christian McCaffrey at running back.
Yes, CJ Anderson was in full sweats with the humidity above 80% – on a personal note, I sweated through my shirt.