Growing up in nearby Greer, South Carolina, Troy Pride, Jr. wasn't necessarily a Carolina Panthers fan as he helped lead Greer Senior High School to back-to-back undefeated 10-win regular seasons for the first time in school history and four consecutive Region II-AAA titles. Yes, of course, he cheered for the hometown team during their two Super Bowl appearances with Jake Delhomme and Cam Newton at quarterback.
So he knows enough to pass as a Panthers fan.
"Keep pounding," Pride said with a smile as he closed his Zoom conference call with local media on Saturday afternoon. "I'm going to have to get used to saying that."
Because it's clear Pride and his family will have a reason to drive up I-85 to Bank of America Stadium and root for the Panthers.
With their 113th pick overall in the fourth round of the 2020 Draft, the Panthers chose cornerback Troy Pride, Jr. out of Notre Dame, making him the fourth consecutive defensive pick to open this year's draft after the team selected Derrick Brown in the first round along with Yetur Gross-Matos and Jeremy Chinn both in the second round.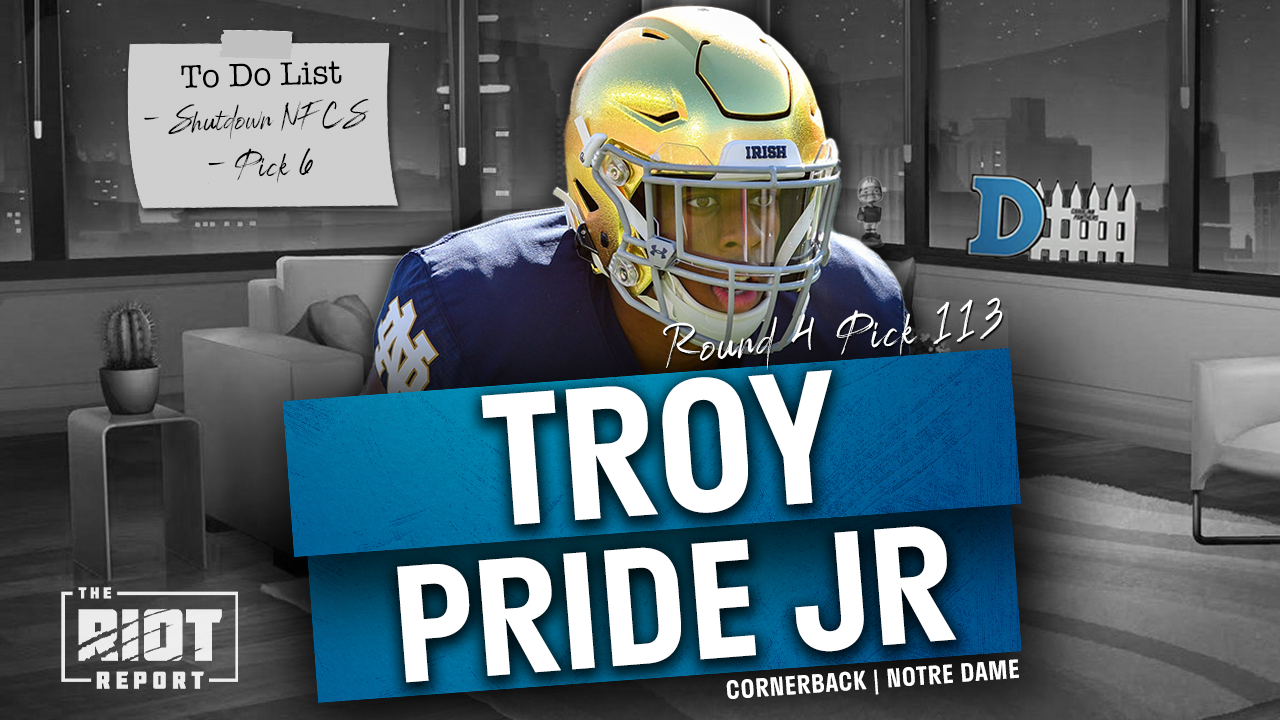 For the Fighting Irish last season, Pride recorded 40 tackles with an interception and six pass breakups in 13 games. During his four seasons in South Bend, he registered 121 tackles, four interceptions, and 18 pass breakups.
Pride was an essential member of their defense with his ability to plan in man-to-man coverage along with his versatility to also play in zone coverages. During the NFL Combine, Pride's 40-yard dash was timed at 4.4, which was the fifth-fastest among secondary players this year.
He also registered a 35.5-inch vertical jump.
However, during Notre Dame's pro day, Pride recorded a 4.3 40-yard dash time. Pride was also a sprinter on the Notre Dame track team as he finished with the team's best 60- and 200- meter dash times for the season.
While speed is maybe his most talked about attribute on the field, Pride says that is not the only part of his game.
"I think I'm a competitive beast," Pride said. "My will to win is higher than a lot of individuals. I think just my competitive edge is going to keep me with any athlete that I play against and any system that I play in. With that elite athleticism, speed we talked about and then honing in on my technique, I think it is going to be a recipe for success."
Also, at 5-foot-11, 193 pounds, Pride has the size to play both on the outside and as a slot nickel corner. After finishing 31st in points allowed defensively, the Panthers have revamped their secondary thus far this offseason.
With James Bradberry now with the New York Giants, Pride will have the opportunity to develop with a young secondary and potentially turn into a starting corner on the outside. Third-year cornerback Donte Jackson and safety Tre Boston are the only two returning starters from the 2019 Panthers secondary, so Pride will have a lot of chances for early playing time and might slot in at the top of the depth chart – just as he did at Notre Dame when he played in five games as a freshman.
"I don't work just to be somebody in the facilities, I work to be the best in the facilities," Pride said when asked if he would be ready to compete for a starting role in Week 1. "If that's a Day 1 starter, that's a Day 1 starter. If that's a special teams role, that's a special teams role. If that's a nickel role, that's a nickel role. Whatever the team needs me to do to be the best player I can be, I will do it."
Considering the number of elite receivers the Panthers will face twice a year, it was imperative they addressed the needs in their secondary this offseason. Pride says he is excited about the chance to go up against some of the NFL's best.
"I've already envisioned that, I've already set myself up for that," Pride said. "I've always been working for the best and to have the best in that division, Michael Thomas, Julio Jones, Mike Evans, Tom Brady, Drew Brees and all of those guys, Matt Ryan — it is going to be wonderful. You relish those opportunities, you relish that moment to compete against the best because the cream going to rise to the top."
It will be up to Phil Snow to draft a scheme to try to slow down the most prolific passing division in the NFL with a secondary filled with young players.
Like many of their players drafted this year, the Panthers spoke with Pride at the Senior Bowl – he had an extensive conversation with cornerbacks coach Evan Cooper. He also later talked with Panthers head coach Matt Rhule and general manager Marty Hurney. At the NFL Combine in Indianapolis, Pride said Panthers secondary coach Jason Simmons drilled him with a lot of questions and once he got on a FaceTime call with Rhule, Hurney, and the other coaches on the staff, he figured the team was very interested in draft him.
"To have the GM, the head coach, the position coach, the special teams coach all on there was amazing to see, and that just showed their true interest," said Pride. "Now you never know with the draft as teams can blow smoke all the time. They seemed genuine, and they were, obviously."
Pride was projected anywhere from the third to the fourth round, depending on the draft prognostications. But considering his skillset and speed and talent, Pride was confident that he would hear his name called a little bit sooner than the fourth round. He feels like teams made a mistake letting him slip to the 113th overall pick.
"Just with the potential I have, and the way that I work is going to set me up for success – the Carolina Panthers will see that success," Pride said. "And everyone else will just have to watch from afar. And I'm not mad at anyone, I'm not bitter about anything, but I know how I work, I know what I do, and I know what I am capable of and I'm going to get to it."
"I didn't drop, I fell into the right place."
Combining Pride's speed with Donte Jackson's ability to blaze down the field will certainly lead to some fireworks on the field – could a practice race be far behind?
"If I get that first step, shoot," Pride grinned about a potential race between himself, Jackson and receivers DJ Moore and Curtis Samuel. "It's up for grabs. On the day I walked onto Notre Dame's campus I was the fastest guy, and I believe it again."
Like most cornerbacks, confidence is not an issue.
(Top Photo Via Joe Robbins/Getty Images)