Here's the play that killed the Jacksonville Jaguars and got the Panthers their third win of the season.
A simple mid-zone run with two wide receivers lined up wide and Curtis Samuel closer to the line – Greg Olsen goes in motion one way, turns around and runs back before setting up as an h-back in front of the running back slightly to the left or right of Kyle Allen, depending on which way the play is running. When the ball is snapped, all five offensive linemen go one way and Olsen goes the other across the formation to block the defender pursuing on the backside – Curtis Samuel fakes as if a reverse is coming in a 'zip' motion and the running back tries to hit whatever hole opens in front of him.
Rinse. Repeat.
And repeat.
And repeat.
"I don't know if I've ever in my career heard the same call in the huddle so many times," said Olsen. "I don't even know, off the top of my head, how many times we ran the same play. I feel like I went in motion and came back a thousand times, but every time I looked up, Christian or Reggie were running. So credit to Norv and them for not making it hard."
"Until they stop it, make them stop it."
IT'S A C-MAC ATTACK!!!@run__cmc | #KeepPounding pic.twitter.com/ZS5yqksJor

— Carolina Panthers (@Panthers) October 6, 2019

Norv Turner and the Panthers coaching staff had obviously identified that a fast Jacksonville defense reacted and tried to create run fits to a certain type of pre- and post-snap motion in a way that the Panthers could exploit – and exploit they did.
Jags coach Doug Marrone said after the game that the run defense, which hadn't given up more than 126 yards in any game this season, got knocked out of their gaps and allowed the Panthers to rush for 285 yards, 14 shy of the franchise record – much of it coming on that same mid-zone read the Panthers kept dialing up.
Much like a defense will continually run a blitz until the offense proves it can pick it up, the Panthers continually went back to the well; both Reggie Bonnafon's 59-yard touchdown and McCaffrey's 84-yard scamper – the longest rush in Panthers' franchise history – appeared to come on the same playcall. And the guys on the offensive line were happy that the coaches trusted them enough to do it with both Greg Little and Trai Turner sidelined.
"I feel like a lot of people generally just kind of assume [when] you don't have your starting five, it's going to be a disaster – that's not the case. We've shown that multiple times this season already that we can win with the guys we have in our room," said Greg Van Roten, who was also part of the 'patchwork' offensive line last season that had over 200 yards rushing on two occasions. "That speaks to Matsko and Travelle and the job that they have done in preparing us and playing within our scheme and knowing our techniques, knowing what to do and how to get there."
"Whenever you're feeling it and playing well as an o-line and that play is working [or] that scheme is working, you lean on it," said Matt Paradis. "Norv did a great job of getting back to it."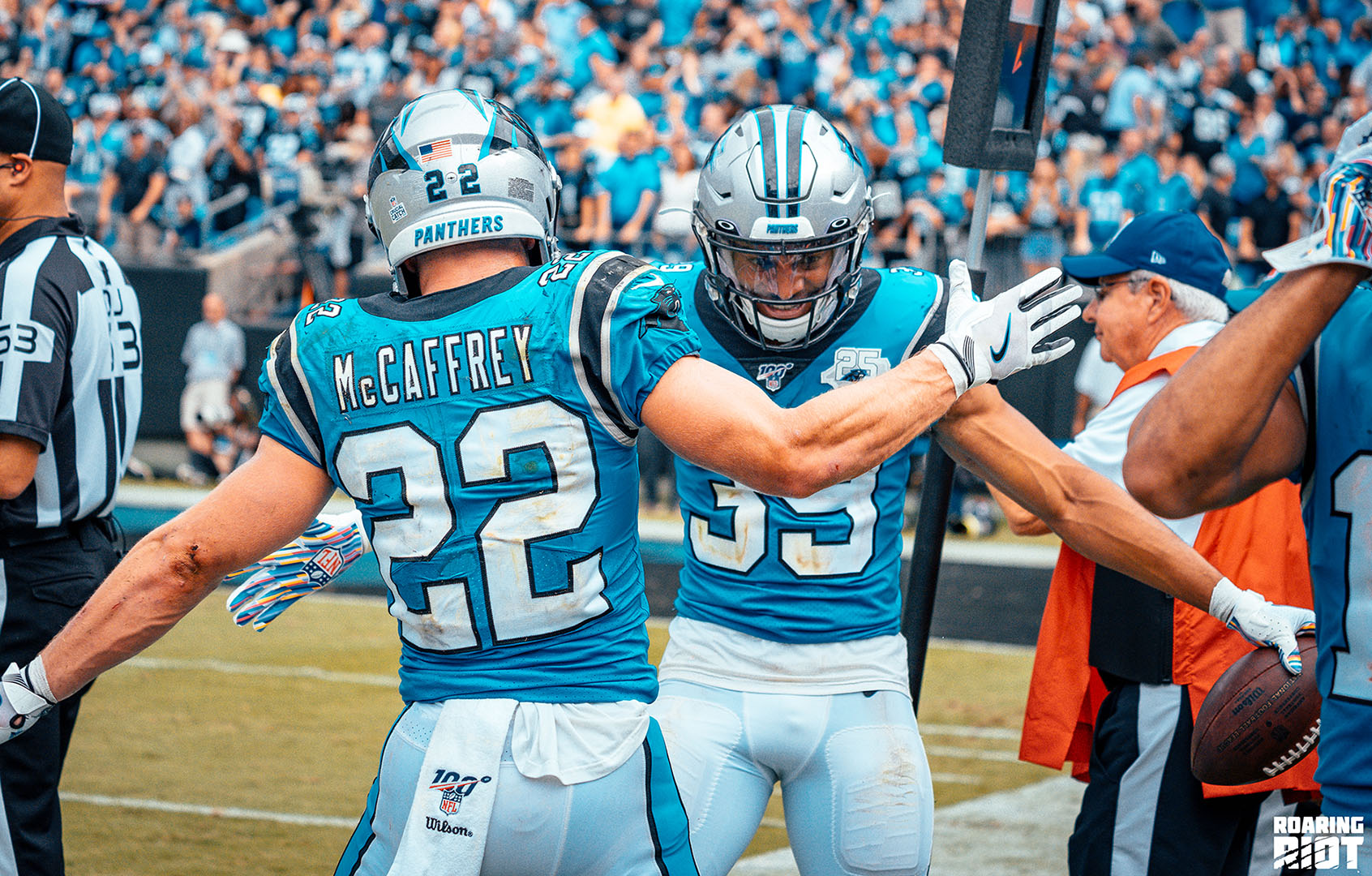 "If something's working, you've got to go with it," said Christian McCaffrey. "You never expect anything going into a play or a game, you kind of just take it one play at a time. If there's a hole, great – if there's not, do what you can to get as many yards as you can."
McCaffrey, who tied his own career high – and a Panthers' franchise record – with 237 total yards, rushed 19 times before coming to the sidelines as he battled cramps late in the fourth quarter. When McCaffrey couldn't take advantage of the holes in the line, it was up to Reggie Bonnafon – the undrafted free agent who spent last season on the Panthers' practice squad as he was being converted from the quarterback/wide receiver/jack of all trades role that he occupied on Louisville.
Different running back, same playcall.
Same result.
Matt Paradis grinned in the locker room afterwards thinking about it.
"How cool was that?"
Reggie Bonnafon got the call and boy did he DELIVER!!!#KeepPounding pic.twitter.com/GXQ8mqpOlc

— Carolina Panthers (@Panthers) October 6, 2019
"The offensive line, obviously, was doing a great job of making that play happen," said Bonnafon. "Us, as backs, once we see daylight, it's our job to make the safety or corner miss and then take care of it."
The combination of the Curtis Samuel 'zip' motion pulling a backside defender and the offensive linemen getting vertical and covering up a defender close to them opened up holes – and when the first play of the game was an actual sweep to Samuel, it made the threat that much more real.
"It's just one of those things that happens with the zip," said Ron Rivera. "Anytime you get to the outside edge, they have to respect [it]. If they don't, we will hand it to him – we have shown we will hand it to him and that's all it takes. That's enough to freeze or hold that guy and you can put it in the running back's hands."
And then you just run the same play until it works – and if it keeps working, you keep running it.
"Everybody knows where the ball is going and you can't stop it," said Tre Boston. "I've been in games where you just feel like – 'Wow, they're running the same thing over and over and over, why can't we stop it?'
"That's taking a man's will [and] dominating."