Around this time last season, many of the decisions about who to keep and who to cut were made virtually – cutting short the lifelong dreams of rookies and try-out players based on their acumen in Microsoft Teams sessions and videotaped workouts from their backyard. Yes, a big apart of succeeding in the NFL is about how you perform off the field, but this season looks to be a return to some kind of normalcy after the COVID-induced reality of a year ago.
With players reporting to Bank of America Stadium last month for the beginning of Phase 1, the strength and conditioning team got to see some of the veterans back in the building and, this past weekend, the coaches have had a chance to work hands-on with not only their 2021 Draft Class of 11 players, but with their priority UDFA signings and players trying out for a chance at a camp invite.
While this time of year is always high on pressure to perform, especially for those players looking to find their way onto a training camp roster, Matt Rhule was quick to make it clear that this need to impress applies equally to all the players who stepped onto the field during rookie minicamp:
"There's a lot of veterans that aren't just going to give up their job – [they've] played in this league and want to play," Rhule made a point to elucidate to the entire class of rookies, from first-round pick Jaycee Horn to the UDFAs who had nothing guaranteed but a helmet over the weekend. "There is no more first-round draft pick, second-round draft pick, UDFA…you're all on the team, no one really cares how you got here."
Or, as he put it more bluntly, "Nobody really cares what you did in college, it's about what you do now."
Rhule and new GM Scott Fitterer like the roster they had coming back, like who they brought in through free agency and they supplemented those players with 11 draft picks, five UDFAs and two more players signed over the weekend in safety Delano Hill and defensive end Kendall Donnerson. Or, as Matt Rhule put it, "f we did anything, we got ourselves a lot of competition."
While the Panthers will likely continue to tweak the 90-man over the next few months before they (presumably) head to Spartanburg for training camp in late July – I'll take my best guess at what the 53-man roster will look like after those dog days are over. Some of the decisions were harder to parse than in years past – Rhule summed it up best after rookie mini-camp had finished:
QB (3): Sam Darnold, PJ Walker and Tommy Stevens
You'll begin to see a pattern with a lot of these position groups as the Panthers Rhule/Fitterer regime begins to move on from the Hurney Era – I expect them to move on from 2019 third-round pick Will Grier in favor of their version of Taysom Hill in Tommy Stevens. Rhule is clearly a big believer in position flexibility, so having Stevens, who can double as the emergency QB and backup TE among other spots, seems more likely than keeping Grier, who may end up in Washington like so many other QBs of a bygone era.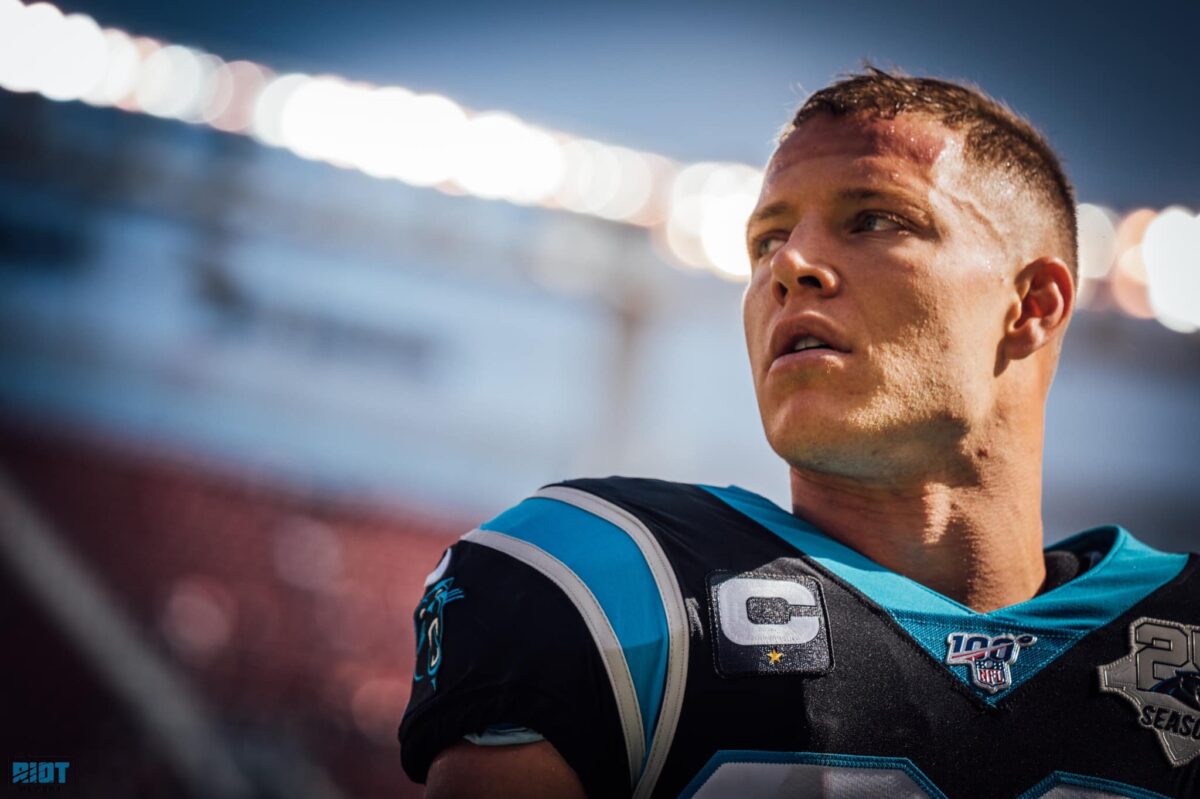 RB (4): Christian McCaffrey, Chuba Hubbard, Reggie Bonnafon and Trenton Cannon
Hubbard slides in as a cheaper version of the Mike Davis 'Break In Case of CMC Injury' role while Bonnafon and Cannon will take a bulk of the special teams snaps. Just as it was last year, Bonnafon and Cannon will battle for the final spot and may fall victim to a numbers game if there are injuries or questions at other spots.
WR (6): DJ Moore, Robby Anderson, Terrace Marshall, Brandon Zylstra, David Moore and Shi Smith
While a lot of people will pencil in Omar Bayless, who started camp off strong last year before going down with an injury and being placed on IR, there's not a lot of room on the depth chart for a seventh wide receiver and Zylstra provides a ton of special teams value (he played over 58% of the special teams snaps last season). Smith can also provide some burst on special teams, so look for Bayless and perhaps another UDFA like Micah Simon to land on the practice squad, with the opportunity to move up should there be an injury.
TE (3): Dan Arnold, Tommy Tremble and Colin Thompson
Another tough decision as the Panthers made it clear this offseason that they wanted to upgrade the tight end position, and backed that up by both signing Arnold and spending a third-round pick on Tommy Tremble, moves that may leave Ian Thomas on the outside looking in. The former fourth-round pick clearly had trouble adjusting to the Brady playbook and was targeted on less than 5% of the snaps he saw the field in 2020. Thomas is developmental tight end prospect that was brought in by a GM who's no longer with the team – the new GM promptly brought in another raw tight end prospect in his first draft – that might just spell the end of the road for Thomas in Carolina.
OL (10): Taylor Moton, John Miller, Matt Paradis, Pat Elflein, Trent Scott, Cam Erving, Dennis Daley, Brady Christensen, Deonte Brown and the other David Moore
The first five are who I think will be starting in Week 1 – but there will be enough attrition that it wouldn't surprise me to see all 10 of these men get a shot at starting somewhere along the line during the season. I see Brown and Moore as developmental pieces who could contribute further down the road rather than be ready to start right away – 2019 second-rounder Greg Little, who couldn't beat out Scott last season for the left tackle spot, will have to have a tremendous camp to maintain his spot on the roster.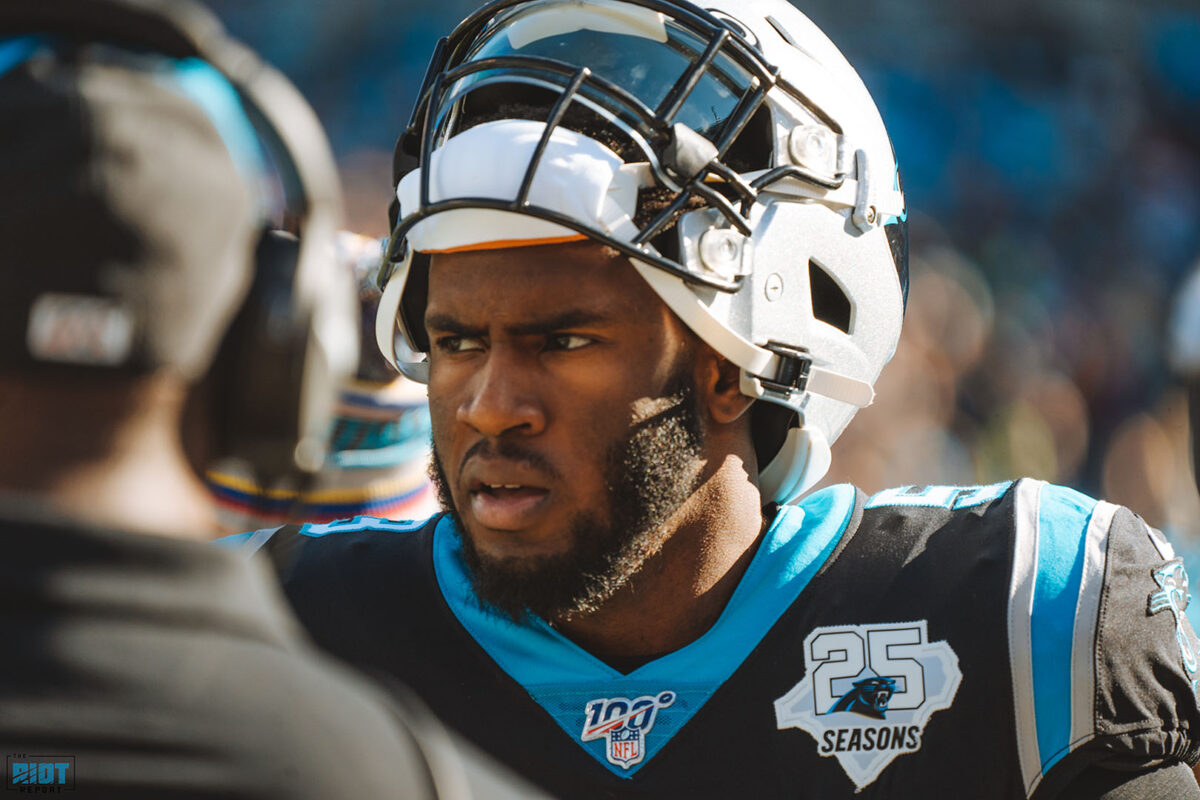 DL (9): Brian Burns, Yetur Gross-Matos, Haason Reddick, Derrick Brown, Marquis Haynes, Morgan Fox, DaQuan Jones, Daviyon Nixon and Bravvion Roy
Wouldn't surprise me to see the Panthers keep an extra body here (seventh-round pick Phil "Big Snacc" Hoskins, perhaps?), but the rotation seems set – the Panthers could trot out a front four of players all selected in the Top 40 between Burns, Reddick, Brown and YGM. That's a lot of talent. I'd expect YGM and Fox to rotate inside with the big boys (Jones and Brown) somewhat, but the young duo of Nixon and Roy have a varied skillset and could make some splash plays in limited reps as they continue to develop.
LB (5): Shaq Thompson, Denzel Perryman, Christian Miller, Jermaine Carter, Jr. and Chris Orr
Not sure what Christian Miller will bring to camp after opting out of last season, but the 6-3 former fourth-round pick told me a lifetime ago (AKA the end of the 2019 season) that he wanted to transition to SAM linebacker – that would be advantageous for him with the cadre of EDGE rushers already in Carolina. The last linebacker spot might be the first instance of the answer not necessarily being on the roster – the Panthers liked Orr enough to have him on the edge of the roster last season, but this feels like the spot they might add someone over the summer or before Week 1. Call it the Julian Stanford spot, who signed on August 22 last season and led the team in special teams snaps.
Secondary (10): Jaycee Horn, Donte, Bouye, Myles Hartsfield, Keith Taylor, Troy Pride, Jeremy Chinn, Sam Franklin, Juston Burris, Kenny Robinson
I'd expect Donte Jackson and AJ Bouye to battle in camp for the starting spot opposite Jaycee Horn with Hartsfield the early leader in the clubhouse for the nickel spot rather than the loser of the Jackson/Bouye battle. Jeremy Chinn will be classified here as a safety, but if Denzel Perryman gets hurt, expect the almost-rookie-of-the-year to be in the front seven a lot more. Sam Franklin exceeded expectations as a UDFA last season and will have a role at safety – I also wouldn't be floored to see Rashaan Melvin or Stan Thomas-Oliver beat out Troy Pride.
Specialists (3): Joey Slye, Joe Charlton and Thomas Fletcher
I think Joey Slye will have to compete with… someone… during training camp (the Panthers just cut Matt Ammendola over the weekend), and it will be a true competition. Charlton was excellent as a rookie and the Panthers presumably drafted a cheaper version of JJ Jansen in the sixth-round this season as the longest tenured Panther may ride off into the sunset for a retirement filled with Little League Championships.
Yes, there are more than three months between us and the final roster cuts, and as well as there being plenty of time for players to work their ways up the depth chart at various positions, there is also a lot of room for the Panthers to bring in players from outside the existing squad to compete for a spot – the most likely options are linebacker and kicker.
However, with that in mind, this is my best guess at what the Panthers' final roster will look like; whatever happens, it seems likely that the continued passing of the torch from the Hurney to Fitterer regimes will continue until almost the entire 53 are entirely of this era.
(Top photo via Brandon Todd/Carolina Panthers)