It's getting harder and harder for the Will Grier Era to begin quietly.
The clamoring for Grier is growing to a fever pitch in Carolina – it grows louder with every Panthers loss and every Kyle Allen turnover. But as murmurs made their way through the crowd and social media after Kyle Allen's third interception of the Panthers most recent 30-24 loss, their sixth straight with Allen at the helm after he had led them to wins in five of his first six starts this season, the team's third-round pick remained clad in a Panthers beanie on the sidelines.
And the wait to see the first quarterback the team has drafted since Cam Newton in 2011 will continue – and the longer it drags on, the worse it is for Grier.
Because the expectation among the fanbase has grown exponentially, a performance like Grier had in the preseason will ultimately be viewed as a disappointment – the sentiment among fans appears to have morphed from seeing what the team might have in Grier as a possible backup next season to his appearance in a meaningless game in a lost season being the only reason to keep watching.
PLEASE PUT HIM IN https://t.co/YbOlx8f28J

— Brad Jaffe (@AllBrandsBrad) December 15, 2019

It seems as if giving Grier a redshirt season was the team's plan all along; quarterbacks-coach-turned-offensive-coordinator Scott Turner says that developing a quarterback in a "traditional" way is something that used to happen all the time, but in today's day and age, it doesn't happen much anymore.
"When you would draft a young quarterback, a lot of times he would sit," Turner explained, citing examples like Carson Palmer and Patrick Mahomes. "You wouldn't even talk about playing him. You'd let him get the feel for going through an NFL season as a backup, watching, learning, and then they'd begin playing."
Grier's 'traditional' development is one thing, but sometimes you have to listen to what the staff is telling you – after not throwing an interception in his first five starts, Allen has thrown 15 in his past eight and the Panthers have gone into a freefall; yet still, the mantra from the coaching staff has been that Allen gives them the best chance to win – even with the team down 30-10 in the fourth quarter and Allen having a lower passer rating than running back Christian McCaffrey, whose only pass attempt was incomplete, that was the company line.
"Not today, no," interim head coach Perry Fewell said when asked if he considered making a change at quarterback. "We were trying to win the football game and we felt like [Allen] gave us the best opportunity to win the football game."
Sitting behind Cam Newton is one thing, but the 2015 MVP whom the team was honoring after his Man of the Year nomination was watching the game from a suite above Bank of America Stadium after surgery on his left foot earlier this week – Grier is sitting behind an undrafted free agent that's lost seven of his last eight starts.
"The only thing that's different is I'm just turning the ball over more," said Allen after the game. "Decision making hasn't been as good, I guess. It's just like I said – I need to start putting us in a position to help win the game. Because what I'm doing now is not helping us win the game."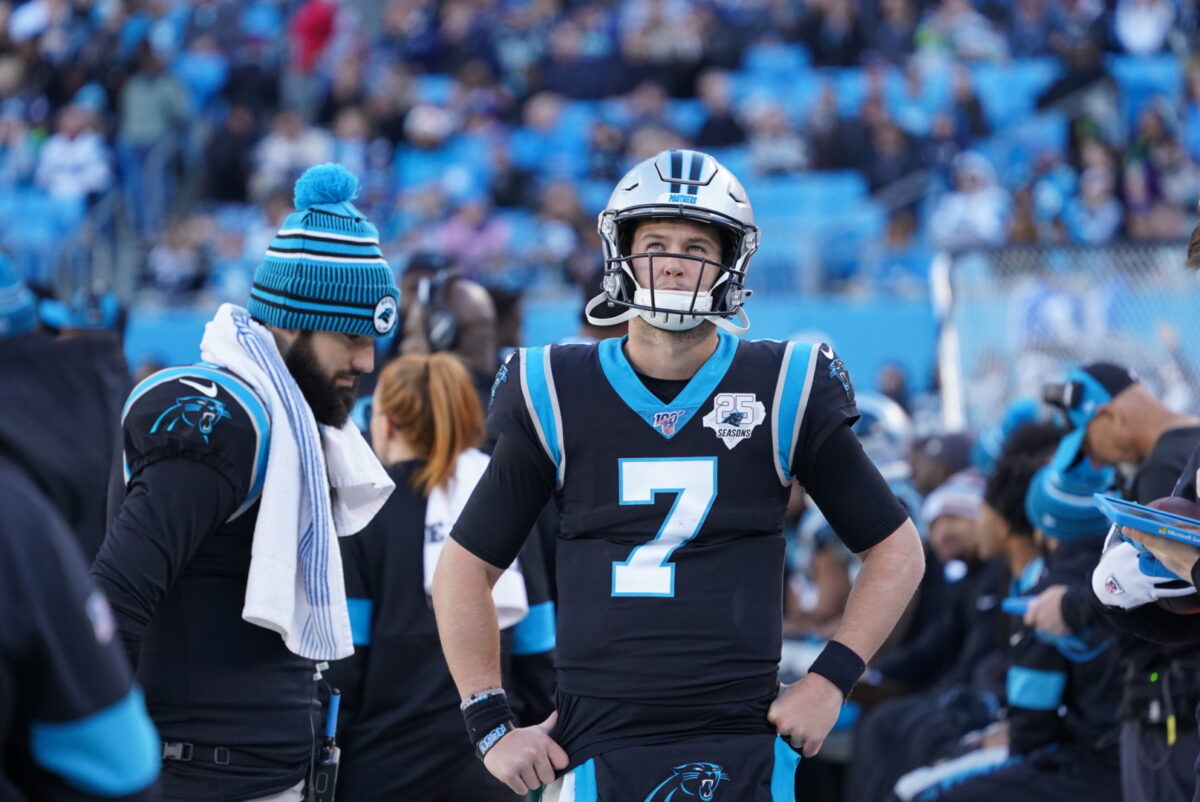 The Panthers may not want to put Grier behind an offensive line that has a sixth-rounder at left tackle and has allowed 22 sacks in the past four games, but in a season rife with disappointment, to get Grier some reps now seems inevitable – and necessary – for the rookie to, at the very least, get the chance to taste what it's going to be like at this level and see if he's gotten better since he threw three interceptions in the preseason. Last season, rookie tight end Ian Thomas saw action in the first four games of the season as Greg Olsen battled a foot injury – he had only 68 yards in three starts; Thomas then returned to the bench when Olsen returned and when he was pressed back into action later in the season, the initial jitters had worn off and Thomas looked much more comfortable.
"The first time is always kind of hard, but as time went on, it got easier and easier – I got kind of used to the game," said Thomas. "You could say preseason was a little bit and then the season was a lot more, because you're playing with their best players, so it's best on best – you've got to catch on faster."
But even though Fewell says that they will evaluate the QB situation this week, unless Grier gets the opportunity to catch on soon, his lore will continue to grow.
Grier says he felt ready to play when his number is called and Turner said last week that Grier was "close" – as the backup, he's always an Allen injury away from being the QB – but the longer the team waits, the pressure on the rookie will continue grow like a a balloon with the fan's expectations playing the part of the helium – and you know what happens to balloons when there's too much helium.
They either rise – or they pop.