Welcome to the Week 10 edition of the Panthers DFS Guide!
The Panthers will host their lone primetime game this season on Thursday night. Before we dive into the single game showdown, let's quickly review the disaster in the other Queen City last week.
Week 9 Recap
| | | |
| --- | --- | --- |
| Player | DraftKings Points | FanDuel/Yahoo Points |
| Terrace Marshall Jr | 14.3 | 12.8 |
| Baker Mayfield | 14.2 | 14.2 |
| Tommy Tremble | 8.1 | 6.1 |
| D.J. Moore | 4.4 | 3.4 |
| D'Onta Foreman | 4.1 | 3.1 |
| P.J. Walker | -1.0 | -1.04 |
| Panthers DST | -2.0 | -2.0 |
Instead of turning back their clocks an hour, the Panthers rewound time back to weeks 3, 4, 5 and 6.
Their offense reverted back to their early season ineptitude in their beatdown, while the defense moved as if they ate too much skyline chili as they allowed Joe Mixon to score five effortless touchdowns.
D'Onta Foreman got scripted out of the game, leading to his worst production since Christian McCaffrey was traded, but at least we can say that Foreman scored positive points unlike P.J. Walker and the Panthers' DST.
On a positive note, my call to play Terrace Marshall Jr paid off as he caught 3 passes for 53 yards and his first career touchdown.
Now the Panthers will face off against Atlanta for the second time in three weeks. Who can we turn to after that performance? Let's dive into the single game showdown!
Single Game Showdown: Overview and Strategy
DraftKings and FanDuel will offer extremely large tournaments for this single game showdown since it is on Thursday Night Football.
The main tournament on DraftKings is the NFL $1.5M Thursday Night Showdown, with $500,000 going to first place. Each entry will cost $15 and a person can enter up to 150 lineups in this contest.
The main tournament on FanDuel is the $600K NFL Thursday Night Special, with $100,000 going to first place. Each entry will cost $7 and a person can enter up to 150 lineups in this contest.
If you're looking to play some tournaments on Thursday night, be mindful of the contests you choose. The top prize may be chopped with duplicate lineups and sharks will enter these contests to the maximum entries allowed. I typically try to stick to contests with less than 1,000 total entries where one user can enter it up to no more than three times if possible.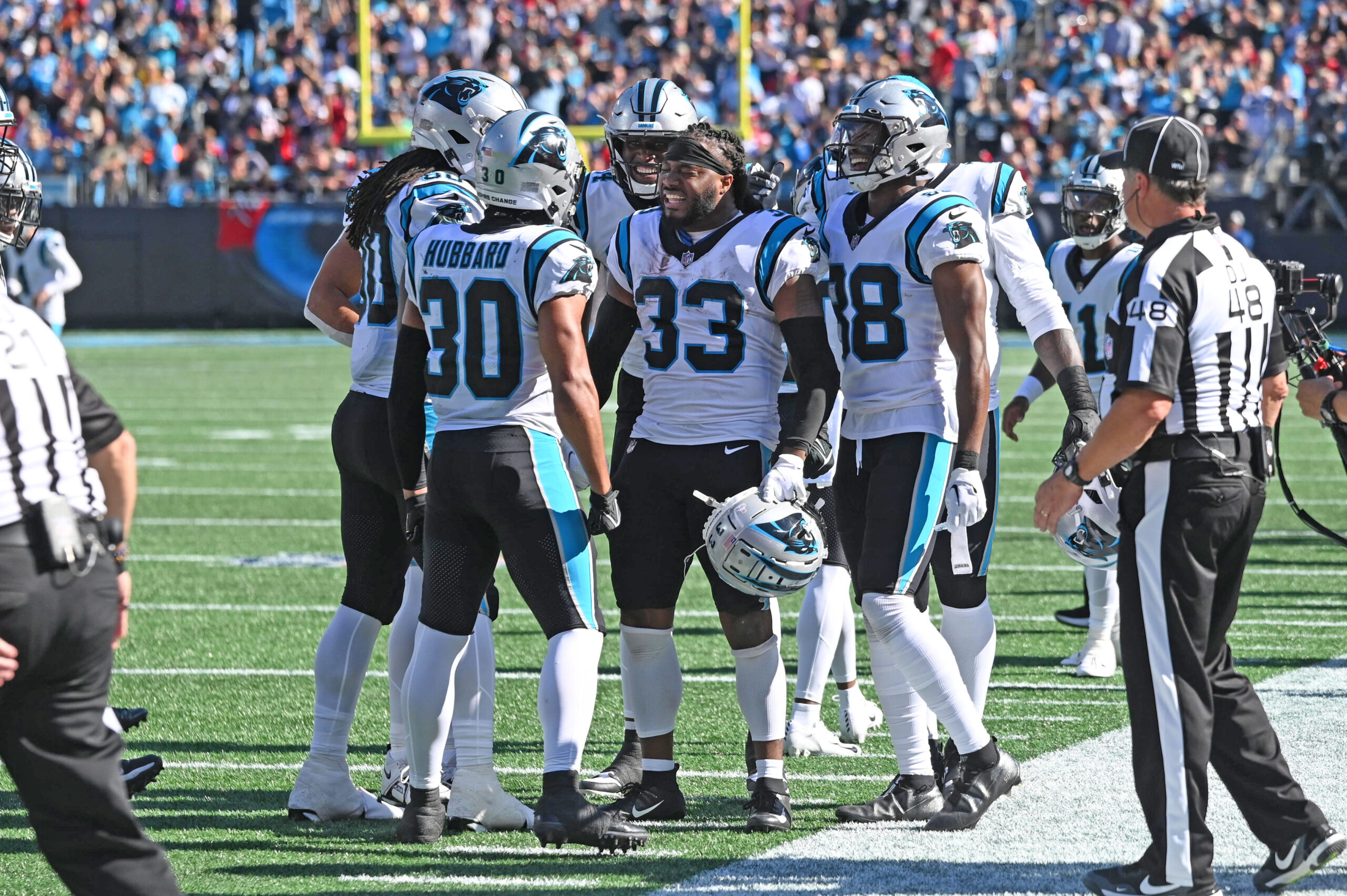 On DraftKings – you'll select six players with a $50,000 salary cap. Your lineup will be made up of one captain and five flex spots. The captain spot will have their DraftKings fantasy points multiplied by 1.5 – but you will also pay 1.5x their salary. For example, D.J. Moore's flex salary is $9,200 but $13,800 in the captain spot.
On FanDuel – you'll select five players with a $60,000 salary cap. The lineup will be made up of one MVP and four flex spots. Like DraftKings, the MVP spot on FanDuel will earn 1.5x the fantasy points. Unlike DraftKings, you will not pay 1.5x the salary for the MVP spot on FanDuel.
Strategy
DraftKings
You want the highest-scoring player or the best value at captain on DraftKings since salaries adjust from flex to captain.
For tournaments, pass catchers are preferential due to their wide range of outcomes. Pass catchers receive 1-point per reception as opposed to FanDuel where it is 0.5 points per reception. Additionally, receivers and running backs receive a 3-point bonus for 100 yards rushing or receiving. If you're playing a wide receiver at the captain spot – you'll want to use their QB in one of your flex spots.
FanDuel
On FanDuel, you want the highest-scoring player, not the best value since salaries do not adjust from the flex to MVP spot. You'll want to utilize a high-usage player such as a quarterback or running back.
Touchdowns are extremely critical to winning tournaments on FanDuel.
Game odds per DraftKings Sportsbook (as of Wednesday afternoon)
| | | | |
| --- | --- | --- | --- |
| | Spread | Total | Moneyline |
| Atlanta Falcons | -2.5 (-115) | O 42.5 (-115) | -145 |
| Carolina Panthers | +2.5 (-105) | U 42.5(-105) | +125 |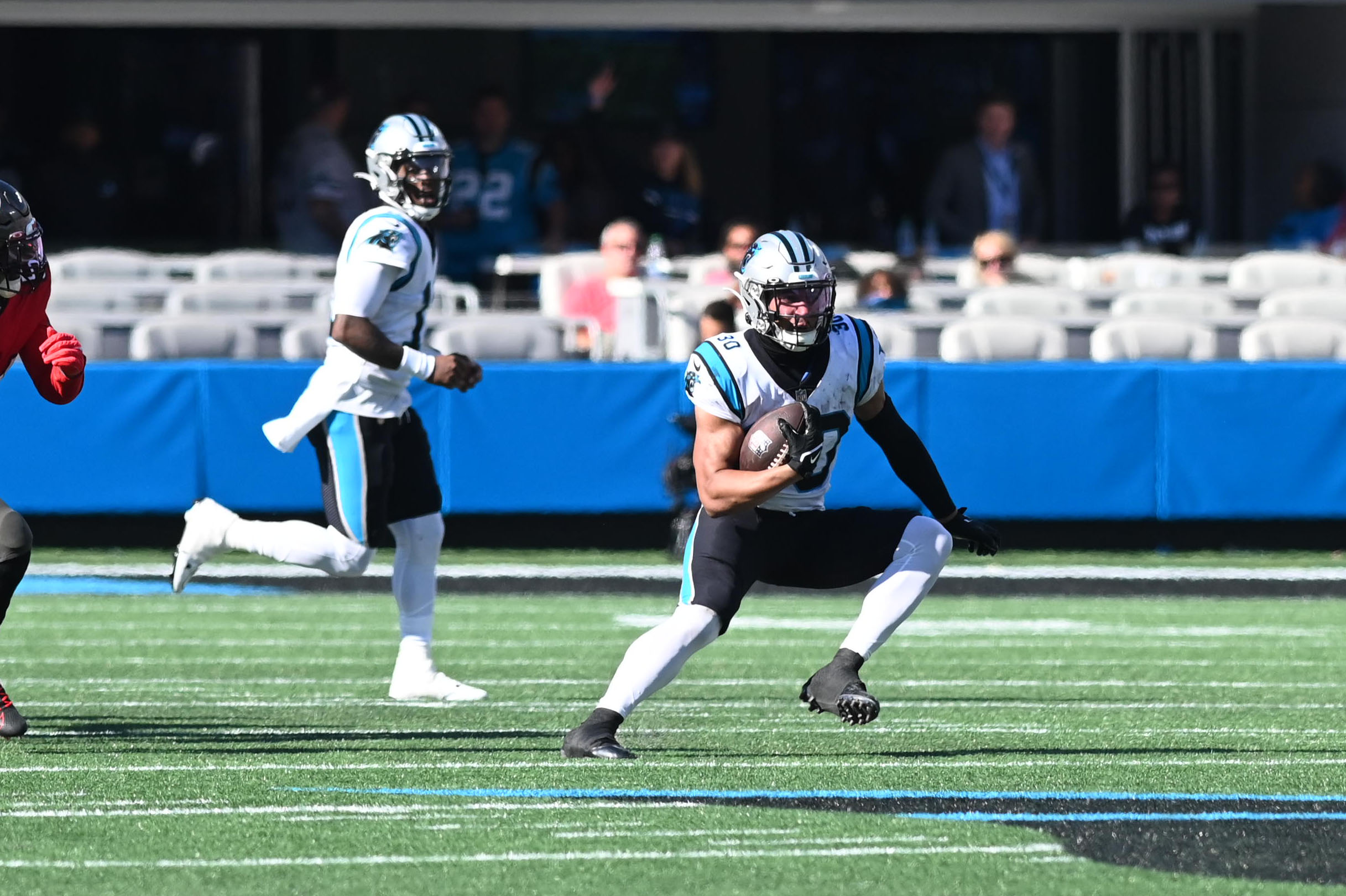 Key Injuries
ATL: CB A.J. Terrell (OUT), FS Erik Harris (OUT), TE Feleipe Franks (OUT)
CAR: S Juston Burris (OUT), WR Rashard Higgins (OUT), RB Chuba Hubbard (QUESTIONABLE), CB Donte Jackson (QUESTIONABLE), OT Taylor Moton (QUESTIONABLE), DT Matthew Ioannidis (QUESTIONABLE)
Weather
We never want to overreact to the weather when it comes to picking our lineups. However, the wind could impact the passing attack for both teams.
.@Panthers Game time weather Thursday night. #TNFonPrime #cltwx #ncwx #KeepPounding pic.twitter.com/QkFcCLyhuu

— Brad Panovich (@wxbrad) November 9, 2022
From a line-up construction standpoint, this should drive down the ownership of both kickers and possibly the wide receivers from both teams.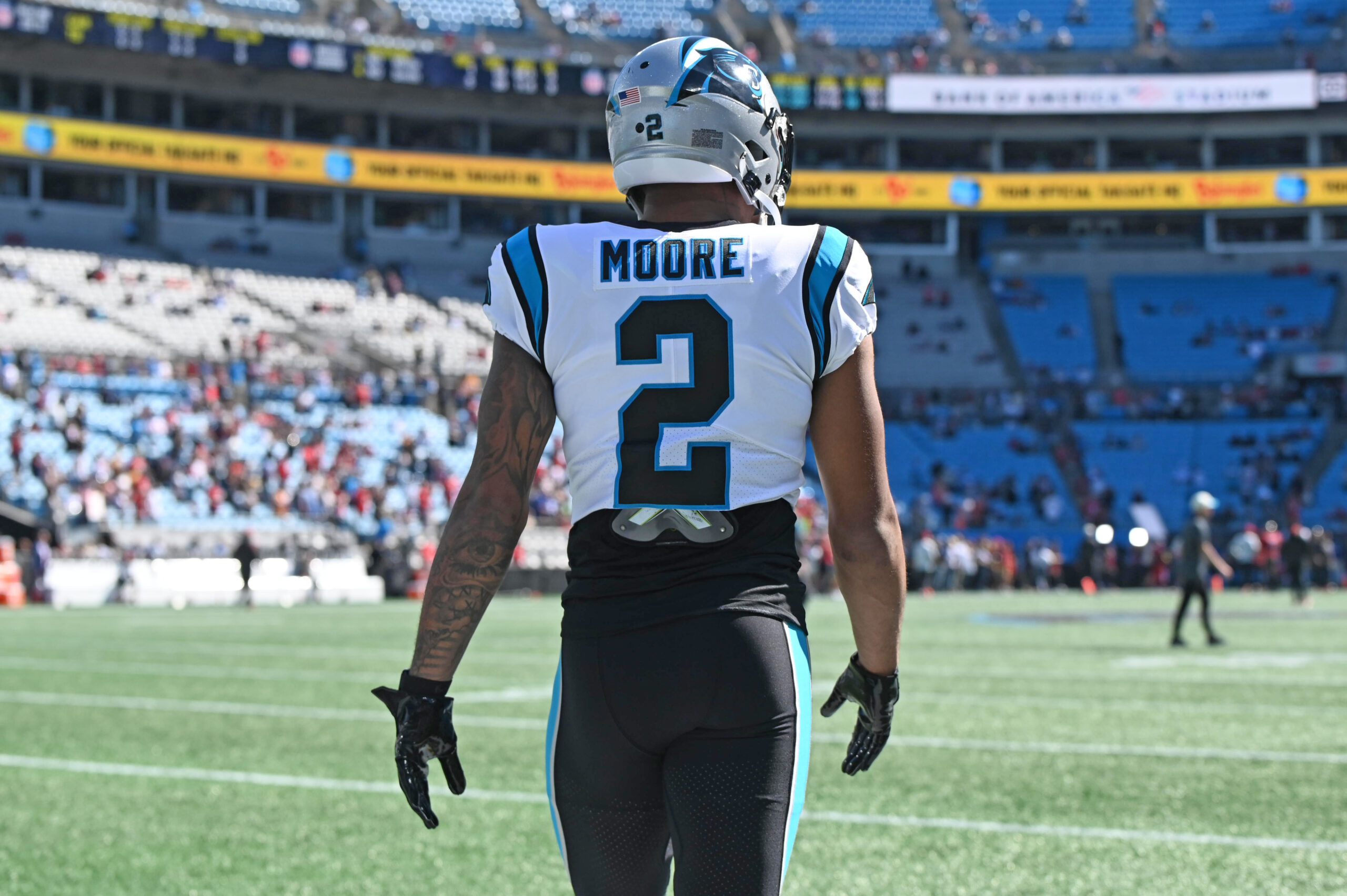 Captain/MVP Plays
| | | |
| --- | --- | --- |
| Player | DK CPT/FLEX SALARY | FD SALARY |
| D.J. Moore | $13,800/$9,200 | $12,000 |
| D'Onta Foreman | $11,700/$7,800 | $11,000 |
| Cordarrelle Patterson | $17,700/$11,800 | $14,000 |
| Marcus Mariota | $15,300/$10,200 | $17,000 |
| Kyle Pitts (DK only) | $10,500/$7,000 | $8,500 |
With rain and wind in the forecast, Foreman and Patterson will likely be very popular captain options on both sites. If Chuba Hubbard gets ruled out, that will increase Foreman's ownership in the captain spot.
After P.J. Walker's dreadful performance against the Bengals, the Panthers would probably prefer to run as often as they can. Foreman has shown he can handle the bulk of the work and gets the type of usage we want out of a possible captain play. Additionally, Foreman is one of the cheaper captain options, which should increase his popularity.
Patterson returned to action last week for the dirty birds and scored two touchdowns. It should be noted that Patterson only played 24 out of 61 offensive snaps (39%) and split time with both Tyler Allgeier and Caleb Huntley.
D.J. Moore is an extremely risky captain play against the Falcons given the forecast and Walker's erratic play.
Marcus Mariota is in play as a captain option due to his ability to run the ball.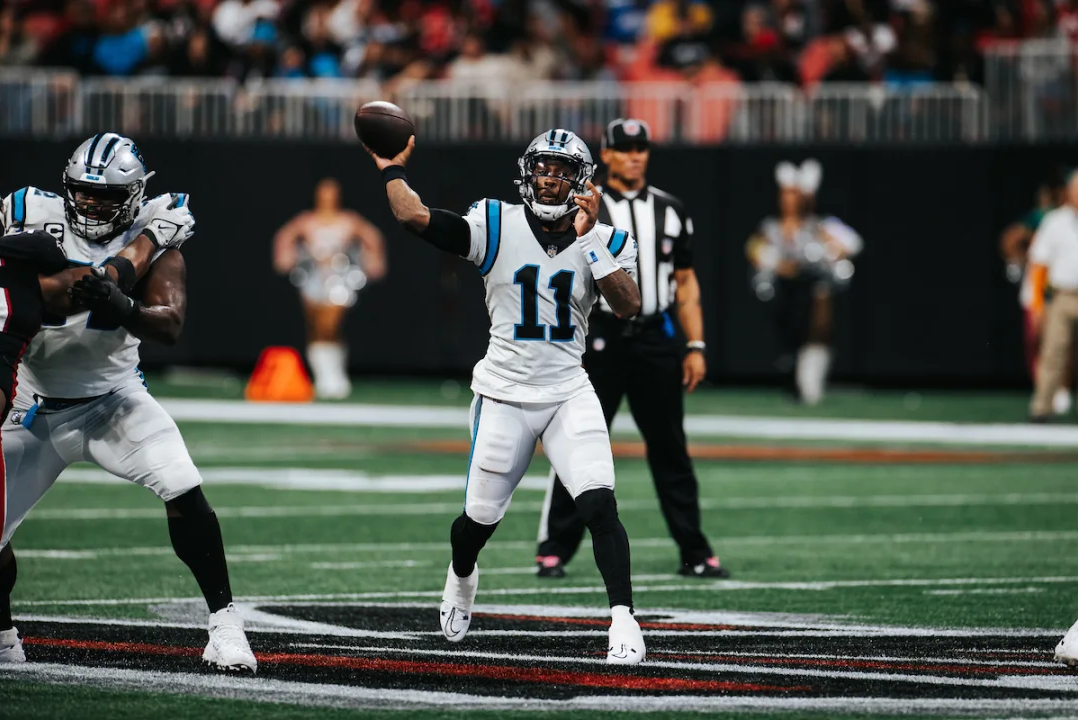 Flex Plays
| | | |
| --- | --- | --- |
| Player | DK FLEX SALARY | FD SALARY |
| P.J. Walker | $9,600 | $15,000 |
| Terrace Marshall Jr. | $8,400 | $9,000 |
| Chuba Hubbard | $5,800 | $10,000 |
| Falcons DST | $5,200 | $10,000 |
| Younghoe Koo | $4,200 | $9,500 |
| Eddy Pineiro | $4,000 | $9,000 |
| Panthers DST | $3,800 | $9,500 |
| Tommy Tremble | $3,200 | $7,000 |
| Laviska Shenault Jr. | $3,000 | $7,500 |
| Ian Thomas | $2,000 | $5,500 |
I have P.J. Walker on this list as a possible flex play, but he is definitely the riskiest play on the entire slate. It seems as if he is one egregious turnover away from being benched. If he stinks it up, I wouldn't be surprised if we see Baker Mayfield. I cannot recommend playing a backup quarterback in a single game showdown.
With increased production and usage, Marshall's price has skyrocketed in recent weeks for the single game showdown format. Marshall has received five end zone targets in the last two weeks, which is tops in the NFL.
Hubbard is an intriguing option as most of the field will go with Foreman. In the Tampa Bay game, Hubbard played 46% of the snaps and got nine carries. It's hard to tell how the Panthers will utilize him coming off of the injury if he is active. If rain and wind really disrupt things, Shenault could receive additional targets since most of his routes are short in nature.
Tommy Tremble has hit paydirt twice in two of the last three weeks but hasn't scored over 10 fantasy points total in any of those contests. His price was also increased. If the Panthers opt to run more due to weather conditions, he could conceivably not receive one target in the passing game.