Welcome to the Week 2 edition of the Panthers DFS Guide – before we dive into some lineup help, let's review Week 1.
Week 1 Recap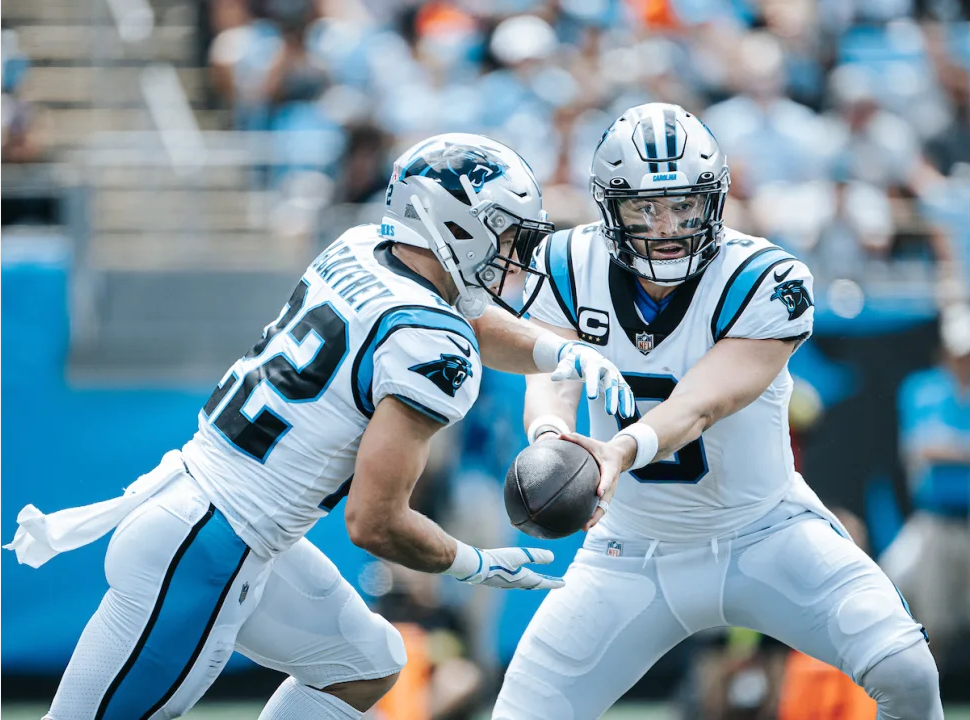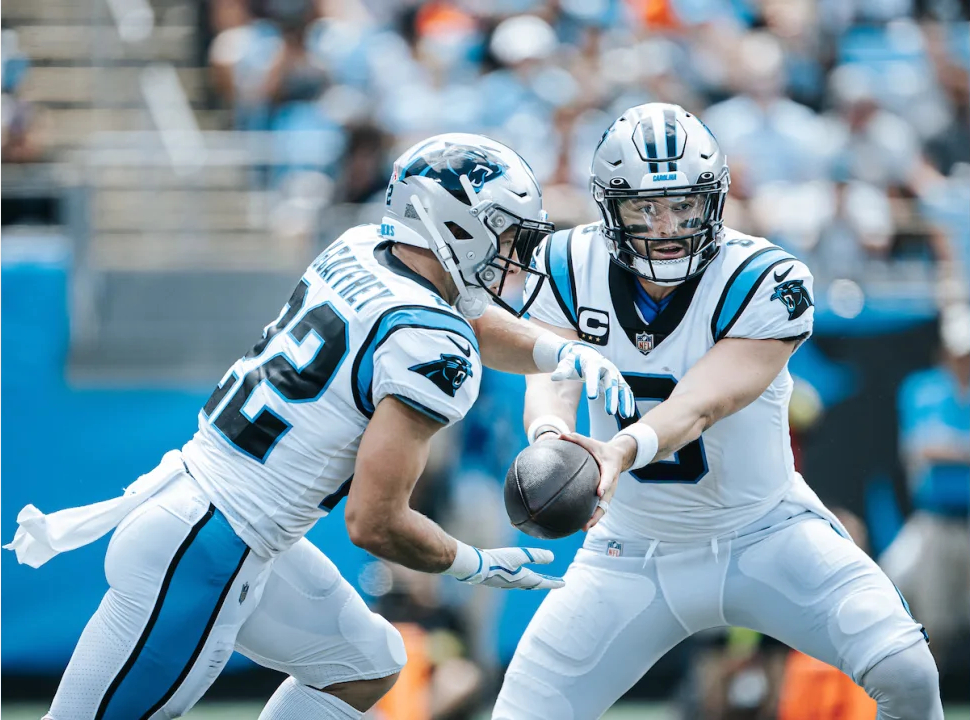 I was extremely confident playing Christian McCaffrey in most of my lineups. Based on the data at our disposal, CMC was projected to have one of the highest usage percentages on the slate.
Instead of giving the Cleveland Browns a large dose of CMC, the Panthers opted to throw the ball heavily out of the gate. CMC only touched the ball five total times in the first half against the Browns, running it three times for nine yards and catching two passes for two yards. He was able to score on a 1-yard touchdown at least. In total, CMC scored 15.7 DraftKings points and 13.7 FanDuel/Yahoo points.
Although CMC failed those that used him at his salary, Baker Mayfield was the QB in the winning lineup for DraftKings user "lottowinna" in the DraftKings NFL $2.5M Fantasy Football Millionaire contest.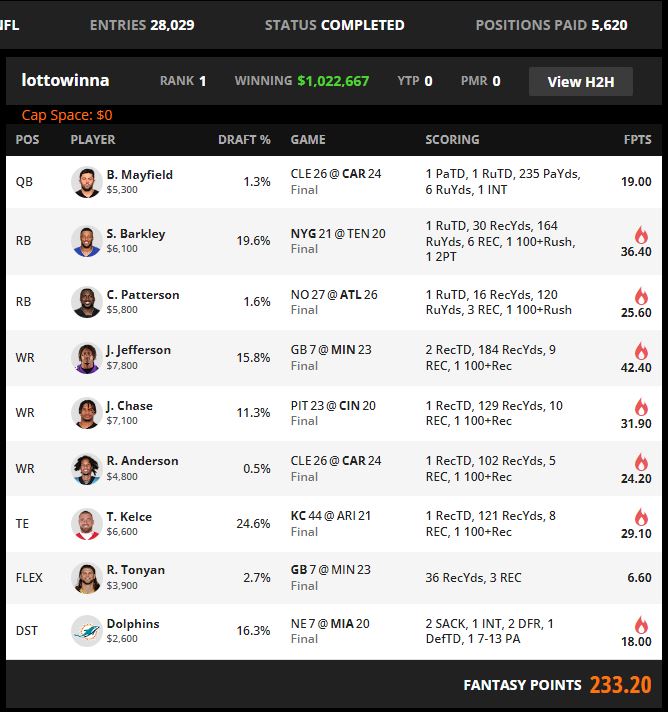 "Lottowinna" stacked Mayfield with Robbie Anderson, who was only drafted on 0.5% of teams in this contest. Anderson gave DFS players a lot of pain last year, so it is not surprising that he was barely played in contests across the industry. The low prices of Mayfield/Anderson allowed this lucky user to stack studs such as Saquon Barkley, Justin Jefferson, Ja'Marr Chase and Travis Kelce.
Mayfield wasn't the highest overall scoring QB on this slate. However, stacking him with Anderson gave them a unique build to vault their entry up the leaderboard.
With Week 1 in the books, let's look ahead to Week 2.
TOURNAMENT PLAYS
Christian McCaffrey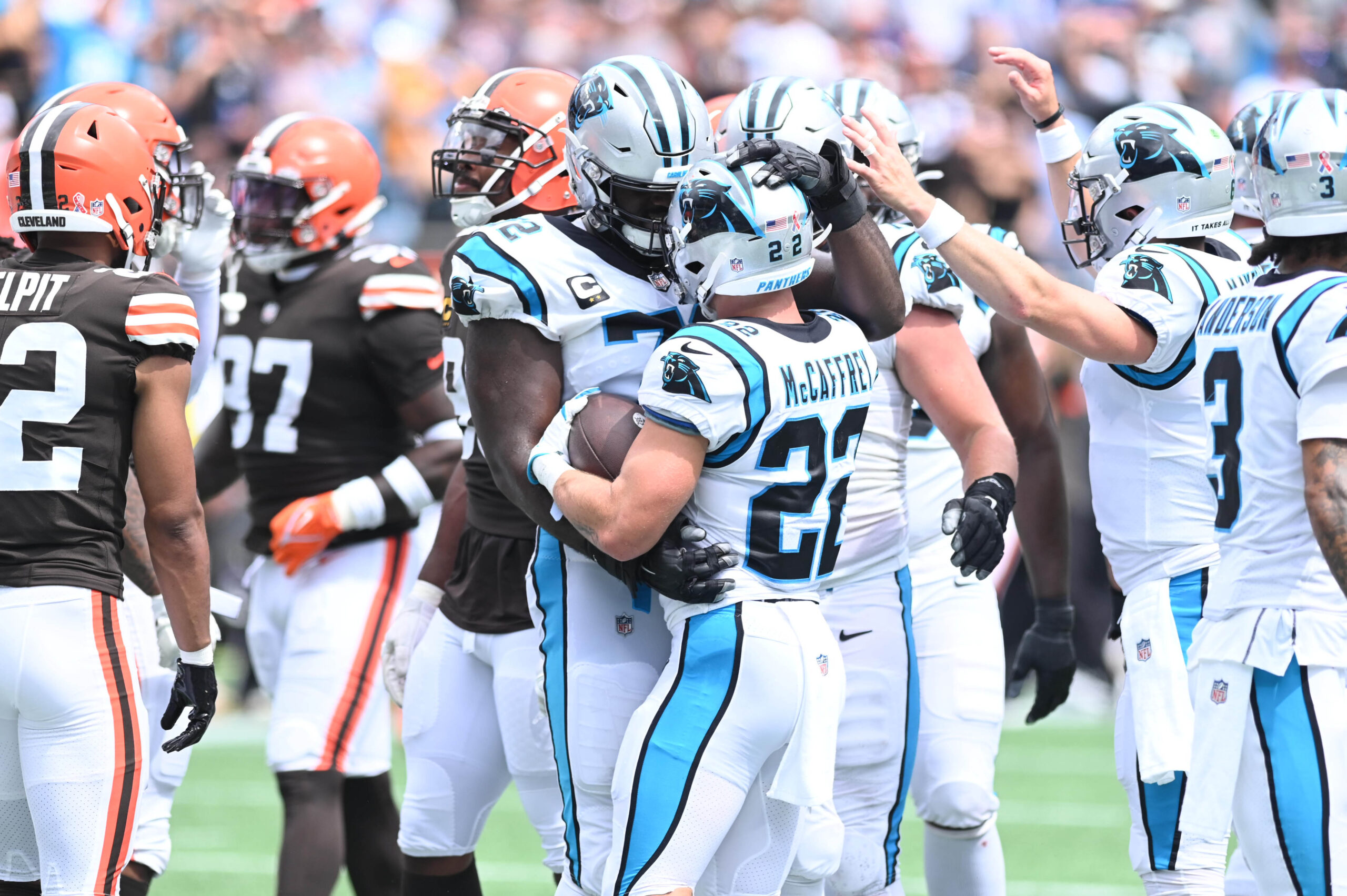 DraftKings: $8,900 (+$400 from Week 1)
FanDuel: $9,000 (-$500 from Week 1)
Yahoo: $38 (+$1 from Week 1)
I'm doubling down on CMC this week in tournaments. He is still viable for cash games, especially on FanDuel.
Even with a dud (by his standards), CMC saw a slight price increase on DraftKings and Yahoo. Part of playing DFS is looking past the box score. CMC still carries an elite upside each week.
The Panthers ran 50 offensive plays in Week 1, which was the second-lowest amount in the NFL. Additionally, the Panthers offense possessed the ball for just 21 minutes 34 seconds.
Even with such a low offensive play output, CMC still played 81 percent of the snaps, received 77 percent of the running back carries and 15 percent of Mayfield's targets.
The Giants held Derrick Henry to 82 yards rushing on 21 carries. While stout on the defensive line, they are vulnerable in the back seven. Titans backup running back Dontrell Hilliard scored twice through the air against the Giants last week. If the Panthers can get CMC in space on Sunday, he should produce elite numbers.
CMC is projected to be played by 20 to 25 percent of the field on FanDuel. On DraftKings, he is projected to be played by 15 percent of the field. Remember, running backs and wide receivers receive 0.5 points per reception on FanDuel/Yahoo while they get 1 whole point on DraftKings.
I'll always bet on an elite talent in DFS, especially if the opponents in my contests are projected to not play CMC after one subpar game. I love CMC in tournaments this week, especially on DraftKings.
D.J. Moore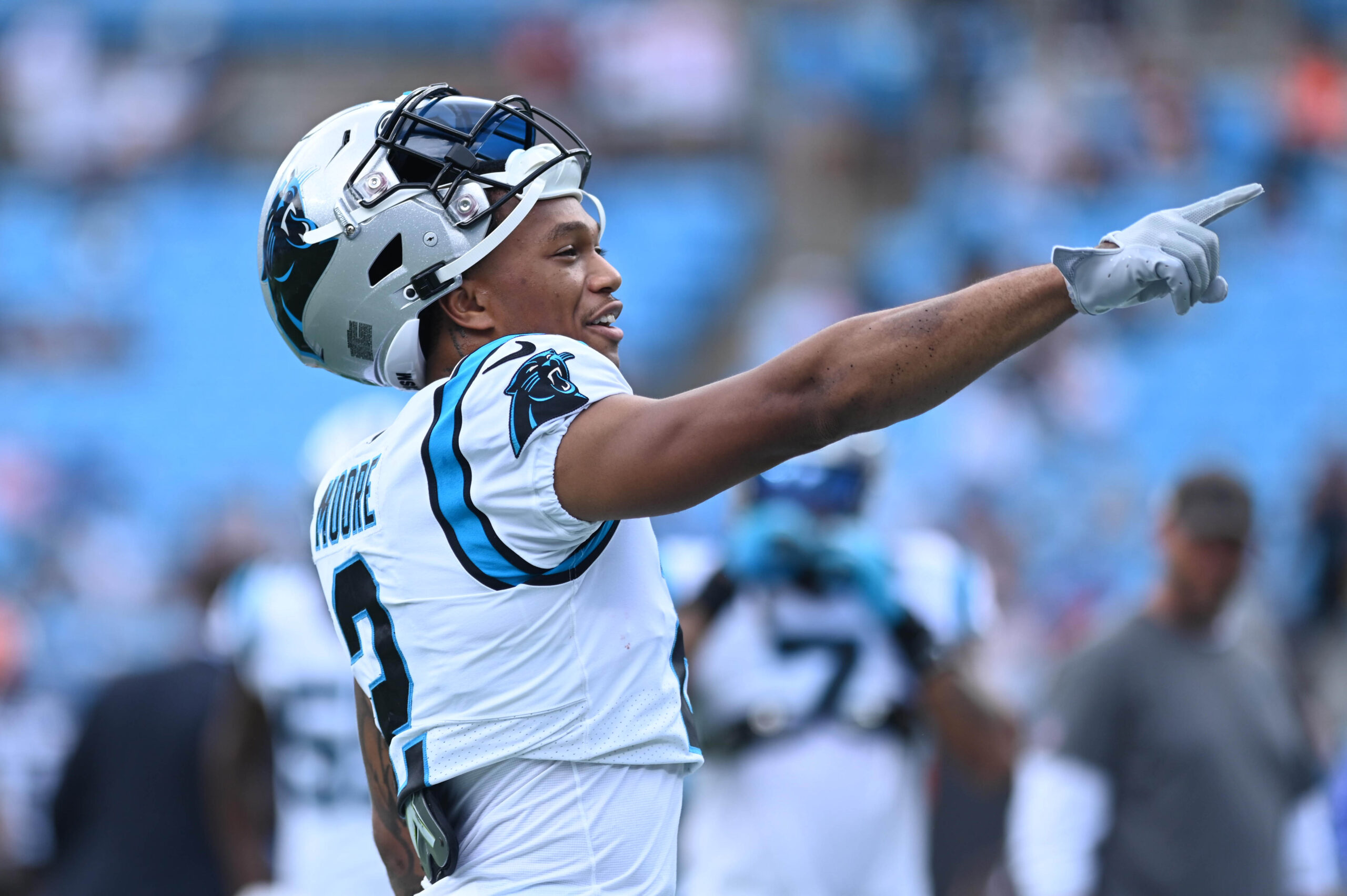 DraftKings: $5,700 (-$300 from Week 1)
FanDuel: $6,200 (-$200 from Week 1)
Yahoo: $18 (no change)
D.J. Moore is another candidate to bounce back after a subpar fantasy outing in week 1. The secondary of the Giants is not comparable to the Browns – they're also banged up as they've already ruled out three cornerbacks, including starter Aaron Robinson, who played 95% of their snaps against Tennessee.
Moore is best suited for tournaments.
Baker Mayfield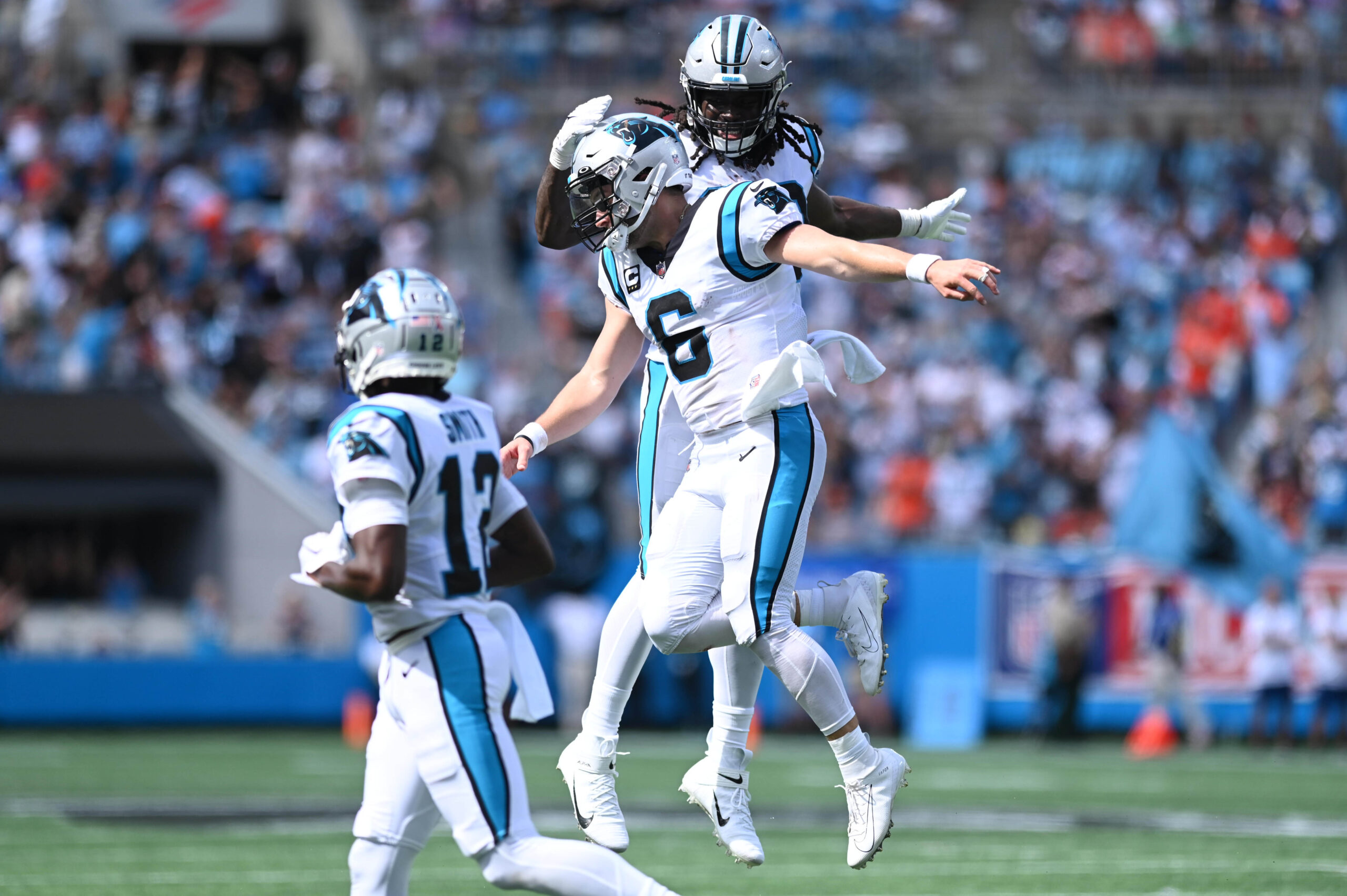 DraftKings: $5,300 (no change)
FanDuel: $7,000 (+$400 from Week 1)
Yahoo: $23 (+$2 from Week 1)
With the state of the Giants secondary and the possibility of the Panthers repeating their Week 1 first half pass happy game plan, Mayfield is suitable for large field tournaments in week 2. You can stack him with one of Moore or Anderson.
Pairing Mayfield with CMC is not the craziest idea in the world. However, you'll need CMC to record a receiving touchdown or two to really pay that stack off.
Robbie Anderson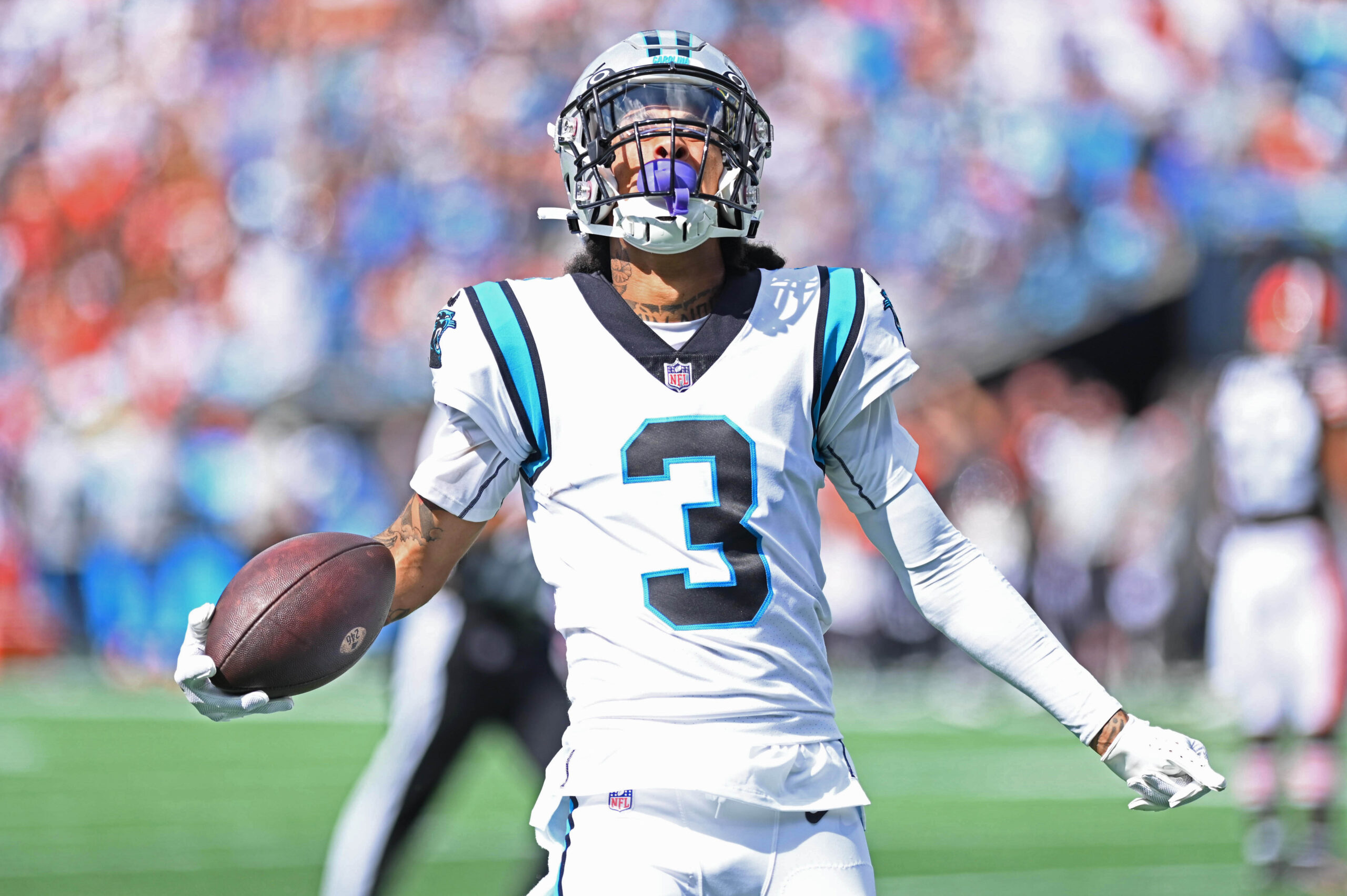 DraftKings: $5,300 (+$500 from Week 1)
FanDuel: $5,900 (+$600 from Week 1)
Yahoo: $13 (+$2 from Week 1)
Thanks to a 75-yard score, Anderson smashed his price in Week 1. I like Anderson as a larger field tournament play in Week 2. Moore and Anderson played 100% of the Panthers offensive snaps in week 1. While Rashard Higgins may enter the mix this week, Terrace Marshall didn't see the field last week and Shi Smith is questionable as of this posting.
Saquon Barkley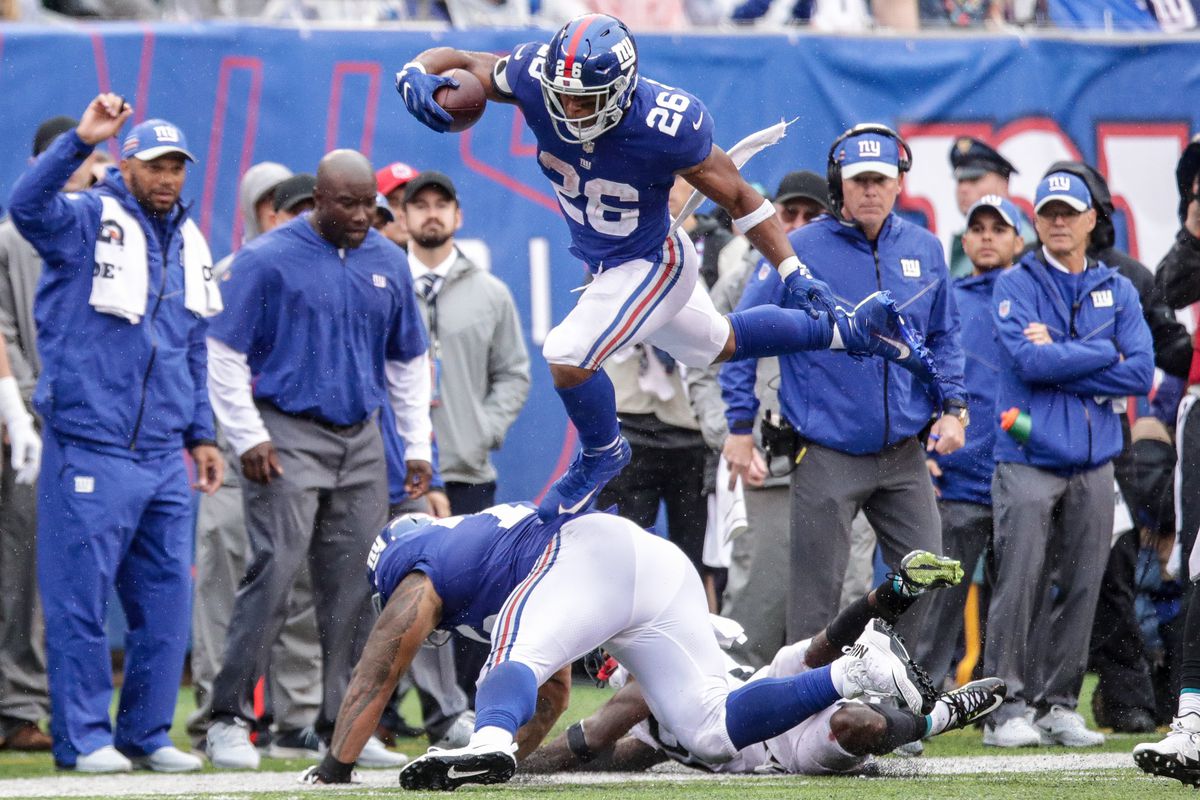 DraftKings: $7,300 (+$1,200 from Week 1)
FanDuel: $8,800 (+$2,000 from Week 1)
Yahoo: $32 (+$14 from Week 1)
It pains me to suggest playing someone on the other team – but Barkley is in a potential smash spot against Carolina's porous run defense. The Panthers have not been able to stop the run in almost half a decade and DFS players know this as Barkley is projected to be played by 20 to 30 percent of the field.
It is pretty clear that Giants Head Coach Brian Daboll doesn't want Daniel 'the walking turnover' Jones to throw the ball over 25 times in a game, especially with a depleted receiver corps. Barkley has an extremely high ceiling with the offense flowing directly through him.
He'll be popular – but for good reason.
FADE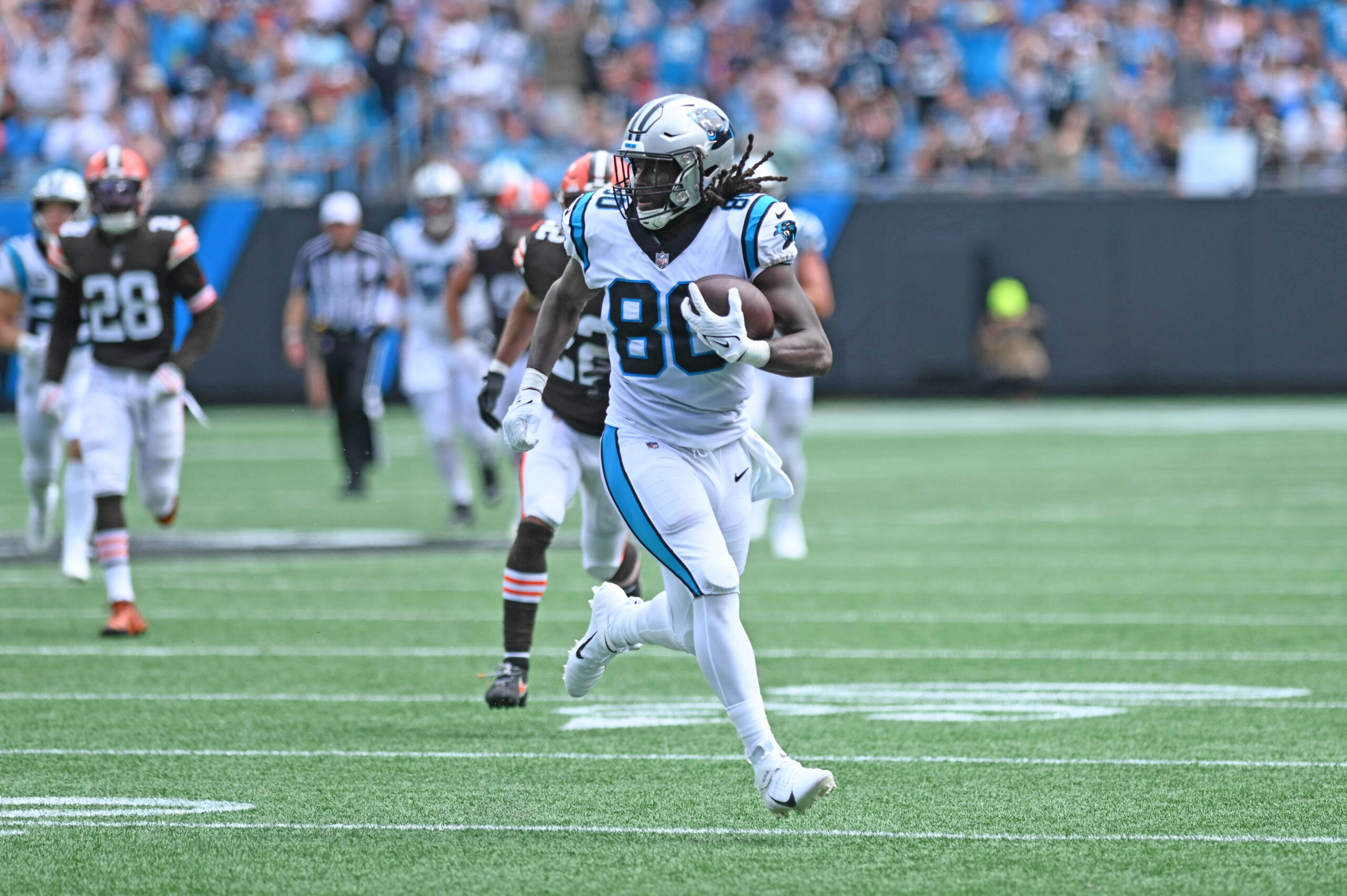 Ian Thomas (DraftKings: $3,100, FanDuel: $4,600, Yahoo: $10)
Tommy Tremble (DraftKings: $2,800, FanDuel: $4,500, Yahoo: $10)
While their prices provide salary relief on all three sites, Thomas and Tremble would need to be hyper efficient with any touches they get to spring you up the leaderboards. They have extremely low floors, possibly zero.
Thomas' Week 1 box score looks better (especially on DraftKings) thanks to his career long 50 yard catch and run. Thomas played 66% of the snaps Week 1 while Tremble only played 34 percent.
Thomas and Tremble would only be suitable as dart throws in a single game showdown contest as opposed to the main 12 game slates on each site.