Welcome to the Week 5 edition of the Panthers DFS Guide. Before we dive into week 5, let's review the utterly disastrous results from week 4.
WEEK 4 RECAP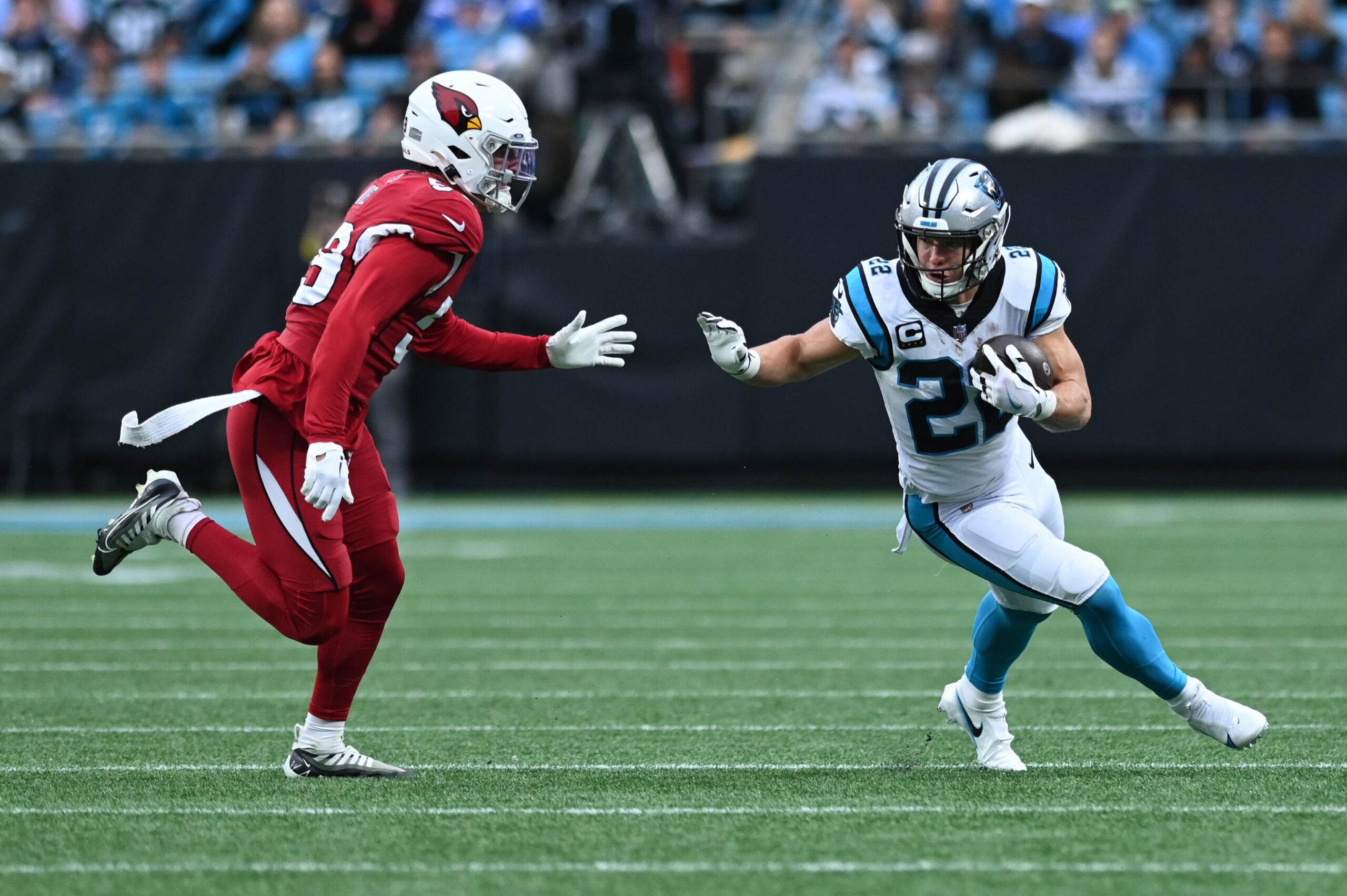 Stop me if you've heard this before, but the Panthers offense stunk again on Sunday against the Cardinals. Outside of one garbage time drive, the Panthers offense was completely inept.
For fantasy football purposes, garbage time counts and CMC produced for those that drafted him. Other than CMC, nobody paid off their salary.
| | | |
| --- | --- | --- |
| Player | DK Points | FD/Yahoo Points |
| Christian McCaffrey | 25.8 | 21.3 |
| DJ Moore | 12.1 | 9.1 |
| Baker Mayfield | 8.9 | 7.88 |
| Tommy Tremble | 6.4 | 4.9 |
| Robbie Anderson | 5.6 | 4.1 |
| Ian Thomas | 1.6 | 1.1 |
| D'Onta Foreman | 0.2 | 0.2 |
Baker Mayfield almost had more batted balls than actual fantasy points against the Cardinals. Mayfield's poor play is going to have a direct impact on all the Panther players minus CMC. The Cardinals presented the Panthers offense with their easiest matchup of the season and they massively disappointed everyone.
Outside of CMC and possibly D.J. Moore, should we consider any Panther players on the main slate come Sunday?
PANTHERS ON THE WEEK 5 MAIN SLATE
Per DraftKings Sportsbook, the Panthers/49ers game has a game total of 39.5, which is the lowest total on the entire slate by 2.5 points. Additionally, the Panthers are 6.5 point underdogs.
Demeco Ryans' 49ers defense is elite. The Panthers offense has barely been on the field this season. Their average time of possession is 24 minutes and 18 seconds, which is dead last and 1:24 worse than the next closest team. If you're not on the field and scoring on quick plays – your chances for fantasy production go drastically down. How bad is the Panthers offense? This stat from Establish The Run's Adam Levitan should tell the story.
#Panthers are running 53.5 plays per game this season.

If that holds, it would be the lowest number for any NFL team in the last 20 years.

— Adam Levitan (@adamlevitan) October 4, 2022
If you're looking to play any Panthers on the main 12 game slate on either site, CMC would be the only consideration in tournaments. You can take shots with D.J. Moore as well – unfortunately his fate is tied to Baker Mayfield successfully throwing the ball over the line of scrimmage and accurately to his receivers.
SINGLE GAME SHOWDOWN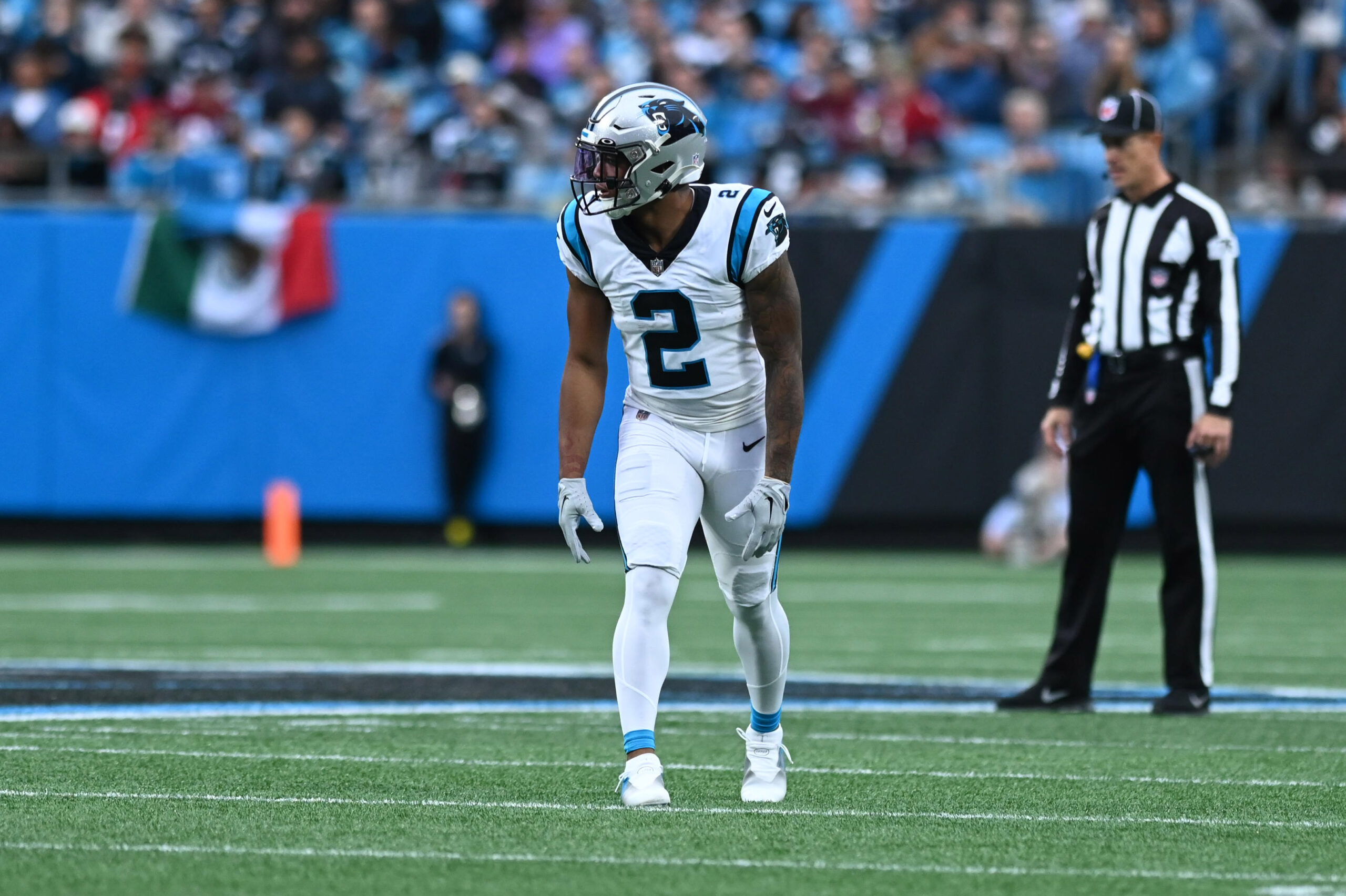 If you're looking to play some Panthers this week, you may want to consider the single game showdown contests that both DraftKings and FanDuel offer.
On DraftKings – you'll select six players with a $50,000 salary cap. Your lineup will be made up of one captain and five flex spots. The captain spot will have their DraftKings fantasy points multiplied by 1.5 – but you will also pay 1.5x their salary. For example, CMC's flex salary is $11,000 but $16,500 in the captain spot.
On FanDuel – you'll select five players with a $60,000 salary cap. The lineup will be made up of one MVP and four flex spots. Like DraftKings, the MVP spot on FanDuel will earn 1.5x the fantasy points. Unlike DraftKings, you will not pay 1.5x the salary for the MVP spot on FanDuel.
STRATEGY
DraftKings:You want the highest-scoring player or the best value at captain on DraftKings since salaries adjust from flex to captain.
For tournaments, pass catchers are preferential due to their wide range of outcomes. Pass catchers receive 1-point per reception as opposed to FanDuel where it is 0.5 points per reception. Additionally, receivers and running backs receive a 3-point bonus for 100 yards rushing or receiving. If you're playing a wide receiver at the captain spot – you'll want to use their QB in one of your flex spots.
FanDuel: On FanDuel, you want the highest-scoring player, not the best value since salaries do not adjust from the flex to MVP spot. You'll want to utilize a high-usage player such as a quarterback or running back.
Touchdowns are extremely critical to winning tournaments on FanDuel.
POSSIBLE CAPTAIN/MVP PLAYS
| | | |
| --- | --- | --- |
| Player | DK CPT/FLEX SALARY | FD SALARY |
| CMC | $16,500/$11,000 | $15,500 |
| D.J. Moore (DK only) | $10,800/$7,200 (large field, mass-multi entry option) | $12,000 |
| Deebo Samuel | $16,000/$11,600 | $16,000 |
| Jeff Wilson | $14,100/$9,400 | $13,500 |
| Brandon Aiyuk (DK only) | $11,700/$7,800 | $10,500 |
| George Kittle (DK only) | $12,900/$8,600 | $11,000 |
Despite the Panthers putrid offense – CMC is still producing. This is the toughest matchup of the season by far for him and the Panthers offense. However, if the Panthers want to have any shot, they need to get their best skill player involved early and often.
I'm a believer in D.J. Moore's talent. The man has produced with below average quarterbacks. Moore is not someone I would captain in small field tournaments. He's more suitable if you are building multiple lineups in larger field tournaments on DraftKings. If you want to use him on FanDuel – he's more suitable as a flex option and you'll want to hope he gets into the endzone.
Since the 49ers are favored, you have to look at their possible captain/MVP options as well.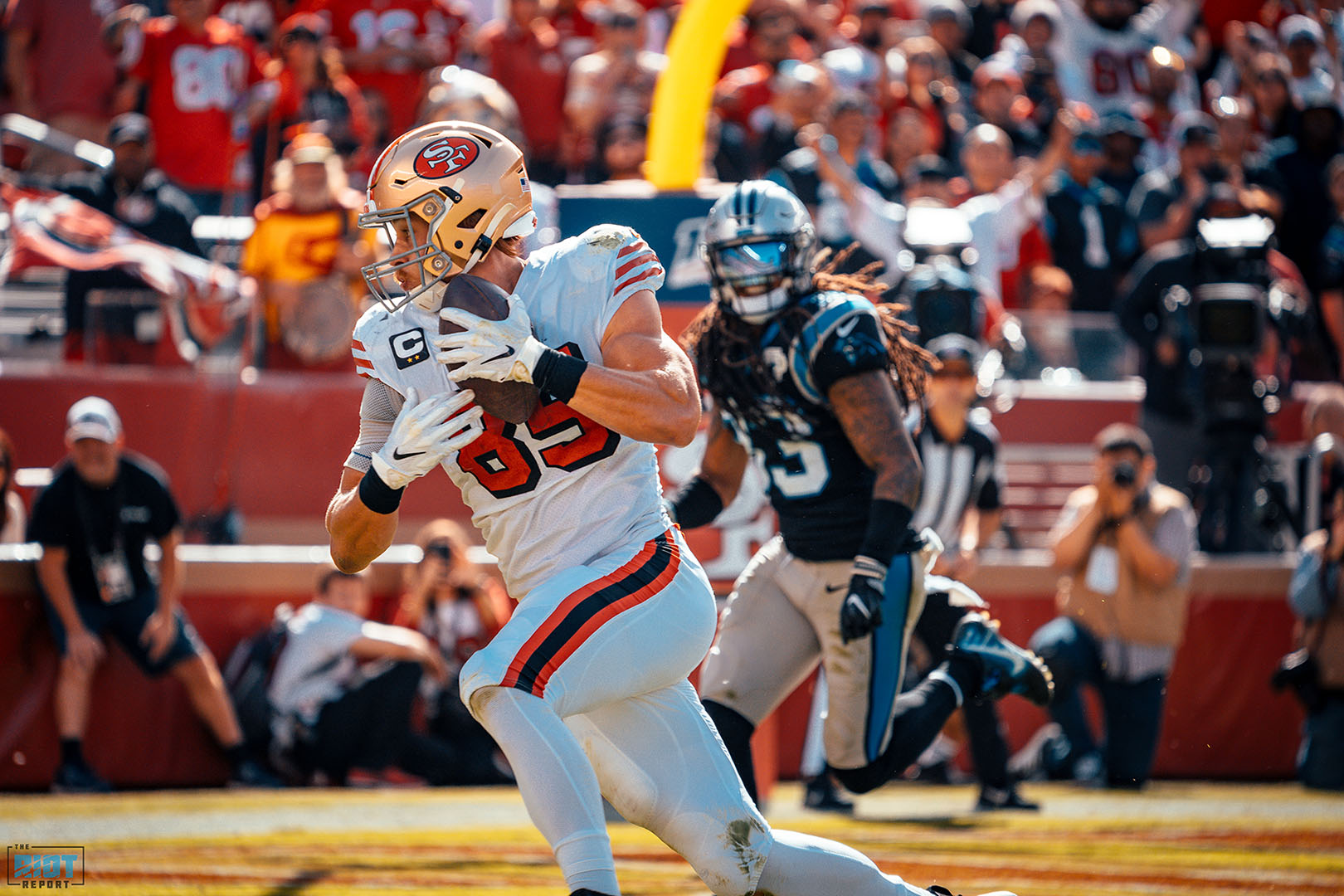 It starts with Deebo Samuel. If you're into narratives, this is a homecoming of sorts for him and I imagine he'll want to put on a show. Unlike most receivers, Samuel will receive carries in Kyle Shanahan's offensive scheme and has the ability to break any play to the house as we saw on Monday night against the Rams.
Jeff Wilson received 18 of the 49ers 22 carries on Monday night and is the feature back in Kyle Shanahan's system. Wilson has received most of the backfield work after Eli Mitchell went down with an injury. The Panthers have tightened up their run defense since week 1 but are banged up. Shanahan's system is running back friendly. Remember what happened in 2019?
Brandon Aiyuk and George Kittle are more suitable as captain options on DraftKings in larger field tournaments and if you're building multiple lineups. Neither player has had a ceiling game in awhile and should not be popular captain options.
POSSIBLE FLEX PLAYS
| | | |
| --- | --- | --- |
| Player | DK FLEX SALARY | FD SALARY |
| Jimmy Garoppolo | $10,200 | $15,000 |
| Eddy Pineiro | $3,800 | $9,000 |
| Robbie Gould | $4,000 | $9,000 |
| Robbie Anderson | $5,600 | $9,500 |
| 49ers DST | $6,200 | $10,000 |
| Panthers DST | $3,400 | $8,500 |
| Ian Thomas | $1,000 | $7,500 |
| Tommy Tremble | $800 | $5,500 |
Since Garoppolo doesn't do much on the ground – you'll only want to use him as a flex option if you're using a 49ers pass catcher in the captain or MVP spot.
With this game's low total, the kickers offer some value here, especially if you're looking to jam in CMC and Samuel together in your lineups. The 49ers DST is priced roughly $2,000 higher than a normal DST on a showdown slate. The pricing algorithms are also aware of the Panthers ineptitude on offense so far this season.
Robbie Anderson has the ability to hit a long pass play, but it's hard to say that's a probable outcome in this matchup.
The Panthers DST, Ian Thomas and Tommy Tremble offer salary relief. Choosing Thomas or Tremble is a coin flip.