We get it – the Panthers aren't in the playoffs, they're not in the "Next Sean McVay As Your Head Coach" sweepstakes, and it's probably too early to start thinking about positional battles for the NFL Draft that's still over three months away. So we don't blame you for missing out on some Panthers news as it happens over the course of the week – your main focus isn't checking Twitter or perusing the message boards.
But don't worry – that's our main focus. Here's what happened this week.
Thomas Davis Will Not Return To Carolina In 2019
The 14-year veteran and 35-year old was told by the team earlier this week that they would be moving in a different direction at linebacker moving forward – you can bet that means a healthy look at Shaq Thompson, whose contract will be up after the 2019 season. Davis' contract had expired after the 2018 season, so the Panthers were simply exercising their right to not re-sign the longtime team captain and Cam-proclaimed "Mayor of Charlotte" – Davis said in an emotional video that he was not ready to retire and would continue playing; there are multiple teams that will likely compete for the linebacker's services. Davis still looked adept in run defense, and he made it clear that he wanted to retire after completing a full season, something that didn't happen in 2018 after he was suspended for the first four games for violating the league's performance-enhancing substance policy.
The question that now remains is whether this is the only Panthers legend to have played his final game in a black-and-blue jersey as 38-year old Julius Peppers remains a half-sack out of third-place on the NFL's all-time list; that's not to mention fellow thirtysomethings Mike Adams and Captain Munnerlyn, who also started for the Panthers defense in 2018 – will any of them be back as the Panthers start to look to the future on defense?
Coaching Changes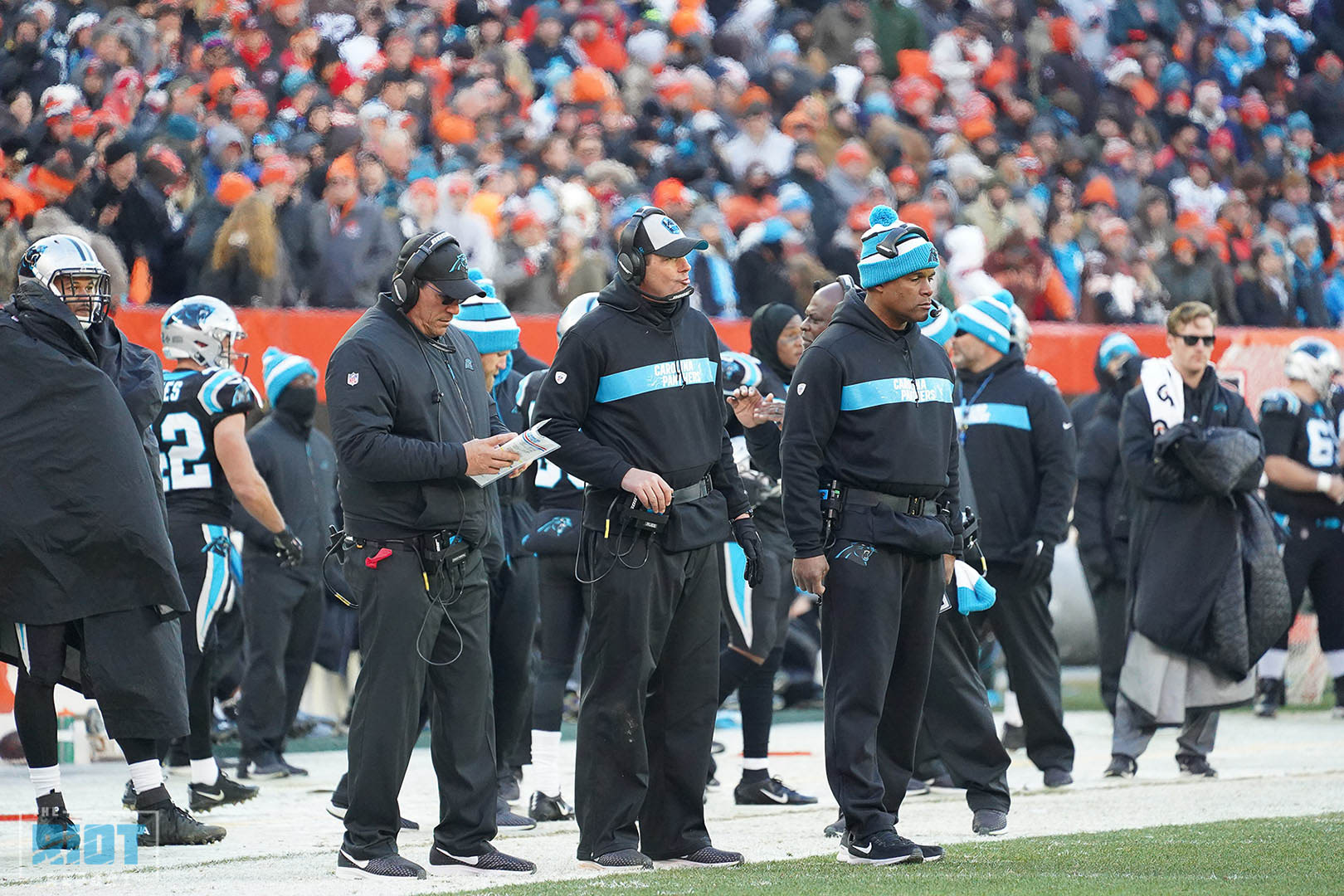 The Panthers new owner David Tepper has exercised patience in his first season atop the Panthers' food chain, choosing to retain both Head Coach Ron Rivera and General Manager Marty Hurney after a frustrating 7-9 season that was marred by both injuries and a seven-game losing streak that brought the Panthers from the brink of NFC conference contention to almost-a-top-ten pick before a Week 17 win over the Saints settled them with the 16th pick in April's draft.
But just because the names at the top will remain the same doesn't mean changes haven't already happened.
Ron Rivera relieved defensive line coach Brady Hoke and secondary coach Jeff Imamura of their duties and took over the defensive playcalling duties after the Panthers 24-17 loss to the Tampa Bay Buccaneers to fall to 6-6; despite the Panthers going 1-3 over the final four games of the season, they put forth their best defensive effort in a 12-9 loss to the Saints on Monday Night Football that essentially ended their chances at playoff contention and both Rivera and the Panthers' defense was energized by the head coach calling the plays. Defensive Coordinator Eric Washington was not demoted in title, but returned to his roots as he oversaw the front seven of the defense – Washington had spent the previous seven years as defensive line coach.
While some things will remain the same on the defensive staff – Rivera will maintain the playcalling duties and Eric Washington will retain the defensive coordinator title and Sam Mills III, promoted after Hoke was let go, will remain defensive line coach – the Panthers are currently interviewing for their empty position overseeing the secondary. Even though Richard Rodgers remains on staff, the team has reportedly brought in former Colts head coach Chuck Pagano and former Bills defensive coordinator and Jaguars defensive backs coach Perry Fewell to interview for the defensive assistant coach position this week.
It's clear that Rivera is attempting to surround himself with the best help possible as he oversees the defense.
On the offensive side of the ball, wide receivers coach Lance Taylor's contract, which the former Stanford coach signed in February of 2017, will not be renewed – the Panthers have already been evaluating possible replacements, including at least one former NFL head coach, to take over for Taylor mentoring the team's young wide receiver corps.
Be sure to sign up for our weekly e-mail offseason digest so you don't miss out on any news regarding your favorite team, not to mention our full draft and free agency coverage that begins January 27th!