David Tepper had to have a difficult conversation with Ron Rivera Tuesday morning – firing a head coach in the middle of a losing season is never an easy decision and one that Tepper didn't come to lightly. But he had to – when Tepper found out that other teams had already begun searching for their next head coach, he had to do something he wished he had been able to wait until after the season to do, but he refused to let his team be at a competitive disadvantage, something he's harped on since he bought the team ahead of last season.
Even if it meant moving on from the winningest coach in franchise history with four games left in the season.
"I thought it was time," said Tepper. "I was informed of other teams doing different types of searches out there and I'm not going to start a search and not tell Ron Rivera I'm starting a search, full stop. Too good a man, I have great respect for Ron, he's a great human being and I'm not going to disrespect anyone like that, especially a man like Ron Rivera."
Whether it was building a practice bubble for his team to stay out of the rain while they prepared for their next opponent, bringing in a Director of Player Wellness or purchasing hundreds of acres to begin construction on a state-of-the-art new practice facility in Rock Hill, Tepper had already begun to put his stamp on the football side in order to give his team any advantage he can after spending 2018 focusing on the business side of the Panthers – one change that he implemented was a renewed focus on analytics for the Panthers.
And that willingness to use analytics – 'modern and innovative processes' was the term Tepper used in a press release along with 'old-school discipline' and he pointed to both terms multiple times as a job description of sorts during the almost 30 minutes he spoke to reporters Tuesday evening at Bank of America Stadium – is something Tepper, along with an internal search committee, is looking for in his next head coach.
It certainly seems like he has which side of the ball he'd like to draw from in mind already.
"In the modern NFL, I think there's a preference for offensive coordinators and I think there's reasons for that," said Tepper. "That does not mean that if you find somebody fantastic on the defensive side, I won't consider it. If he has old-school discipline and modern and innovative processes. Now the question is, can you have a defensive guy that's accepting of that, too? You may think that offensive coaches have that more – and then that's how that gets implemented. The NFL has made rules to lean to the offense, to lean that way – that's why you're having more people go that way."
"But I think it's more important – and I think you have a lot of people on that [offensive] side accepting some of the more modern processes – I would say it that way."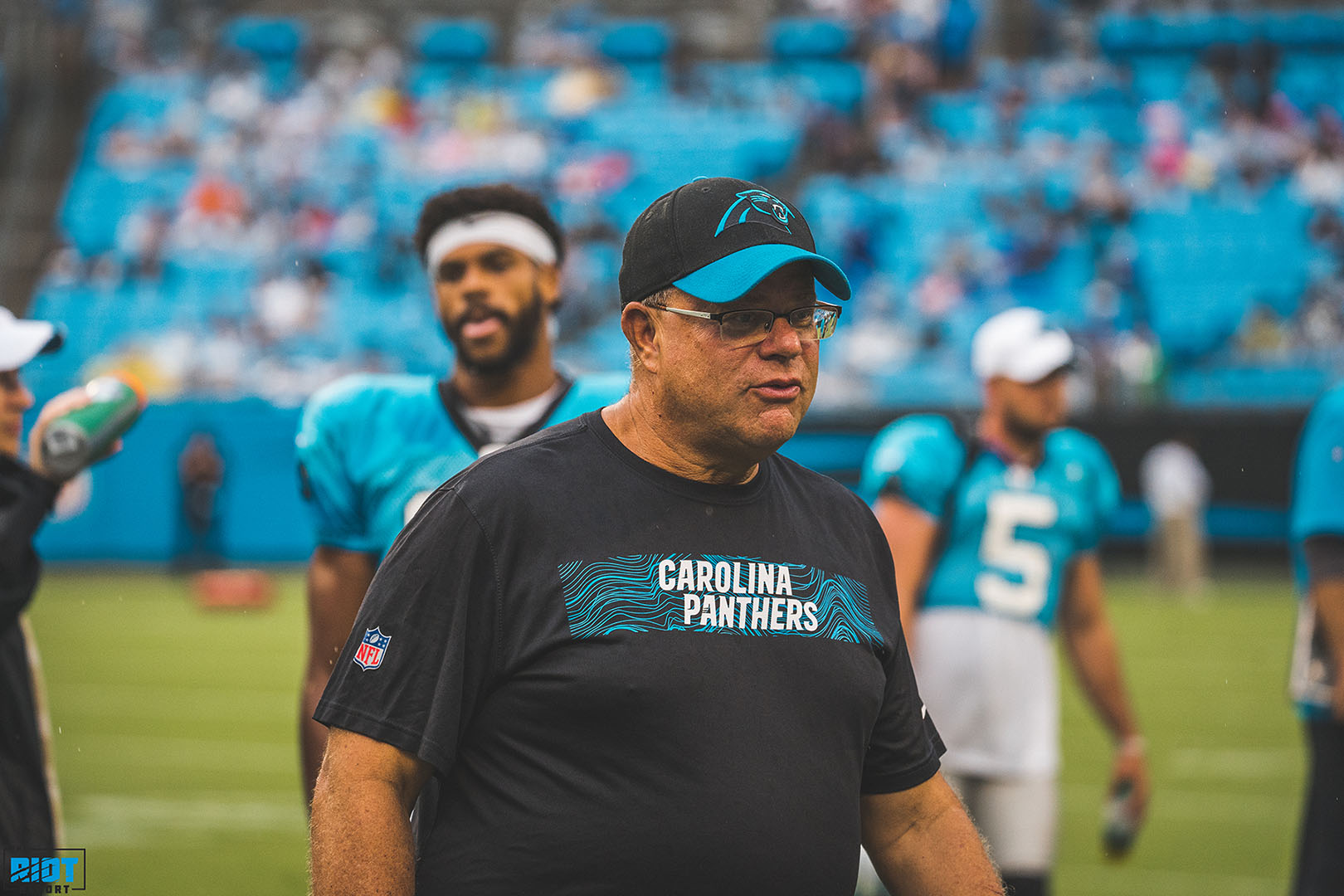 Tepper wants a coach who isn't afraid to make mistakes – but if he does make one, he wants one that's not afraid to fix it immediately; he also realizes how hard it is to transition from the college game to the NFL.
"I'm open to different possibilities," said Tepper when asked about dipping into the college ranks for a new coach. "I do understand the difficulty of the transition, though. That doesn't mean I'm closing it off, OK? You've got to understand – anybody that's been around football understands the difficulty of that transition from the college game to here and different demands here."
There's one avenue Tepper hasn't considered – that's trading draft picks for a current NFL head coach.
"Not one second of thought to this point," said Tepper.
So if you're looking for an offensive coach who's been in the NFL already and isn't a current head coach, candidates might include Kevin Stefanski from Minnesota, Josh McDaniels from New England, or offensive coordinator of the Ravens Greg Roman; but if Tepper felt like he needed to start his search now, while current assistant coaches can't be tampered with, he might be leaning towards a former head coach – perhaps someone like Mike McCarthy, who worked to bring modern training techniques to an old-school franchise like the Green Bay Packers, from nutrition to energy monitoring and speed analytics.
But those hoping for a quick fix and turnaround may need to exercise patience.
"If you don't think it takes time to build something great, if you think something great gets built in one second, then that's wrong," said Tepper. "You shouldn't expect it, fans shouldn't expect it. I'm not talking about one year, I'm talking about a standard that will be built and sustained. Built and sustained. If the fans are expecting something to be miraculous next year, listen, it could happen, maybe it's that good. But you can't count on that – there has to be a degree of patience to build sustained excellence. I'm going to say that again – sustained excellence. You say five years?"
"Listen, you want to wait five years for sustained excellence? You think people will wait five years for sustained excellence? For 20 years of winning seasons? They better. If they want that – you're not going to get things immediate gratification – it may come, it may not come. We'll see how fast it can do – listen, I'm not going to sit here and BS people. It's a building process. You heard about Rome, right?"
It wasn't built in a day – but you have to have the right architect to build it correctly.