Less than 24 hours after news broke that 31-year old defensive tackle Gerald McCoy had eschewed the Baltimore Ravens and Cleveland Browns for a former division rival in Carolina, the reasons for his choice had already been decided in the eyes of many fans and the media.
He wanted to play against his former team twice – especially after they gave not only a big contract, but his former number to another defensive tackle in Ndamukong Suh.
He wanted more money.
He wanted to play on the same team as Cam Newton instead of trying to chase him twice a year as he had done for the entirety of his career.
While the prospect of not chasing the "best escape artist we have in this league" certainly has it's perks, there were so many more reasons and so much more that went into Gerald McCoy's decision, so much so that he spoke for almost 25 minutes to the local Charlotte media about not only what brought him to Carolina, but what kind of man the Panthers got when they signed McCoy.
Not just 54.5 career sacks. Not just a disruptive force on the interior of the line. Not just an anchor for the Panthers three-man front alongside Dontari Poe and Kawann Short.
But a man who is reflecting on his entire career – one who is currently filming a documentary about his tenth year in the league that's fittingly entitled 'Transition' – and what it means to be successful in the NFL and why he wanted to do it in Charlotte.
Here's what McCoy had to say:
On whether he thinks the Panthers are a contender: The reason I'm here is because…I wanted to go to a contender. Every ounce of me feels like this team is a true contender and the NFC South Champs are the New Orleans Saints and they're known to have a great offense and in order to take them out, you've got to have a great defense. And the Carolina Panthers have been known to have a great defense and I just want to add to that. I truly believe the addition of me and all the pieces that are already here, we've got a great shot.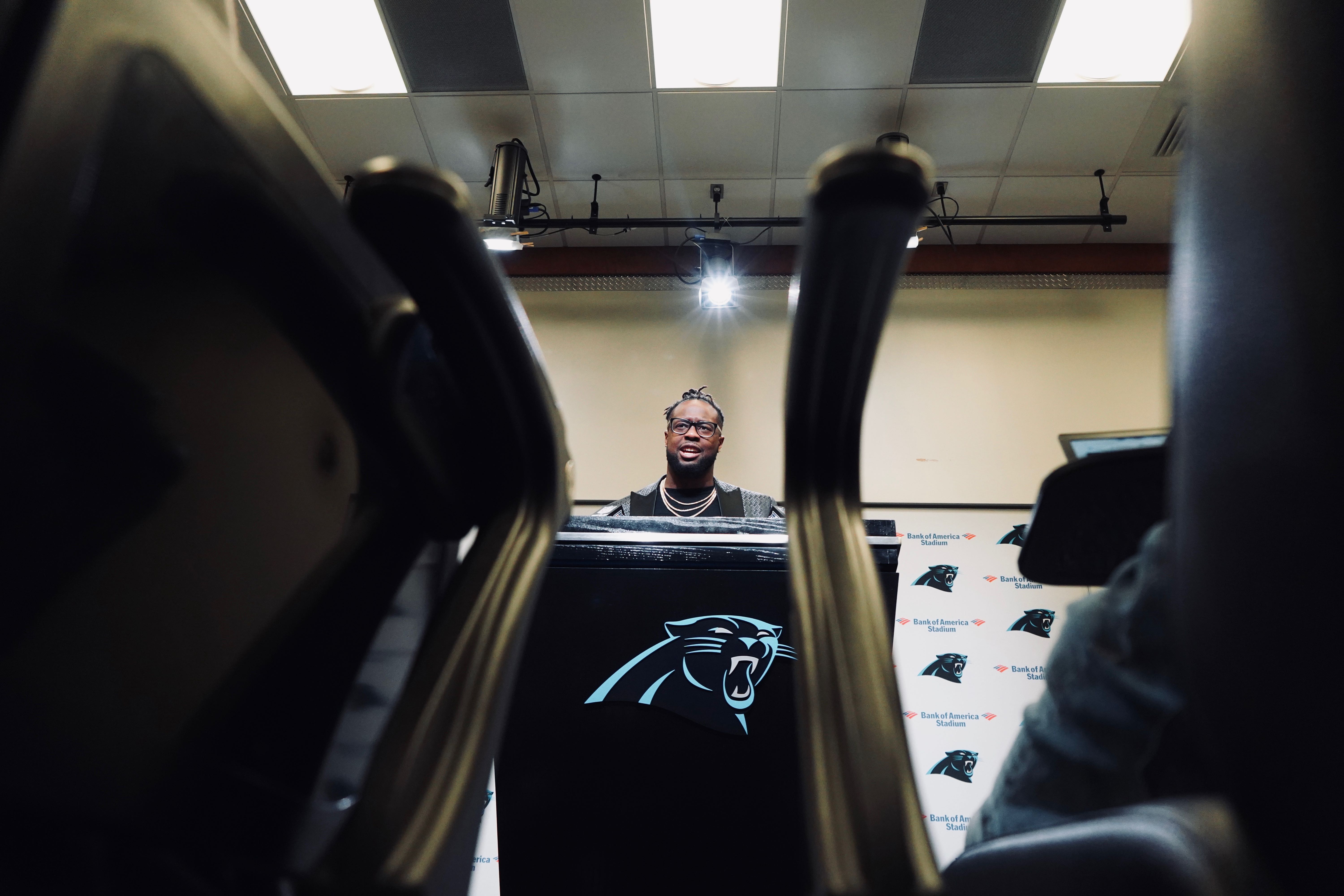 On the Bucs giving his number out to Suh: That's their problem, that's not mine. I'm a Panther – we'll let them deal with that.
On Ron Rivera and Cam Newton: He just seemed so genuine and somebody who wouldn't lie to you – he just kept it real, he didn't try to sell the organization or who he was, he just sold himself. Coach Rivera is a proven coach – from being an assistant to a head coach to a coordinator; every facet of being a coach, he's proven and he's had success. Cam said what he was going to be when he stepped into this league and he's been that. Once a MVP, always a MVP, that doesn't change – when you've got a proven head coach and an MVP that touches the ball every time, you've got a pretty good shot to win.
What Rivera told him on his visit last week: We know the type of guy you are, the type of player you are and what you can bring to a team, so if we brought you here, we wouldn't want you to do anything less than that – so we're bringing you here to get all of you. What you can bring to your teammates, what you can be on the field, what you can be to this community – what Gerald McCoy is is who we want and that's what I'm here to be.


On the lunch at Fern:Flavors From The Garden with Christian McCaffrey, Shaq Thompson, Trai Turner and others last week: Those guys showing up and actually being in tune and being excited to be there – you know I'm a vegan and we went to a vegan restaurant…the two biggest dudes at the table, KK [Short] and Trai [Turner] said 'what's up with this vegan? Why are we here?' But they were there! And that meant a lot that they were like you know what, we've got to get this dude….I left that lunch feeling like I could fit right in here. We just had instant chemistry. This organization is known for it's ability to be resilient and find a way to win; even in tough times, they just always had a history of trying to push through and fight through. I just wanted to be a part of that.
Yes, he's a vegan: Vegan for five months: If you find the right foods, I think you'll really enjoy it. Me getting up in age, my joints were starting to hurt and stuff and I had a lot of friends who were trying to push me to be vegan – one in particular in Derrick Morgan – and I just hit him up and was like 'what the heck, I'm going to try it' and it's worked for me and I feel great. I just wanted to do whatever I could do to experience [being introduced at the Super Bowl].
Up Next: How McCoy fits into the Panthers defense, why he's not upset with Tampa Bay & More