When the Carolina Panthers open their 2019 season on Sunday against the Los Angeles Rams, it will be more than just a contest of speed, strategy, and brute force.
It also stands to be an ideological battle.
At the start of their silver anniversary season, the identity of Carolina football is one that has been long settled: at their core, the Panthers are a team that subscribes to the philosophy of running the ball effectively and playing a physical, smothering brand of defense – a classical approach to pro football. But at the NFL's Centennial season, this philosophy is facing a very real and ever-insidious existential threat from new-age offenses. And as long-held beliefs about NFL defense are threatened, so too are those who have built their careers around it.
Not long ago, Panthers head coach Ron Rivera was among the envy of the National Football League thanks to his reputation and results as a defensive mind, leadership, and his open-minded approach to his own methods. But whatever Rivera was hailed as when he and the Panthers stood atop the NFL world pales in comparison to the apotheosis of Sean McVay – the man everyone wishes were their head coach.
Thanks to his quick rise to glory in only two seasons as head coach of the Rams, McVay has not only come to be regarded as one of the single best offensive minds in pro football, but he has also sparked a manic rush for "The next Sean McVay" – young, cerebral offensive minds that have combined traditional, pro-style offenses with "zone read" offenses that rely on timing and deception as well as college concepts. Several McVay assistants, including Matt LaFleur and Zac Taylor, were hired as head coaches for the 2019 season. The Arizona Cardinals took the "McVay clone" trend to its logical extreme, hiring "Air Raid offense" specialist Kliff Kingsbury as their head coach, who subsequently drafted Kyler Murray – an Air Raid quarterback – with the number one overall pick.
The proliferation of McVay's coaching tree and the desire for the supercharged, score-at-will offense that it is reflective of, has subsequently come at the expense of those who have made a living coaching NFL defenses. In going after Kingsbury, the Cardinals took the impulsive step of firing former Panthers defensive coordinator Steve Wilks after just one season as a head coach. On the Cincinnati Bengals, Taylor took over for Marvin Lewis, a noted defensive coach who was the winningest in franchise history. And though Ron Rivera made it out the other side of speculation about his job towards the end of the 2018 season – the sharks no doubt continue to circle around him.
"Defense is dead!" shouted more than a few pundits as NFL defenses seemed powerless to stop Air Raid-style offenses last season. "This is the future of football! Get with the times, old man!"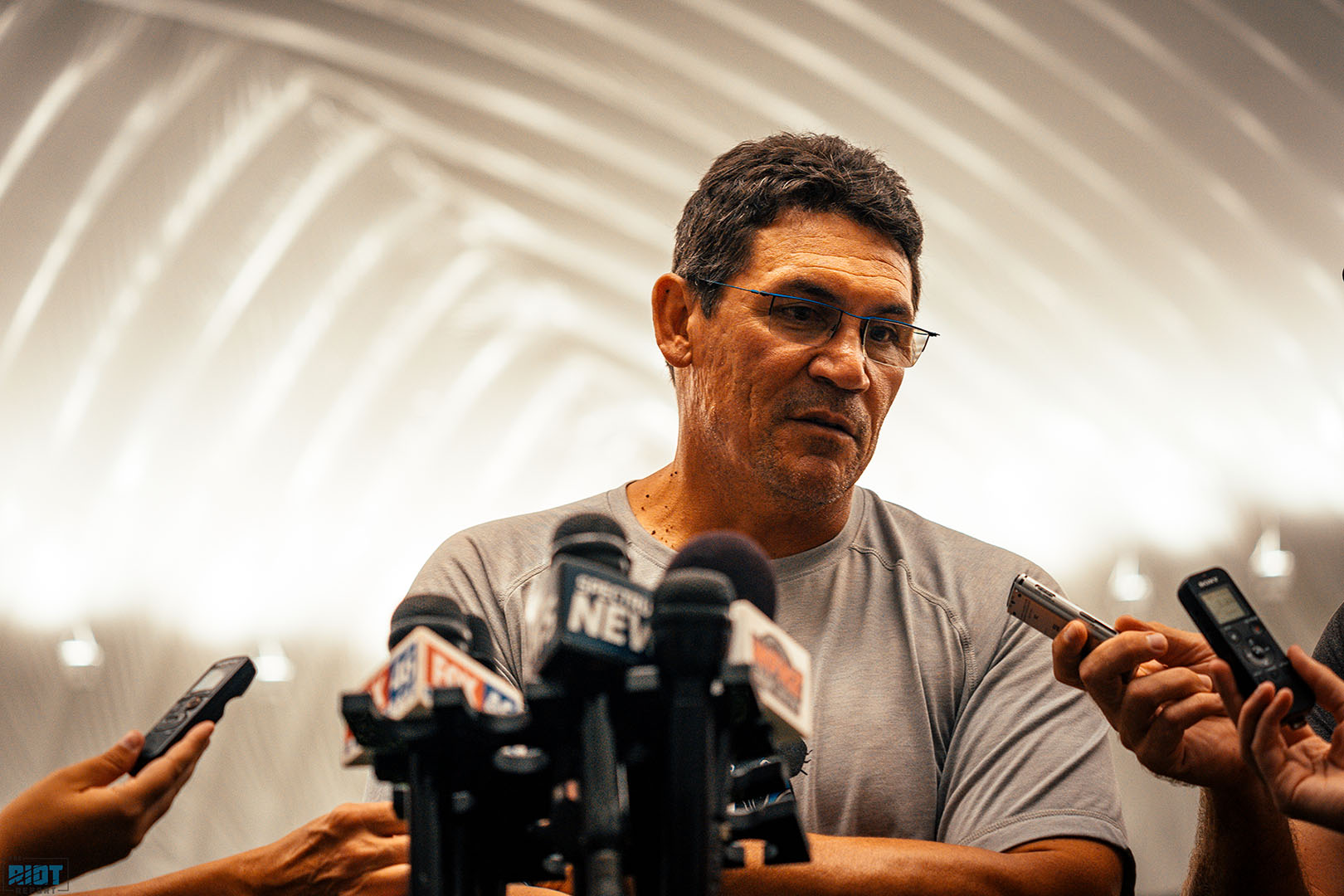 Nationally, most view the Panthers as little threat to stop the Rams from imposing their will on offense. Even locally, there is skepticism that the Panthers can keep up with L.A.'s seemingly-indominable passing and rushing attack alike. During an appearance on WFNZ, Panthers great Steve Smith stated that this week's game had the potential to "get ugly real fast". But in facing the NFC West Champions of the past two seasons and the conference's representative in Super Bowl LIII, the Panthers have the potential to make a major statement about themselves – and their head coach can put himself firmly at the front of his ideology's response to McVay & Co.
Much like the beginning of the 2017 season after they crashed back down to Earth in 2016, there are several individual points for the Panthers to prove: Cam Newton is out to show that he is still one of the top quarterbacks in the entire league, and is not "damaged goods" after two shoulder surgeries. Greg Olsen is trying to prove that he is still among the NFL's top tight ends even after two long and painful years of persistent foot injuries. The offensive line is trying to make a statement about itself after an offseason of re-examination, and have quite a first test in two-time and defending Defensive Player of the Year Aaron Donald. And then, there's the defense.
In masterminding the Panthers' new-look defense for the season to come, Ron Rivera has borrowed from several defenses that were able to keep the top offenses in last year's NFL in-check – Including the Chicago Bears, who he pointed to during a February appearance on WFNZ's The Mac Attack. In their meeting during Week 14 of the 2018 season, the Bears' defense helped to lay the blueprint of the Rams' eventual undoing, constantly changing the looks they presented on defense to paralyze triggerman Jared Goff and hold the Rams to a mere six points. Going from their traditional 4-3 defense to displaying multiple fronts and incorporating many elements of a 3-4 defense, Rivera's Panthers are not just trying to revitalize themselves after stagnating during the 2018 season. In a certain sense, they may be offering a direct response to superpowered offenses led by Air Raid quarterbacks like Goff, Patrick Mahomes, and others.
The latent, yet no less direct, challenge that the Panthers' new defensive concepts present to the Rams and their ilk is a major part of the intrigue of Week 1's matchup. And Rivera himself is aware of the mental challenge of facing pro football's hottest wunderkind.
"We've got to be on our game in terms of being prepared to adjust. And I really think this game's more gonna come down to how you handle the adjustments after you get a chance to see what each other's doing," said Rivera. "I think it's a big chess match moreso than anything else – in all three phases, just because of who they are and who they've been the last couple of years."
"I think when Coach McVay got there, you really got a sense of what they were becoming, and last year you knew what they are. But he's one of those guys that's constantly evolving and changing and looking at different ways to do things … [The chess match is] part of the game. And that's what the best part of it is, really, just trying to match wits."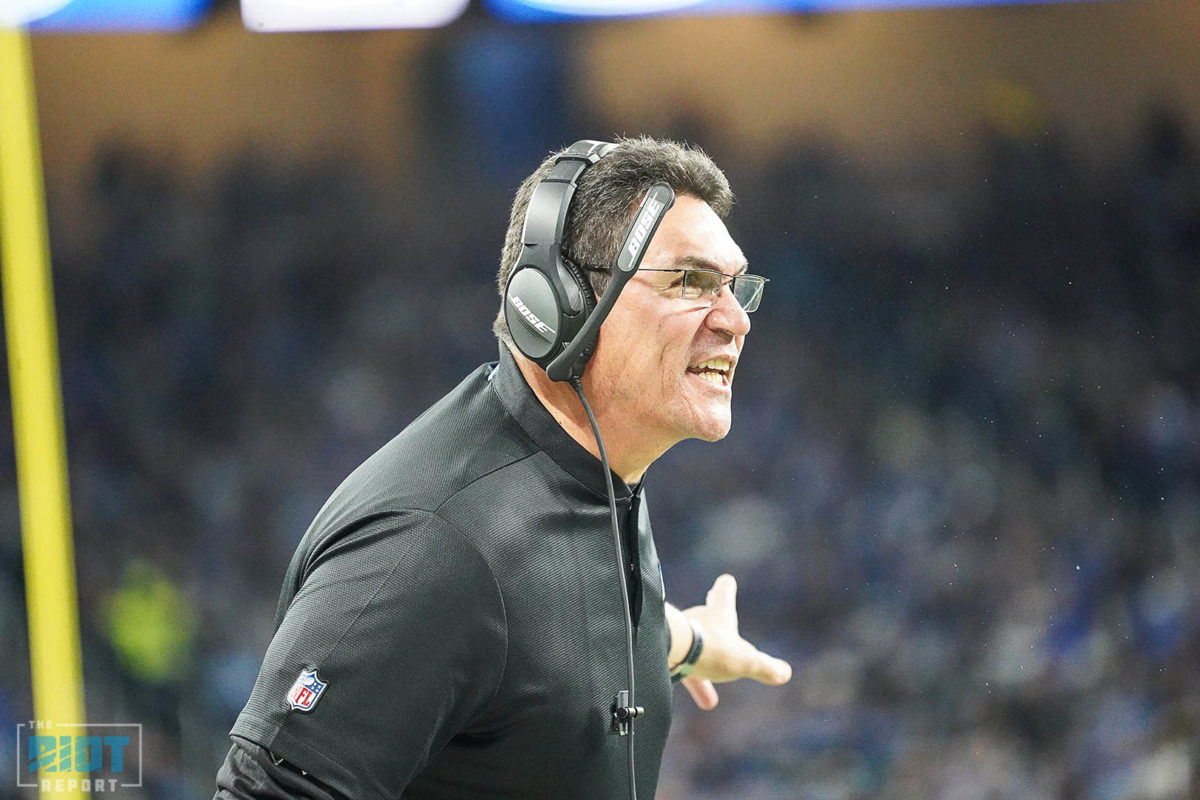 Although Rivera insisted that the Panthers' match against the Rams will not be about what he does as a playcaller – he deferred to the players being put in the best position to have success – a victory to start Carolina's season would no doubt be significant for far more than just that satisfaction of playing with and beating the top team in the NFC. While Rivera survived the fallout from the Panthers' plunge to the abyss last season, many professional prognosticators now list Rivera as somewhere just outside the upper-crust of NFL head coaches and plenty have run with the assumption that Rivera is a goner if the Panthers have anything less than a winning season. Even in the comforts of the Carolinas, the Panthers' head coach of nine years has faced his share of criticisms – particularly that "Riverboat Ron" has not kept up with the trend towards hyperaggressive playcalling, rendering him meek and overly conservative – as he was often criticized for being in his early years – by comparison.
Outwit the fastest gun in town in McVay, and Rivera may make the entire NFL stand up and take notice. He can position himself and the Panthers both to lead the way as the pendulum swings back towards defense, and remind everyone that the Panthers, under his command, are a winning football team that doesn't play afraid of anyone – and are not afraid to challenge those who are "great" and in-vogue.
"We dangerous," said defensive tackle Kawann Short in response to a reporter who framed the Rams' offense as dangerous. "We feel that we put ourselves in a position to hang with anybody. And we feel like as a defense, we can really play if we come together, communicate, and still everybody work for that common goal. No matter what they do, we've still got to come out, we've still got to play our ball, and we've still got to get back to what we've been doing."
In their bounceback season of 2017, the Panthers' Week 1 triumph over the lowly San Francisco 49ers did little to convince anyone that Carolina was back – It wasn't until a Week 4 upset of the New England Patriots that the league took notice that the Panthers had their mojo back.
Stop the Rams' offense and win this fight of ideologies, and the Panthers will show that defense is alive – and that they and their head coach are capable of shutting down anyone who subscribes to the trend du jour.