Cam Newton is headed to injured reserve for the first time in his career – and while that is never good news for a team when your starting quarterback goes to IR, for the Panthers, it likely raises more complex and difficult questions than for most NFL teams.
The reason for this is quite simple – Cam Newton is not heading to IR because he broke his leg or even tore his ACL, but because of a lingering foot injury; though something that shouldn't be ignored, and will certainly weigh into any decision going forward, is the shoulder injury that has now been an issue for more than three seasons. Cam Newton deserves to be in the Hall of Fame one day, but as much as it's unpleasant to think about, the question now is if he will be back, not when.
Of course, this move to IR and that future decision are not one and the same, and the Panthers don't have to make any further decisions on the matter until well into the offseason. But with the news that the Panthers are to be without Newton for at least the rest of the 2019 season, it's worth taking some time to consider where the Panthers go from here, and what that might mean for all involved.
The Short Term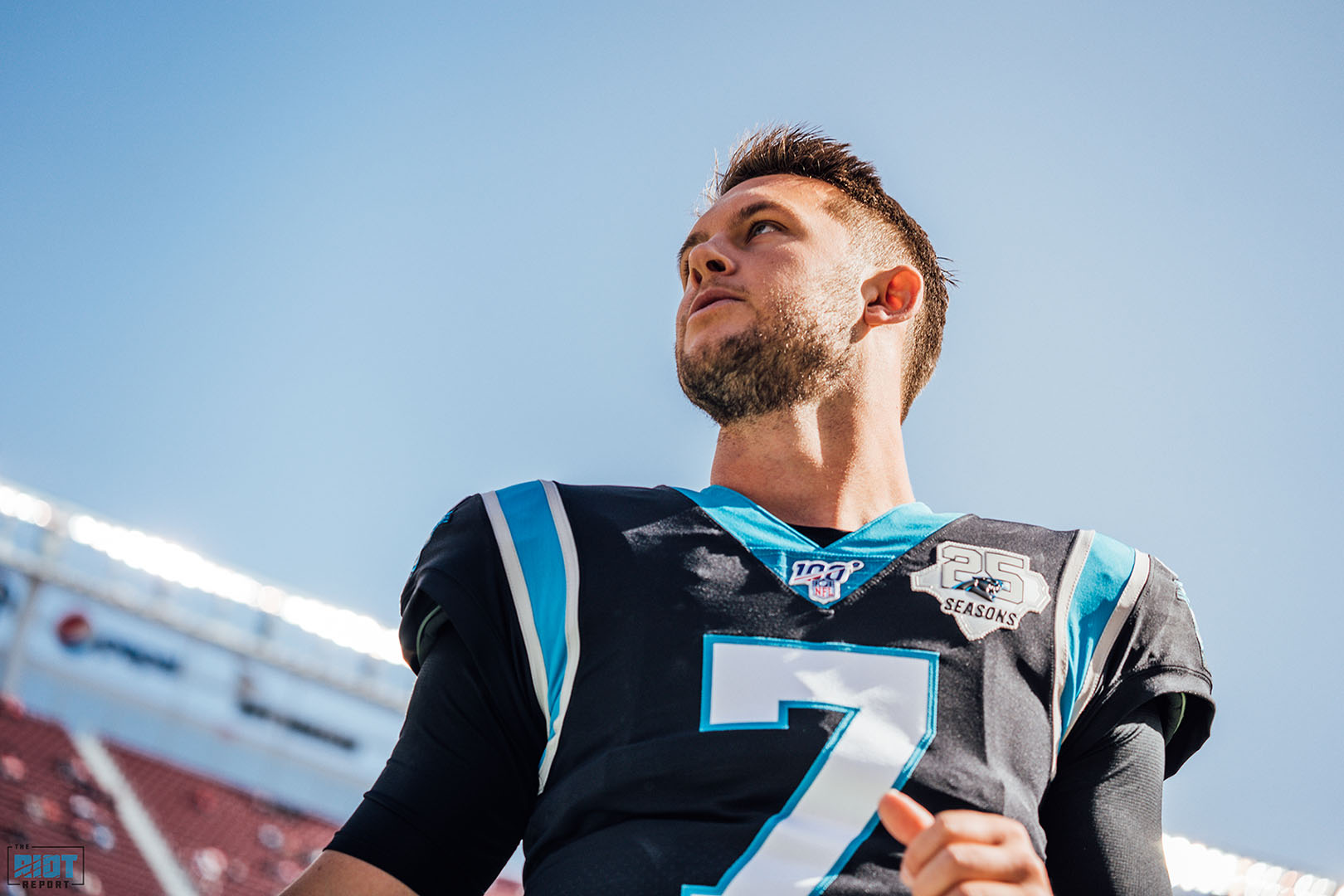 As it stands, the Panthers are half a game behind the Vikings for the final Wild Card spot – and while they are behind the Rams in terms of tiebreakers, given that they have two games against the Saints and one against both the Seahawks and the Packers, the Panthers still very much control their own destiny in both the NFC South and, should they be unsuccessful in that regard, the Wild Card race. Of course, the same was also true of the Atlanta Falcons to start the season; and look at them now – this isn't going to be a hugely upbeat piece, you might as well take some pleasure in the Falcons' ineptitude – but there is a real difference between being relevant in September and being relevant in November, just ask the Cleveland Browns.
The point of all this is that when you have a chance, even if it isn't a huge one, to make the playoffs, you should take it. Sure, the Panthers may well lose three of their next four games and find themselves 6-6 and out of it entirely, but until that point, it is worth continuing to compete as best you can – if you are able to sneak in, you at least give yourself a seat at the table, and you only need a few consecutive helpings of luck and you somehow find Eli Manning lifting a Lombardi trophy, twice.
The best chance the Panthers have of winding that narrow road to the playoffs is almost certainly with Allen at quarterback. He isn't short of flaws and is probably not going to be long-term starter-of-choice in the NFL, either in Carolina or elsewhere, but he has shown an ability to execute the short and intermediate passing game and with an excellent running attack and a good defense, that gives a clear framework for how the Panthers can be successful.
They might well fall short, but for the next month, at least, they really need to try.
The Medium Term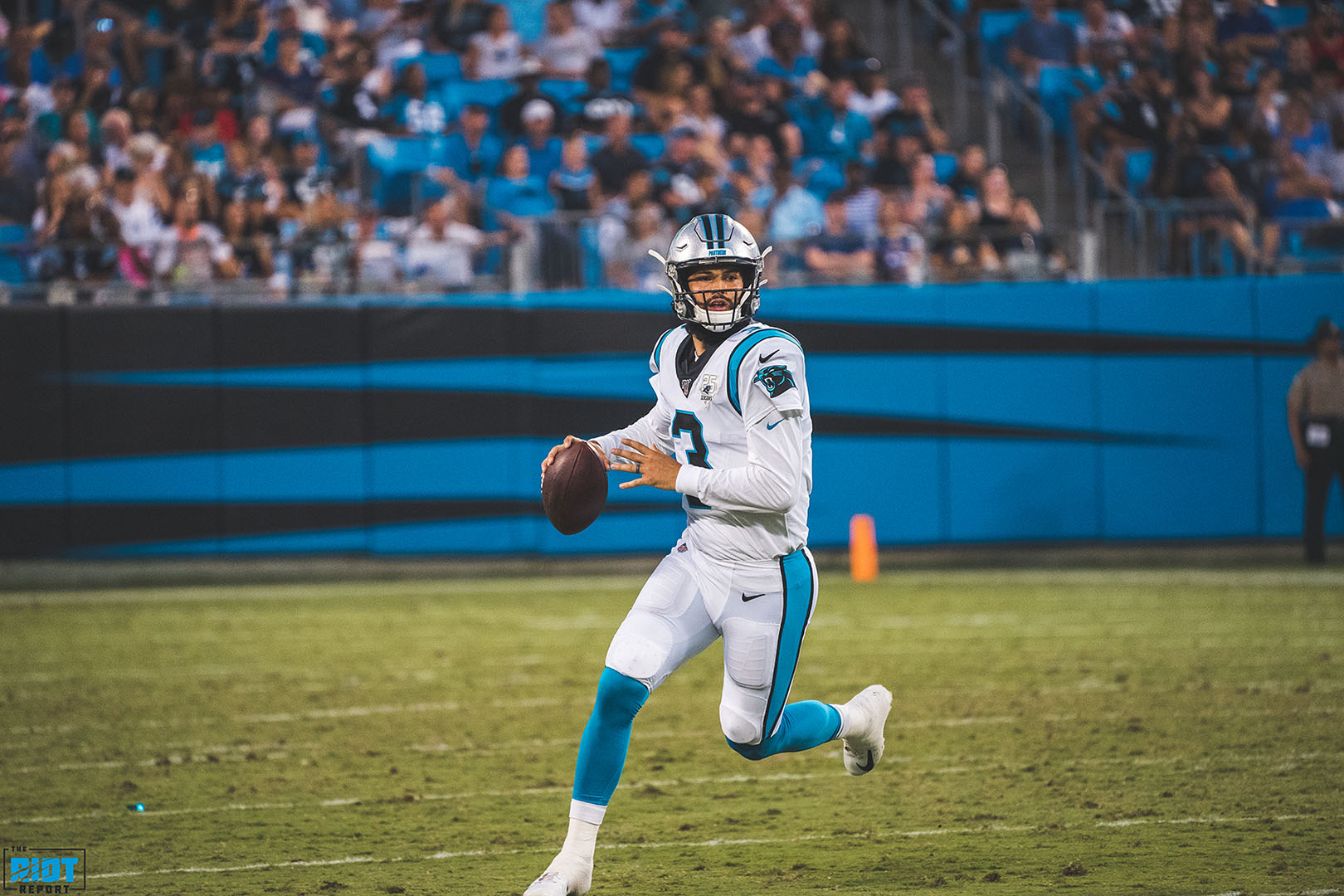 OK, so what happens if the Panthers find themselves out of the playoff hunt in a month's time, what do you do then?
Even if the Panthers lose every game from here on out, they will struggle to end up picking inside the top ten – while there are likely to be some jobs that could be at risk if the Panthers go on another long losing streak, it is probably fair to assume that those jobs are going to under review no matter what if the Panthers find themselves out of the playoff picture come December.
At that point, attention will need to move to the offseason and beyond, and what that means in practice is that there are a number of players who both fans and coaches have yet to really see in game situations. You also have a number of star players who are likely to be part of the picture going forward and who the team probably won't want to risk injury unnecessarily – if the season is lost. This doesn't mean that you shut the likes of McCaffrey, Burns, Jackson, Turner, etc. down for the season, but maybe you look to rotate more, and in the case of positions like the offensive line and quarterback, where rotation isn't really feasible, you maybe start looking to substitute players late in games if they aren't closer and, ultimately, maybe look to put players in for certain drives.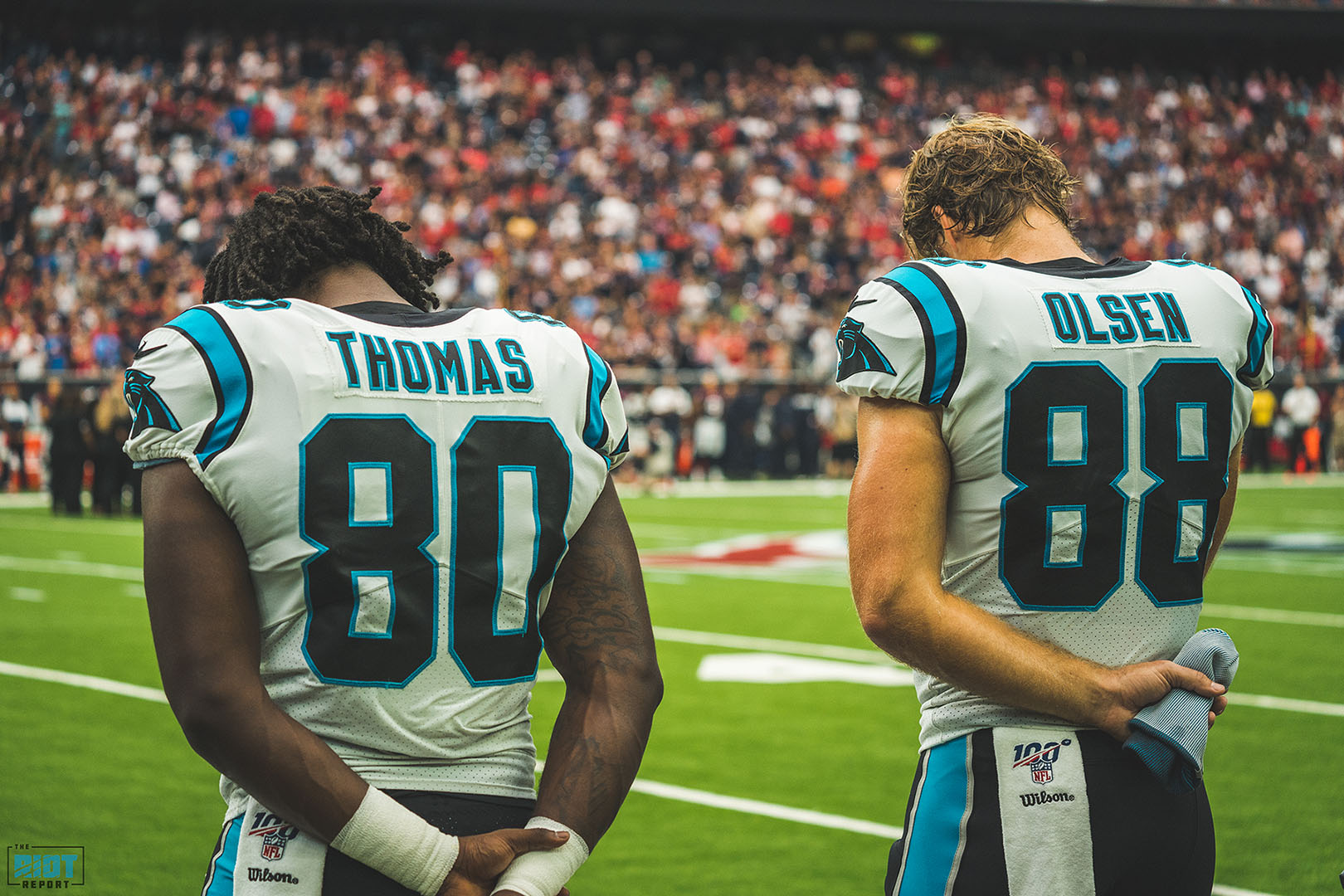 The Panthers did do this on the offensive line earlier in the season, but that was harder to explain while they were still trying to win games – but, if you are looking to develop younger players and give yourself some game tape to evaluate them with, that makes a lot of sense. Key candidates for this are Will Grier, Reggie Bonnafon, Jordan Scarlett, Ian Thomas, Greg Little, Dennis Daley (it's not clear what the offensive line would look like if everybody was healthy), Jermaine Carter, Andre Smith and Rashaan Gaulden. Of course, not all of these are going to look great, but knowing that is also valuable – it means you don't have to find that out Week 1 next year when you stick them in as a starter.
To be clear, this isn't something the Panthers should be doing now, but if it becomes clear the Panthers aren't going to make the playoffs, there is no value in putting extra snaps into the legs of your star players, but there is certainly value in getting NFL game tape on the players lower down your roster – even if watching Christian McCaffrey standing on the sidelines for a few snaps a game might be somewhat disconcerting.
The Long Term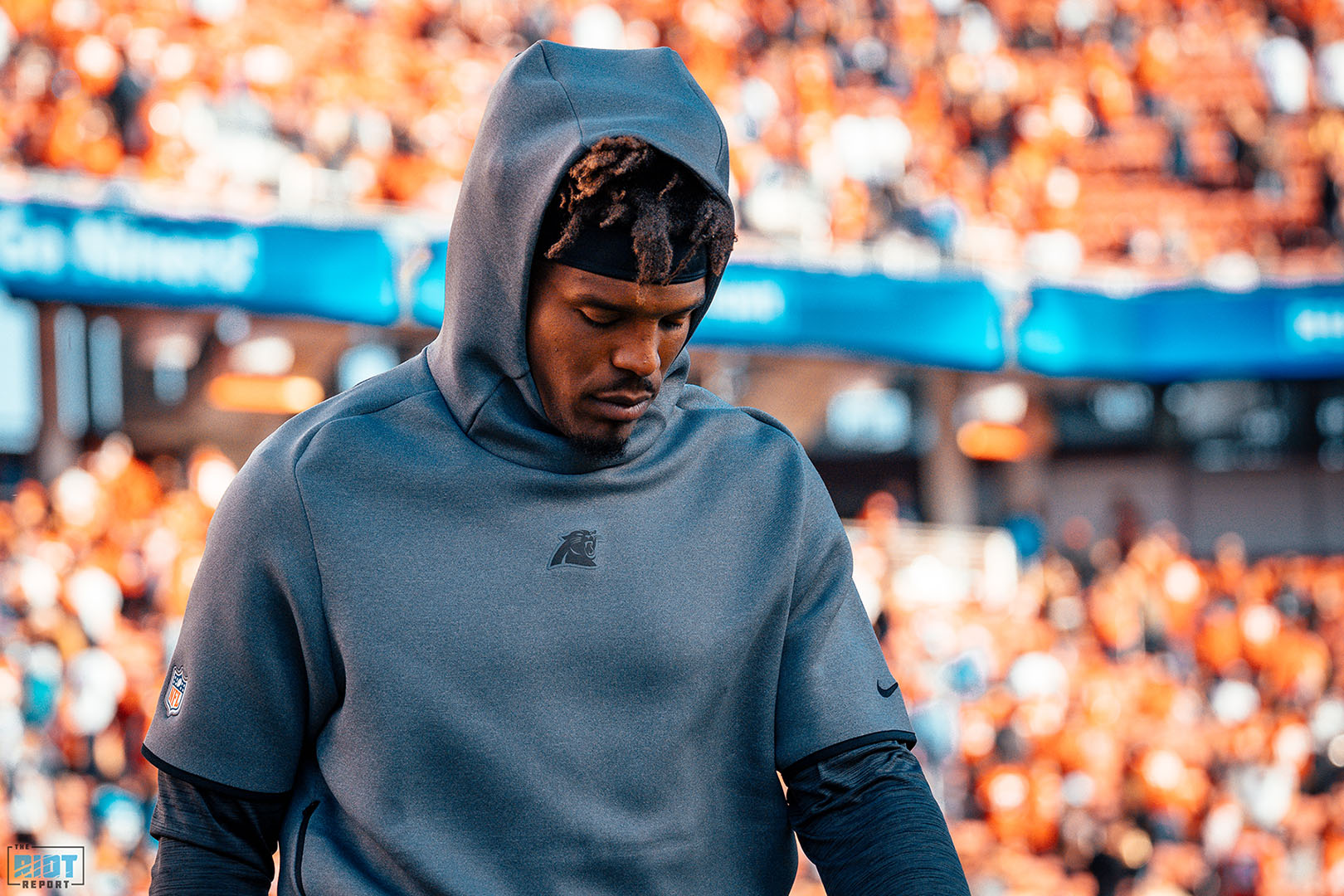 OK, so this is the bit that isn't going to be fun – if you're still raw from yesterday's news, you may want to come back to this in a couple of days.
You don't put your QB on injured reserve midway through the season if you expect them to be back before the end of the season, especially when you are 5-3. That means that either Cam Newton has an extremely atypical Lisfranc injury – the end of the season would mark roughly twice the usual non-surgical recovery time – or there is another reason why he isn't playing. The idea of an atypical injury shouldn't be completely disregarded, but given his recent history of multiple shoulder injuries and the fact that we still haven't seen him fully healthy on the field since 2016, it is maybe time to start considering that his shoulder might be an underlying issue.
We all think about Newton's shoulder as becoming injured by the jarring TJ Watt hit, but it was weeks before that when he began experiencing soreness – don't forget Taylor Heinicke had to come on to throw a Hail Mary two weeks before Watt and Newton shared the field.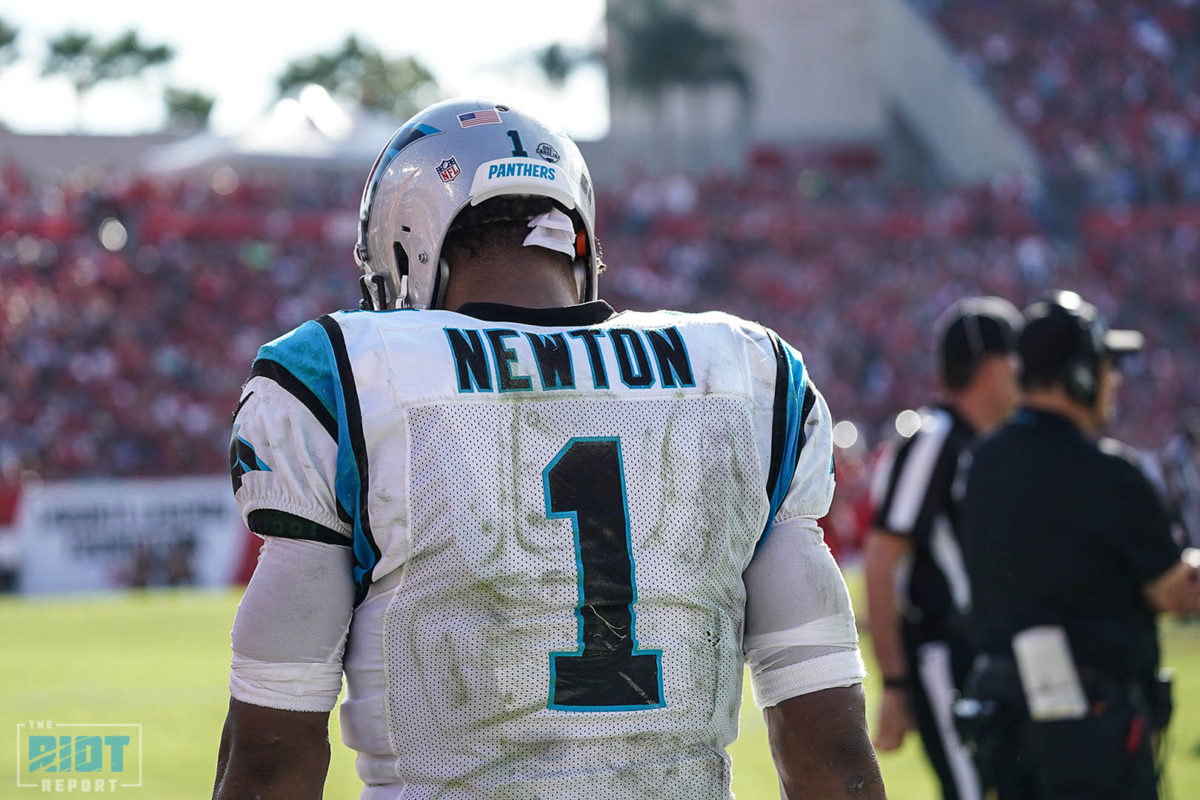 The Panthers do still have another year of Newton's contract – and if they aren't certain about the state of his shoulder, they could still try and get him to play next season and see where he is before offering him a new deal. The issue with that is that it not only relies on Newton being willing to play next season without a long-term contract – which is far from a guarantee – but also that if Newton isn't ever going to be fully healthy, this pushes back rebuilding by a year and could lead to them potentially resigning a load of veteran players to make another run, only to find they are actually going to have to rebuild.
Yes, $21m is a small cap hit for a healthy starting quarterback – but there's no guaranteeing that describes what Newton will be in 2020.
Of course, we don't have all the information the team does about Cam's health, so it's hard to know whether that is a risk worth taking, but the fact that it might not be is worth real consideration. Ultimately, the team – which has full access to Newton's health status, shoulder, foot and what have you – is going to make a decision, and that decision will almost certainly be based on health rather than talent. You don't think about moving on from a player like Cam Newton and all that he brings to your franchise unless there are reasons – and the most obvious reason would be that his shoulder hasn't recovered to pre-2017 levels.
We don't have access to his health records – but we do have access to two weeks of tape, when his shoulder was 'healthy', but not his foot. Let's take a look at a few of Cam's throws from Week 1:
Here, there is nobody in his face, and a clear receiver to throw to in plenty of space, but the ball is nowhere near.
Here again, plenty of room, but a throw that just isn't quite there. There are more, similar examples, but it would certainly be foolish to condemn Cam for some poor throws in one game. The flip side of that is that nobody – including the Panthers – has seen Cam healthy in a game for over a year now, and assuming that he's all OK, or even that he will be given time, is maybe a tad optimistic. The reason for his inaccuracy on the two throws above appears to be the fact that he is having to put significant effort into getting the ball to the right place at the right time – and that that extra force makes it harder to get the ball to the right place. This is also something we've seen from Kyle Allen a couple of times, something that a lot of QBs show.
The reason why it's slightly concerning coming from Cam is that he has consistently shown the ability, when healthy, to make much longer throws without even having his feet set:
This doesn't mean that the shoulder is the problem that may ultimately keep Cam out of Carolina for the rest of his career, but it's something that has to be considered. For the Panthers, is this is the case, that either means trying to retool and trust the rest of the roster is able to either carry a QB to a title or, a frankly more likely scenario – rebuilding this coming offseason around Christian McCaffrey.
There is still quite a lot of me that hopes that this is just a complication with the foot and that we'll see Cam back on the field in Carolina blue and black come September, but with the news that he is going to IR and will miss yet more time for an injury that shouldn't be this severe, it's hard to say that there is much left but hope.
Cam Newton has given the Panthers and their fans nearly nine seasons of some of the best QB play you'll ever see, but maybe that's all we're going to get.