Cam Newton Foundation's Charity Weekend concludes with the "K1ds Rock Gala", and since they're the charity beneficiary for all of the funds raised by our Tailgate with a Purpose events, they decided to reward the Queen City Riot crew who is responsible for managing the tailgates with a table at the event. It was a great bonus for the guys who are always out at the tailgates early in the morning making sure everything's set up properly, and who have pretty much missed all of the home game kick-offs for the past two seasons breaking everything down.
We decided to meet-up an hour before the event to tailgate – because that's what we do – and Ubered over to the NASCAR Hall of Fame together. We turned some heads at the entryway photo shoot – not because we were dressed as sharply as Cam – but because nine idiots lining up for a picture tends to make people laugh (at us, not with us).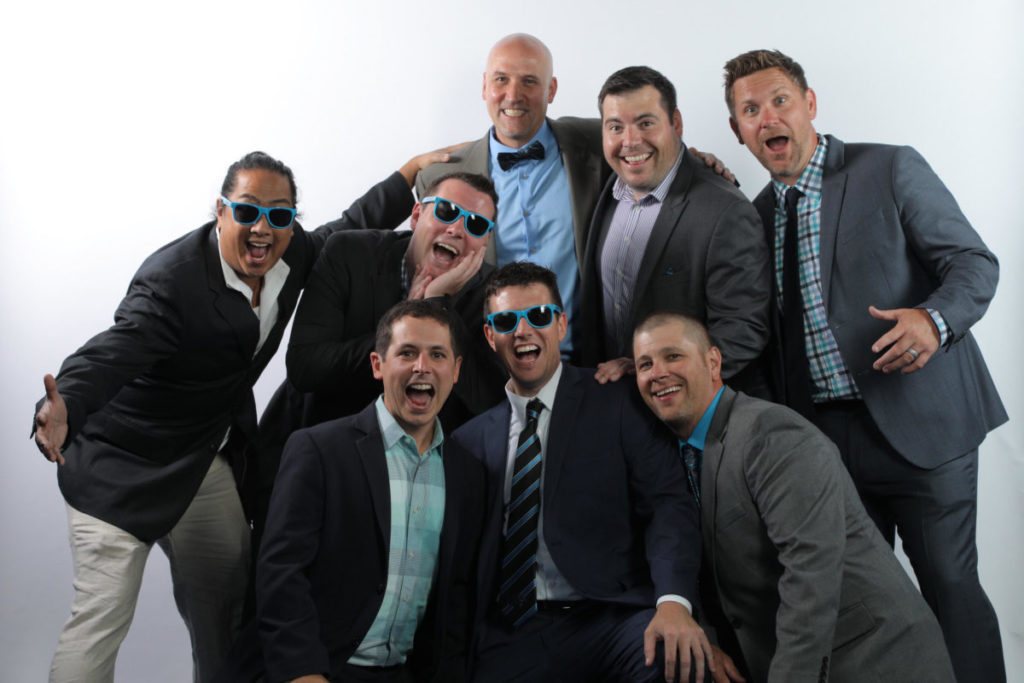 The Gala room was decorated beautifully in shades of teal and purple, the guests were all dressed to impress, and you couldn't turn around without bumping into a Panthers player or a who's – who member of the Charlotte community. We decided we needed to do what we do best, and that was head over to the bar. With cocktails in hand we made our way over to the silent auction items. Now, I've been to several charity galas in my life, but I can tell you that CNF puts out some of the best auction items I've ever seen. There were autographed jerseys from Steph Curry, Tom Brady, and Michael Jordan. Yes, a signed MJ (was a little, or a lot out of my price range). Signed game-worn cleats from Cam and shoes from LeBron James. A Derek Jeter bat. Signed raquets from Serena and Venus. Plus all kinds of great travel and local restaurant packages. But….the one silent auction item I was focused on was this. A chance to own history.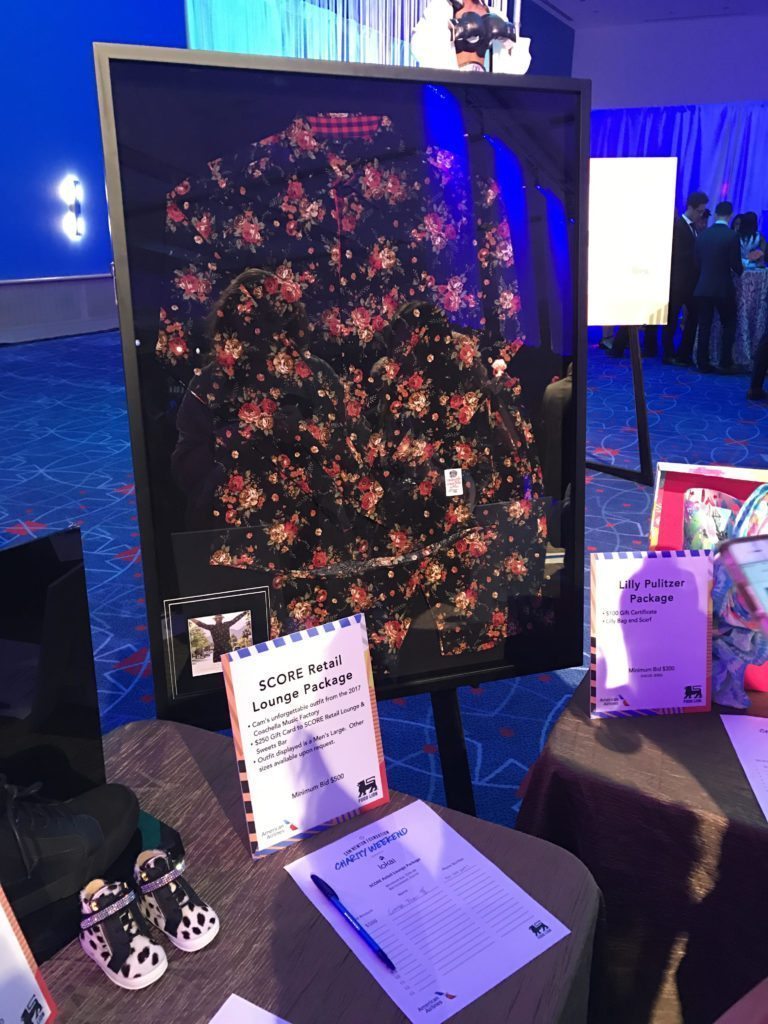 Unfortunately, I was not the winner.
We made our way over to our table for dinner to enjoy the event's program. There were a total of nine of us at a 10 person table, so once we were seated representatives from CNF asked us if we minded if Kawann Short took our open seat. After three full seconds of deliberation, we decided that it would be charitable of us to allow KK to join us.  After enjoying a delicious dinner (steak or halibut, in case you're curious), Michael Strahan gave some comments as the event host and he brought Young Dylan from the Ellen Show as guest emcee. Getting to see Strahan run the event was great – I've been a fan of his (now that he's retired from the Giants) for years, but it was Dylan who stole the show with his rendition of "No Problem" by Chance the Rapper.
The dinner portion of the program concluded with a live auction. These are five top-notch prizes that included an amazing villa in Mexico, private catering from Smoking Aces, and other various excursions that brought in lots of donations for the Foundation. After reading the item descriptions (and a few Tito's and sodas) we all decided that we were going to go after "Cruising with Cam". This was a package for 50 people, cruising for two hours on a yacht on Lake Norman, with dinner and drinks included, with Cam. The package opened with Cam describing how he first found out about the Kalil and Olsen version of his birthday video and it was hilarious (short version = Coach Rivera played it in a team meeting) with Greg Olsen immediately upping the opening bid by one dollar (because, Cam is number one), followed immediately by Kalil raising the price of the package by 88 dollars (get it?). After a long pause and no additional bids from the crowd, I decided it was time for us to make our move. I stood up, got Cam's attention, and placed our bid on the item. Another another long pause – going once – going twice – SOLD to the Roaring Riot. So we'll be working out the details for the cruise soon and opening the spots up to our members who want to participate.
After the auction closed we made our way to the dance floor and took control the only way a group of nine guys and no ladies can – by starting the "Electric Slide" and "Cupid Shuffle". Overall, it was a great night of charity and fun and it was an honor to attend the event and reward the guys who make all of our Sunday home tailgates happen.
Oh…..and then there was the after-party where ***EDITOR'S NOTE***: At this point, Zack had an extremely long paragraph, most of which consisted of champagne bottle and flame emojis, sentences that began, "I think this is what happened (I drank a lot)", and some stories that we here at the Riot Report do not feel comfortable publishing. So we'll just leave this video right here – that will tell you everything you need to know.