The Carolina Panthers signed Austin Duke, a receiver out of University of North Carolina at Charlotte immediately following the 2017 draft. Duke, who holds the records for all-time receiving yards (3,347), receiving touchdowns (25) and receptions (253) at UNCC, comes in at five-foot nine-inches and 170 pounds and will be considered a slot receiver in the NFL. Since being signed, Duke has made the most of every opportunity; first turning heads in rookie minicamp where he showcased quick feet, good route running and solid hands, then during organized team activities he made plays against stiffer competition, since then he has been caught working out with Christian McCaffrey and running a mountain with Cam Newton. Moving forward, the real question is can Duke turn this opportunity into a 53-man roster spot?
We ran a moutain today🙃 pic.twitter.com/7CnDq3MwUg

— Austin P. Duke (@TheAus10Duke) July 20, 2017

The Panthers generally carry five receivers during the season. Entering the 2017 season it is safe to say that Kelvin Benjamin, Devin Funchess and Curtis Samuel will take up three of those spots. The last two spots will be used on two different styles of wide receivers. One of those spots will need to be a bigger player who can replace Benjamin or Funchess when substituted in, while the other will need to be a speedy receiver who can provide the Panthers with a backup for Curtis Samuel. Duke will have to battle the following players for one of the last two spots:
Damiere Byrd

Brenton Bersin

Russell Shephard

Fred Ross

Keyarris Garrett

Cameron Posey

Trevor Graham

Mose Frazier

Clay Kaelin
However, Bersin, Shephard, Ross, Posey and Garrett are all likely battling for the role to backup Benjamin and Funchess so Duke won't be competing against them. This leaves Byrd, Graham, Kaelin and Frazier as Duke's main competition for the last roster spot. 
Damiere Byrd is likely Austin Duke's biggest competition for the last roster spot and even though they are the same height, they are very different players. Byrd is known for his pure speed and lack of sure hands while Duke is better known for quick feet and sure hands. While Byrd is a better returner and gunner than Duke, I think Duke will win the roster spot. Duke would be a better fit in a Panthers' offense that is expected to get the ball out of Cam Newton's hands faster in 2017. Against the Louisville Cardinals, Duke looked similar to Christian McCaffrey and Curtis Samuel, as he was used heavily in the screen game and in the short to intermediate passing attack.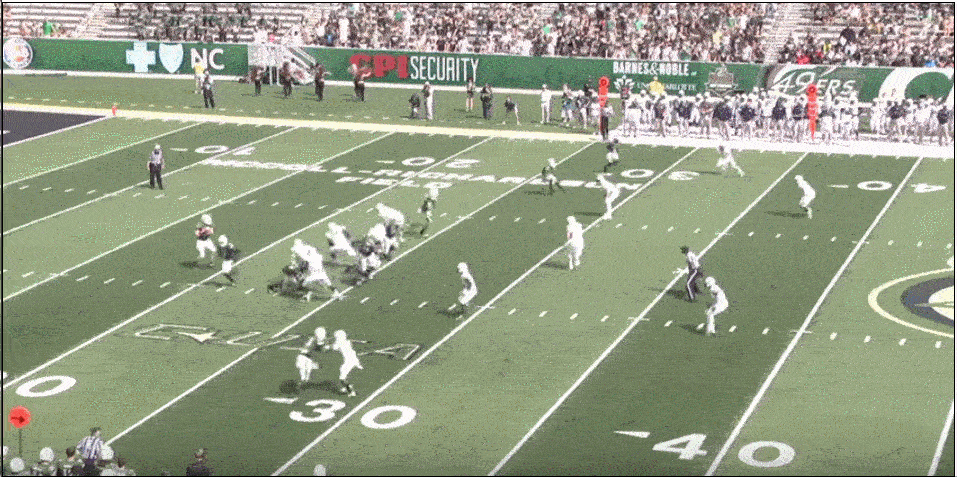 Duke did a great job of winning his one-on-one matchups as a receiver through explosive cuts, good routes and deceptive agility. He also showed the ability to block out defenders without help. However, when Duke had to decide between two players to block he consistently picked the further option which allowed the closer defender to make a play on the ball carrier; Duke can also have trouble blocking bigger defenders, as his small frame allows them to bulldoze through him. As a receiver, his size makes it hard for him to beat press coverage and his lack of home run speed make Byrd or Samuel a better deep option. With that said, his quick feet and great acceleration make him a perfect candidate to backup Samuel and McCaffrey, which may make him an invaluable bench resource.