Ron Rivera is already sick of the Cam Newton questions.
That much has been obvious for weeks – when the Panthers coach is pressed about Newton at press conferences, be it during the week or after games while the Panthers' quarterback has been missing from practice and has not spoken to the media outside of one appearance with the Roaring Riot, Rivera continues to reiterate some version of the same mantra.
Cam is rehabbing and the team isn't going to force him back before he's completely healthy. When he's ready to go, he'll be ready to go – Rivera even jumped in front of questions after the game in San Francisco, the first time Newton had traveled with the team since Week 2.
"Cam is still rehabbing," said Rivera, before pausing and adding: "It doesn't have to be a lot of questions, either – just so you know that. I'll tell you guys where he is on Monday. I'll tell you where he is on Wednesday."
"You don't need to ask after that to be honest with you."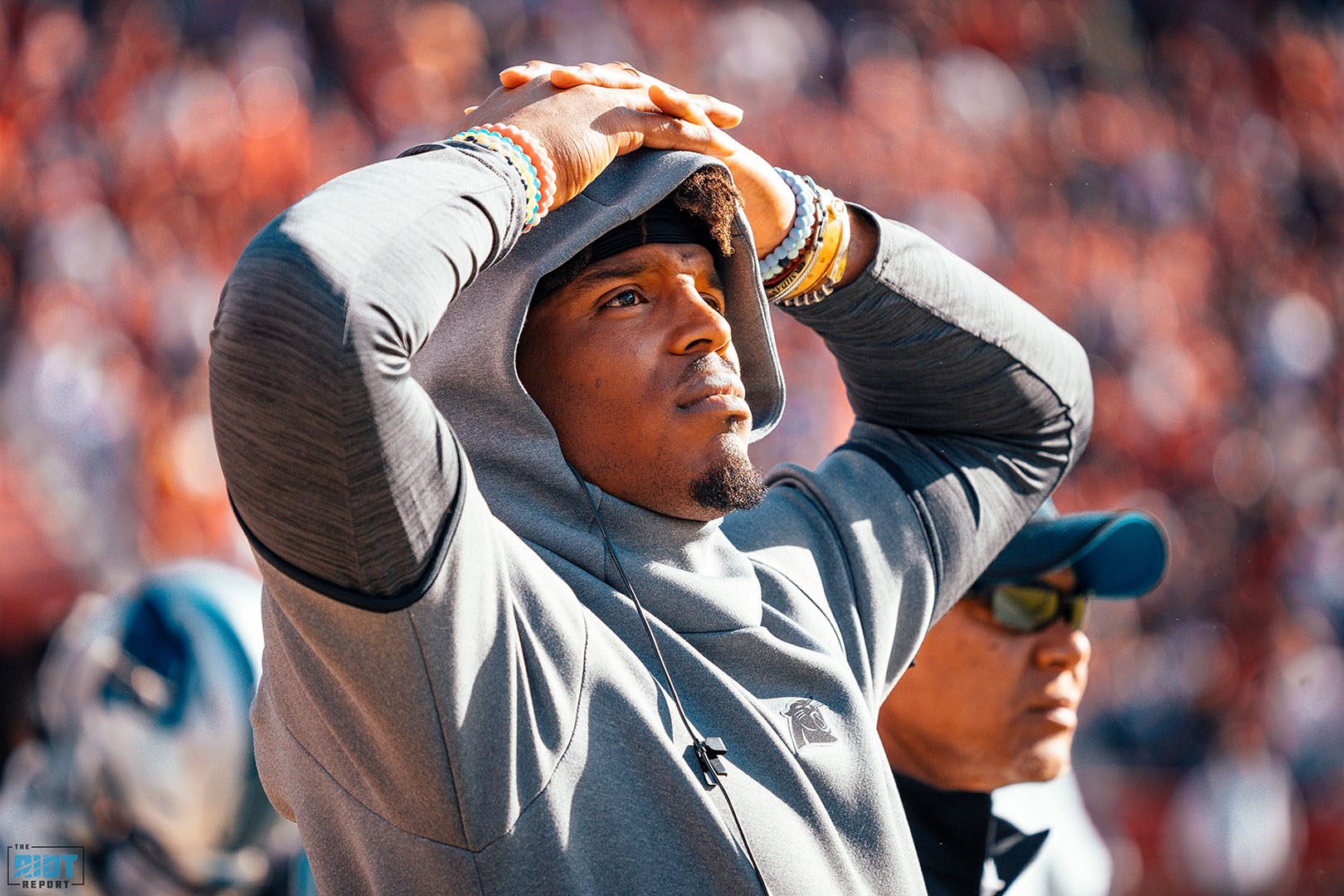 Rivera may not want to hear the questions – but they need to be asked, especially after a blowout loss in San Francisco revealed two truths:
It will be imperative that the Panthers win every game possible for the next month, starting with a home test against the 4-4 Titans this Sunday – the Panthers are now 2.5 games behind the New Orleans Saints in the NFC South and two games in the win column out of the wild card race in a jam-packed NFC and still have two games against the Saints, a visit from the Seahawks and a trip to Lambeau Field remaining on their schedule. Of their nine remaining games, only three are against a team with a losing record and the Panthers have already dropped to 2-3 in the NFC, which may be a crucial tiebreaker down the line.
Kyle Allen is an inexperienced backup quarterback who played very well over the past month, but struggled mightily against one of the top defenses in the NFL – the San Francisco defense has given most teams fits, but Sunday's game proved that a healthy Cam Newton gives the Panthers a chance to win that Allen, who has managed games very well over the past month and guided the Panthers to a winning record while his starter rehabbed an injury – just doesn't provide. Allen shouldn't shoulder the blame for the loss, just like he shouldn't have been credited for the wins – the defense that won them their Week 6 game in London with seven sacks and seven turnovers lost them this one by allowing the 49ers to pick up yardage in huge chunks and score 27 in the first half, but any question of whether the Panthers would leave Kyle Allen as the starter if Newton was ready to return because Allen had the 'hot hand' were likely extinguished as Allen threw three interceptions, was sacked seven times and had a quarterback rating less than 30 in San Francisco.
"I think he tried a little bit more than he needed to," said Rivera. "The thing that young players have to understand is there's no 24-point play. You've got to make them one play at a time, and you've got to make them one score at a time and take what they're giving you. If they're giving you five-yard check downs, take the five-yard check down."
"He's a young quarterback and he's learning. He's done a great job for us. As a starter, he's 4-1."
Allen was more succinct when summing up his day.
"It's football," said the always even-keel quarterback. "Stuff's not always going to go your way."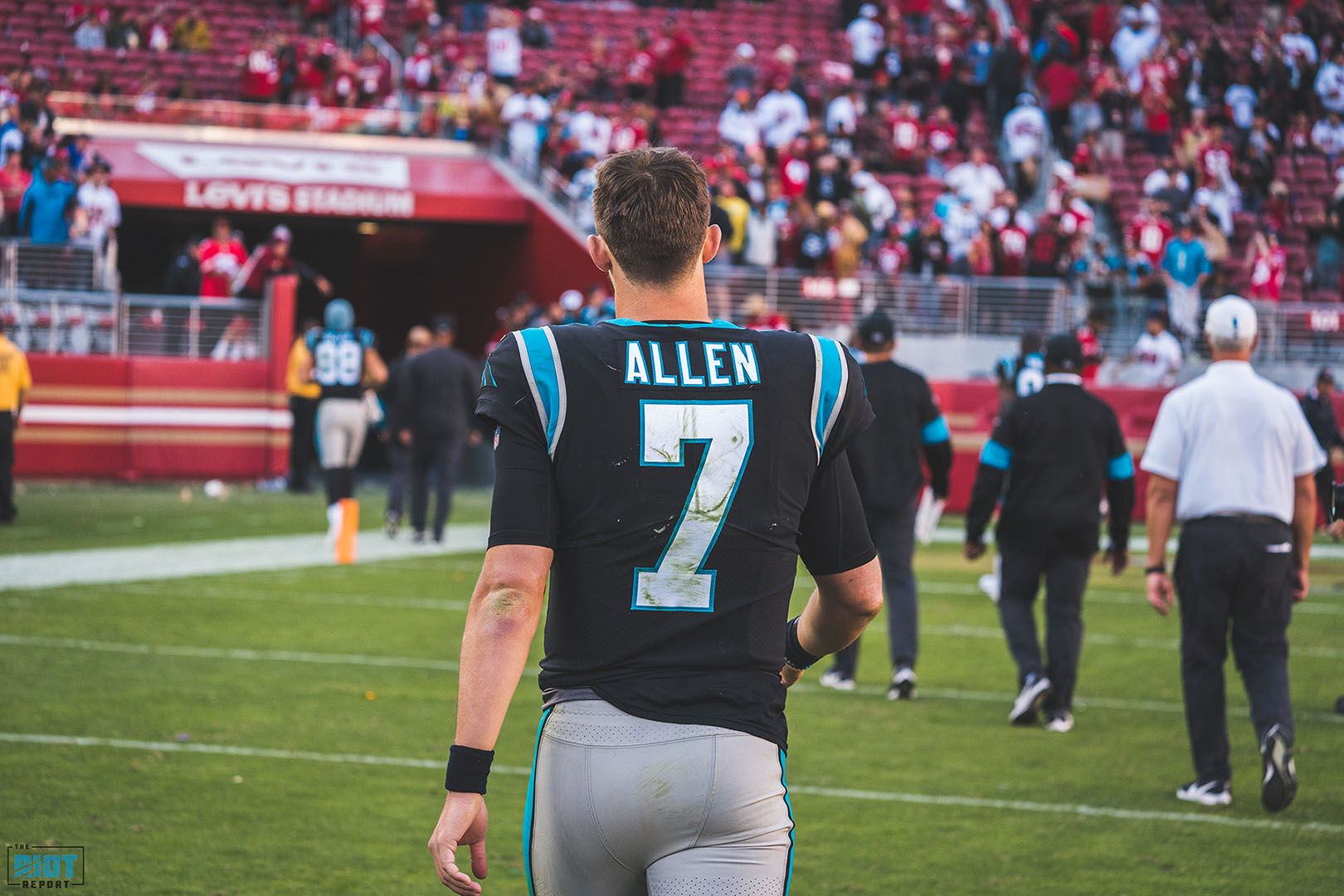 There wasn't a whole lot that went the Panthers way on the field at Levi's Stadium as the 49ers dismantled them from both an offensive and a defensive standpoint. But watching Cam Newton slowly jog the sidelines in a blue hoodie – something that the quarterback with the most rushing touchdowns in NFL history revealed that he was too injured to do during Weeks 1 and 2 as he tried to gut through a Lisfranc injury – and then go through warmups before the game, throwing passes to the left and right sidelines, taking three- and five-step drops, he certainly looked like a quarterback whose rehab is slowly morphing into football activities.
In the past week, Newton has both worked on the side during each day of Panthers practice with trainers and then traveled with the team, standing on the sidelines with an earpiece, interacting with receivers and Allen on the sidelines as he tried to provide whatever help he could while wearing a cut-off grey hoodie instead of a jersey; this has been the first week that he's been deemed healthy enough for any of these activities.
https://t.co/6pQxHqqQKC pic.twitter.com/to0VqWnFHM

— Bill Voth (@PanthersBill) October 27, 2019

While Newton may not be ready to return this week against the Titans – even if he's able to participate in practice, he won't have thrown a pass to his pass catchers in almost 50 days – the questions about the Panthers' quarterback are going to intensify this week after Nick Bosa and the 49ers turned Kyle Allen into a pumpkin on Sunday.
But it's not only questions about this season – the Panthers would like to see what a healthy Cam looks like before making huge, franchise-altering decisions this offseason; the team could release Newton after 2019 and clear almost $20m in cap space, but Newton's camp will almost certainly be looking for a contract on par with someone who undoubtedly has the most famous face in Charlotte sports history.
That's without mentioning Tuesday's trade deadline – social media has had Cam being traded around the league for weeks, although those voices grew quieter with each Allen miscue on Sunday.
But as the Panthers packed their bags and prepared to board what was assumedly a long and quiet flight after a disappointing cross-country trip, Cam Newton was one of the final players to leave the Levi's Stadium locker room and he answered only one question from reporters as he strode away – how are you feeling, Cam?
"Good."
Expect more questions – and, hopefully, more answers – soon.