The Panthers are certainly going to look hard at drafting a quarterback in the first round of the 2021 NFL draft – that is, if they haven't already traded their first round pick away for one – but with so many teams in front of them in need of a signal caller, the Panthers could be faced with a draft board devoid of top quarterbacks come the eighth pick.
If this does happen, the Panthers may well decide to try and trade back and accumulate picks – but they could also take the best player on their board in an attempt to keep adding talent with a view towards adding a quarterback in 2022.
If they do take this approach, what could a draft class look like where the Panthers pass on quarterback all together and look to rebuild what is still a somewhat fragmented roster?
Well, we've had a go at projecting exactly that, so without further ado…
8th Overall Pick: Patrick Surtain, CB (Alabama)
It is still unclear exactly how much of Seattle's approach from the past decade is going to be brought to Carolina with new GM Scott Fitterer, but one of the core building blocks of Seattle's success in their early years under Pete Carroll was down to their secondary, and this was an area that they showed a willingness to invest significant draft capital into. While that shouldn't mean that the Panthers have to do exactly what Seattle did and draft a lot of defensive backs, when arguably the top player on the board is a defensive back at eight, that might be too much for Fitterer to pass on.
Surtain certainly fits the mold of what the Panthers' coaching staff look for in a defensive backs, as he has great length and ball skills and enough deep speed to run vertical with receivers in zone coverage. While his effectiveness in man coverage is likely to depend somewhat on the match-up he gets, he looks to be a great fit in the Panthers' largely zone-heavy defense which, similar to Seattle's, places a greater focus on redirecting receivers and generating turnovers on the back end than locking down opponents with tight man coverage.
This might not be the pick that every fan would want entering day one, but Surtain looks to be a foundational piece for a team running a defensive scheme like the one in Phil Snow's playbook.
39th Overall Pick: Richie Grant, S (UCF)
The Panthers have been linked to Grant a lot lately, and it makes sense for a couple of reasons. Firstly, having released Tre Boston the Panthers now have a need at safety and finding a versatile player who is able to cover deep and also drop down around the box would be another big step for a young and talented defense. Secondly, Grant was really impressive at the Senior Bowl, and clearly made a real impression on the Panthers' coaches – that, combined with what he shows on tape could be enough to push him to the top of the list in the second round.
Grant doesn't have as high a ceiling in coverage as some of the other top safeties in this class, but he flashes a really nice reading of the game and has the ball skills to be a productive player on the back end. He also showed the potential to be an effective player in man coverage from the slot, though this is an area where he will need to make further technical improvement.
He is unlikely to ever be a superstar in the way that Earl Thomas was for Seattle, but he should be a quality starter with the kind of versatility that the Panthers prioritize defensively.
73rd Overall Pick: Darius Stills, DL (West Virginia)
Even though it seems clear that the Panthers do have some interest in bringing KK Short back after releasing him last month, interior pass rush is a huge need for the Panthers and an area where the Panthers really struggled last year in Short's absence. Darius Stills is certainly something of a project but he flashes a lot of natural talent and is somebody that Matt Rhule has spoken very highly of in the past when he had to coach against him at Baylor.
#Baylor coach Matt Rhule on #WVU NT Darius Stills: "He is one of the best players we've played against….he's everything that I thought he was going to be and (Dante Stills), his brother, lights out.

Darius had 10 tackles (8 solo) and 3 sacks. Dante had 2 sacks.

— Sam Khan Jr. 😷 (@skhanjr) November 1, 2019
Stills needs to work on his pad level, as this did limit him at times, but he shows good quickness and power and flashes some nice pass rushing moves and also uses his hands well in the run game to work into gaps and create penetration. He could do with showing more consistent arm extension but this is likely something that will improve naturally if he can work on his pad level, and if he is able to continue to add to his pass rushing repertoire then his ceiling is very high.
Stills would probably be best suited to playing a more minor role early on, as he does need to work on some things technically, but at this point in the draft the Panthers could take him without the expectation of him starting right away and allow him to develop into a long-term partner for Derrick Brown on the interior.
4th Round Pick: Chris Rumph, EDGE (Duke)
While the Panthers have an exciting young pair of starters on the edge in Brian Burns and Yetur Gross-Matos, with the release of Stephen Weatherly and Efe Obada a free agent, the Panthers' depth at the position could do with some bolstering. While this is something that they could look to free agency for, if a player with Rumph's upside is still on the board at this point then it might be hard for the Panthers to pass over.
Rumph is another project player, as he was used all over the place in Duke's defense and will likely need to add a little weight to be his best self in the NFL. What he does have, however, is good athleticism with the burst, bend and power to create real issues for tackles in pass protection and flashes of the hand usage to generate leverage with technique as well.
The Panthers showed last year that they are willing to draft athleticism and then work on coaching technique, and Rumph would be yet another pick along those lines.
5th Round Pick: Amari Rodgers, WR (Clemson)
OK, so the Panthers probably aren't going to only draft defensive players for a second consecutive draft – but it's about this time when those storylines will start up.
The Panthers have a very good pair of starting receivers in DJ Moore and Robby Anderson, but with Curtis Samuel hitting free agency they have an even greater lack of depth at the position than they did last year. Ideally, they would find a possession receiver to play on the outside and allow Anderson to spend more time in the slot, but you have to draft what is there and not what you want to be there, and the strength of the 2021 receiver class outside of the very top prospects, is the number of quality route runners from the slot, and Amari Rodgers is one of the very best of these.
Rodgers is very athletic, with the speed to threaten deep, the physicality to handle contact through routes and the quickness and change of direction to create real issues for defensive backs as a route runner. He also has great hands, and while he is unlikely to offer a jump-ball option in the red zone he does a great job of adjusting to balls that aren't perfectly on target, and is a genuine threat after the catch. Most impressively though, he shows real ability as a route runner and while this is something he needs to apply to a fuller route tree he has the potential to be a key part of an NFL offense.
If he is still on the board at this point in the draft, this pick should be a complete no-brainer.
5th Round Compensatory Pick: Jack Anderson, OG (Texas Tech)
Even if the Panthers do bring back a number of their offensive line free agents, or even add to the position group in free agency, they are going to need to get younger and deeper on the offensive line, especially on the interior. While Anderson is not somebody who should be expected to come in and compete for a starting role, he showed some really nice things at the Senior Bowl and with further technical improvement has the potential to develop into a starting option with time.
On tape, Anderson shows pretty good foot speed and good hand location with his punch with pretty good arm extension and a nice understanding of leverage in the run game. He does need to work on his stance, and this will be the main thing that prevents him from seeing the field early, as he tends to play with a slight forwards lean and a narrow base which makes it hard for him to recover laterally and makes him vulnerable to power counters, but if he can work on this then he shows starting-caliber potential at either guard or center.
6th Round Pick: Demetric Felton, RB/WR (UCLA)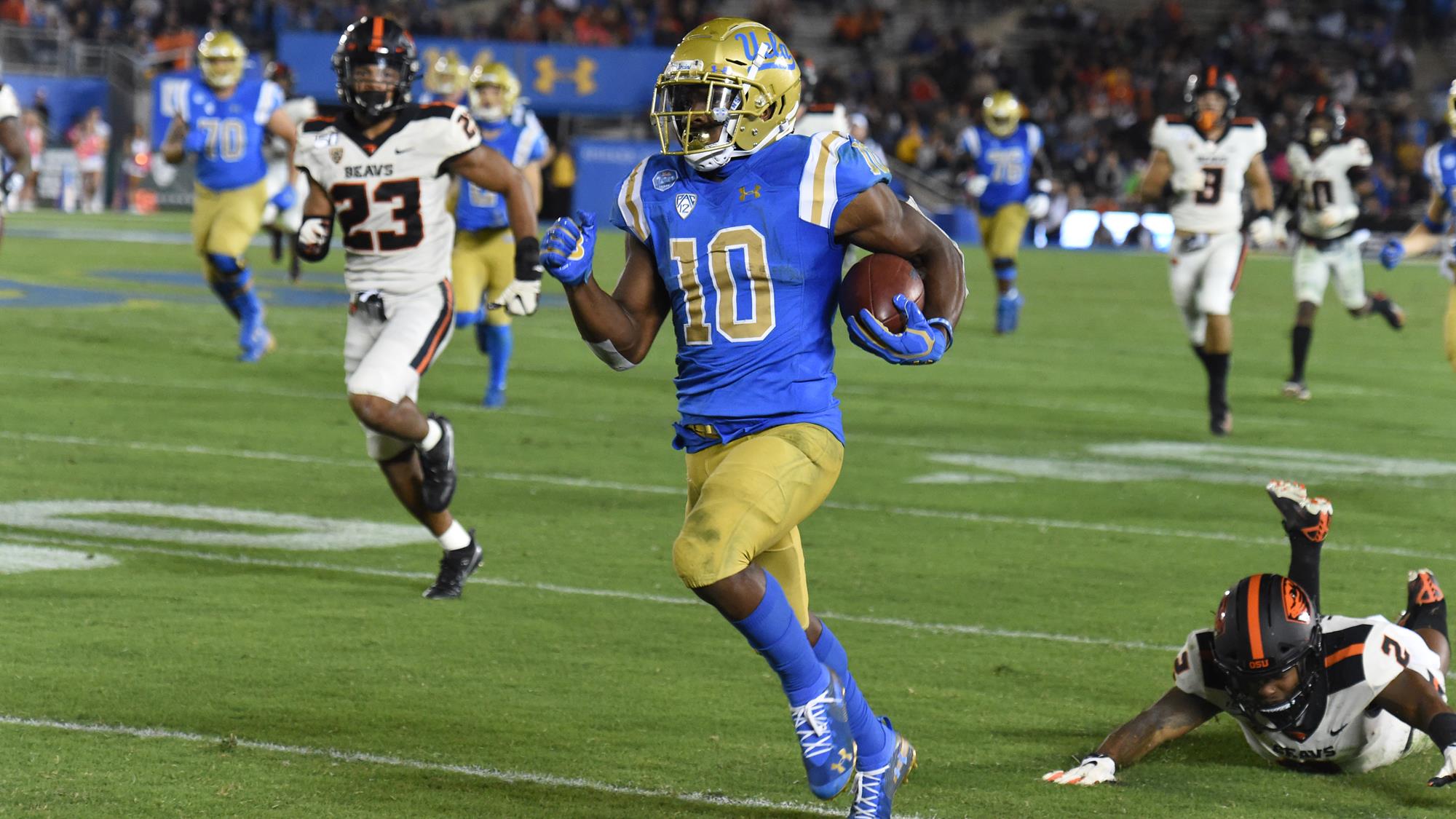 Talking of players who had good Senior Bowls, Felton was a real stand-out in receiver drills, proving that he can be a legitimate NFL receiver as well as being able to carry the ball from time to time. While Rodgers would help with the expected loss of Samuel in free agency, Felton would allow them to create some of the matchup issues for defense that they were able to generate with Samuel, and if this offense is going to start using more four and even five receiver sets in Joe Brady's second season, then they are going to need to add more options at receiver.
Felton is going to need some time to continue to add to his route running repertoire, but he already shows both the athletic traits to be successful but also a lot of very high-level route running nuances. To go with this, he shows good quickness and change of direction with good hands and the kind of after-the-catch ability you would expect from a former running back. The Panthers will already have got a chance to judge Felton's coachability at the Senior Bowl, and if they think he is a fast learner then his upside will be hugely appealing, especially at this point in the draft.
6th Round Compensatory Pick: Quintin Morris, TE (Bowling Green)
The Panthers clearly want to add to their tight end group, having struggled to get any production from the position at all last season, and while they are probably going to have a reasonable interest in what looks to be a decent free agent class, they could also look to the draft to find a player to develop given that Ian Thomas will be entering the final year of his contract.
Morris is yet another player that the Panthers will have familiarity with from the Senior Bowl, and while he isn't someone who is likely to play much on offense right away he is somebody they could look to develop behind a veteran on a short-term deal.
Morris is a pretty good athlete, with the quickness and vertical speed to threaten down the seam, and shows good hands and an ability to be a factor after the catch. As a route runner, he still needs quite a lot of work but that is not unexpected given that he comes from a school that didn't exactly run the most NFL-suited offense. As a blocker, he does show some ability and uses his hands well with a real willingness to get involved but he does need to work on his footwork to make the most of his ability in this regard.
Day three picks are rarely game changers, and Morris is unlikely to be any different in that regard, but he is somebody who should be able to come in and contribute on special teams right away with talent to work with as a receiving tight end.
Even if the Panthers don't draft a quarterback, they don't have the picks to address all of their other needs, but a draft class like this offers an example of what they might be able to achieve if they focus on continuing to build their defense through the draft, especially in the early rounds, and then look to find some contributing pieces on offenses in the later rounds.
(Top photo via University of Alabama Athletics)