It's always difficult to conceptualize something you haven't experienced – it is understandable that when confronted with something new or different we try to find things that we have experienced as a reference point. If you think back to a time when you've had to describe something to somebody, you'll almost certainly have attempted to compare it to something they are familiar with.
It's no different when we talk about the NFL.
Player comparisons in draft profiles are an easy comparison, and while these projections rarely look good in hindsight they help readers to imagine what the player might look like on their team, and so are an important part of how we discuss various parts of the game. It was therefore inevitable that when Matt Rhule arrived in Carolina all sorts of different comparisons were going to be made, but over the past year, and aided by former Seahawks' exec Scott Fitterer being brought in as GM, the one comparison that has stuck is Pete Carroll – David Tepper even made the comparison himself multiple times.
"Just generally speaking, working for a college coach and some of the things that that brings with you, the development that Carroll's had with some of his players," Tepper said at the time of Fitterer's hire. "Coming from where he came from and dealing with Carroll and the coach out there and the type of structure that we want to improve on."
"That's probably one of the main reasons for the choice."
Given David Tepper isn't generally one to make off-the-cuff comments, that seems like more than just a coincidence.
There are certainly similarities – both were successful at the college level, both show a willingness to be open to new approaches and ideas, and both have made their name as team builders rather than as Xs and Os wizards.
For the Panthers, however, this comparison isn't just a nice narrative, it's the only recent example of a coach successfully navigating the path that Matt Rhule finds himself on currently. The path of rebuilding a team from the ground up without being able to fall back on schematic superiority. So how did Carroll manage it, and what lessons do the Panthers coaching staff and front office have to take from this experience?
While there are other coaches of this era who have been able to have sustained success without having to be scheme-focused leaders, they are mostly coaches who inherited talented rosters that needed refining and directing to maximize their full potential. Mike Tomlin took over the Steelers after an 8-8 season but they were just a year removed from a Super Bowl and went 10-6 in his first season in charge. The Ravens might have gone 5-11 the year before John Harbaugh arrived, but were a year removed from going 13-3 and ended up 11-5 in his first season.
This is not to put down the highly impressive jobs that both coaches did, as both are excellent coaches that most teams would be very happy to have, but rather that the challenge they faced was a very different one to that faced by Carroll when he took over a Seattle team that had gone 9-23 over the previous two seasons.
Also unlike the other two, he didn't see some huge turnaround upon arrival in Seattle, as while the team did sneak into the playoffs with a 7-9 record in his first season, it wasn't until his third season that the Seahawks posted a record above .500.
What Carroll did right from his time in Seattle is something we have already seen in Carolina prior to Fitterer's arrival – tearing things down to build them back up. Only 25 of the 60 players (42%) from 2009 Seahawks' roster/IR list made it onto the 2010 Seahawks, and just 12 (20%) onto the 2011 Seahawks. For the 2020 Panthers the retention rate was slightly higher at 45%, but with so many hitting free agency and Boston, Short and Palardy already released, that 20% figure is looking decidedly manageable.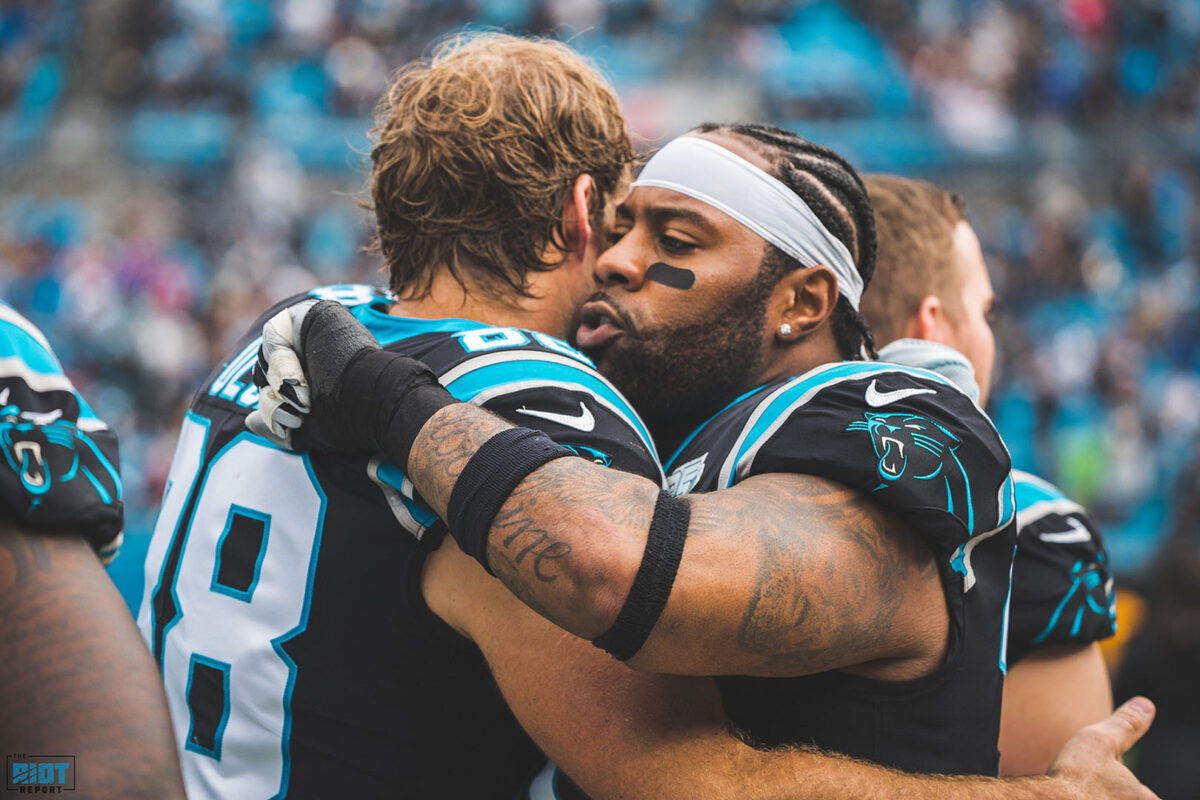 Of course, you can't tear everything down without having to build things back up, and while the Panthers have made some promising steps in the first year of the Rhule era, especially through the draft, it is how they are able to continue to add to this that will likely play the biggest part in how things develop moving forward.
Seattle's first three drafts under Pete Carroll and GM John Schneider are almost unbelievably good, as while they did have a couple of misses in the mid rounds, in a three-year period they were able to add Russell Okung, Earl Thomas, Golden Tate, Walter Thurmond, Anthony McCoy, Kam Chancellor, James Carpenter, KJ Wright, Richard Sherman, Byron Maxwell, Malcolm Smith, Bruce Irvin, Bobby Wagner, Russell Wilson, Jeremy Lane and JR Sweezy.
To be blunt, if the Panthers next three draft classes are anywhere near that good, things will probably be OK no matter what kind of coach Rhule turns out to be. However, aside from getting very fortunate in that regard, there are also some clear trends in the way the Seahawks looked to build.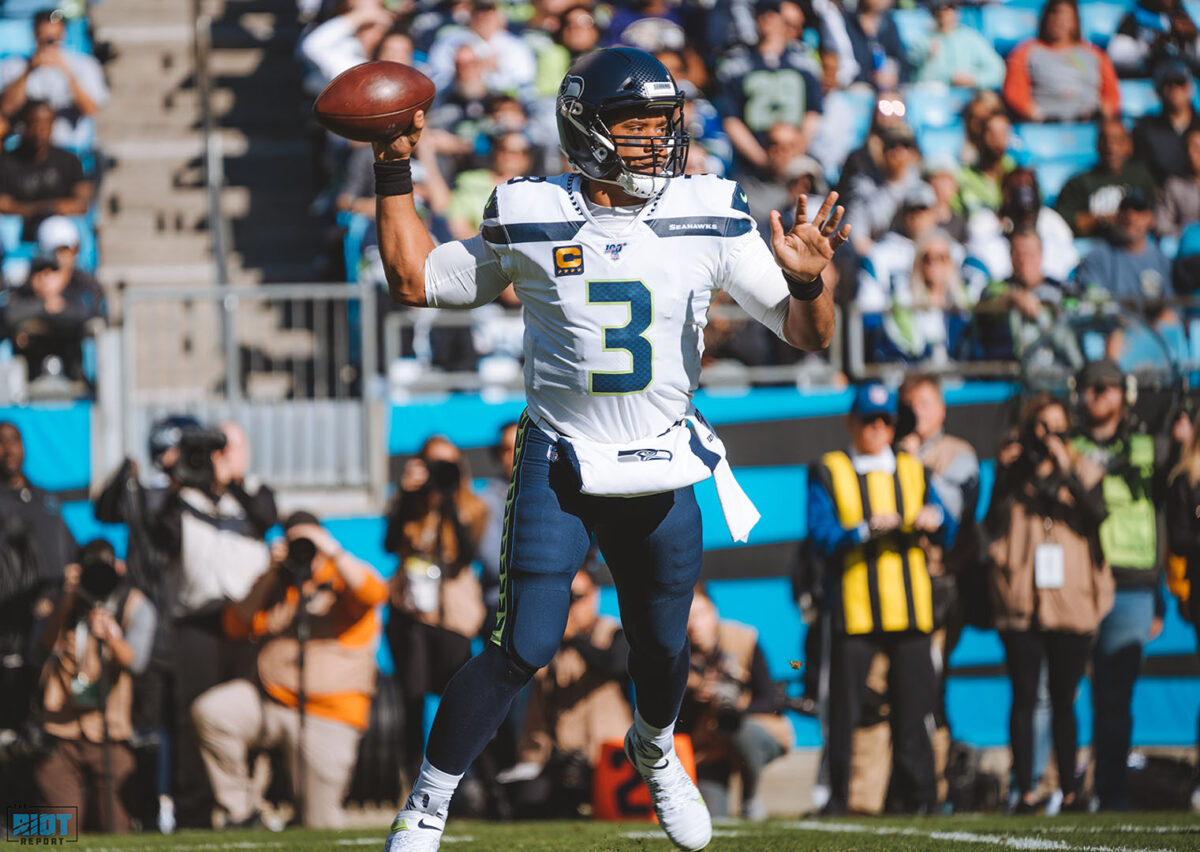 Firstly, they prioritized the offensive line and defense in the draft above everything else.
In their first three drafts, the Seahawks had eight picks in the third round or higher, and six of them went on either offensive line or defense including all four first rounders. Overall, in these drafts the Seahawks took 18 defensive players (including eight defensive backs) and just ten offensive players, four of whom were offensive linemen. While it's unlikely the Panthers go all defense again in 2021, the focus on building defensively and in the trenches through the draft was a clear part of the success that eventually led Seattle to a title.
The other key point to make here is that in three draft classes the Seahawks selected 28 prospects, and given everything that Scott Fitterer and Matt Rhule have said so far this offseason, this approach of adding extra picks seems to be something that they plan to use in Carolina as well.
While this is a useful tactic for all teams to take, this is especially valuable for teams early in rebuilds, as with fewer veteran players locked into a roster spot they can afford to bring in lots of young players and then discard them if they don't work out.
Of those 28, a quarter never played more than one season in Seattle.
We saw some hints at this last season in Carolina as well, with fifth round pick Kenny Robinson failing to make the initial 53, though he was signed off the practice squad later in the season, and while the Panthers will certainly hope they are able to perform well, the only 2020 rookies that it seems safe to assume will make the 2021 roster are Derrick Brown, Yetur Gross-Matos, Jeremy Chinn and Joe Charlton.
The other part of Seattle's approach under Carroll and Schneider that doesn't get discussed enough is the way they approach the quarterback position early on. Scott Fitterer has already said in his introductory press conference that he believes in adding a quarterback every year, even if it's only as a UDFA, but the way the Seahawks aggressively looked to address the quarterback position until they hit on Russell Wilson should be noted by Panthers' fans.
When Carroll and Schneider were hired the Seahawks already had Matt Hasselbeck who had been with the team since 2001, and while he would eventually remain the starter the Seahawks also added Charlie Whitehurst, Philip Rivers' backup in San Diego for a 2011 3rd round pick and a pick swap in the second round of the 2010 draft, who they then signed to a two-year deal.
Following the 2010 season, the Seahawks let Hasselbeck walk in free agency and signed Tarvaris Jackson to a two-year deal to compete for the starting job with Whitehurst.
Jackson would eventually win the starting role and at the end of the season the Seahawks let Whitehurst go in free agency and signed Matt Flynn (Aaron Rodgers' backup) to a three-year, $20.5m deal to compete with Jackson for the starting role, before also adding Russell Wilson in the third round. When Wilson won the starting role, they then flipped Jackson to Buffalo for a 7th-round pick, with Flynn being traded to Oakland for a 2014 5th-round pick after his first season in Seattle.
The Panthers have already signed two free agency quarterbacks in Matt Rhule's tenure, and they have been actively pursuing a trade for a third with the expectation being that, if they are unable to secure a trade for a veteran starter, that they will look to address the position somewhere in the 2021 draft.
Being very busy at quarterback when you lack a franchise signal caller makes a lot of sense, as evaluating quarterbacks is very difficult, especially those who aren't established NFL starters – so rather than trying to increase your odds in the lottery through number patterns, it's easiest just to buy as many tickets as possible.
While a blockbuster trade for Deshaun Watson would be largely unprecedented in NFL history and so hard to compare to what the Seahawks had to consider, there is one common thread in what the Seahawks did at quarterback early on.
While they took a lot of shots at quarterback, they didn't do so early in the draft with significant expenditure either in the form of draft capital or money. While we know from what they reportedly offered for Matt Stafford that the Panthers plan to be more aggressive than this in terms of trades, the pattern of making several low risk-high reward moves at quarterback is something that the Panthers would do well to copy.
It is important to note as well, that while the Seahawks were very good at evaluating talent (and also got quite lucky), this was aided by a clear stylistic preference in how they wanted to play. Just because Carroll and Rhule aren't the guys designed every last aspect of their schemes doesn't mean you have to lack an identity, and Carroll's desire to built a defense that would play aggressive zone defense meant they could go out and focus on getting players who fit that specific identity that other teams might not see the value in.
This is something we have already seen a little from Rhule, as it is clear they they have a similar vision at outside corner, prioritizing length and ball skills over players more suited to man-heavy schemes, and the ability to create a clear stylistic vision across the roster is going to be an important part of the process. This is something that offensive line coach Pat Meyer hinted at when talking to The Riot Report during the Senior Bowl:
"Do we want these big heavy strong guys that are maulers that can move guys, but maybe they don't redirect as well?" asked Mayer. "Or do we want a quicker guy that can get up to the second level or can reach the first level and can reach block on certain plays?"
While this is all good, there are also a couple of lessons to be learned from where the Seahawks have struggled since reaching the pinnacle during the 2013 season, and that doesn't just mean not handing the ball off to Marshawn Lynch on the goalline.
Having done such an excellent job of building the foundations of their roster through the draft, driven by an approach of roster churn and trying out as many prospect as possible, the Seahawks have since struggled to then add the finishing touches to their roster through the draft. While some of this has been hindered by the way in which they have looked to swap draft picks for veteran players, this has become something of a vicious circle as they have been forced to look for veteran additions to compensate for their struggles in the draft.
Having had such success in their first three drafts, the Seahawks have managed to find just three Pro Bowl players with their 77 draft picks since – and while their high-volume approach was crucial to building their success, when you have a roster that is ready to compete you need to be able to find that handful of players to take you over the edge and to replenish your stars as they begin to age, and this is something Seattle has really struggled with.
Some of this might be luck, and picking late in the draft doesn't help, but if the Panthers can get to the point where they are ready to compete they need to do a better job in this regard.
The other difficulty that all teams without an offensive playcaller as Head Coach face is that there is always going to be a difficulty faced by the fact that whenever you get a good offensive coordinator they are likely to get poached as a Head Coach fairly quickly. Seattle haven't been victimized in this regard in the way that some have, but they have certainly been limited at times by their offensive play design and play calling, and without a player of Wilson's caliber it is hard to imagine that they would have been able to have success running some of the offenses they have in recent years.
The Panthers have already experienced this somewhat, with a number of their assistants being poached for more senior roles in college football and offensive coordinator Joe Brady interviewing for several Head Coach roles after only one season as a play caller.
If Brady is able to make further strides as an offensive coordinator in 2021, it's hard to imagine that he will stay in Carolina long, and while Phil Snow seems fairly interlinked with Matt Rhule at this point, Rhule will need to show an ability to identify and develop offensive playcallers if he is to have sustained success at the very highest level.
There is no easy five-step guide to building a Super Bowl champion, and the difficulty of the path ahead really shouldn't be underestimated, but in Pete Carroll the Panthers have a beacon of hope of how you can build a persistent contender from the ground up without having to rely on schematic superiority.
While Matt Rhule will undoubtedly carve his own unique path in the NFL – for better or worse – with Scott Fitterer in tow, they would be foolish not to try and learn the lessons from Carroll's time in Seattle. If nothing else, the Panthers certainly seem aware of the comparison and aren't shrinking away from it.
Now all they need is their Russell Wilson.
(Top Photo via Brandon Todd/Carolina Panthers)