The first practice of Carolina Panthers training camp in full pads is in the books. It was a small step in getting to see how the team's roster will take shape, but one word has been emphasized all offseason: speed. The team is running practice sessions a little faster than previous years, and the Spartanburg humidity is beginning to take it's toll on the players, especially on their first day in full equipment. Also starting to take it's toll on the players? The no contact rules. The team started the day with an Oklahoma drill (a circle of players surrounding two guys hitting each other one-on-one), with shouts and cheers going up with every hit, but when Ron Rivera called for defensive end Julius Peppers and tight end Greg Olsen to jump in the circle, the all-pro tight end joked that his helmet snaps weren't working.  Tackle Dan France and safety Dezmen Southward, both fighting for a roster spot, exchanged some words and had a small scrum near the end of practice, which in turn led to Jalen Simmons taking regular season size hits on the next two plays. The coaches whistled practice over, which spared the team any more violence. As we're doing all summer, here are the main storylines from today's practice.
Matt Kalil Coming Along Slowly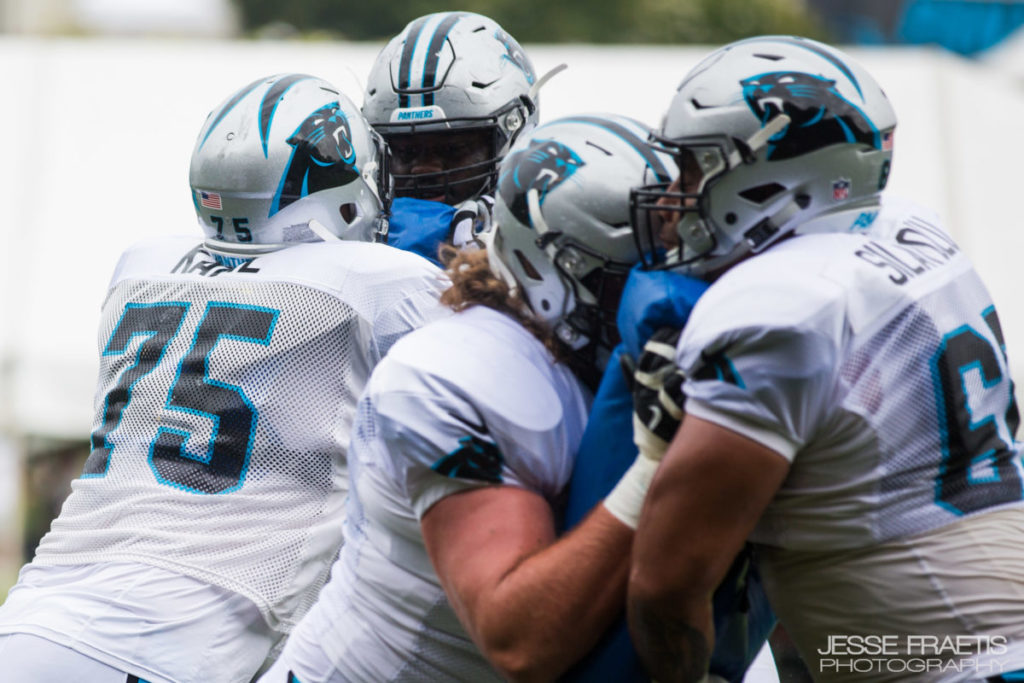 One of the biggest storylines of the entire offseason has been the free agent signing of left tackle Matt Kalil to a five year, $55 million contract and his development across the offensive line. Kalil was erratic during this practice session, matching up with Mario Addison multiple times, occasionally allowing penetration to the quarterback (one play in particular, Addison was passed him almost instantly), but for the most part being able to keep Addison in front of him. Coach Ron Rivera said, "I think Matt's doing pretty good; i think one of the biggest things is he's gotta get used to the way we practice, he's gotta get used to the humidity a little bit down here, you can see it affects him a little bit near the end of practice." This was clear as Amini Silatolu, recently moved to left tackle, took a few snaps with the first team near the end of practice. While Kalil's footwork was spotty at times, Rivera says he feels like one of the most important groups on the entire team is on it's way to where it should be at this point in camp.
"I really like the way the offensive line is coming together."

-Head Coach Ron Rivera
Colin Jones' Big Day
Backup safety and special teamer Colin Jones had a nice day today, coming up with an interception off a pass tipped at the line by Vernon Butler and putting a big hit on Brenton Bersin after a catch by the fan favorite wide receiver. Jones and Marlowe seem to have the backup safety roles, and Jones strong play makes it easier to fathom a world where Mike Adams or Kurt Coleman go down with an injury. Speaking of Adams, he wasn't heard from a lot today, and when it comes to pass coverage, no news is good news.
Nagging Injuries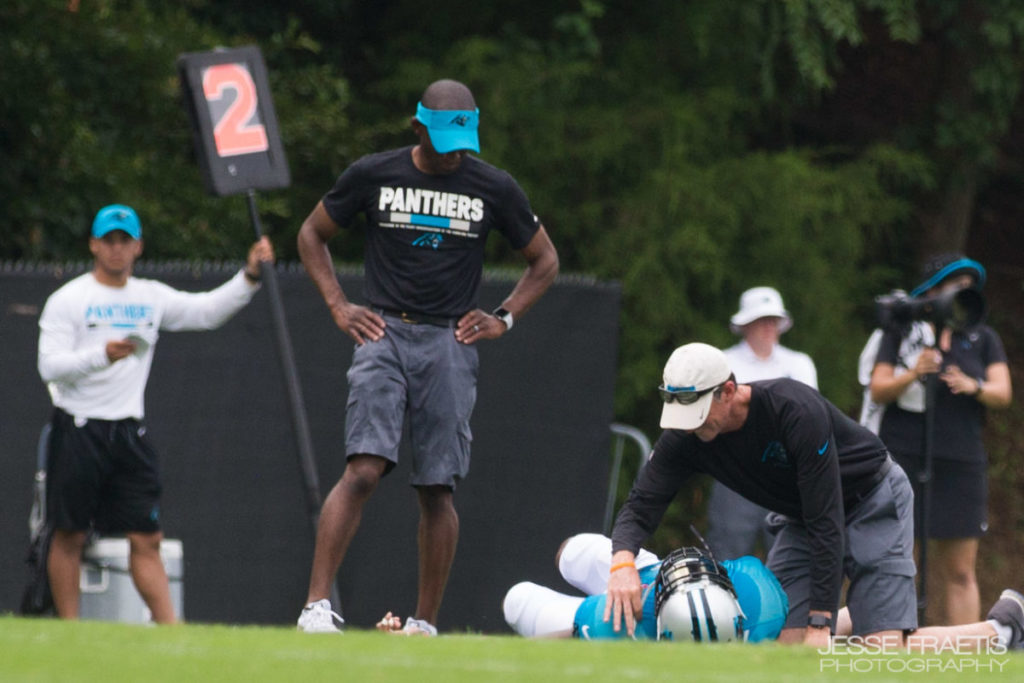 Add Curtis Samuel to the list of players not to practice today, joining cornerbacks Captain Munnerlyn and Corn Elder on the shelf, Munnerlyn and Samuel with tight hamstrings, and Elder with an undisclosed knee injury. No cramps today, but wide receiver Damiere Byrd and safety L.J. McCray had a scary collision going up for a jump ball in the middle of the field. Both players returned to practice after a few plays off, Byrd even staying on the field after practice to field additional punts. Defensive tackle and kickball star Toby Johnson was also limited.
UPDATE: Bill Voth of Panthers.com is reporting that an MRI reveals a patella stress fracture for Corn Elder. While no timetable has been set, estimates are between 4-6 weeks recovery time, which may make him available for the Week 1 game vs. San Francisco. With almost no preseason practice time, this certainly puts Elder behind the curve. Undrafted rookie Cole Luke split Elder's reps with veteran Colin Jones at Friday's practice.
Another Day, Another Wide Receiver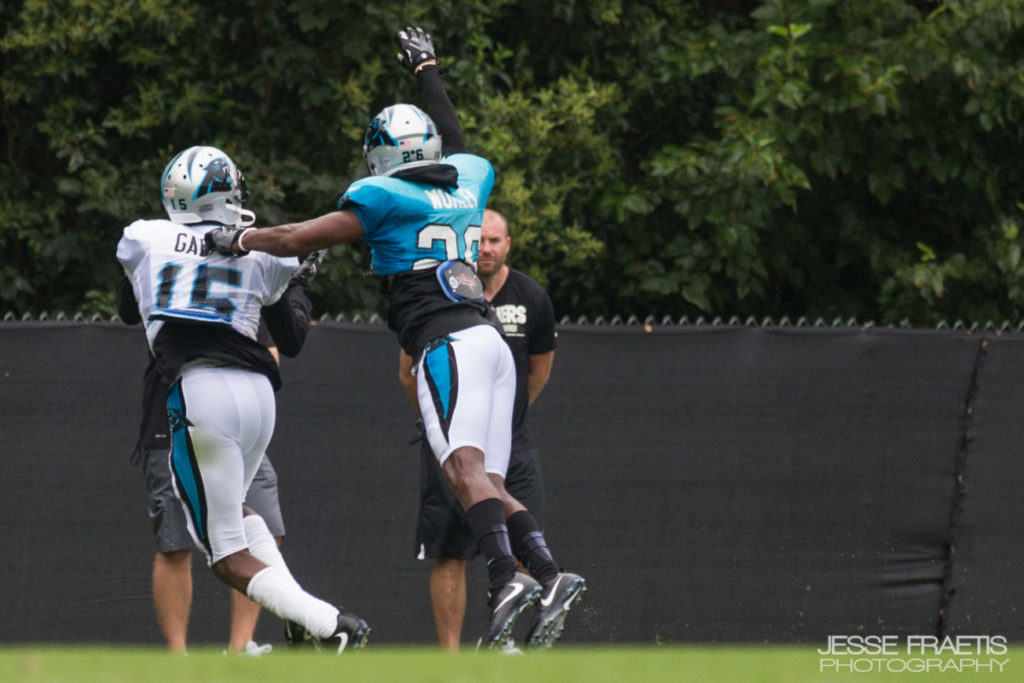 Austin Duke was the headline of the first practice and Damiere Byrd had his highlights yesterday, but today belonged to Keyarris Garrett. Garrett owned one-on-one drills, twice making sliding catches near the endzone and getting three consecutive targets from Cam Newton while they were on the field at the same time during team drills. Garrett is one of many fighting for the fifth wide receiver spot, and special teams may ultimately be the deciding factor, especially with Byrd one of the options to return punts. Showing out in practice sessions can help to make you more memorable to the coaches, so making touchdown grabs that electrify the crowd certainly don't hurt his chances.
Block CMC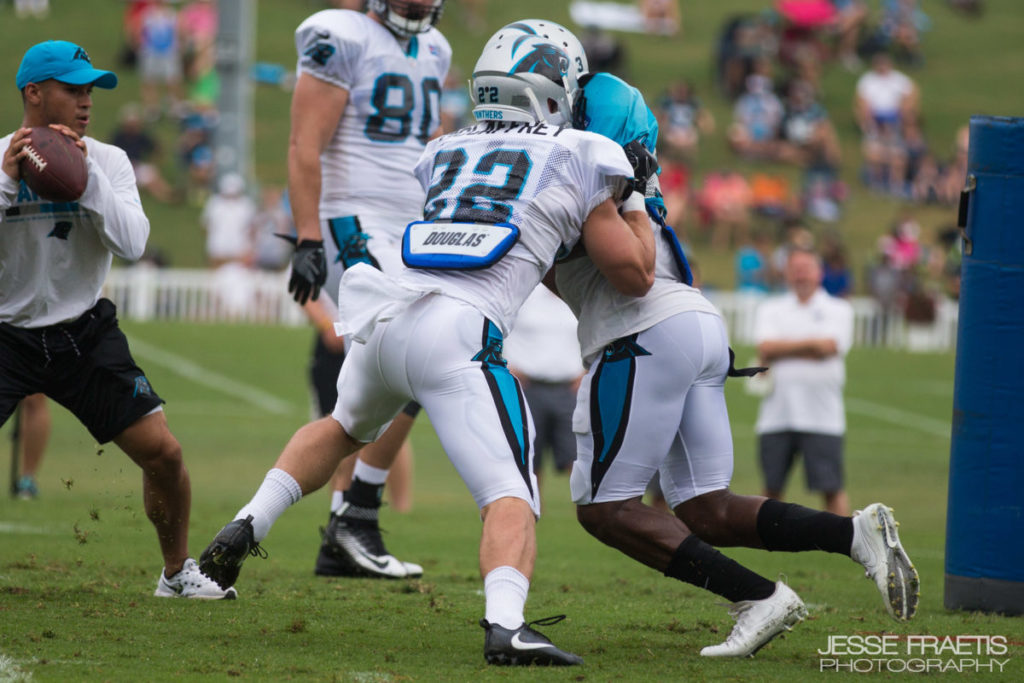 Rookie Christian McCaffrey is always an interesting topic of conversation, and many were anxious to see the running back doing full contact drills with NFL players, and the electric running back didn't disappoint. Appearing to be on the field for most team drills and taking snaps with both starting quarterback Cam Newton and backup Derek Anderson, McCaffrey caught multiple passes in the flat and took handoffs from both quarterbacks. Seemingly every time he touched the ball, he was able to pull off a quick juke or move to allow himself some space. Cornerback James Bradberry said, "I (saw) him make a move today on Luke and another lineman; he made a pretty sharp cut and it made me give a little 'ooh ah' when he did it." In pass blocking McCaffrey struggled with linebackers, allowing Jeremy Cash to muscle past him, but when he was matched up with safety L.J. McCray, he held his ground until the coaches blew the whistle, which drew approving helmet slaps from his teammates.
Follow us on twitter at @RRiotReport for constant updates as they happen. Have questions or want us to focus on a specific player or matchup? Let us know in the comments!
Previous Training Camp Reports: