A little over ten years ago, the Panthers traded a third-round pick to the Chicago Bears for a 26 year old tight end who was coming of a 41 catch, 404 yard season. This spring, the Panthers signed a 26 year old tight end coming off a 31 catch, 438 yard season to a two year deal. Dan Arnold is not the same player that Greg Olsen was, but if any team has reason to be optimistic about the leap a tight end can make as they enter their prime, it's the Panthers.
In the nine seasons he spent in Carolina, Olsen was named an All-Pro twice, went to three Pro Bowls, become the first tight end in NFL history to record three consecutive 1,000-yard seasons and recorded a grand total of 524 catches for 6,463 yards and 39 touchdowns in the regular season, to go with another 35 catches for 488 yards and two touchdowns in the play-offs. That's quite some leap.
So, what allowed Olsen to take such a step in Carolina, and what does Dan Arnold need to do in order to turn an impressive training camp into a feature TE role?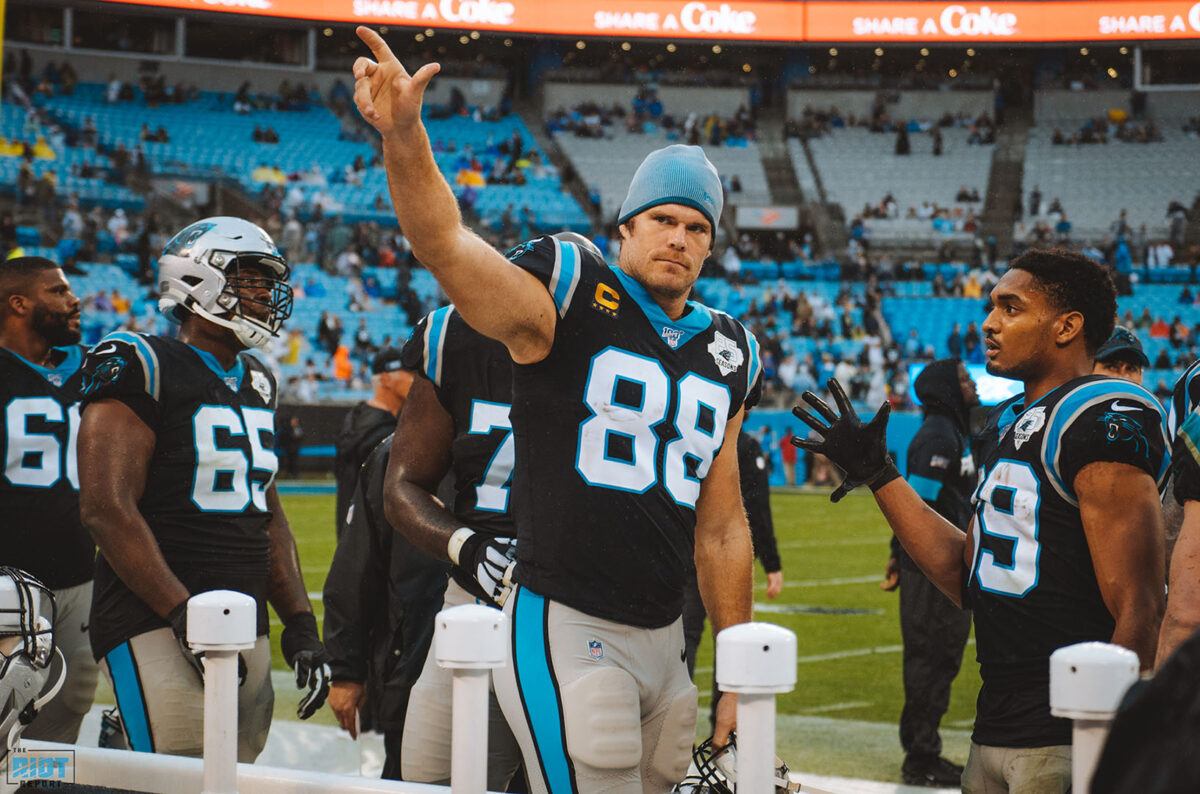 A large part of success in the NFL, for any position, is just opportunity. Through his first four seasons in Chicago, Olsen averaged just over five targets-per-game, and while that is not nothing, during his three-year prime in Carolina that increased to nearly eight targets a game. For Arnold, there is the potential for even greater change, as last season in Arizona he averaged under 3 targets a game, and while he is unlikely to see that jump all the way to the levels of prime Olsen in 2021, if he is able to maintain the same efficiency while increasing his targets to five per game then his numbers should jump significantly.
Where Arnold has an advantage over Olsen at this point is in how he has been used to this point. During his time in Chicago, Olsen averaged around ten yards-per-reception each season, a number which jumped to around twelve during his first season in Carolina and then stayed there. Arnold, by contrast, averaged a little over fourteen yards-per-reception last season in Arizona, and already uses his vertical speed as a major part of his game.
"I know what tight ends can do, especially when you have a guy that can stretch the field" explained Arnold. "That's kind of what I bring to this offense and what I like to use to my advantage."
What's more, Arnold also comes in further ahead with the offense than Olsen did back in 2011.
While Arnold comes to Carolina from Arizona, he spent the 2017 and 2018 seasons, as well as part of the 2019 season, in New Orleans, where he not only worked alongside current Panthers' offensive coordinator Joe Brady, but also played in a system very similar to what Brady now runs with the Panthers.
"It's a pretty similar offense from what I was doing in New Orleans" acknowledged Arnold. "Obviously Joe came from there and I was with Joe in New Orleans. It's pretty similar so it was a pretty quick study."
Arnold might not have arrived in Carolina as the biggest-name acquisition of the offseason, he is certainly not limiting himself with his ambition in terms of how impactful he thinks he can be in this offense.
"I can become the Ben Watson kind of guy back in New Orleans, Jared Cook, Jimmy Graham, those guys that played really well in that offense," said Arnold. "That's the next step for me and that's something I want to push myself to be every day."
There is admittedly quite a lot of work to be done before Arnold is considered in the same tier as those names league-wide, but there are a couple of key areas that he is focusing on in order to make the most of his opportunity in Carolina, and once again there is more than a small amount of similarity with Olsen's path a decade ago.
Firstly, Arnold is aware that in order to continue to increase the number of snaps he spends on the field he needs to improve as a blocker, and while Matt Rhule was insistent that they will run the ball with him on the field, he is probably never going to be confused for a fullback or even a blocking specialist like former Panther Chris Manhertz.
"He's obviously not a point-of-attack blocking Y (tight end)" admitted Rhule. "He has to be a functional blocker and a willing blocker, which he is."
Arnold himself is also under no illusions, acknowledging this is an area he is going to have to continue to work at as a converted wide receiver.
"Needs improvement, that's all there is to it." Arnold said about his blocking. "Each and every day I come in here I need to get better and that's something that I try and get better at no matter what."
The Panthers are currently listing Arnold at 240lbs, which is notably up from the 222lbs he measured in at during his pre-Draft process, and while there is a lot more to blocking than just adding weight, the fact that this is an area that he is going to have to continue to work at and hone shouldn't be surprising for a player that only converted to the position three years ago.
This mirrors the path taken by Olsen, who never ranked among the league's elite blockers, but who over his time in Carolina put in the work to continue to develop as a blocker to the point where he never had to come out of the game due to his blocking, something which therefore allowed him to play more snaps, see more targets and make more receptions. Like Olsen before him, Arnold is unlikely to take this step overnight, but if his blocking improves over time than that is only going to help him see an increasing role in the offense.
Arnold appears not only aware of the impact that improved blocking could make on his game, but also that a lot of what stands between him and a true #1 TE role is a lot of hard work and determination.
"I want to be the guy that can do it all, that's where I see myself at," said Arnold. "I'm not going to tell myself that I don't have the ability to block somebody. It really comes down to grit, whether you have the attitude to do it. Technique is always going to be one of those things but it's a mentality thing and that's a mentality that I have."
In the short term, Arnold's path is likely to also mirror Olsen's own development, sharing snaps with more recognized blockers while his blocking improves. In Olsen's case this was Jeremy Shockey while for Arnold it is likely to be some combination of Ian Thomas and Tommy Tremble.
For Olsen and Shockey, that led to a 2011 season where they combined for 82 receptions, 995 yards and nine touchdowns. If Arnold, Thomas and Tremble are able to get anywhere near that production as a group then that should be seen as a glorious success.
The other key part of Olsen's success in Carolina than Arnold appears determined to replicate was his relationship with Cam Newton. While the Panthers cycled through a huge number of receivers during Newton's time in Carolina, Olsen was the one constant who he was able to rely on throughout, and it was therefore no surprise that many of the Panthers' key completions during Cam's time with the Panthers were to Olsen.
Dan Arnold and Sam Darnold clearly have a long way to go before they are able to have that level of connection, but they are certainly putting in the work to build the best relationship they can in their first season together.
"I think being at Wofford definitely helps with that chemistry, spending a lot of time after hours just handing out, getting to know each other" explained Arnold. "Then also just spending time on the field working on certain routes, things that we want, getting good routes on air. The big one for us right now is just talking through 'where do you want the ball? Where are you thinking you/re going to put it against this defense?' Stuff like that. It's good that we've had a lot of time in practice to hash things out like that."
Of course, that trust and chemistry is going to have to be honed once they are able to get into live game reps against other teams in the preseason, but for now Arnold is determined to make sure that he is doing everything he can for Sam Darnold to feel comfortable looking for him when it matters.
"Just going out and making any play that I can" said Arnold of his approach. "Just telling Sam 'Put the ball up there somewhere and I'll go get it.'"
For 2021, the Panthers' tight end room is likely to continue to be a rotational of sorts, but while Ian Thomas appeared to be the next in line when Greg Olsen was released following the 2019 season the player who appears best positioned to become the Panthers' first true #1 tight end in the post-Olsen era is in fact Arnold.
Yes, he does need to improve as a blocker and continue to develop his relationship with Sam Darnold or whoever ends up being the long-term answer at quarterback but, as Greg Olsen proved a decade ago, tight end is a position where few players enter the league as a polished product and if Arnold is able to continue to work on his craft and make the most of the opportunities he receives in a new place then he too could be a significant piece of this new Panthers regime.
He certainly has a pretty good template to follow.
(Top Photo via Chanelle Smith-Walker/Carolina Panthers)