While much was made of Cam Newton throwing in front of the media for the first time, the reality is that the train continues to move down the tracks towards Panthers training camp in six weeks. Newton's throws to stationary targets and wide receivers who were not running routes against defenders had zip on them and his 'new throwing mechanics' looked remarkably similar to the Cam Newton we've been watching since 2011, but another step forward in his recovery from the shoulder issues that submarined the 2018 season is the opposite of the dreaded setback – a word that you can bet the Panthers are hoping doesn't have to be written in any recaps or dispatches or observation columns over the next few months.
By now, you likely know the saga of Newton's shoulder over the past three seasons, but the main takeaway from Newton throwing should be this:  A healthy Cam Newton means a team that is firmly in 'win now' mode has a chance to do just that come the regular season – and perhaps beyond.
Read more about Newton's day throwing here.

Here are some other things we noticed at today's minicamp session:
First to Practice Award(s) went to OL Kitt O'Brien and TE Ethan Wolf today – O'Brien has been out early for almost every practice session as he tries to make an impact and have his name remembered in an offensive line group that still needs it's depth defined. With Brendan Mahon's release last week, Taylor Hearn, who spent most of the year on the practice squad and was active for the final four games of the season, looks to have the inside track on the backup interior lineman slot that was left behind by Mahon's release.
Today's session had a similar injury list to last week's OTAs with TE Ian Thomas, G Ian Silberman, TE Marcus Baugh, and T Brandon Greene working on the side with trainers; same goes for Torrey Smith, who ran some routes with Baugh and had a helmet. Trai Turner, Daryl Williams and Matt Paradis, as they have for most of the offseason thus far, participated in installs but not team drills. Ron Rivera said after practice that Paradis was still on track in his recovery from a broken leg suffered in 2018 – "exactly where he needs to be" – and that the team hoped to have Thomas back for training camp. Jermaine Carter, Jr did not attend practice with lingering knee soreness and it was good to see Christian Miller back at work after missing the past couple of OTA sessions that were open to the media – his hamstring is going to be something to keep an eye on for the length of his rookie season.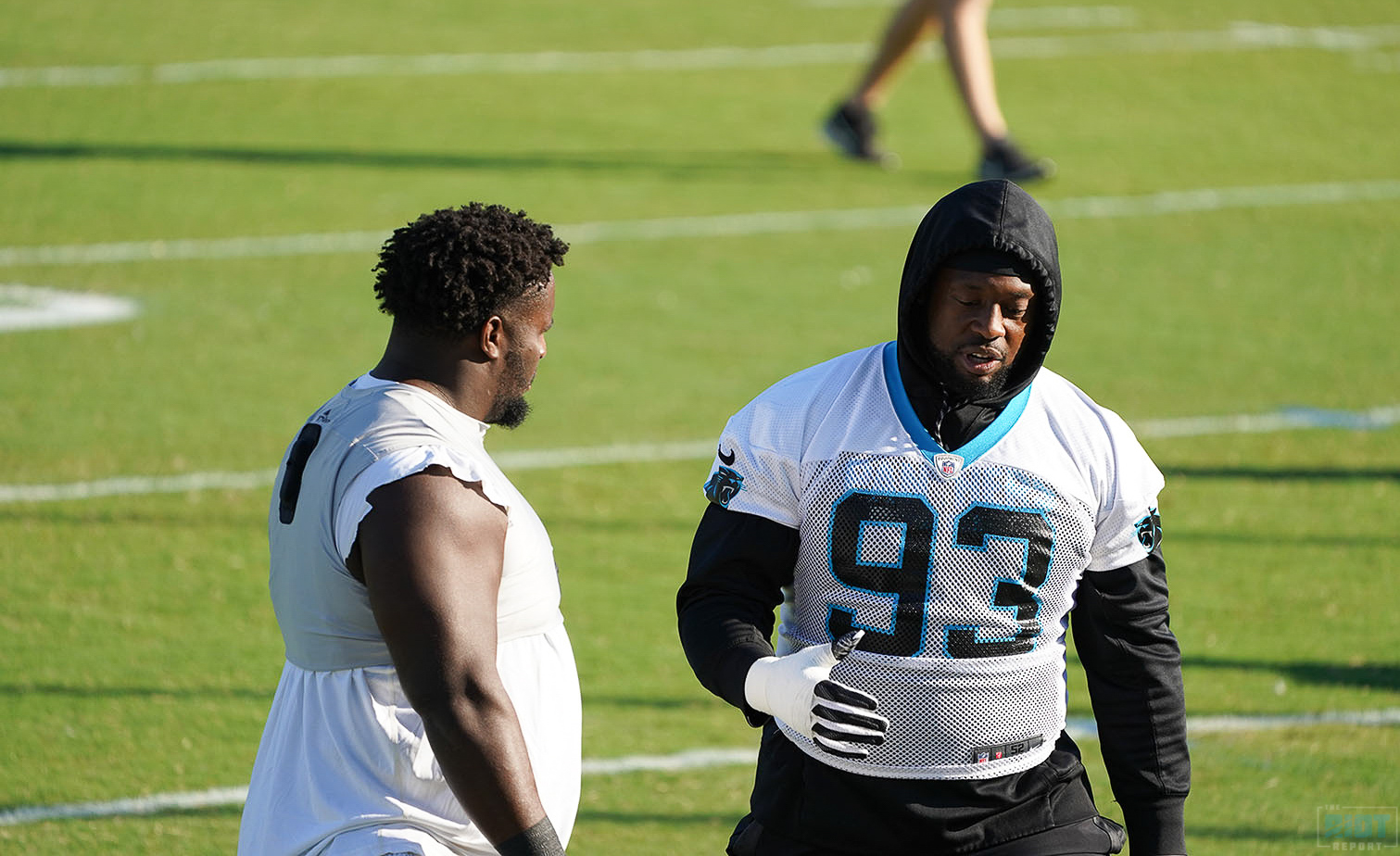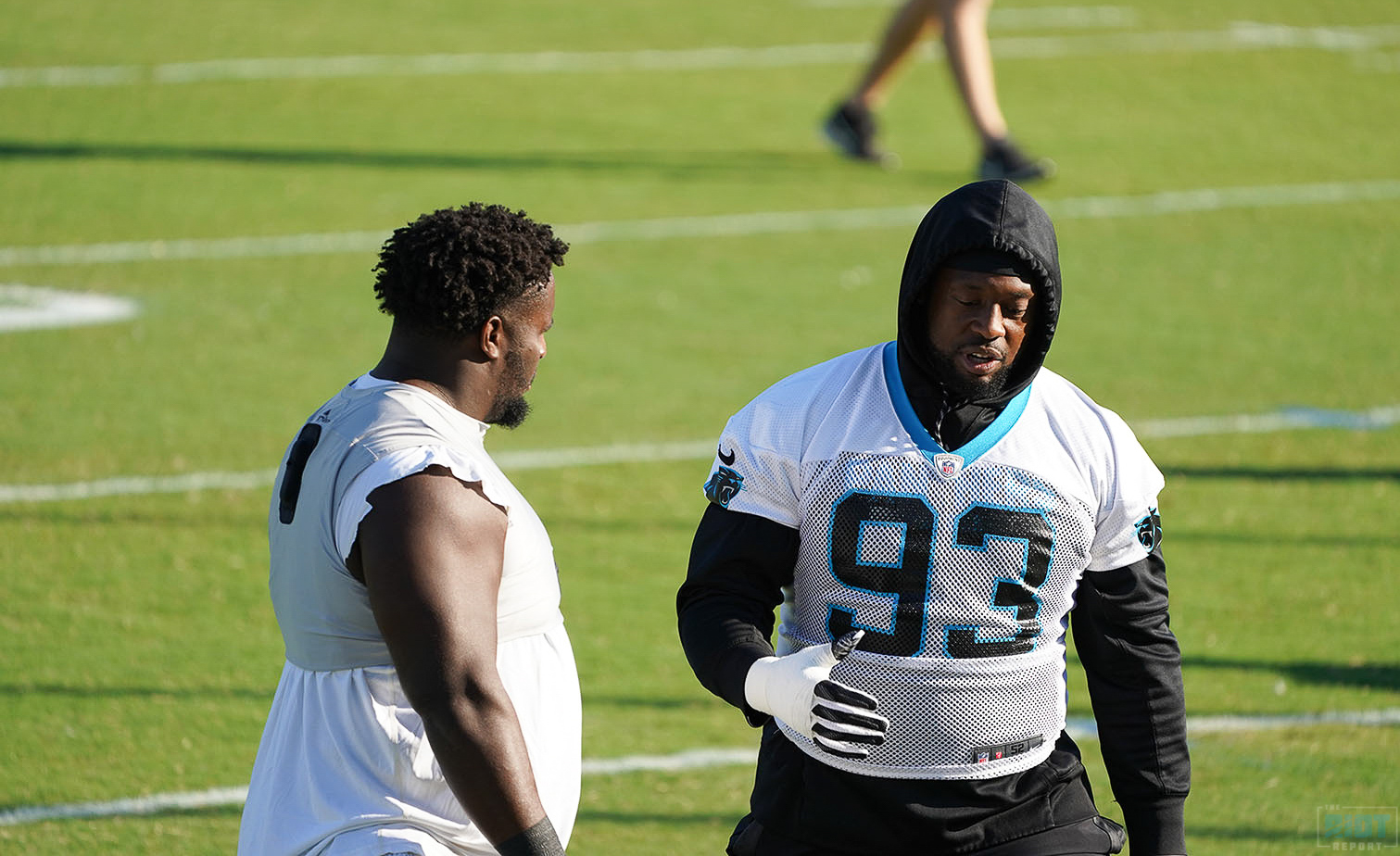 Gerald McCoy entered practice for the first time, wearing a hoodie under his newly acquired #93 jersey, with the man who used to wear his number – as he and Kyle Love began warming up against each other, Cam Newton jogged past. A symbolic passing of the torch between the biggest story of last week in Carolina and what will likely be on the lips of Panthers fans for the next month.
Speaking of McCoy, he made his presence known – at least indirectly – immediately. On one of the first team drills, McCoy occupied a blocker on the left side of the line while Dontari Poe took on a double team in the middle – and Luke Kuechly sprinted untouched into the backfield through the A gap untouched.
The Panthers had lots of visitors for Newton's throwing exhibition – South Carolina Football Coach Will Muschamp, Myers Park QB and brother of UNC great Luke Drake Maye, Panthers Special Assistant Julius Peppers and – of course – David Tepper were on the sidelines.
Jarius Wright got tangled up with Eric Reid down the field and was slow to get up – both were fine as Wright came back a couple plays later with a sliding grab on a nice-looking toss from Will Grier. Grier had his best day of the offseason thus far – as he has grown more comfortable with the offense, he's clearly starting to settle in. Crisp, accurate throws to the sidelines and over the middle – including a beauty of a sideline throw to Curtis Samuel that the wideout caught as he crashed out of bounds – were the norm for Grier today, not something that could be said about his previous performances. He was the best of the three backups today, although Kyle Allen had a nice long ball to Rashad Ross and Taylor Heinicke completed a bomb to DeAndrew White late in practice.
During the second half of practice Chris Manhertz worked on the side with trainers and fullback Alex Armah, who has been working with the tight ends since last season, took advantage – in a set of team drills that saw both Manhertz and Greg Olsen working on the side, Armah had a nice catch in traffic from Grier that drew screams of adoration from Cam Newton as he observed from his perch behind the offense – in the next set of drills, Armah had a catch 30 yards downfield on a deep-ish ball from Kyle Allen – this also drew rave reviews from the Panthers #1 QB/cheerleader.