Efe Obada has to go lift.
We are standing in the blazing South Carolina sun with the humidity hovering around 60%, the Panthers have just finished a two-hour practice session and Obada is literally drenched in sweat, but the 6-5 lineman says he can only talk for a minute, because he's anxious to get in the weight room, anxious to improve, anxious to get better – that's what he's been doing his entire life and that's what got him here.
And he doesn't plan on stopping now.

You've undoubtedly heard of Obada, he of the incredible story that brought him from Nigeria to Charlotte by way of the Netherlands, being homeless in London, working as a security guard while playing in the British American Football Association National League, being invited to work out with the Dallas Cowboys, entering the International Pathways Program and eventually becoming the first player from that program to make a 53-man roster – even if you're not a diehard Panthers fan who knows about defensive linemen who played less than 19% of the snaps last season, his story is unavoidable, infectious and a shining example of how uplifting sports can be.
But now that Obada, who anyone – from fans to teammates to coaches to reporters – will tell you is one of the most nicest and most affable players on the Panthers, is again fighting for his place on the Panthers' roster, he's ready to put his touching story of his ascension to the NFL behind him and start to tell a new story.
"I'm not trying to be this UK-whatever thing that everyone's associating, I just want to be a footballer in my own right, dominate in my own right and that's it," said Obada. "Trying to be a football player again."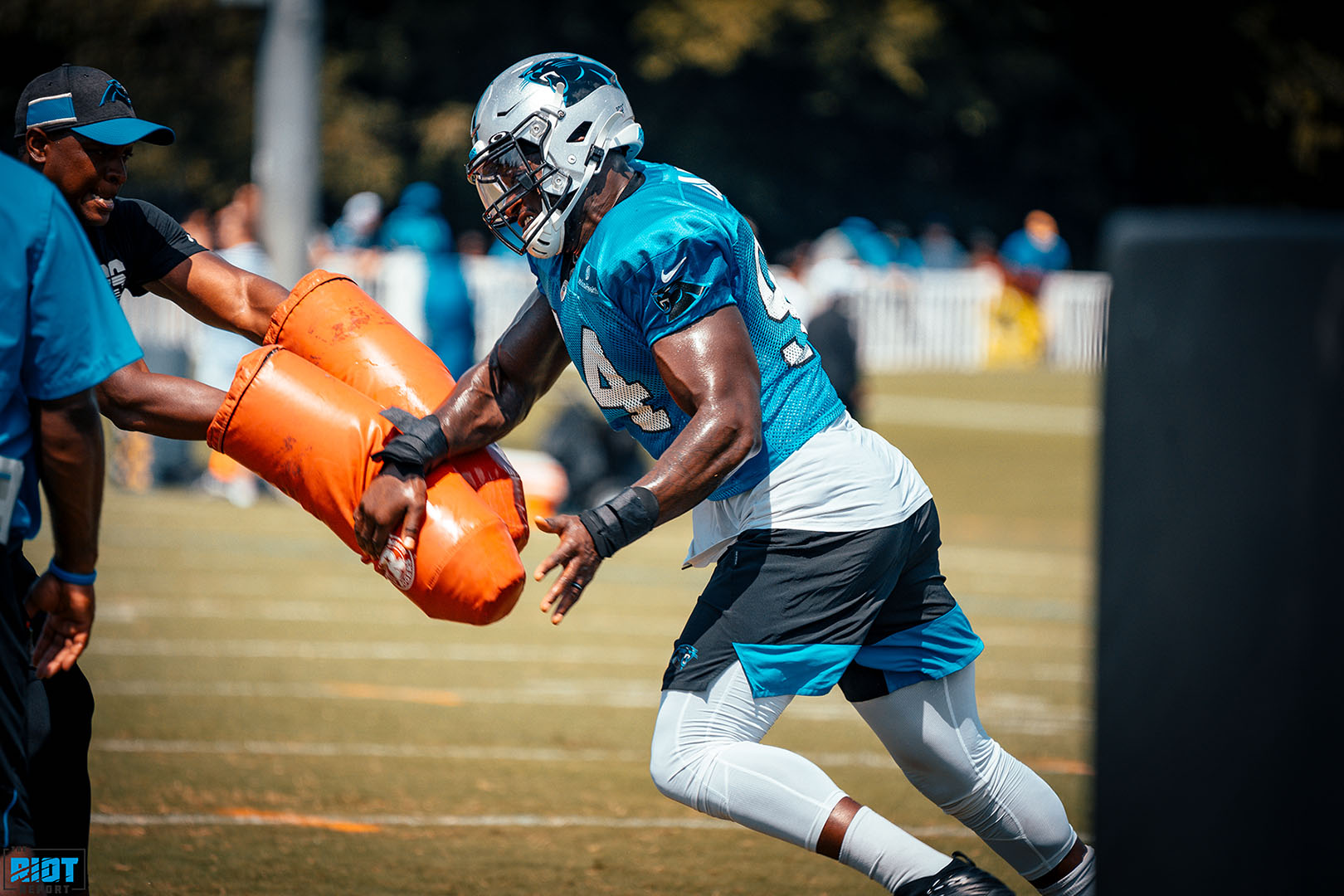 This year, Obada faces a new challenge – after learning since 2015 how to play defensive end and playing in 10 games last season, the Panthers made a switch from primarily four-man fronts to three-man fronts and like he has done his entire life, Obada adapted the only way he knew how – effort and attitude.
"I got the heads up that this new system was going to come in, so I just felt like I needed to just put my head down and commit to this, so I've just been training – [sometimes] I go home and spend time with the family, but for me, it's just been football, football, football," said Obada, who added that he'd upped his weight from somewhere in the 250s to somewhere in the 270s to try and better prepare his body for the wear and tear of playing a 3-4 defensive end instead of a 4-3 edge rusher. "It's just football, though. I'm just trying to get better everyday and I feel like I [gained] some weight, trying to hold that double – but I don't know, I just come out here, try to do my best and let them decide where I fit in."
How'd he gain the weight?
"Eat," Obada laughed, flashing his trademark smile. "Eat and lift."
The differences between positions are myriad – although the Panthers will still line up in a four-man front when they're in their nickel package, if Obada aims to make the team this year, he'll have to be able to display different skills then simply holding the edge or rushing the passer as he'd done in the past – sometimes your assignment inside is simply to take up two blockers or direct the line, 'hold the point' or occupy space as opposed to pinning your ears back and trying to get to the quarterback.
Ron Rivera says Obada will get a chance to play multiple positions, listing off every technique on the defensive line that isn't the nose tackle when asked where Obada fits in on the defense – Rivera was impressed with what he saw from the 27-year old last week in Chicago. But Obada knows he'll have to continue to show improvement if he wants to catch the Panthers' eye – that's one of the reasons why he was consistently the first to the practice fields in Spartanburg, working on his technique, try to perfect where his feet go, where his hands need to be and how he can become a better contributor.
"It's pretty much the same. Obviously, inside everything speeds up. Footwork, hand placement, technique-wise [is more important], whereas outside with more space [and] I could get away with some things," Obada said about playing inside. "It's a new challenge, but life's full of challenges. It's just part of it – you try to overcome it and try and find my place."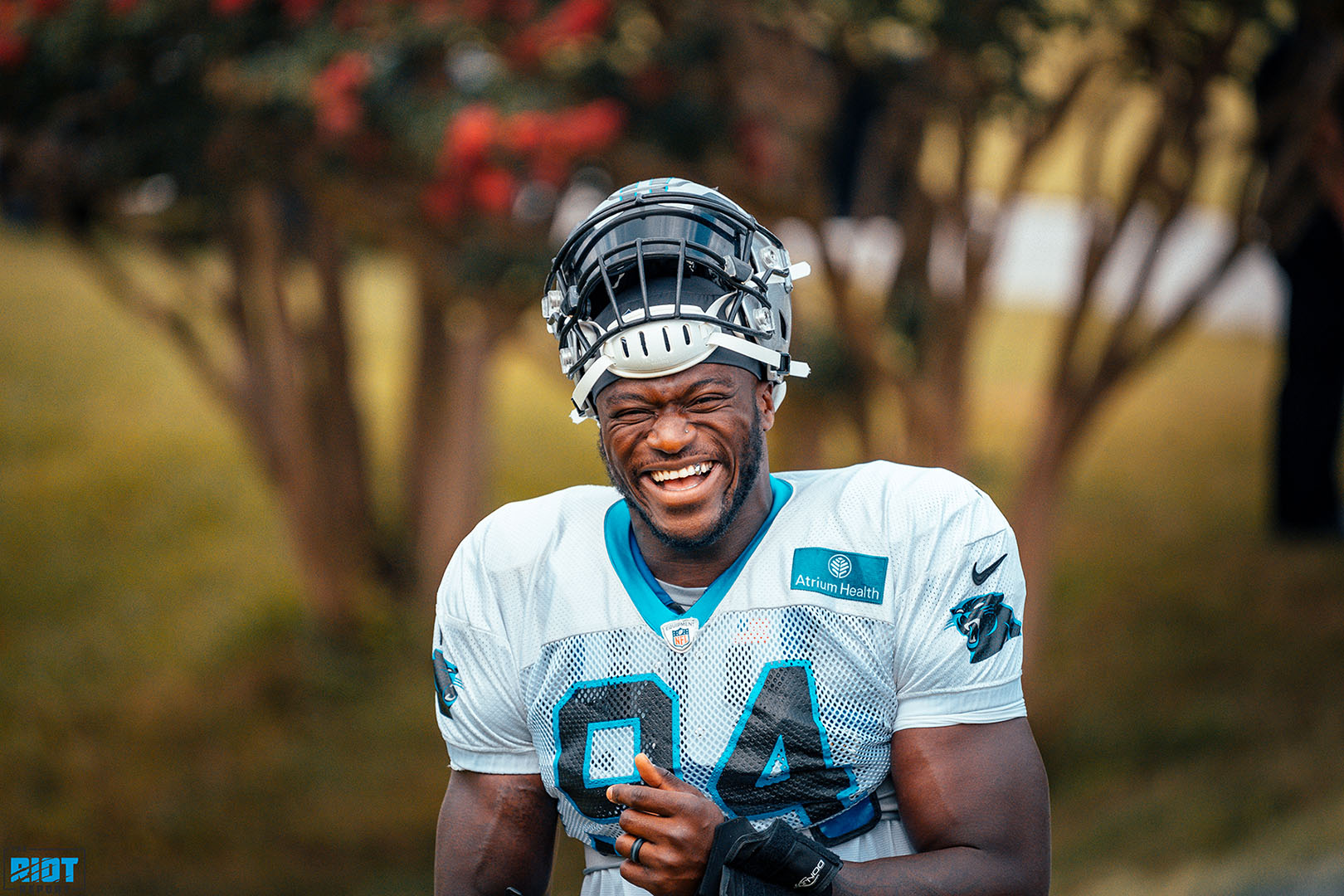 Perhaps the fact that Obada didn't strap on pads and a helmet until just a few years ago can actually make him a more malleable lineman – transitioning to a new position can be hard if you've been playing a 4-3 edge rusher for your entire life, but Obada has the raw talent, skills and quick learning ability to adjust – that rawness actually helps.
"It helps an awful lot," said Ron Rivera. "There's no bad habits, first of all – and second, you see the growth moreso than the guys that know – or that think they know. That's the neat thing about it – he doesn't know. So every time you see him [learn something], all of a sudden, he understands how to split a double-team or how to flip his hips back to the other side you sit there and say, OK, he's getting it."
"That's one of the neat things about watching guys that are as raw as he is."
Obada has been trying to glean as much as he can from veterans like Gerald McCoy and Kawann Short, but this transition – even though he'll likely move between the inside and outside as the Panthers 'multiple' defensive scheme will vacillate fronts based on what the offensive personnel is on a given play. Last year, it was a surprise that he made the 53-man roster, given that his roster exemption in the Pathways Program meant the Panthers could keep him on the practice squad as an extra member – but the coaches thought that he had earned his way onto the roster.
This year, he'll have to do the same, likely competing with players like Bryan Cox, Jr – who was cited for speeding and marijuana possession on the way home from training camp this week and may have tilted the scales in Obada's favor – but Obada isn't thinking about the camp battle, he's simply thinking about how he can get better.
"Every year I feel like that," said Obada. "It's always going to be a fight because every year, new talent comes and there's new competition and I'm just trying to keep in front of it. I'm not going to focus on the roster or the depth because that's the things I can't control."
"What I can control is my attitude and my effort and that's just what I'm going to do."
But first, he's going to go lift.