After being on his third team in five seasons, Panthers cornerback Eli Apple understands the 2020 season is a critical season for him. That's why on a milestone birthday – Apple turned 25 over the weekend – the young corner followed the strict protocols the NFL has set forth for being safe during the COVID-19 pandemic.
Lift weights. A walkthrough with the team – and what else do you do on your birthday during a global pandemic?
"Celebrated by staying away from a lot of people," said Apple. "It's like what I'm used to doing anyways….it was a great birthday."
Apple's proclamation that his fourth season in the league is going to be a "crucial" year for the young corner comes less than a week removed from Donte Jackson saying he knows that 2020 was a big season – that's a common theme going around the Panthers locker room after a terrible 2019 brought about a huge amount roster turnover and resulted in every defensive coach losing their job.
With James Bradberry one of those players churned, the Panthers will rely on Apple, who is one of almost 20 Panthers signed to one-year deals this offseason, to be a big part of the secondary in 2020 opposite Jackson.
After being selected by the New York Giants with tenth pick of the 2016 draft, Apple's career hasn't gone as smoothly as he would have liked. Apple played his first two and half seasons with the Giants as he played in 25 games from 2016-17. But inconsistent play and a fallen out with both a coach and teammate Landon Collins after being called a "cancer" led to Apple's being suspended at the end of a 2017 season where the team finished 3-13.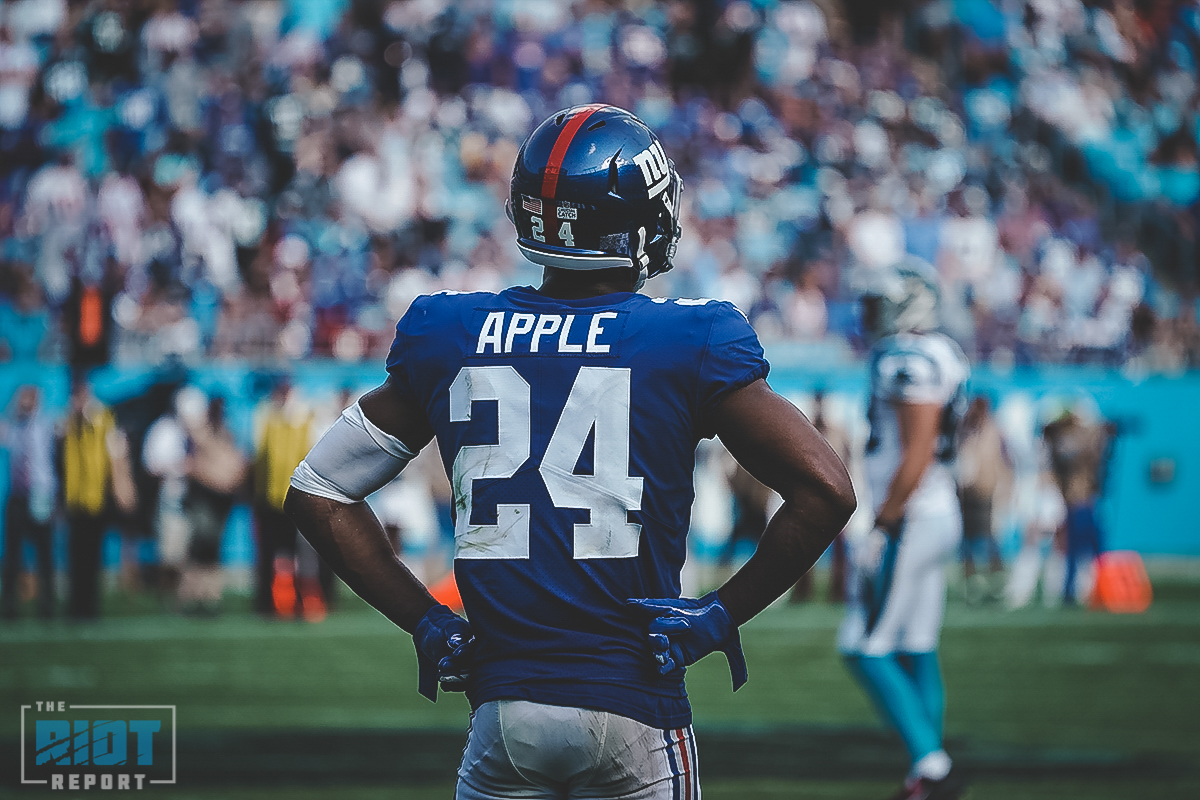 Despite that, in 2018, Apple received a fresh start under then-Giants head coach Pat Shurmur and played well enough to start in five games for the Giants. But he was traded to the Saints after the Giants began the season 1-6, a former top-ten pick shipped off in exchange for a fourth-round and a seventh-rounder pick. In New Orleans, Apple's play started to improve.
Apple started in 10 games as he recorded 29 tackles, nine passes defended, and two interceptions as he helped the Saints reach the NFC Championship before losing to the Los Angeles Rams.
Apple said he didn't change as much as his situation changed after the trade to the Saints.
"Going to New Orleans, they were rolling, and I went from a team that had one win to a team that had a bunch," Apple said. "So it was definitely a difference with that and making that push to the Super Bowl and all of that, so the stakes were super high, like they always are. So it was exciting – and it's something that I wish to work towards here."
After a failed agreement with the Las Vegas Raiders early in free agency, Apple signed with the Panthers. He said it was the Panthers culture, along with head coach Matt Rhule, that appealed to him.
"I feel like I will fit in perfectly here with the way they play defense, their defensive brand," Apple said. "Especially now with Coach Rhule, I've known about him a little bit from his days at Temple and Baylor too. So it was an exciting opportunity, for sure."
The deal is only for one year, worth $3 million. The plan is for the Panthers to have Apple to pair with Jackson as the two outside cornerbacks.
They've already begun working together to try to move on from a tumultuous 2019 season.
"Just the little that we've done [during training camp], he has a lot of knowledge," Apple said. "He is very smart, quick, fast. He is really smart on the field, and I think it helps him play faster. I feel we are still learning stuff, trying to teach each other different techniques because he plays a lot differently than I do. I'm just trying to pick his brain on some stuff and tell him what I see out there too."
Back in June on a conference call with reporters, Rhule hinted that he believes Apple's best football could be ahead of him – the corner just turned 25 on Sunday.
"I think his talent and, hopefully, his approach will match well with the way we do things and the way that we want to play," Rhule said. "If it works out, I think between he and Donte Jackson and the rest of the guys we drafted and the rest of the guys we have on the roster, that could be a strength for us."
After spending last season in a 3-4 scheme, the Panthers under defensive coordinator Phil Snow are expected to revert back to the 4-3 scheme they've used in the past. During his early time during training camp, Apple says he has noticed something about Snow and the way he coaches his defense – he thinks that his abilities as a press corner make him a natural fit opposite Jackson for what Snow is looking for in a cornerback.

"It is definitely a lot of communication – and that's a great thing," Apple said. "So aggressive defense and Coach Snow is an aggressive coordinator, and I love that because I feel like that is perfect for me because I'm aggressive as well. I feel like I'm going to be after people, and that's what I want, and that's to be aggressive out there."
After Apple, the Panthers have a lot of inexperience at the cornerback position as they have Corn Elder along with rookies Troy Pride Jr., and Stanley Thomas-Oliver. Although Apple just turned 25 himself, he said the first four seasons of his career have prepared him for the opportunity to become a leader on the Panthers defense – not to mention that he's the oldest cornerback in the room after being freshly minted a quarter-century old.
"I've seen so much, and I've been through a lot, more than I guess the normal guy has been through," Apple said. "I've been traded, I've been on teams that were really good and I've been on teams that were really bad. So, I've seen every side of it. I feel like there's a lot of experience with that, and now it is about going about my business and doing it at a high level."
(Top Photo Via Brandon Todd/Carolina Panthers)