It's never easy replacing a beloved quarterback, a franchise icon, the most famous and most celebrated player in a team's history – especially in a city that never wanted him to leave in the first place. That is the unenviable task that Teddy Bridgewater finds himself in with the Carolina Panthers this season.
Not long after the Carolina Panthers agreed to a three-year, $63 million contract, the team released the 2015 NFL MVP Cam Newton after nine seasons with the franchise – in fact, the release seemed to follow the signing, as if one caused the other. The move to release Cam – and the way it happened, with Newton saying he was blindsided by the news – was met with a ton of vitriol among Panthers fan who wanted to see Newton return to the team after his foot injury last season.
Bridgewater understands the way fans feel – and wants to make sure it's clear that he is honored to follow a player of Newton's caliber in Carolina.
"That's the tough side of this business," Bridgewater said on a Zoom conference call with the media on Monday. "I had that opportunity to experience it early in my career, and injuries are always unfortunate. The way things transpired when I got injured and how I wasn't able to return to the driver's seat [in Minnesota], I just took it as, 'hey, I gotta put my head down and just continue to work. Eventually, they're 31 other teams that will have the opportunity to fall in love with me all over again.'"
"Luckily, when I returned from my injury, I had the opportunity to sign with the Jets, and then New Orleans traded for me, and now I'm here in Carolina – and I'm forever thankful for my journey. So with Cam, it was one of those situations, I understand as a player, you're a competitor, you want to get back out there and get that opportunity to show that you're still this elite guy."
"He has done some great things, and obviously, he is one of the best players to play for this franchise – everyone around here respects him, and they speak highly of him. I'm just honored to be following the position that he left behind."
Bridgewater was drafted by the Minnesota Vikings in the first round out of Louisville in 2014. In his first two seasons, he started for Minnesota and earned a Pro Bowl invitation in 2015 as he helped the team win their first NFC North division title since 2009.
The former Louisville QB caught the eye of now-Panthers GM Marty Hurney, who wasn't working in the NFL at the time.
"I wasn't even in the business when he came out, but I evaluated him and thought he was one of the best quarterbacks in that draft," Hurney said. "I've always thought – he has been a winner everywhere he's been. He's overcome a horrific injury. I think he has excellent feet in the pocket, has a very compact release, gets rid of it very quickly. His leadership skills, you can talk to anyone that's been around him, are highly regarded by anyone that's been with him."
"So there were a lot of things to like about Teddy Bridgewater."
However, during training camp the next year, Bridgewater suffered a torn ACL and dislocated kneecap. He would miss the entire 2016 season and played in only one game in 2017 in relief of Case Keenum as the Vikings declined his fifth-year option, which made him a free agent after the season.
Bridgewater signed with the New York Jets, but his stay there would be brief as he was traded to the New Orleans Saints before the 2018 campaign. That's where he met offensive assistant Joe Brady, who is now the Panthers offensive coordinator – and likely a key reason why Bridgewater is a Panther today.
When Bridgewater arrived in New Orleans, it was Brady's responsibility to make him game-ready should something happen to Drew Brees.
"The thing with Joe, it is a special bond to me because – I don't want to dwell on New Orleans too much, but when I first got to New Orleans, Joe was the first guy who took the time to teach me the offense," Bridgewater said. "I got traded there right at the end of the preseason, and we were getting ready for Week 1 – and I was the backup quarterback to Drew Brees, and I really didn't have the time to learn the system."
"Joe was the guy who went the extra mile and made sure I was on top of protections, run calls, different things like that. So our bond started there. Joe was the guy during pregame going over play calls making sure if something happened to Drew, I was ready."
That readiness paid off.
Something did, in fact, happen to Brees as he missed five games due a right thumb injury. While Brees was out, Bridgewater finished with a 5-0 record as he passed for 1,205 yards, nine touchdowns and two interceptions.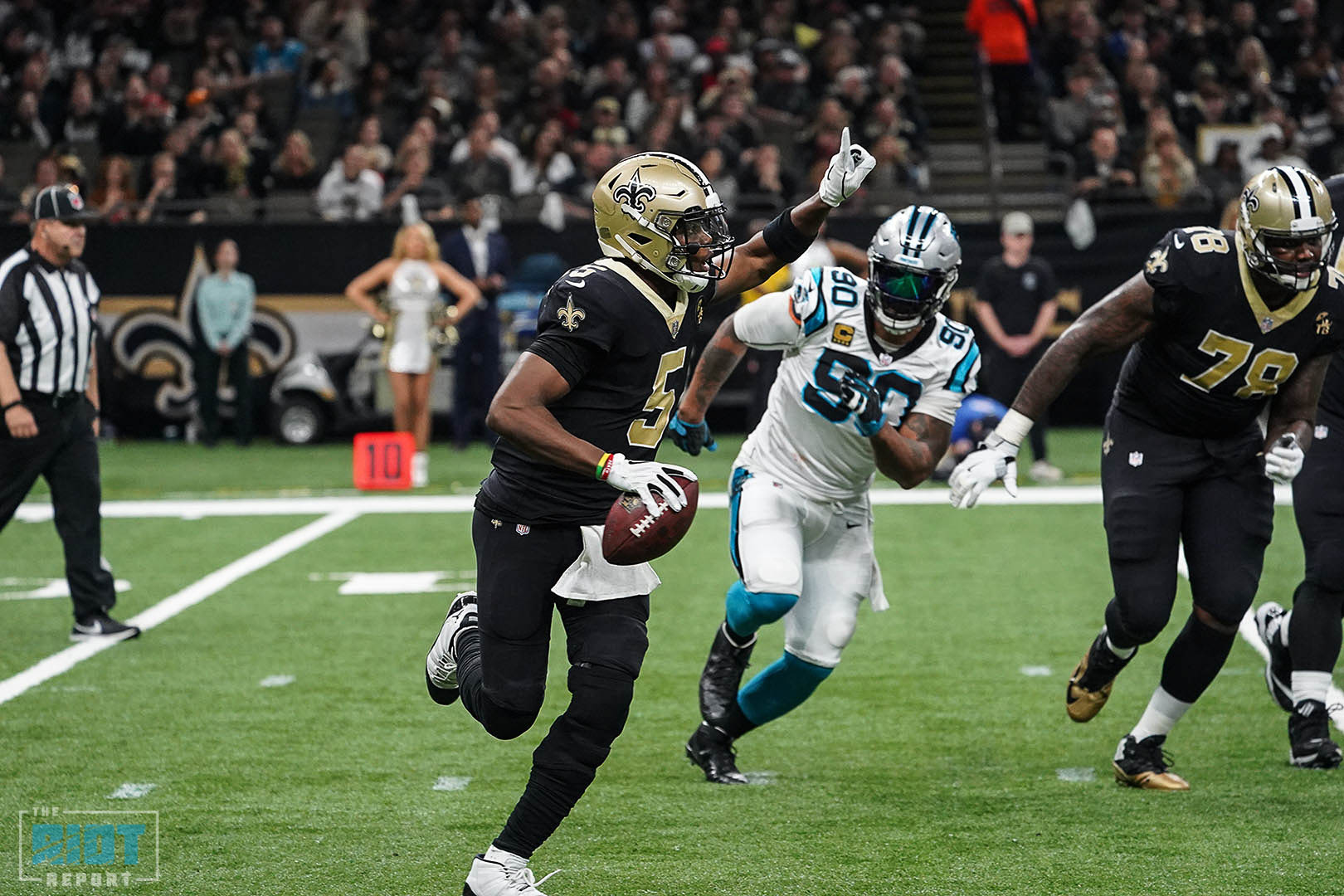 What will help Bridgewater is the Panthers will run a similar offense he ran with the Saints the last two seasons. But Bridgewater said there are some changes to the Panthers offense.
"It is definitely a high percentage of what we did in New Orleans," Bridgewater said. "With Joe spending time at LSU and being on the journey that he has come on, he's added different wrinkles and different things to this offense. So I'm excited about that – and just being familiar with this system, it has been huge, especially for us not being able to meet in person during OTAs and the spring."
"I had the opportunity to get with the guys and reiterate the language, go over installs with the guys before training camp. So having that comfort level, that experience in this offense has been a huge head start for us."
During the offseason, Bridgewater not only has learned the new plays to Brady's offense, but he has helped the rest of the Panthers players get the terminology down. But during the COVID-19 pandemic, it hasn't been easy – the team spent the entire offseason in a virtual world away from the facility. Bridgewater ran some of the offense's meetings during the offseason, drawing comparisons from Matt Rhule to Eli Manning.
And with the lack of organized team activities and mini-camps, Bridgewater and the rest of the offense improvised – holding a three-day impromptu practice session in Charlotte last week.
"The good thing about this era is we all have cell phones – so we are all in group chats, and we are discussing different things," Bridgewater said. "We had the virtual meetings throughout the spring, which were great for us, it was a great teaching tool for us. And then we were able to get together in person."
"And we put together a brief period where I got the receivers, running backs and tight ends together. Even the offensive line showed up."
One thing is already clear, this is Bridgewater's team. It has to be if they're going to be successful.
"He's Cam Newton, I'm still Teddy Bridgewater," said Bridgewater when he was asked how he deals with following someone like Newton. "I can't go out there and try to be something that I'm not. I play the game the way I play it. I carry myself the way that I carry myself. And I live and die by that."
(Top Photo Via Brandon Todd/Panthers)