With Cam Newton's status unknown for Sunday's game against the Arizona Cardinals, Panthers backup quarterback Kyle Allen is preparing for his second career start.
In Thursday night's loss 20-14 loss against the Tampa Bay Buccaneers, Newton reaggravated the same foot he injured in the Panthers' third preseason game against the New England Patriots. General manager Marty Hurney said Newton is day-to-day and wasn't willing to speculate on his availability for Sunday's game.
Panthers coach Ron Rivera said Allen would get the start if Newton cannot go against the Cardinals.
"I think Kyle is more than ready," Rivera said Tuesday after practice. "I think Kyle did some really good things last year, showed us what he is capable of. He had a good preseason. Had a whole bunch of ups – a few downs – but for the most part, he knows the offense, and he knows it very well. So we feel confident about it, we really do. We feel very comfortable. If you go back to what he did briefly in the Atlanta game and what he did in the New Orleans game [in 2018]."
With Allen potentially starting, expect the Panthers to rely on a heavy ground game with Christian McCaffrey in the backfield. Considering the Panthers offensive line has been shaky during the first couple of weeks, they may also look to get the ball out of Allen's hands quickly.

Injuries to both Newton and former Panthers quarterback Taylor Heinicke forced Allen into the starting role against the Saints in Week 17. Allen completed 16-of-27 passes for 228 yards and two touchdowns while also adding a rushing score in the Panthers 33-14 season finale victory. Although the game was meaningless for the Saints, Allen showed poise and potential in the season finale – enough that the Panthers felt comfortable with him as the backup entering the 2018 season.
During the summer, Allen was competing for the Panthers backup quarterback job with third-round pick Will Grier. Throughout training camp, Allen and Grier got equal reps, and while neither quarterback posted great stats in the preseason, Allen's experience and knowledge of the offense put him ahead of Grier on the Panthers depth chart.
Allen completed 18-of-34 (52.9%) for 165 yards with no touchdowns and no interceptions and was sacked four times during the preseason.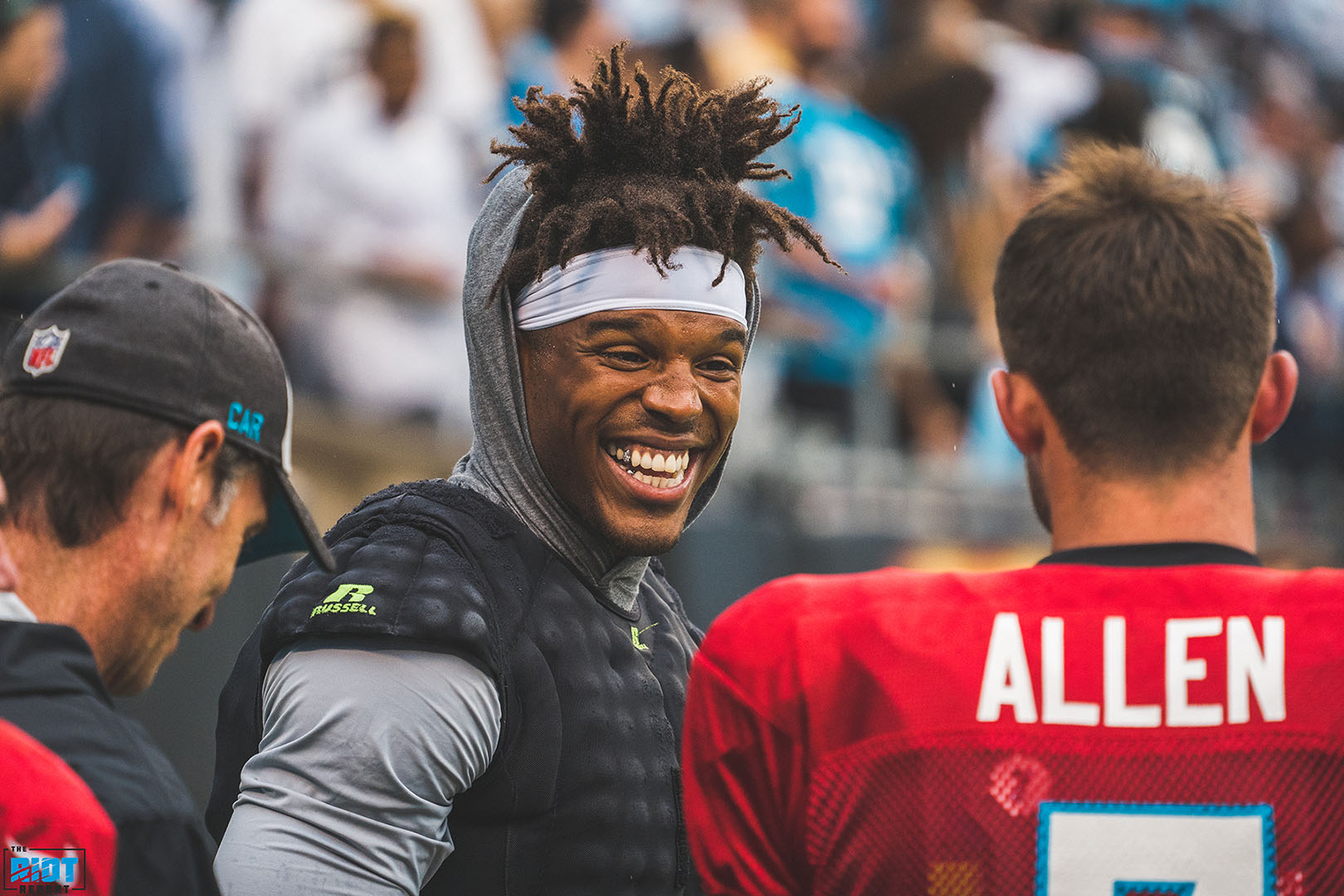 Despite his limited snaps, Rivera says Allen has a lot of potential.
"He has a really good arm," Rivera said. "He makes good decisions. I just think in times if you watch him – he needs to speed himself up a little bit. Because one thing he will have to get used to is the speed of the game. He has only played in limited situations, so things a lot faster, but he has the ability to…. it will be fun to watch him."
"I have 100% confidence that Kyle can get the job done," added wideout Jarius Wright.
If Allen does indeed start, the Panthers defense could also be under more pressure. In two games, the Panthers have given up 319 yards per game against the Rams and Buccaneers. However, the unit is giving up 25 points per game and has struggled to stop the run as opponents are averaging 133 yards on the ground through two weeks.
Panthers safety Tre Boston knows the Panthers defense knows their role will be more critical if Newton is out against the Cardinals, who run a very fast-paced offense with rookie quarterback Kyler Murray and coach Kliff Kingsbury.
The defense's role will be even more key if Newton has to miss time.
"That's our brother," Boston said. "Anytime he's hurting, we are hurting. But we have to make sure we do the job for him when we go out there on Sunday. Again, we prepare for it, we know what we have to do. Of course, we would love to have him, but we have to make sure we win without him. We have to make sure he takes his time – we want to give him more time to heal."
"Obviously, we know what Cam can be when he's a healed Cam. So we have to make sure we do our job."
In the meantime, Kyle Allen's job on Sunday may have just gotten a lot more important.