After an 0-2 start that made it seem like the future was bleak for a Panthers team with Super Bowl expectations, the team is exiting the bye week at 4-2 thanks to a sudden surge of wins against the Cardinals, Texans, Jaguars and Buccaneers, a Herculean performance by Christian McCaffrey and an opportunistic defense seizing opportunities instead of missing them.
Quarterback Kyle Allen has been competent enough stepping up for the injured Cam Newton – he hasn't been transcendent but he's made few mistakes and has done just enough to allow guys like McCaffrey to continue to thrive in the Panthers offense as the Panthers running back led the league in yards from scrimmage through six weeks. But the real story is the defense, which led every team in sacks (27) and quarterback hits (50) entering Week 7 – and was also top five in takeaways (15) and turnover differential (+6).
Brian Burns needs zero introduction, as he is most likely the leading candidate for Defensive Rookie of the Year. But when it comes to the MVP of the Panthers defense, Luke Kuechly is certainly in the running with the second-most tackles in the league, but I might have to give it to fourth-year cornerback James Bradberry.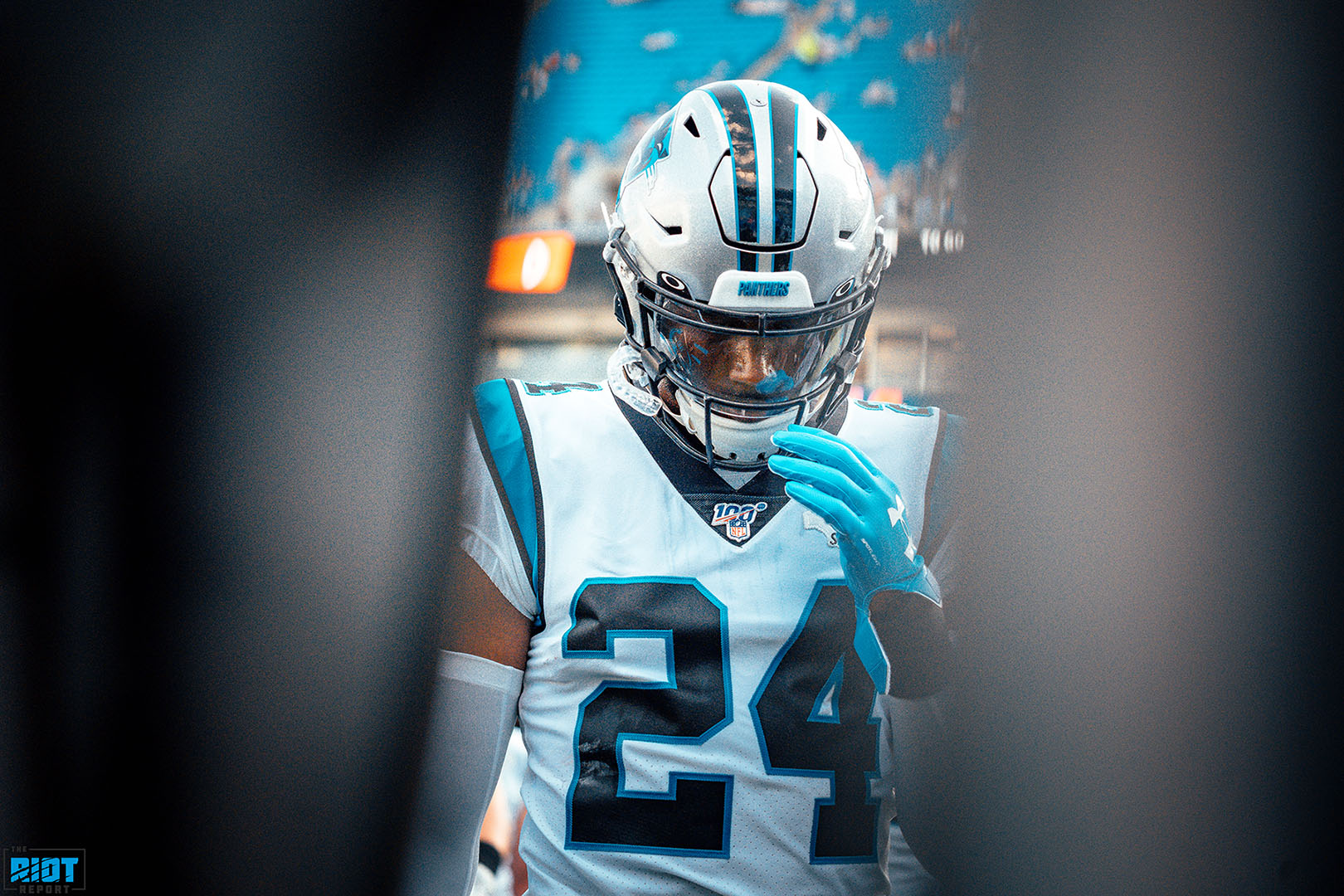 On the season and in a contract year, Bradberry has been nothing short of spectacular.
In terms of raw statistics, he's collected 27 tackles, 1 sack, 1 tackle for a loss, 1 quarterback hit, 3 interceptions and 9 passes disrupted. Thanks to new advanced statistics from Pro-Football-Reference, we can also dive a little deeper into Bradberry's statistical performances: in comparison to the 82.5 passer rating he allowed in 2018, Bradberry is currently allowing a 46.6 rating in coverage through six games this season.
Even in the instances where Donte Jackson has not been available over the past three weeks, Bradberry has proven to be the bread and butter of a Panthers defense on the rise. So how is Bradberry getting these great numbers? Let's take a look in this film breakdown from some key plays from his first six games on the year. Let's kick things off with his interception off of Rams quarterback Jared Goff in Week 1. This came against Robert Woods in the fourth quarter, providing a spark to a Panthers team that was trailing by two scores at the time.
Clearly this isn't press coverage (as Bradberry is playing well off the line of scrimmage) but it's still man, an area Bradberry has excelled in. Here, he's not going against a slouch – Robert Woods has been a high quality receiver during his tenure with the Rams.
Woods makes a sharp cut off the post route, but the acceleration Bradberry gets from his notoriously strong feet proves to be too much for Goff and Woods to handle. The corner is able to undercut this route, entering Woods' outside window to interfere with the pass. The throw is picked off, giving Carolina new life in the process.
Let's move forward with a player Bradberry has excelled against, and that happens to be Bucs wideout Mike Evans. Evans has had trouble in the past producing against the Panthers, and it seems like the stud corner has had his number since his emergence in the NFL.
This snap comes from Week 2 in the red zone.
At 6-1, Bradberry is not that much shorter than Mike Evans (6-5), but compared to Evans' 231 pounds, Bradberry is only 212. And Evans is a pretty physical and well-established receiver at the catch point, so this rep from Bradberry is by no means unimpressive. In fact, this just goes to show that the fourth-year corner is one of the most impressive at his position in press coverage.
Some of this may have come from practicing against Curtis Samuel in the preseason: "Anytime I feel I can match up with [Samuel] with his quickness at the line of scrimmage, I feel I can press any receiver in this league," Bradberry said earlier this season.
Next, let's look at Week 4 in Houston, where Bradberry was shadowing the legend himself, DeAndre Hopkins. Hopkins is a great route runner and is sensational at the catch point, so being held to 41 yards of receiving is an incredible performance by Bradberry. One such play illustrated the struggles Nuk had against the Carolina secondary.
Initially, it appears that Hopkins beats Bradberry against press coverage, but instead of cutting outside, he cuts inside. I'm not sure if this was part of the route, but Bradberry stays with him, wrapping him up and forcing a high throw from Deshaun Watson in tight coverage.
Bradberry's coverage skills against Hopkins were a big reason for the Panthers' huge amount of sacks against the Texans. Watson was sacked six times, with a great deal of those sacks coming from the quarterback being forced to hold onto the ball with his receivers offering zero separation against Bradberry and company.
Finally, let's return to Mike Evans and the Buccaneers. We don't need to go far to find a key highlight, as the very first play from scrimmage of Week 6's NFC South matchup in London offered just that – even though Evans picked up nine catches for 96 yards, one of his best statistical days against the Panthers, that also came with Winston throwing 54 times and the Bucs down two scores for most of the game.
But it was this play that started the dominant defensive day – seven turnovers and seven sacks later, the Panthers were 4-2 heading into their bye week.
In case you haven't figured it out by now, I love Bradberry's quick acceleration. His overall coverage smarts have become excellent, and it's further enhanced by his athleticism and quick reflexes.
One can make the argument that the Panthers secondary has played as good – if not better – than the Panthers pass rush – three of their corners are in the top 21 in terms of QB Rating allowed when targeted – and James Bradberry is a huge cornerstone of that. The pass rush has been great, but without the coverage sacks, they wouldn't have the stats they've produced.
At the age of 26, Bradberry is still young enough to provide many more years of quality play – Carolina would be wise to offer him a contract extension well before he hits free agency in the offseason. There's no other way to explain it – he's one of the two most valuable players on this defense, giving the team an edge at corner, one that was once thought to have been lost with the departure of Josh Norman in 2016.