When Rams Head Coach Sean McVay took off his headset and moved towards the middle of the field to shake hands with Ron Rivera after the Rams' Week 1 30-27 victory over the Panthers, he made a point to seek out Panthers corner James Bradberry, whose fourth quarter interception shifted the momentum – temporarily – into Carolina's favor.
Bradberry cut underneath Rams wide receiver Robert Woods for his sixth interception of his career – and McVay wanted him to know how impressed he was.
"Hell of a play," the cameras picked up McVay appearing to say as he congratulated Bradberry. It's not necessarily a surprise when the opposing coach has something complimentary to say, but Bradberry was still taken aback as he shook hands with the hottest name in coaching.
"I was surprised he knew my first name, honestly," Bradberry grinned in the locker room on Monday.
He's been playing well enough to be recognized for a while now – and the rest of the league is catching up. Pro Football Focus graded Bradberry as the top-ranked cornerback overall in Week 1.
While Bradberry doesn't have the flashy numbers of other corners – he only had five interceptions in his first three seasons – his coverage skills have seen him draw the best wide receivers in the NFL week after week – last season alone, he faced off with Julio Jones, Michael Thomas, Odell Beckham, Jr, Mike Evans, JuJu Smith-Schuster and the #1 wideout for almost every team on the schedule.
This season he'll face off with the NFC South trio again as well as likely drawing Deandre Hopkins and Davante Adams.
Bradberry allowed only a 48.6% catch rate when targeted, third-best in the league, according to NFL's Next Gen Stats and he was able to hold this week's opponent, Tampa's Mike Evans, to one of the worst games of his career – only one catch on 10 targets – in Week 9. Julio Jones had 86 yards total in two games matched up against Bradberry. Michael Thomas had only 49 yards – the 10th lowest total of his career – on seven catches in Week 15. Every week, he's asked about the murderer's row of receivers he faces off with – he's almost got the speech memorized.
"It's the same answer every year," said Bradberry. "Going against an elite receiver, of course he's going to have everything – speed, size, hands. They've got a new offense in Tampa, so I've got to get ready for that, but that just comes from watching film."
Bradberry has gotten better at watching film over the years – he has a routine: first, it's early downs. Then third down. Then what opponents do in the red zone, their explosive plays and what they like to do when they're playing situational football.
All that film study has him playing more confidently as the game continues to slow down for the 26-year old.
"You see that confidence in who he is now as a football player – I think he feels more sure about himself and as a corner, that goes a long way," said Ron Rivera. "He was very aware of what was going on around him and that's a huge plus. With James' quickness and length, he can make plays – and we saw that [on Sunday]."
"We had a guy like that a few years back that was pretty special and I think James could be a pretty special player for us."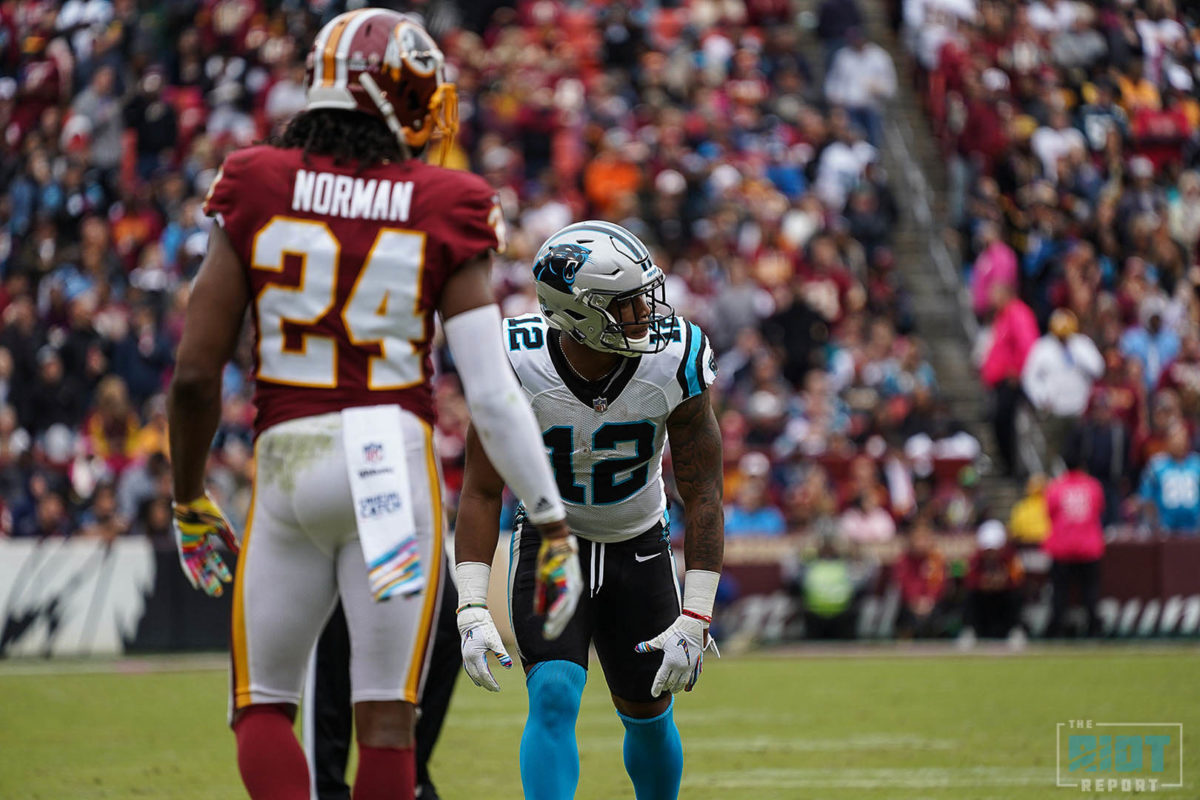 Rivera is, of course, referring to the previous occupant of the #24 jersey in Carolina – Josh Norman – who headed to Washington after his breakout 2015 season and subsequent franchise-tag-debacle. While most will remember the swagger and interception-heavy season of 2015, Bradberry actually has had more tackles, sacks, interceptions and forced fumbles than Norman did over the course of his first three seasons, albeit having played in eight more games.
Bradberry is ready to have that breakout season, just as Norman did in 2015 when he had four interceptions – two returned for scores – and two fumble recoveries. One of the reasons is who he's been working against in training camp and practice as the cornerback has been matched up with Curtis Samuel throughout the summer – and Bradberry thinks Samuel's 4.3 speed has helped not only his play, but his confidence.
You can see it, Rivera says, in the way he moves his feet – he doesn't bend over, doesn't reach as much as he squares up with receivers.
"He has speed, so anytime I feel I can match up with him with his quickness at the line of scrimmage, I feel I can press any receiver in this league," said Bradberry about matching up against Samuel.
"When you practice your 1s against your 1s as much as we do, you get an opportunity to really and truly develop those guys and that's what we've got with those guys," said Rivera. "I think we got a real strong corner with good quickness and length going against a really quick wide receiver."

Bradberry, who is in the final year of his contract, is starting to embrace the spotlight that has been turning his way a little bit more as his profile grows – whether it's appearing on Good Morning, Football on NFL Network or wearing a bright red spotted shirt for player arrivals on Sunday. Or even participating in one of the jumbotron hype videos, which his teammates have been good-naturedly poking fun at the soft-spoken cornerback for in the locker room.
"I've been around here for a minute now, so I'm getting acclimated to everything that's going on," said Bradberry. "I'm kind of starting to love it here."