In the preseason opener last week against the Chicago Bears, rookie Elijah Holyfield had a solid game while Jordan Scarlett nursed a sore back – Holyfield scored two touchdowns while Scarlett watched and waited for his opportunity, both happy for his teammate and wishing he could be the one on the field.
It's a tricky thing when you're competing with someone in the NFL.
"Seeing any running back score makes me be happy for them," said Scarlett after his first game in a Panthers uniform. "And want to respond back with a touchdown as well. Because we're here to compete, but also we're friends, too. The running back room [takes] care of each other."
Although there weren't many bright spots in the Panthers' 27-14 loss to the Buffalo Bills, one was the play of the rookie. He led the team in rushing with 35 yards on eight carries as he had his hard running skills on full display. He also chipped in one reception for 14 yards – while it's not enough, it's a start and Scarlett feels as if he will ultimately make the roster.
"I feel pretty confident, I just have got to keep doing what I need to do and hopefully I make this team," said Scarlett. "My physicality as well as my speed, I have a lot of speed that can do some great things in this offense – and I'm strong, so I can play on special teams as well."
While Scarlett had a decent preseason performance, Panthers coach Ron Rivera would like to see more of him during the next couple of weeks, saying the coaches will work him harder in the future.
"When he did run, I thought he ran hard, ran physical, he caught the ball well, stuck his foot in the ground and got vertical, but we need to see some more touches from him," Rivera said. "We need to see him practice some more and we need to see some more in the games. So we've got two more games to do that with him."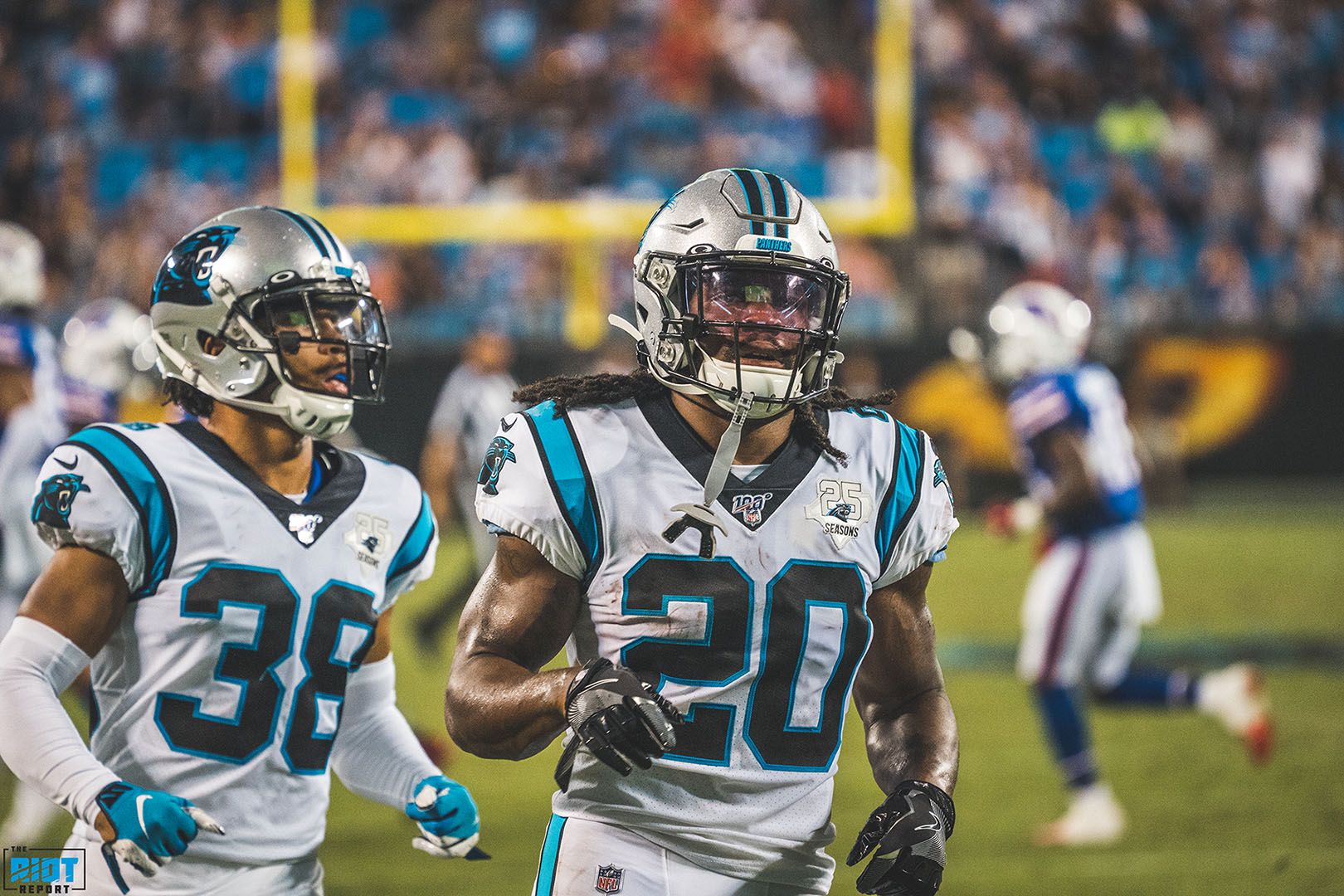 While Scarlett missed a week of practice and last week's game, on Friday night, Scarlett appeared to be healthy once again.
During the offseason, the Panthers made it known they wanted to find a solid complement – or at least a solid backup – to Christian McCaffrey. That's why the Panthers decided to spend a fifth-round pick on the former Florida Gator in addition to bringing in Elijah Holyfield to compete with the returning Cameron Artis-Payne and Reggie Bonnafon.
Scarlett rushed for 1,846 yards and 12 touchdowns in three seasons in Gainesville. While his running abilities are essential, Scarlett will be judge by his other attributes during the preseason. The biggest area rookies often struggle with transitioning into the NFL is pass protection and catching passes out of the backfield. At Florida, Scarlett recorded just 15 receptions for 108 yards as he struggled with several drops.
Scarlett says he wants to show he is a complete running back during the preseason.
"Yeah, definitely showing my hands and showing people I can be an all down back, just want to show the coaches that they can trust me out there," Scarlett said.

In terms of the other running backs competing with Scarlett, Artis-Payne finished with 18 yards on four carries, Holyfield recorded 17 yards on three carries, while Reggie Bonnafon also ran for 15 yards on three carries and led the team in receiving with 35 yards.
Rivera was also impressed by the other backup running backs as well, but he wants to see more from the group – he wants to see one of them separate themselves.
"I thought Elijah, when he got his opportunities, did some good things as he caught the ball out of the backfield," Rivera said. "The backup running backs work hard, played hard and took advantage of opportunities when they got them. I thought Reggie Bonnafon did a nice job catching the ball and running, too. I thought he ran the draw play a couple of times really nicely. Showed some good vision, made some good cuts, ran hard."
"But we need to have one of those guys step up."
Everyone knows McCaffrey will continue to receive the bulk of the carries for the Panthers. However, Scarlett could potentially be a reliable change of pace running back with his tough, downhill style of play. Scarlett also could factor in during the Panthers' special teams as well.
But on Friday night, Scarlett says it just felt great being back out on the football field and throw his hat back into the ring for backup running back.
"Seeing all the smoke and running out on an NFL field for the first time, it's a moment you know a lot of people don't get to experience," Scarlett said. "On top of this now, being in the NFL, playing in my first NFL game now, it felt great being out there."