Well, at least it didn't count.
The Carolina Panthers couldn't get out of their own way Friday night at Bank of America Stadium on all three sides of the ball, whether it was three holding penalties on the offensive line in the span of five plays, their rookie quarterback throwing a pick-six that if you called it a bad decision, you'd be doing Will Grier a favor, the Buffalo offense doing whatever they wanted against the starters in the first half to the tune of their second-year QB Josh Allen going 9-for-11 for 102 yards and a 105.3 QB Rating in two drives that ended in ten points, or a myriad of other issues – this sentence could go on forever with so many commas you'd think this column was written by Russ Hanneman.
While neither the Panthers first-team offense or defense played well, you can take some solace in knowing that the Panthers look a lot different with Christian McCaffrey, Cam Newton and Luke Kuechly on the field – but that doesn't excuse the poor performance and Ron Rivera agrees.
"You look at some of the things that happened on the field," said Rivera. "Some of the disappointment. The big thing, moreso than anything else is we had a lot of young guys out there that need to turn the corner. They have to step up and we are giving them every opportunity; these first two games were really about the young guys getting chances. Quite frankly, from my perspective I didn't think some of the young guys stepped up."

For as fun as it was to talk about Brian Burns' two sacks and Terry Godwin's long punt return last week, let's go the other way and look at some of the storylines you might be the most worried about after tonight's 27-14 loss to the Bills. The Panthers will be able to put this one behind them – as Rivera said last season, shit happens.
But before we move on, let's examine just why the Panthers looked so bad – and why they must be better when the games actually count.
Trouble In The Middle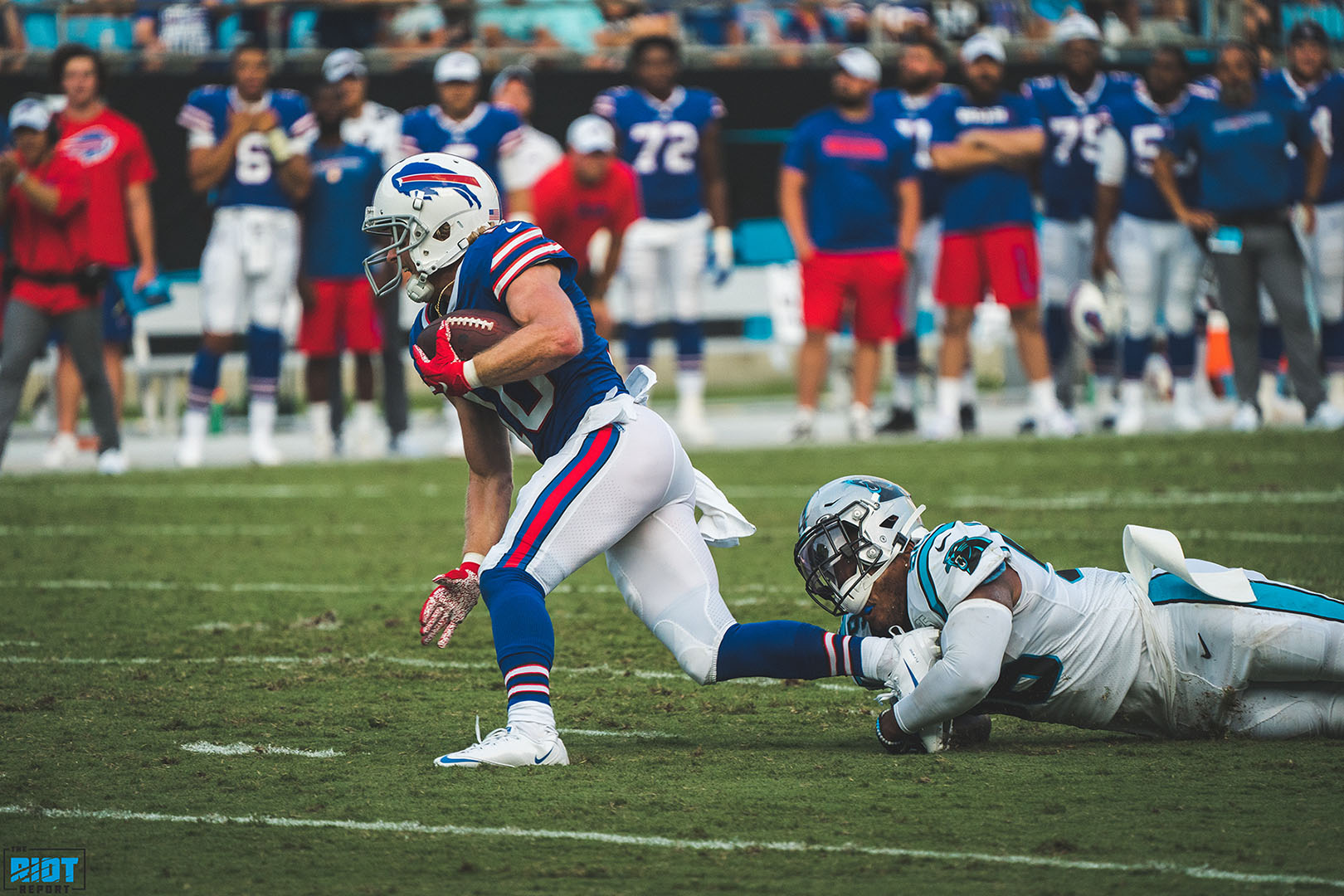 With both Luke Kuechly and Shaq Thompson out, the Bills first-team offense had no trouble passing over the middle, with Allen going 5-of-7 on his first drive, targeting Cole Beasley four times and connecting with him on all four; Jermaine Carter, Jr – who had seven tackles and six of them came after completions – and Andre Smith clearly had trouble matching up with tight ends and running backs, culminating in backup quarterback Matt Barkley seeing that Smith was matched up with running back Devin Singletary and immediately threw him a fade that went for 18 yards on third-and-3.
"When you look at what they did against our starters," said Rivera, after complimenting the defense's run defense – the Bills only rushed for 35 yards in the first half. "They really just worked on the mike linebacker. That was something that was tough; they gave you three receivers to the right side and a fast receiver on the inside and they matched him up against out mike linebacker [and] unfortunately, they made some plays out of it."
"I knew it was going to happen," said Carter, "I did a lot of film study on my own and talking with Luke, I knew when Cole Beasley was at the [slot], it was going to be China Seam Option, they knew we were going to check 44 to empty. And they did a great job of making the mike 'backer work tonight."
Luke Kuechly will obviously improve that situation, but it was still frustrating to see the Bills exploit something the Panthers knew was coming.
It wasn't just a matter of the linebackers struggling, the entire defense, even with the starting defensive line playing for most of the first quarter, the Panthers had trouble getting off the field in the first half, allowing the Bills to convert four of six third downs, including a third-and-1 that LeSean McCoy rushed up the middle. The Bills lone touchdown came on a one-yard run in which the Bills offensive line had enough push that McCoy wasn't touched until he was in the end zone.
Up Next: More Trouble