Let's get this out of the way.
Pro Bowl linebacker Luke Kuechly is on track for training camp in Spartanburg after an offseason shoulder surgery to repair a torn left labrum, the same surgery he had after the 2015 season. But just because he'll be back in six weeks doesn't mean that he's happy about missing reps during this week's mandatory mini-camp.
"I get to do the individual stuff, I'm not able to do the team-related stuff right now, which is a bummer; that's the best part of OTA and mini-camp portion…hopefully once training camp comes, I'm full go."
"That's the plan," Kuechly said. "That's how it went last time, and everything went well. I don't anticipate it being any different. We're on track, just like we were last time. Feels good and everything should be on track for training camp."
Kuechly has missed ten games over the past three years, but all of those have been due to concussions; the linebacker wore a device during the 2017 season designed to help prevent concussions, although Kuechly still missed the Panthers' 17-3 loss to the Chicago Bears due to a concussion suffered in the team's Thursday night tilt with the Eagles – the Panthers are 5-5 in games without Kuechly in his career and 53-32-1 in games with the 27-year old former Defensive Player of the Year.
Even though Kuechly can't physically participate in the team drills quite yet, he is still very much in the mix and providing his unique brand of leadership, strapping on a helmet and running into the huddle to call the plays and break the huddle down before jogging to the sidelines to evaluate his teammate's performance – when Kuechly's replacement on the field, David Mayo, picked off a Cam Newton pass and went hurtling towards the end zone early in Monday's practice session, offseason surgery didn't stop Kuechly from matching Mayo stride for stride on the sideline.
"It's good for their teammates to see them out here," Ron Rivera said about both Kuechly and 17-year vet Julius Peppers, who is also recovering from offseason shoulder surgery and not participating in practice. "In spite of the fact that they're both coming off the shoulders, I think it's important that [their teammates] understand that these guys are here to help and they want to win in the worst way and whatever they can get out of it, they will."
"I think it sets a good example for the rookies coming in; it's important for them to see those things."
It's not only rookies Donte Jackson, Rashaan Gaulden and Marquis Haynes that Kuechly and his fellow veterans will be mentoring, but second-year players who are returning from injury like Corn Elder and Daeshon Hall, who used last season as a 'redshirt season' after being on injured reserve for all 16 games.
"We've got some guys that are back as well as the new guys; I think everyone has stepped up and done a good job; it's one of those situations where we've got, obviously, you have the drafted guys, but in a sense you also get Daeshon and Corn because they were banged up last year. They had a chance to rehab and get stronger, and now they're in Year Two of the program so the learning curve is a little different for them. We didn't get to see them a lot last year, but they were always around soaking stuff in, and they've done a good job."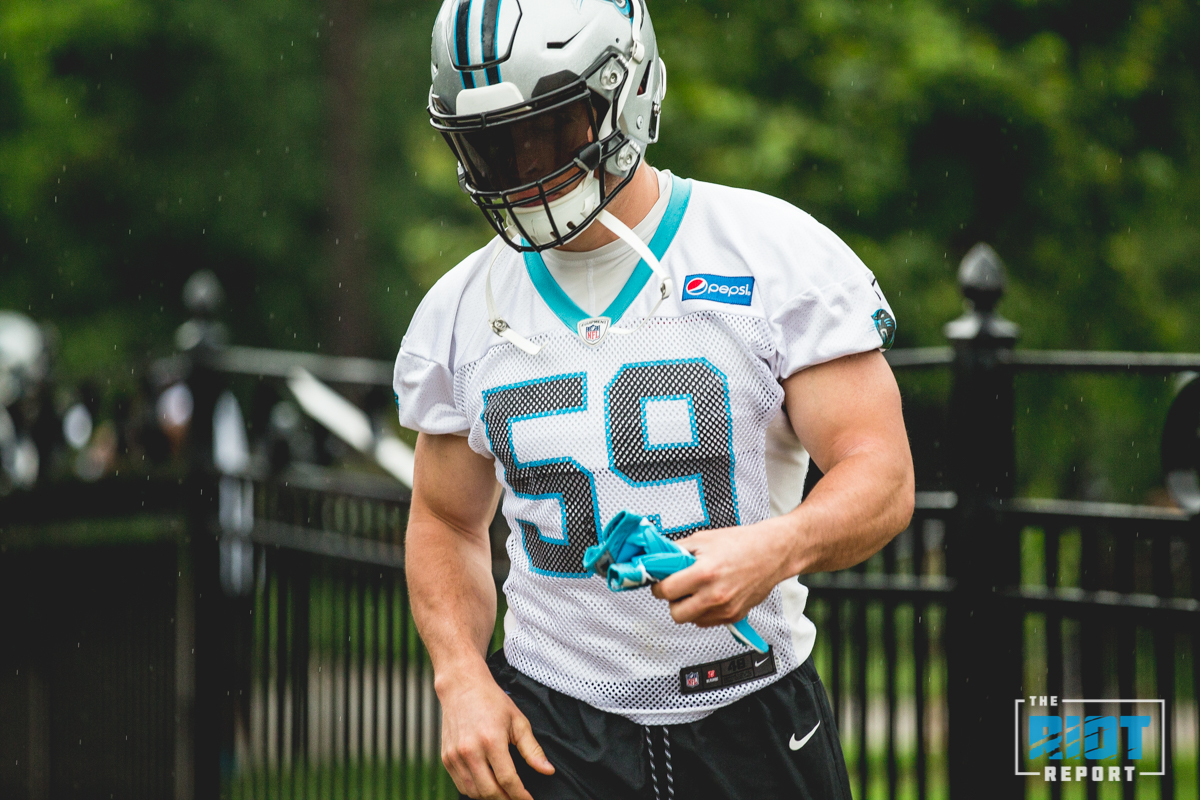 The team has seen a lot of turnover not only between the sidelines, but off the field as well, between new owner David Tepper – Kuechly said the billionaire seemed "genuinely excited to be in Carolina" in his one meeting with the players, adding that the visit meant a lot to the team; new linebackers coach Steve Russ – Kuechly went out of his way to point out that not only was the former Air Force coach a good coach, but a good person; and new defensive coordinator Eric Washington, who Kuechly is confident that he'll be able to lead the defense to play at a high level.
"He's commanded the room," Kuechly said about the man who has led the defensive line to the most sacks in the NFL since he became their coach in 2012. "I don't think there was much of a transition period of guys getting to know him because everybody's that's been here respects him and knows how hard he works and that the guys in the D-line room that he coached the past few years have been excellent and I don't think there's a whole lot that he needed to say for guys to respect him and let him command the room."
"He walks in and everyone knows: He's Coach Wash and he's going to know his stuff, he's going to coach his butt off and we're going to be in a good spot."