In many ways, the Panthers' game against the Bears last week was anti-climactic.
With almost none of the starters playing, it provided an opportunity to take a look at some of the battles that are likely to determine who makes the 53-man roster, but the players who will hopefully be taking the majority of the snaps when the regular season rolls around were nowhere to be seen. While it would be a surprise to see many, if any, of the starters still in the game come the second quarter on Friday night at Bank of America Stadium, this should be the first real glimpse at the 2019 Carolina Panthers. Plus, there'll still be plenty of time to explore the battles that made up the majority of the Bears game.
So what are some questions that Panthers fans might be able to get some answers to against the Bills?
Can Key Battles Start To Take Shape?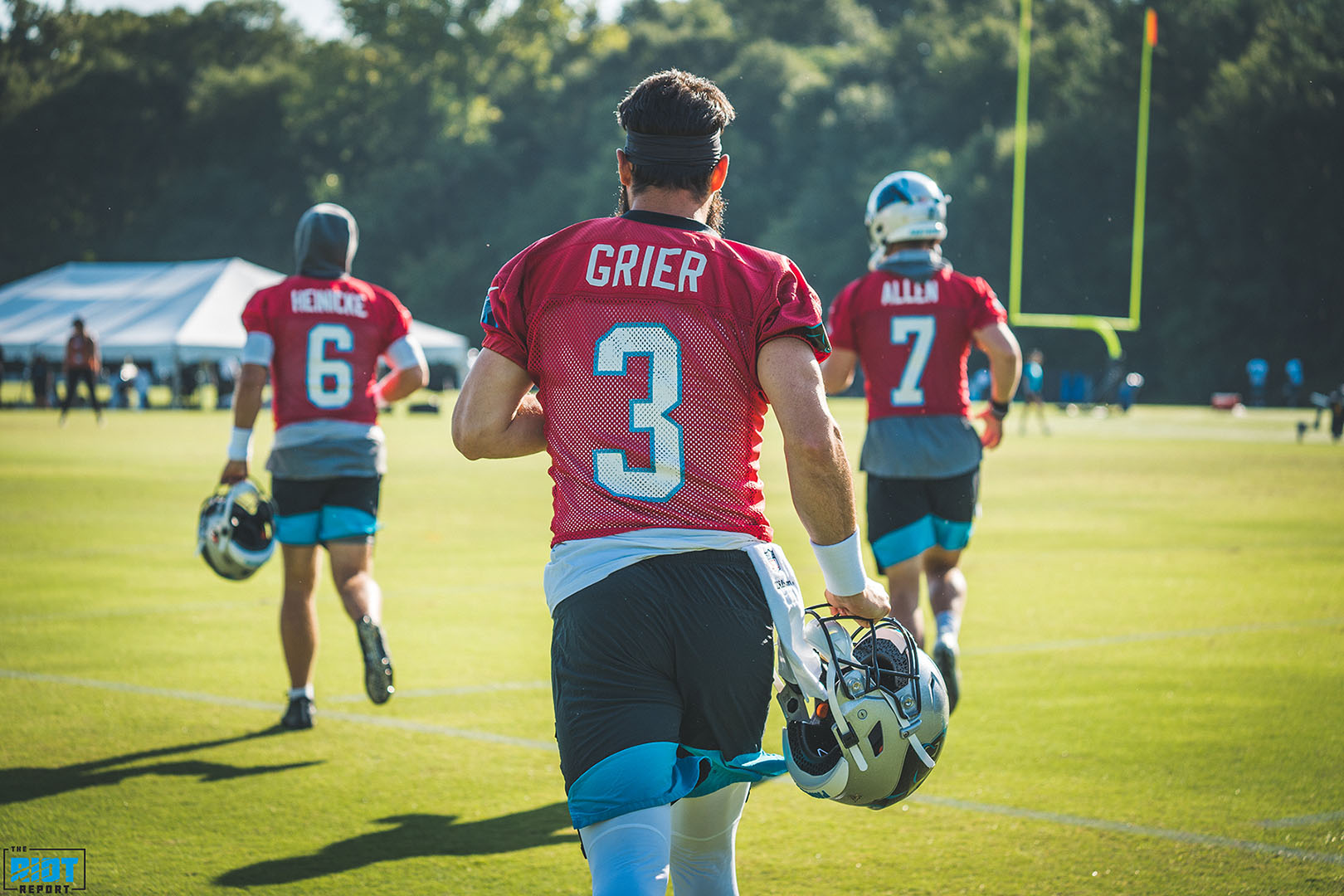 Having spoken a lot about getting to see the starters, it's also worth noting that there are only so many preseason games – for those players competing for specific roles, that means the number of chances to impress is only going to get smaller. This is particularly relevant to the backup quarterback and #2 running back battles, both of which seem to be fairly open competitions to this point.
While both Kyle Allen and Will Grier both got decent playing time against the Bears, it's hard to say that either clearly put themselves above the other. Kyle Allen didn't make any noticeable mistakes, but also failed to get the ball into the end zone and didn't do anything that can be seen as a massive plus, other than the absence of any massive negatives. Grier, by contrast, threw a pretty ugly interception and had some rough misses early but also managed to put a couple of nice drives together as he seemed to get past his early-game jitters. At this point, it would be a bit odd if the Panthers didn't keep both Allen and Grier on the active roster, with the only thing that could change that being an excellent showing from Grier. However, while the Panthers will be hoping that neither sees the field expect on the back end of blowouts, what is at stake is who would come in should something happen to Newton.
The #2 running back battle, however, is likely to determine who actually gets to see the field this season, and there is also competition for who makes the roster at the #3 and even potentially #4 running backs. While Cameron Artis-Payne, Elijah Holyfield and Reggie Bonnafon all had decent showings against the Bears, Jordan Scarlett missed the game with injury, and while this battle is likely to go down to the final preseason game, Scarlett certainly can't afford to have a poor game as given the competition at the position, the Panthers will probably be prepared to risk trying to sneak the fifth-round pick onto the practice squad if it comes to that.
For those who did play against the Bears, the task against the Bills will be to reinforce the aspects of the game that make them so appealing while trying to prove that they are able to be more than one-trick ponies. For Holyfield, that means continuing to pound out the hard yards inside while also showing that he can be trusted to catch the ball when thrown his way. For Artis-Payne, that means offering a reliable – if unspectacular – rushing option with the ability to do a bit of everything and for Bonnafon that means continuing to show he can reproduce at least some of what McCaffrey offers in the passing game while also being able to add value as a ball carrier.
Neither of these battles are going to be decided by the weekend – barring either some spectacular or horrendous performances – but as we get ever closer to the regular season, there is only so much time remaining for players to impress – if history is any indication, the onus is on those who weren't on the roster last season to show why that should be different this time around.
Does The New-Look Front Seven Stand-Up?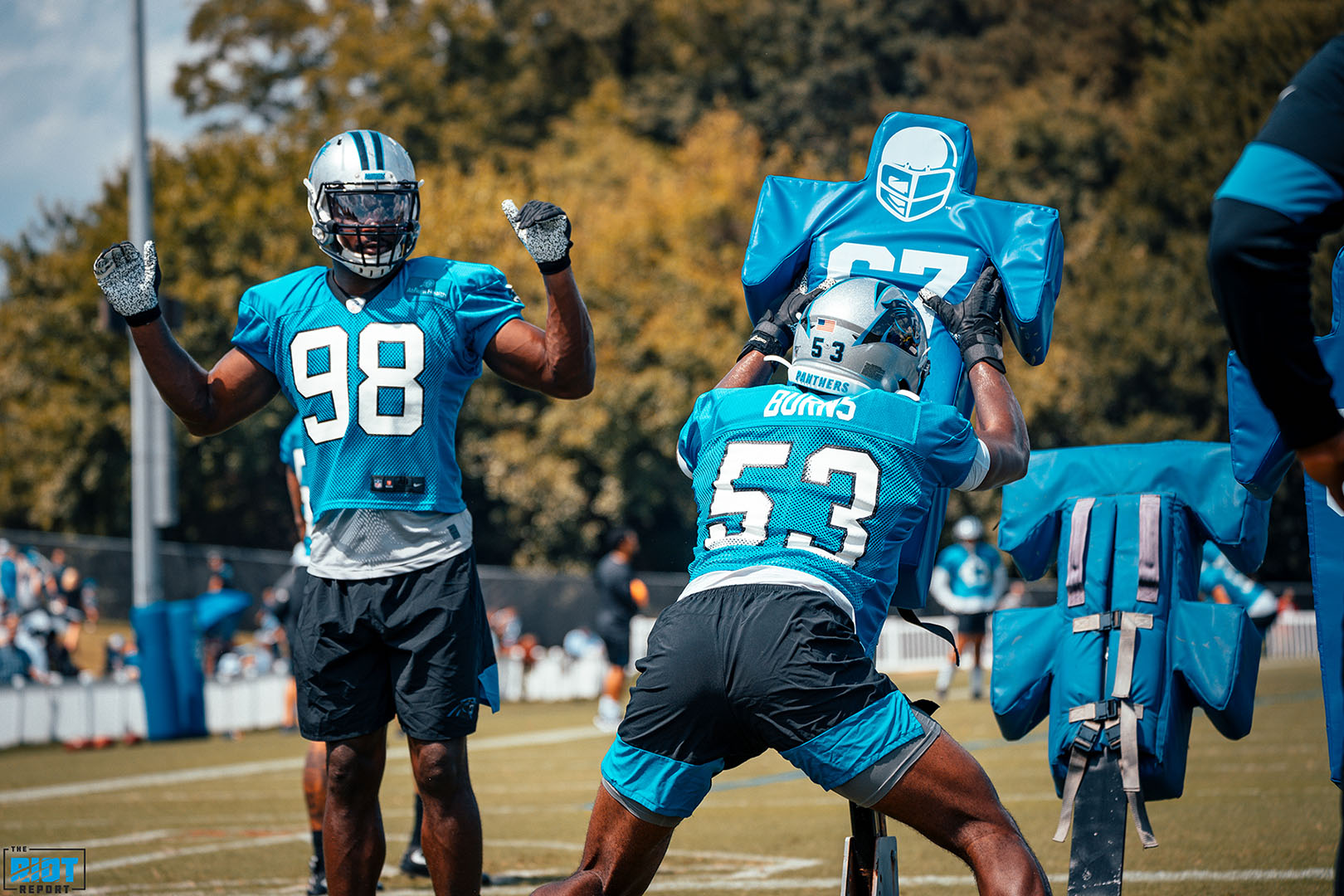 For players like KK Short and Luke Kuechly, the preseason might act as something of a tune-up game, but it doesn't really have any impact on their role on the team – however, with the change of defensive scheme this season, there is at least a minutia of apprehension regarding their play and that of the defense as a whole. That doesn't mean that either of these players, or any of the starters, is likely to not be as effective in the new scheme, but rather that until coaches and fans have seen them all line up in the new three-man front and go against a real offense, it's hard to be sure that all the pieces are working together in harmony.
Obviously, it would be nice to see them create pressure against the Bills offensive line and limit them on the ground – conversely, if they are getting pushed all over the place against the run and struggling to generate pressure, that will be something of a concern; even in the area in between, it is important just to see the little things are working well. Little things like everybody staying in the right gaps against the run, especially if the Bills look to pull blockers across the line, and communicating coverages to edge players as well as the secondary where necessary. Hopefully, there shouldn't be any such mistakes, but given that the Panthers, like most teams, are probably not going to be too adventurous with their playcalling during the preseason, if there are mistakes of this nature, they are only likely to get worse when teams start throwing their full playbooks at them come Week 1.
Can Anybody Break Through The Old Guard?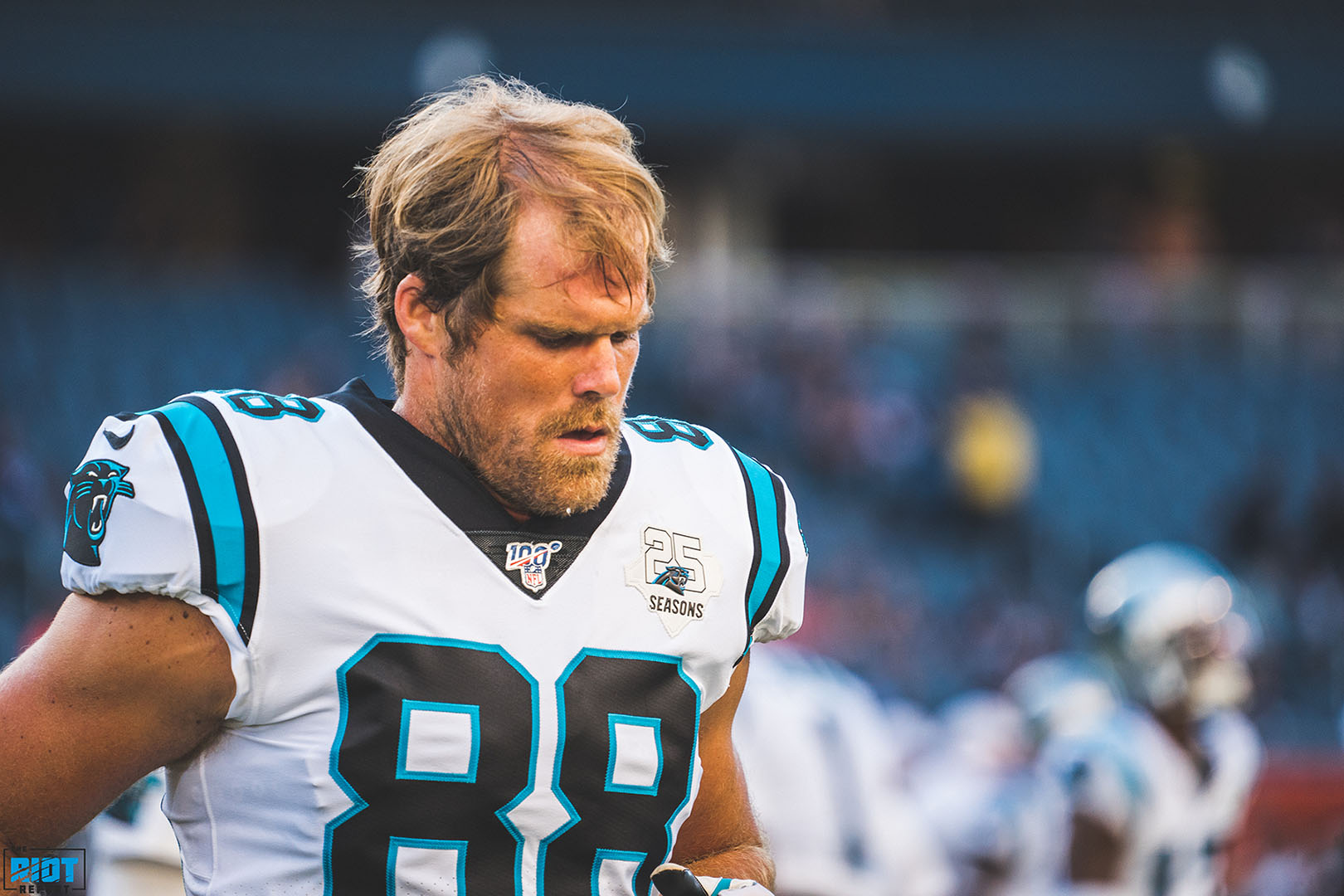 Greg Olsen and Ian Thomas are likely to see the majority of the tight end snaps this season and the same can be true for Curtis Samuel, DJ Moore and Jarius Wright at wide receiver. However, who is going to make the roster beyond that is still somewhat up in the air. Even more uncertain is exactly how much of a role those players who do make the roster are going to have and what those roles are likely to be. At tight end, it seems as though Chris Manhertz has cemented his role as the third tight end, especially after his great week of practice this week, with Alex Armah the primary option at fullback. It still isn't totally clear whether the Panthers are definitely going to carry both players on the roster, but one thing that could make that more likely is if one of both of them can show that they are worthy of a role than involves more than just blocking.
So far in camp, Manhertz seems to have made more of an impact as a receiver than in previous seasons – if he can show he can do this against real opponents in an actual game, albeit a preseason one, that could be reflected in the number and nature of snaps he sees in 2019. For Armah, the first step is to cement his spot on the 53, as if the Panthers feel they can use Holyfield as their short-yardage back – and admittedly, that is a very big if – they could well see a fourth blocker as a luxury that can be sacrificed for either a more versatile ballcarrier or a genuine receiver. Despite having played tight end in college, Armah has struggled to make much of an impact as a receiver, and while a good carry here or there wouldn't hurt, showing an ability to impact the passing game is probably his most direct route to a guaranteed roster spot.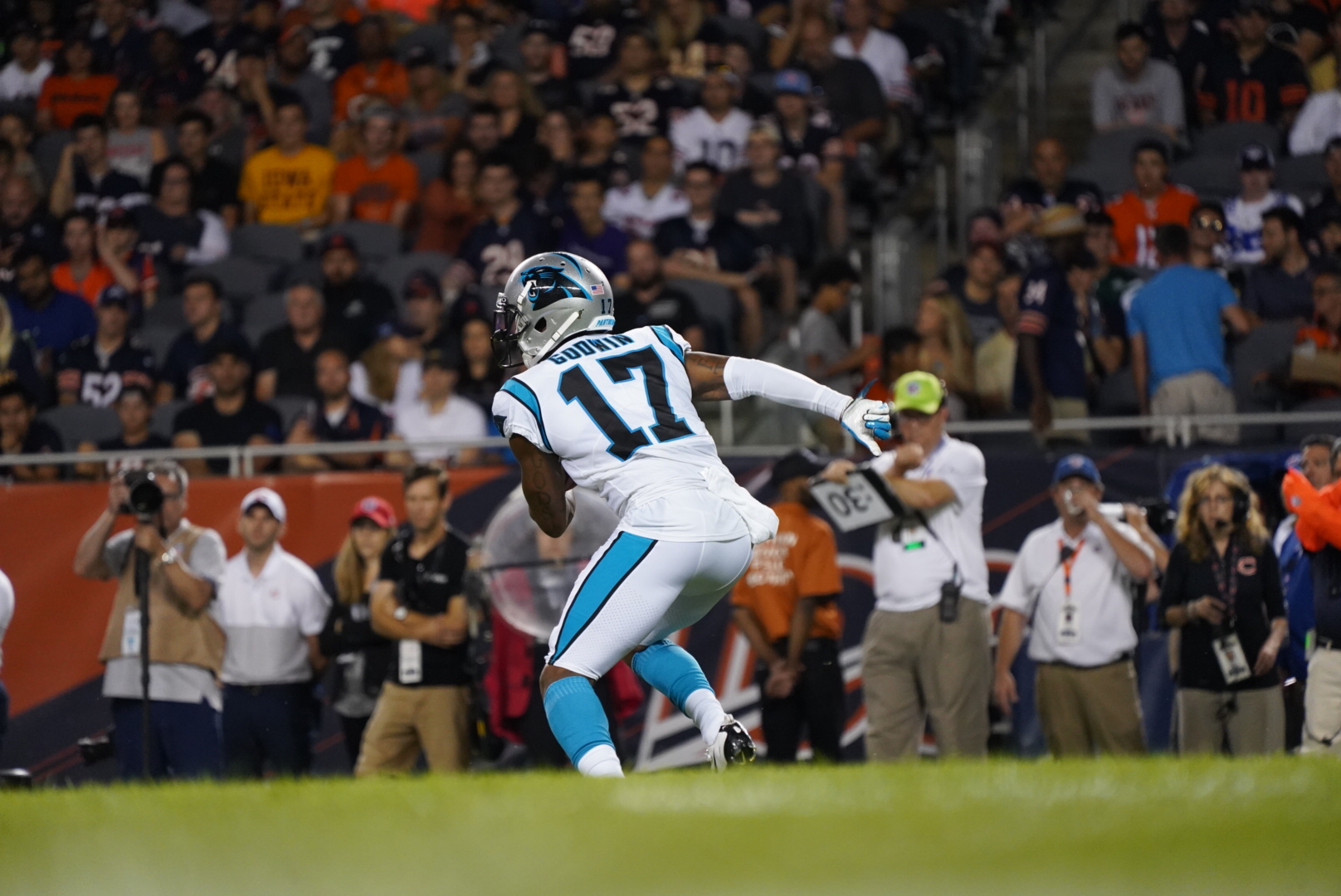 At receiver, there are probably more spots to play with, but there are more people vying for those spots. In general, there is probably at least one spot for a legitimate deep threat and another for somebody to return both punts and kicks, though there is a chance that one player could answer both questions. Based on the game against the Bears, the return job seems to be between Terry Godwin, Rashad Ross and Jaydon Mickens, with Godwin being the most impressive in this regard against the Bears. For Mickens in particular, the return role is his best shot of making the roster, and if either of the other players continues to outshine him in this regard then he can probably wave his roster spot goodbye.
In terms of deep threats, the Panthers have a number of options outside the three already mentioned, as both Torrey Smith and Chris Hogan have won Super Bowls in that role – and Aldrick Robinson has continued to get reps in camp to go along with some frustrating drops. Neither Hogan or Smith played against the Bears and so this battle is probably going to start in earnest on Friday. One dark horse in the battle to make the 53 man roster is DeAndrew White, who has made some plays as a gunner on special teams and has a combination of speed and length that few others on the roster have to offer – he may have the inside track for a practice squad spot. While it's not as simple as whomever gets the most yards makes the roster, this is a battle that will be decided in no small part by who is able to show out on the field.
Up Next: The Secondary Questions