Thomas Davis has made it very clear over the last few weeks of the season that he wanted to return – technically, he began even earlier than that by beating around the bush in August, saying that he wasn't so sure whether or not 2018 would be his final year after announcing after the 2017 season that this year would be his last. Fast forward a few months later, and a four-game suspension for violating the league's policy on performance-enhancing substances may have had a hand in changing Davis' mind as he headed into what may have been a final season; a seven-game losing streak and a season in which his team missed the playoffs may also have had something to do with it.
So a victory lap pivoted suddenly to a penultimate campaign.
As the season wound down, Davis' demeanor became different as he began to evaluate what his legacy might be – a three-time Pro Bowler, the leading tackler in Panthers' franchise history, team captain, twice an All-Pro and three-time survivor of a torn ACL – the man proclaimed as the "Mayor of Charlotte" by Cam Newton began to question whether the decision to return in a Panthers uniform was even up to him as his contract expired after the 2018 season.
"It's extremely tough having that uncertainty, not really knowing what's going to happen in the future," Davis said with a few weeks left in the season. "But at the same time, it's out of my control, so it's not something I can really dwell on. It's all about going out and playing hard and competing for my teammates."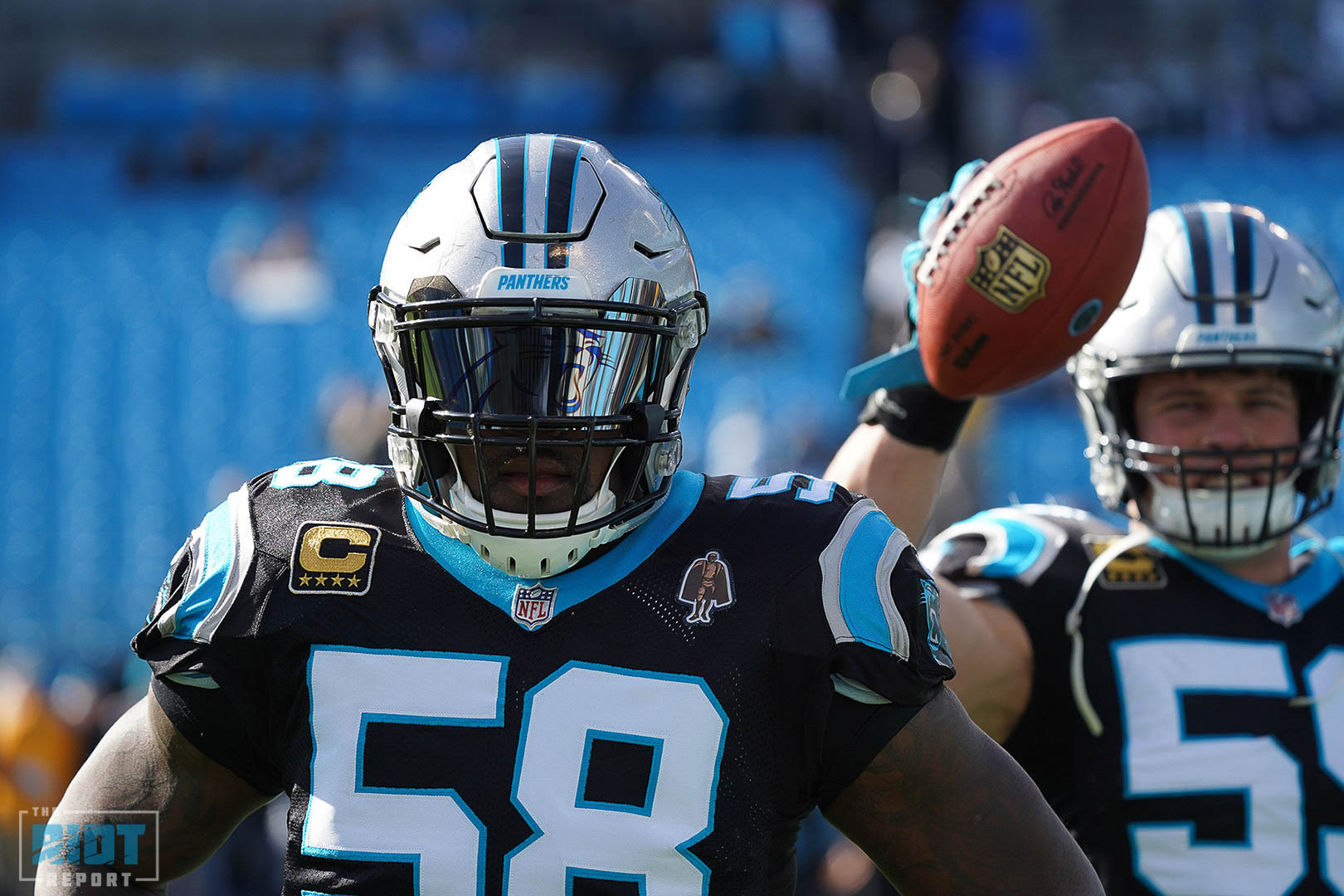 But then after Davis wrapped a season in which he amassed 79 tackles over 12 games – more than he picked up in 15 games through the 2017 season – Davis felt he still had a lot to offer the Panthers and began making his case to return.
"Whatever I need to do to make sure that we get it done and I'm still here," he said after the season. "It's a negotiation, so this will be something that will take place. It'll happen and we'll see what happens coming from there."
"That's the one thing that I look at that, more so than anything, that would not allow me to go play for another team. It's the one thing that I look at and I focus in on that I would say I would never want to go play for another team. You know, you play somewhere your entire career — that's special."
"That means something to me, to be able to say I played all of my career for one team."
So it's clear that Davis wants to be back in 2019, whether that's with a lower cap hit than the $3.8m he incurred last season or in a reduced role – the 35-year old and 14-year vet played more snaps in 12 games than former first-round pick Shaq Thompson played in 14 during the 2018 season, including every snap in five of the final seven games of the season.
But will the Panthers bring him back?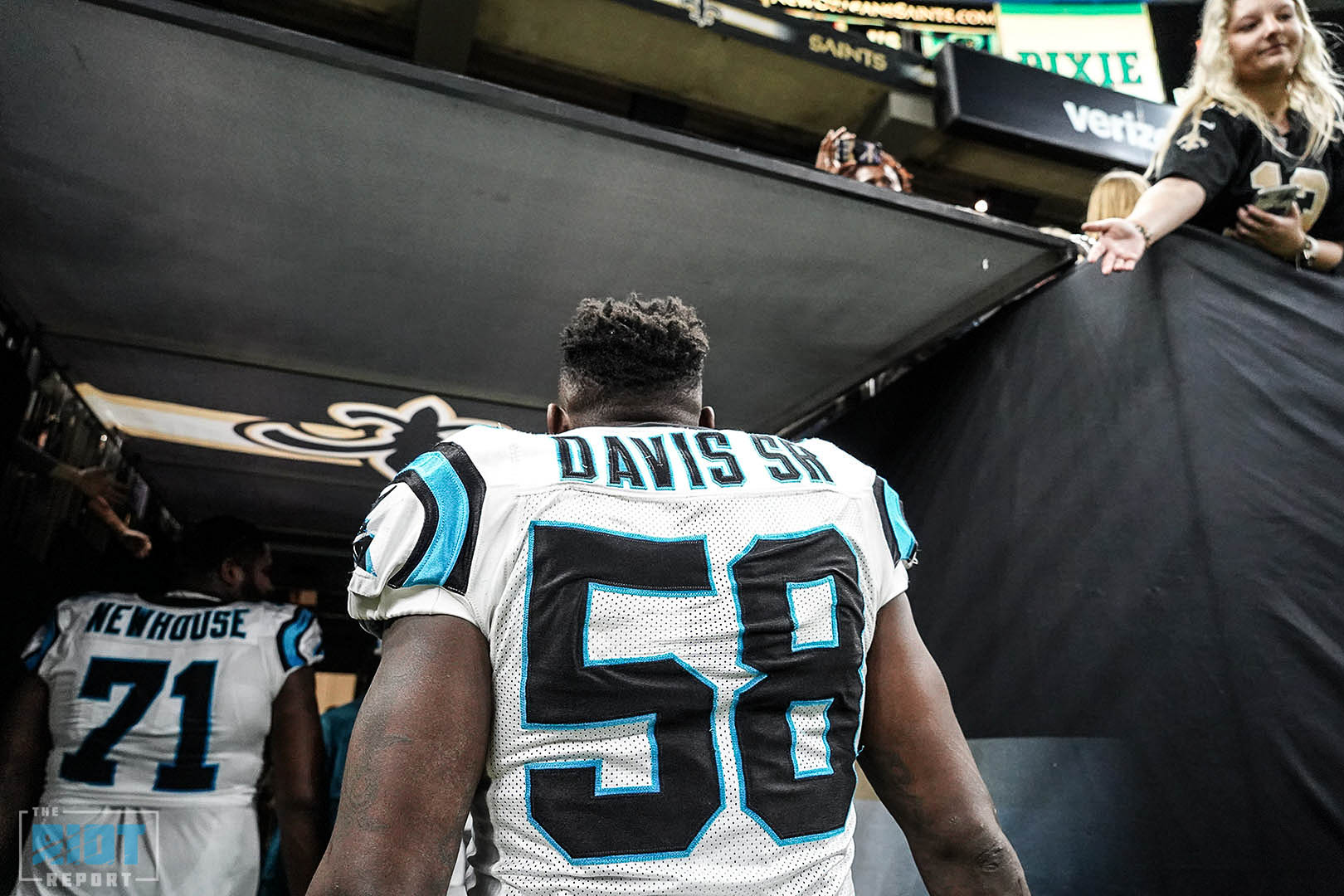 While Ron Rivera says that the 14th overall pick of the 2005 NFL Draft who will be 36 years old when the 2019 season starts has "high quality" football left in him, only three players started a game in the NFL last season who were that age or older – and two of them, Julius Peppers and Mike Adams, played for the Panthers.
Both Adams and Peppers are free agents this offseason.
Peppers is another question mark heading into 2019, just as he was last year; the Panthers nominee for NFL Walter Payton Man of the Year will turn 39 later this month and sits at 159.5 sacks over the course of his 16 seasons – half a sack shy of third place on the all-time list behind Kevin Greene. The team – along with Peppers – tried desperately to get him that final sack to perhaps send him off to Canton on a high note as he played his highest percentage of snaps of the season in a meaningless Week 17 win over the Saints, playing well into the fourth quarter while other veterans and captains had long since set their helmets aside for the summer.
So after signing consecutive one-year deals to return to the team that drafted him, even if Peppers wants to sign on for another year to get to that magic number of 160, whether the Panthers can afford to keep him – his contract rose from $3.5m to $5m over the past two season; another price increase, along with a clear need for youth at the edge rusher position after a season in which Peppers had his second-lowest sack total and lowest number of tackles in his career, may make the decision between honoring a Panthers legend and looking to the team's future tough for general manager Marty Hurney.
While fans' hearts may be saying one thing, that sentiment may just not make sense for the Panthers.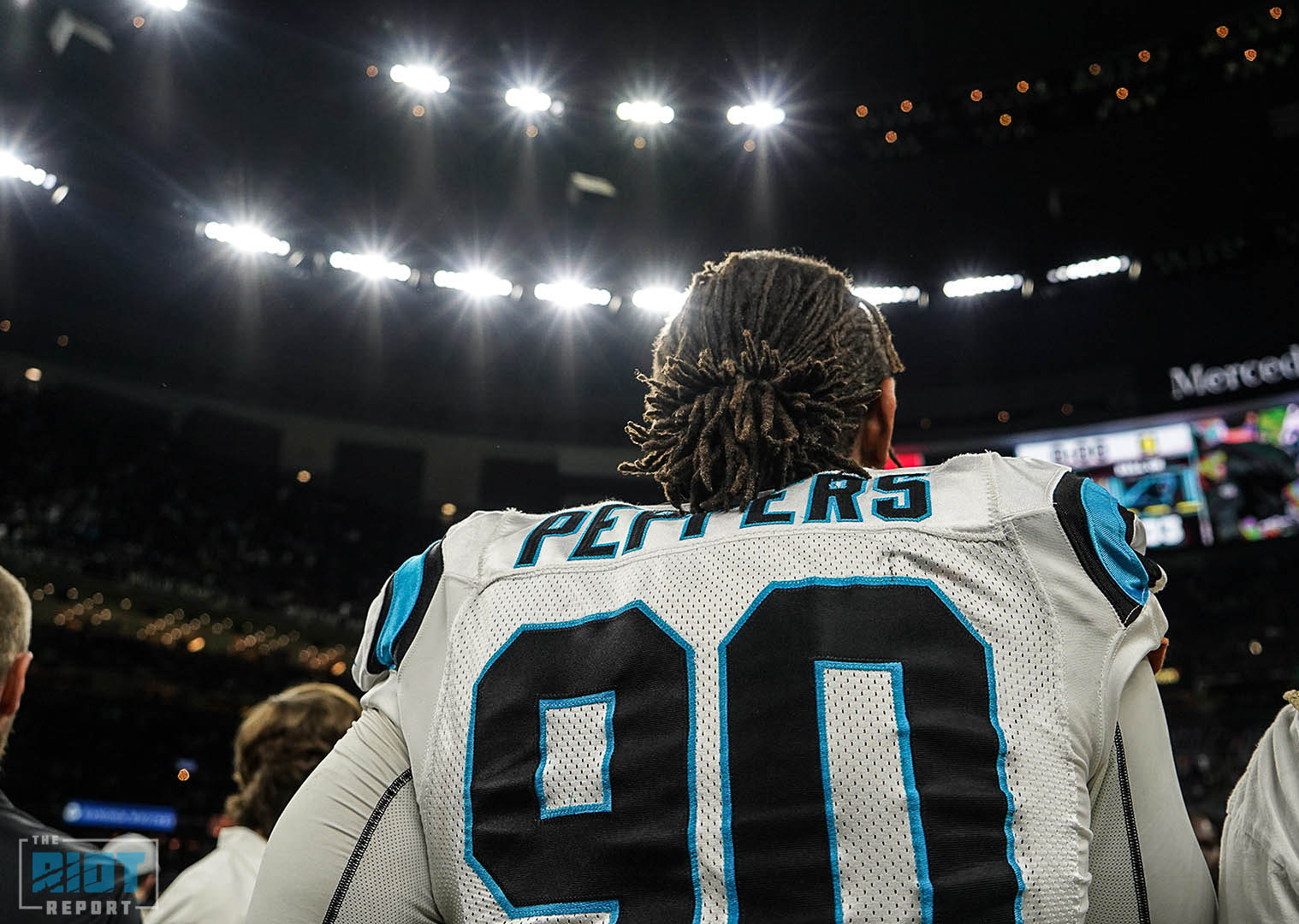 Hurney, who said 18 months ago when he was hired as interim-then-full-time GM that he had learned from the mistakes of his previous tenure – perhaps mistakes like giving long deals to older fan favorites like Jonathan Stewart and Charles Johnson in 2011 and 2012, both of whom were salary cap casualties for Hurney 2.0 last offseason – will need to make tough decisions and spend (and draft) both smartly and savagely, with salary cap room in the lower-third of the league and four presumed picks in the top 120, especially with four starters on defense and their top two special teams aces all set to hit free agency.
All that adds up to tough decisions across the board – none tougher than two franchise legends whose numbers should inevitably end up on the Ring of Honor atop Bank of America Stadium once they retire.
"Man, I only want to wear these colors. I've expressed that over and over," said Thomas Davis, one of those legends who doesn't want to cross enemy lines – but doesn't seem ready to ride into the sunset either.  "But at the same time, I don't want to be put into a situation where I'm forced to walk away too early."
"We'll see what happens."
We certainly will.